Hare Squead: On their return to the music scene and keeping your mental health in check
Pioneering Irish hip-hop group Hare Squead became a duo when their third member, Jessy Rose, left due to his struggles with mental health. Now fully on the comeback trail, they discuss their extraordinary rise.
Hare Squead had barely started making music back in 2014 when they found themselves hailed as the next big thing. Such was the power of their music, the fervency of their fanbase, and the interest from the major labels, international success seemed inevitable.
But Tony Konstone and Lil Blues will be the first to admit that their journey hasn't been straightforward. The trio became a duo whenever their third member Jessy Rose left the band, due to his struggles with mental health. This ultimately resulted in Hare Squead exiting their major label deal with Sony/Columbia Records, with Jessy starting to seek treatment throughout the last couple of years, and Tony and Lilo making music together on their own. It wasn't a direction the group ever imagined taking.
Flashforward to 2019. Now operating full-time in London, it still seems that – despite everything – success is very much on the cards for Hare Squead. The Dublin-raised group have released two new songs in the last few months; the 'mon amour'-esque swooning rap ballad '100 Miles', and their rattling afro-beat/UK rap/dancehall summer anthem 'Petty'. In their intensity and vibrancy, both songs felt like they were sending out a message – Hare Squead are back.
"We have a bunch of songs on the way," Tony confirms, as he talks to Hot Press from RAK Studios in London. "We're working on being as consistent as possible now. So we'll have five more songs before the end of the year hopefully, then kick off next year with an album. 100%."
How's the album shaping up?
Advertisement
"It's gonna be a load of genres," says Lilo. "We don't have a specific stance, so we're gonna just continue doing what we're doing. Making music based off our feelings. Rock, punk, jazz. We're gonna keep it open."
This approach has always felt like the modus operandi for Hare Squead. Their innovation very much came from musically throwing everything at the wall. In finding the sound for their new track, 'Petty', they headed back to Ireland to work on it in Grouse Lodge. What made them go out there?
"We weren't familiar with that studio before but we looked into it," says Tony. "We knew Michael Jackson had worked there. The studio and the facility was great – everyone there was amazing."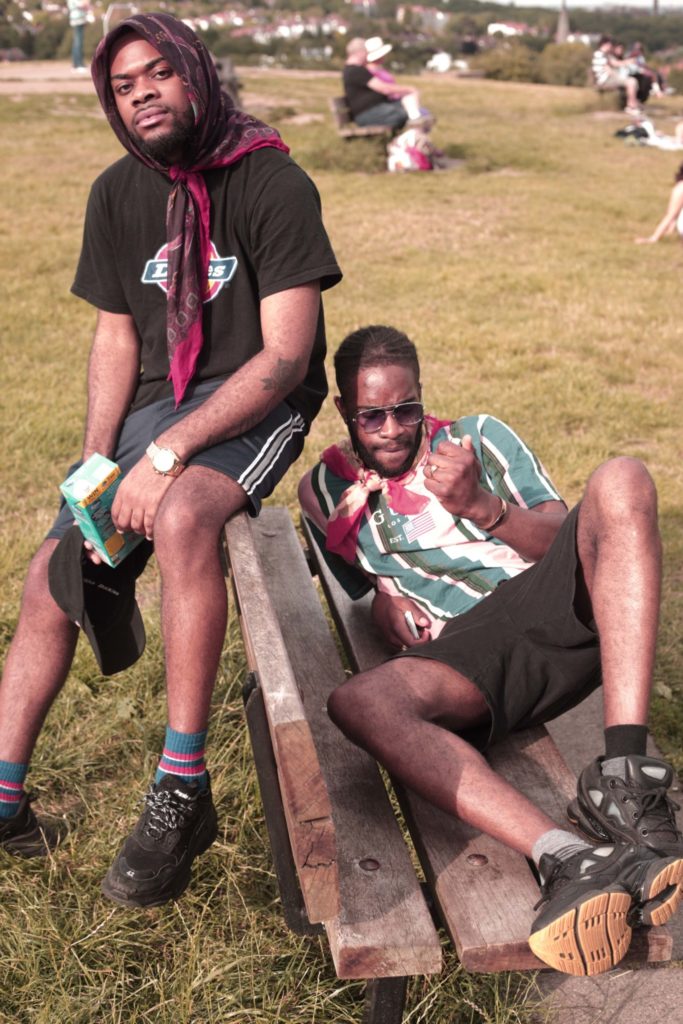 "We got to start some vibes out there," says Lilo. "Threw a melody down, threw some chords down, had a bit of percussion. And then our main man Felix Joseph, who we made 'Herside Story' with [by far Hare Squead's most successful track], he advanced the track to what it became today."
Hare Squead shared the news recently that Jessy had left the band due to mental health issues. Since then, they've been very open about the need to discuss these topics.
"Jessy is obviously our brother," says Lilo. "We got together and made some really cool music with him. What happened to him was very unfortunate. He just wasn't in the best mental health state due to making some decisions that didn't really benefit him. It affected his creative ability for some time and, him being in that state of mind, he decided to leave the band.
Advertisement
"But we'll always say it – that's our brother still. We care so much about his well-being. We're still the best of friends and I talk to Jessy all the time. We don't judge him. We could never hate him. It could've been me. It could've been Tony. We're still a family. If anything, this has taught us to take care of our mental health and just make the smartest decisions you can."
Hare Squead also had a bizarre encounter earlier in the summer, when they were stopped by Prime Ministerial candidate Rory Stewart, who was trying to canvass votes by broadcasting random face-to-face interactions on social media. Needless to say, the clip of two Irish guys throwing up signs and telling him they "don't fuck with politics" quickly went viral.
"Rory Stewart, he's a clout-chaser man!" laughs Lilo. "I can't lie to you – we did not plan that. We were doing our thing, walking down Brick Lane, when we saw some guy walking towards us with a camera. He walked up to his and he looked a bit fucking creepy. He was like, 'Can I ask you a few questions on camera?' We said, 'Sure, why not.' Camera starts rolling and he says, 'Can I ask you about politics?' We're like, 'Shit, that's not our portion at all. Fuck that shit, let's leave!' People were saying we planned it – we did not plan that at all. If you see how we reacted, that's just how we react, that's the energy we have. He's a little chancer. Fair play to him, he got what he wanted. But he still lost in the end, didn't he!"
• Hare Squead's new single, 'Petty', is out now.