To celebrate Glen Hansard's 50th birthday, we're revisiting classic interviews with the iconic Dublin musician – including this 2012 interview with Stuart Clark, published in Hot Press ahead of the release of his debut solo album.
Since winning an Oscar for Once, Glen Hansard's life has swerved like an out of control rollercoaster. There was a whirlwind romance with, and painful separation from, Markéta Irglová; the suicide of a fan which left him with brains on his shoes and a chasm in his soul and the strange guilt he felt at being successful. With his first solo album about to be released, he pulls up a stool and explains how he learned to stop worrying and love his new life in New York.
***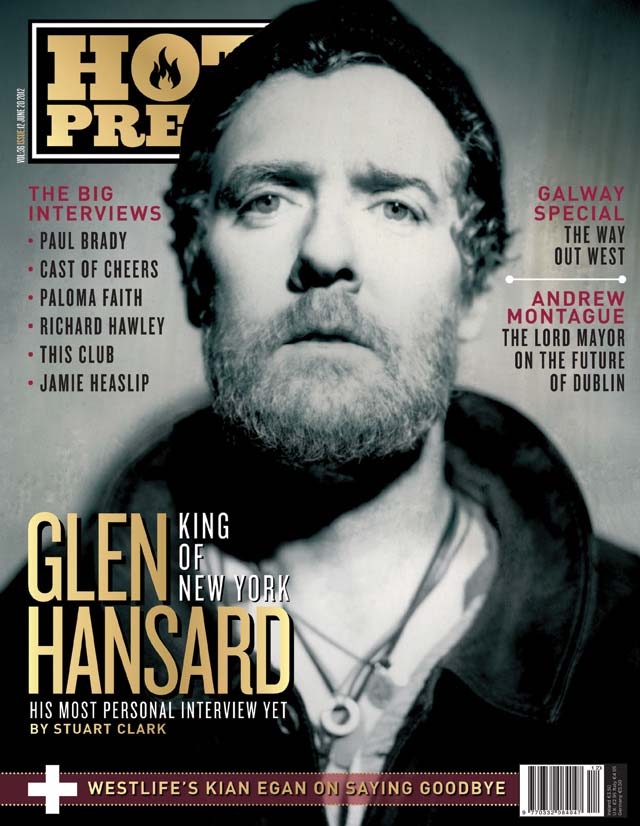 A certain Danish beer company doesn't do months, but if they did they'd be like the one Glen Hansard has just enjoyed in New York, where for reasons both professional and personal he's been living for the past year.
"May was one 'pinch me!' moment after another," he smiles on a rare day back in Dublin. "First, I played in this tiny club, The Living Room, on Ludlow St. where I got to do 'The Auld Triangle' with Bono! Usually these things leak out, but everyone was gobsmacked when I said, 'I've got this buddy who's going to sing with me' and he just ambled up on stage, gave a little bow and launched straight into it! I imagine you'll find it somewhere on YouTube."
Advertisement
Yup, there's a six-minute clip of this meeting of great musical minds, which fair sends a shiver down the spine. Glen does a fine 'I wish to Jaysus they'd raise me wages!' while Mr. Hewson downs what looks suspiciously like a large whiskey.
"That'd be about right! We were also involved in this other thing up in Harlem at the Apollo. There's this amazing charity called The Jazz Foundation, which pays the rent and medical bills of Little Jimmy Scott or a guy who played in Thelonius Monk's band or with Mingus. They had these great moments in the sun, but they weren't the lead guy so now they're fucking broke. Bono did 'Angel Of Harlem' – what else? – and I got to sing with Dr. John. It was an amazing night."
I'd give my first-born to share a bevy with Mac Rebennack. What sort of character is the good Doctor?
"He's a funny one. I chatted with him for a few minutes – musician to musician – and he couldn't have been friendlier. But then some full-on guy butted into the conversation, and he switched into Cajun gris-gris. It's his defence mechanism. Whoever it was couldn't understand a word and just went away. I saw Dr. John do it twice that night. Shane MacGowan's the same – if you approach him and he doesn't want to talk to you he just acts drunk. It's like sliding down a marble wall."
So Shane MacGowan acts drunk?
"Some of the time, yeah!" Glen laughs. "Shane's a lot smarter and aware of what's going on around him than people give him credit for."
You'd have thought that would've been enough celebrity hobnobbing for one month but, no, there's more!
Advertisement
"We did this benefit for St. Ann's, a performance space that's having to move. It was really emotional 'cos I knew Jeff Buckley, and his mum Mary Gilbert was part of the organising committee. They're doing a biopic and Reeve Carney from the Spider-Man musical is down to play Jeff. It was me, Sam Amidon, Karen O, Nick Zinner, Emmylou Harris and Lou also turned up."
The Lou in question being Mr. Reed, a downtown Manhattan neighbour of Glen's, who is currently ensconced in the studio with David Bowie.
"I was living on the corner of Bleaker and Bowery, and you'd see Lou 'n' Laurie (Anderson) out all the time walking their dog. Bowie was within a block of me – there's a great Italian, Ballato's, on Houston he's a regular in. David Byrne's nearby too but New Yorkers by and large not being into the star-fucking thing, they get left alone.
"It was spooky," Glen continues. "I watched The Great Escape one night in my flat and then a few days later discovered that Steve McQueen had lived there years ago. What a crazy coincidence."
What made him say "goodbye" to his family and friends and move to a city where he only knew a handful of people?
"As someone who grew up on Dylan and reading William Burroughs, New York's always held a fascination for me. I'd stayed on people's couches before, but this was the first time I could afford to go over and get a year's lease on somewhere that isn't a shoebox. Dublin's a great place to live but not the best place in the world to be well-known. I sound like a dick saying that, but Irish people have no qualms about coming up and fucking telling you what they think of you. That's all very well and good but… there's definitely a comfort in anonymity. I was craving it, to be honest."
As success-filled as Glen's Swell Season years have been – an Oscar-winning film, two top 30 American albums, a Simpsons appearance and now a smash-hit Broadway musical – there have also been darker moments which by his own admission have left him battered and bruised. The one that nobody could have foreseen was 32-year-old Michael Pickels leaping to his death in August 2010, mid-way through an open air Swell Season gig in a Californian winery.
Advertisement
"That was so shocking and sad and dark that we weren't sure what to do after that night," he says gravely. "The guy landed next to me, his brains were all over the stage. A half-foot closer and he would've killed me. God bless him, I don't really want to speak about him 'cos it was his story. 4,000 people saw him die. He was making a very angry, public point. I guess that was his way of saying, 'I'm fucking here!' We got counselling. We spoke to a couple of people who are experts in this area. They made it very clear that it was nothing to do with us. This was his issue, so we decided to go ahead and do the gigs we had booked."
Along with the $200 an hour professional counselling, Glen got support from a less likely but far more rock 'n' roll source.
"Out of the blue Eddie Vedder rang me," he says still looking incredulous. "He must have heard about it on the news. We spoke that first day for about an hour. He was in Seattle and I was walking around somewhere. Then I went to Brazil, and Eddie rang me the next day and the next day and the next day until he said, 'I think we've spoken enough. You seem to be in a better place, but you know, I'm here for you. Here's my number, call whenever you want'. He'd watched nine people being crushed to death at that Pearl Jam gig in Denmark. Eddie went into such a dark place afterwards, so he understood what was going in my head."
Having eventually met up in person, Vedder invited Glen to guest alongside Cat Power on his Ukulele
Songs album.
"He said, 'I'd like us to join voices on this because I wrote a lot of these songs after that incident and if you sing with me it'll help us both to get through something'. It was such a gift to me – out of even the darkest stuff friendship was born."
That friendship is very much ongoing, with Glen taking care of support next month when Eddie plays solo shows in Holland and the UK. Incidentally, I was talking before Christmas to Lisa Hannigan who, being a ukulele owner herself, was most aggrieved that Glen didn't wangle her on to the record.
"Sorry, Lisa. I rang but you were out!" he laughs.
Advertisement
There was more pain in early 2011 when he had to deal with the very public break-up of his relationship with Markéta Irglová.
"The way it got out is that we were in Canada, I think, doing an interview. Somebody asked a cheeky question – 'Is there any truth to these rumours etc. etc. etc.' – and Mar not wanting to lie said, 'Yeah'. We'd kind of been on and off but that made it very final. It became such a big deal that I questioned whether I wanted to continue with any kind of press. I'm more than happy to speak about what it is to make songs, but this is my life – it's no-one's fucking business but Mar's and mine.
"It's not the media's fault we broke up, but having it written about was kind of hard on our relationship. We were solidified into this thing, which didn't sit well with either of us. It seemed like a disappointment to everyone when it was over."
People wanted them to be the alt. Will 'n' Kate.
"Yeah, exactly," he nods. "The media is funny like that. I've never been in a tabloid in my life for non-musical or acting reasons and I'm very happy about that. There was a moment though when we veered towards that area and I thought, 'This isn't good. It's not what I signed up for'."
It was Markéta who broke the silence about the break-up first, telling Hot Press last year that: "If it's true that every person you meet in your life is your teacher and your student, Glen and I have definitely been teaching and learning from each other in how to love unconditionally. We might have parted as lovers for our own reasons, but I'll never stop loving Glen, I'll never stop wanting to be supportive and encouraging to him."
There's a momentary pause in the conversation after I paraphrase those lines to him.
Advertisement
"Wow, being in America I must have missed that… Mar was seeing a guy in our crew and it was great for her because I have a girlfriend. We continued to tour together… we were all so close… it was like, 'I think I need to take a year away from this band and from this situation'."
While he's never gone the Thom Yorke, "Being famous is so hard!" route, it's obvious that stardom hasn't always sat comfortably with Glen.
"After we won the Oscar I spoke with Bruce Springsteen and he said something really great to me – 'If you don't mark your successes by opening a bottle of champagne, going on holiday or at least having dinner with your family, you mightn't recognise that your life has just shifted into a new gear'. He was absolutely right. After we won the award, we just became busier and a couple of years later I still wasn't entirely comfortable with it. It was an odd weight on my shoulders. I wasn't sure if I wanted to reject it or completely accept it.
"I was incredibly overjoyed for (Once director) John Carney," he continues. "I was incredibly overjoyed for me and Mar and my family – but I was feeling this sort of sorrow. It's like blood in the milk and I couldn't get rid of it. The Boss said, 'For the past 20 years you've been a guy in a band, a guy on the street, you've been working your way up, you against the world… That guy has just died! The guy you've always been, the only guy you had to turn to, is now dead and you're wearing a new suit. You're mourning the passing of your old self. Don't worry about it – take some time to adjust. You know the story about Native Americans sitting at the airport for four or five hours after a long-haul flight 'til their soul catches up with them? Just give yourself time to let your soul catch up with you and then you'll be fine'. That really helped me to get my head around things."
Another reason Glen Hansard has been residing in New York recently is the theatrical version of Once, which started off-Broadway, quickly moved on to it and last weekend picked up no fewer than eight Tony Awards – an astonishing achievement. Grossing $707,000 a week, it's the most successful Irish musical since Riverdance and come spring 2013 will be going on tour, with Glen desperate for an Irish stop-off."It will happen, I just don't know when," he says.
Was he apprehensive about it being turned into a stage show?
"Apprehensive? No, I was horrified! When it first came up as an idea, it just made me shiver. I said to John Carney, 'Please tell me we're not agreeing to this? Is there anything I can do to stop it?' John was more enthusiastic, yet at the same determined that if it was going to be done, it'd be done his way. My attitude changed when Enda Walsh, who's done dark stuff like Disco Pigs and Hunger, signed up to it. It's a bit like someone saying, 'We're going to get Ken Loach to direct The Commitments 2'. Then John Tiffany who did Black Watch came on board – another serious head who'd never touched musical theatre before. You've an Irish guy from Kilbarack writing it and the boss of the National Theatre of Scotland directing. Suddenly it began to have a darker undertone. I met the lads and they said, 'We promise you, we're not going to turn it into a song and dance piece'. I was like, 'Cool, I'll hold you to that!'"
Advertisement
Has he worked out how the Broadway machine, which contributes $11.2 billion every year to NYC's economy, bolts together?
"No," he admits." I've seen enough Broadway to last me a lifetime – and I've seen two plays. Actually, that's not true, I've seen three. That's an uneducated bias. It's all very common dominator – y'know, a gag a minute. That said, I've enjoyed the shows I've been to in the same way I quite enjoyed Marley & Me. Leave your cynical/critical head at home and it's an okay way to spend an evening."
There's good shite and bad shite, isn't there?
"Exactly," he concurs. "I went to see a couple of things and they were really entertaining but the idea of Once being presented in the same way just horrified me. Thankfully, John and Enda were good to their word. They did a run-through in a bar in Boston and I have to say what transpired before my eyes was just really fucking good. I was like, 'Oh, thank god, they didn't blow it!'"
Once winning eight Tony Awards is all the more remarkable given that it was up in virtually every category against Newsies The Musical, a big-budget staging of the hit Disney movie.
"Once was a risk because it doesn't have the song and dance element and, yeah, the budget that other Broadway musicals have," Glen reflects. "In the beginning they were depending on whatever goodwill the movie had. They did an off-Broadway run and people who were interested in the film went along. The big thing then was the reviews, which were really positive and drove people who'd never heard of Once prior to that to the theatre."
While borrowing major elements from it, Once: The Musical is by no means a facsimile of the film, which incidentally has now grossed $20 million – an over 6,000% return on the $150,000 it took to make.
Advertisement
"Enda has taken the opportunity to have a good go at some of the developers and bankers," Glen reveals. "There are moments where, y'know, he gets the shovel into the soil. It's set in Dublin but they haven't put too much emphasis on things like accents. The major difference is the girlfriend of the guy has gone to live in New York, which works the city in. The Polish flatmates have a much larger role than they do in the movie – they become part of the band who are all on stage playing in front of you. It's like a big jam session with them swapping instruments and generally having the craic. The guy who owns the piano shop, Walton's, also has a really big role and when you have a drink before the show or during the break it's served to you on stage rather than in the foyer. You're part of it, which is great"
It sounds like a whole load of fun.
"It's a single set with no technicians," he continues. "The actors push on the piano and then begin a scene. It couldn't be any more un-Broadway!"
While instantly dismissive of being in the show itself, Glen and one of his celebrity pals tutored Steve Kazee in how to be a Dublin street musician.
"I advised him to go busking, so he took a road-trip across the States with his guitar and sang for his supper. Most people who sing into microphones know nothing about belting it, but he learned to project. We talked about the pushing and pulling of lines 'cause the problem with Broadway singers is they tend to sing on the line, so it's flat. I told him, 'Sing it like you're hungover or go get drunk. Dirty it up a bit'. Damien Rice, who was staying in my flat, also helped Steve. Just by singing, he was able to communicate to the cast the difference between singing something 'on' and something 'off'. Damien's a master of that stuff. We left him alone for a while, then went back on opening night and, wow, the difference! He'd really made the songs his own. I was able to hand on heart walk up to Steve and say, 'Brilliant! Whatever ownership we had on this, it's yours now.'"
Another of the three Broadway shows Glen has seen is Spider-Man: Turn Off The Dark, the rock musical scored by Bono and The Edge which has been beset with technical difficulties and a high-profile litigation case involving its original artistic director and multiple Tony Award-winner herself, Julie Taymor.
"I don't want to get myself into trouble here," he laughs a tad nervously, "but the thing with Spider-Man is that it had a story but the story was so ambitious and expecting of you to join the dots that it was hard work to watch. It's Broadway, man, people want to sit there and be entertained. If you lose the affection for your lead character at any point, during any story, it kind of fails. I noticed when I saw the first Spider-Man draft that there was no empathy with any of the characters. But what I admire about those guys is they're tenacious – they've kept tweaking to the point where the show is both spectacular and has a story that you can easily buy into. It lost them a fortune at first, but it's doing well now."
Advertisement
Away as he was for most of 2011, was Glen shocked when he returned to Ireland at Christmas and saw just how despondent the national mood was?
"I was shocked at the rise in violence and robberies. My ma's house got broken into. She lives in a housing estate on the northside, and the only thing that wasn't taken was the Oscar I gave her. They probably thought it was a fake! She wasn't in at the time, thank god, but it really shook her up. Not feeling safe in your own home is a headwrecker.
"One good thing's come out of the adversity," he adds, "which is we've started to regain the sense of humility we lost during the Celtic Tiger. I remember talking to Roisin Ingle from the Irish Times and perhaps going too far, but I really felt, 'Where has the grace gone in our country? What happened to us? When did we turn into such a bunch of pigs? What's happened to our core qualities of being resourceful, energetic, creative?' People were far too heady and self-centred during the boom. I was happy to get out? In New York you get neighbourhoods. I grew up in Ballymun, which is a neighbourhood too. You know everyone; it's like, 'How are ya?' They're all sitting out on the steps during the summer and doors are left open because everyone knows each other. This might sound trivial, but something I really mourned was the little greasy spoons closing and being replaced by these cafés with super-high seats where you get a skinny decaf latte in a super-high glass and instead of egg and chips you have breakfast paninis and 'golden fried potatoes' or whatever. I think en masse, Ireland was putting on a huge amount of weight and moving closer than ever to the side of England I've never liked. No offence now!"
None taken, although when Her Majesty's forces roll triumphantly into Dublin again I'll make sure that Mr. Hansard is first up against the wall!
Bressie caused a bit of a stir last year in Hot Press when he suggested that those in the corridors of power might be quicker to pull their fingers out if we rioted a bit.
"I'm not sure about rioting, but when it comes to watching stuff going down in our own backyards and commenting on it, we're fucking useless. I often wonder, 'What would Ireland be like now if the poets who gave their lives in 1916 had got into power?' The thinkers who actually caused the uprising, which was about civil rights not overthrowing England, got shot – leaving the military-minded ones to take control. That's why I'm so happy to see Michael D. Higgins as President. I look at him and think, 'Something tangibly good's come out of all this nonsense we've been through these last ten years'. It felt a bit like when we got to Italia '90 – a reason for everybody to rejoice and regain self-respect.
"The Irish have always been better as the charming underdog," he proffers. "There's a kind of quietude to us – we don't need to brag. I've always felt: 'Don't blow your own trumpet. Just do your work; do it better each time and that's how you'll leave your mark.'"
Advertisement
Ireland and its post-Tiger woes are addressed on 'The Storm, It's Coming', one of the standouts from Glen's debut solo album, Rhythm & Repose, which was recorded during a whirlwind 18 days in Manhattan and, showing there are absolutely no hard feelings, includes a guest appearance by Markéta.
"Breaking from the feast/ From the decade of the beast/ On a new road, with no true north I see/ There's doubt in every face/ And there's a liar on the stage/ What good is it, if he don't himself believe in it?' Glen intones over the solemnest of piano backings.
"A handful of people, whose names we all know, have put this country into a fucking jocker," he spits venomously. "It baffles me how as a nation we accept having to bail the banks out. We're like, 'Okay, that's a lot of tax, but we'll pay it'. The Icelandic just said, 'No way, fuck off!' The Greeks have taken to the streets. How do you get rid of that lethargy? Is it a hangover from being occupied? Do we have that mindset because we were a colony for so long? I know we're a young country but can we not have the confidence to say, 'What the fuck are we doing?' We've got to grow balls."
While not a concept album per se, Rhythm & Repose does carry a message for not just us Irish, but everybody whose lives have become a bit too digital.
"Things like Twitter and Facebook have made us so docile," he ventures. "Our imaginations are being crushed. We need to leave our iPhones at home and just take in what's around us. That's what the title Rhythm & Repose means – stop living your life virtually and get out there."
Talking of social media, did Glen follow Sinéad O'Connor's recent adventures on Twitter?
"I didn't, no. I'm not interested. That's just voyeurism. I don't want to engage in looking at someone having a breakdown, whether it be online or in public. I just don't get it."
Advertisement
Does he agree with Sinéad that music is a tough business for vulnerable people to be in?
"Absolutely," he nods. "The idea of going on stage every night and singing about stuff that's going on in your life – that can't sustain you. I sing in the vernacular of relationships. I'm always speaking about, 'Me and my self, me and my god, me and my people, me and my girlfriend, me and my family'. Maybe one day I'll move out of that and into something else, but for the time being however coded it is, it's my life I'm dissecting."
Has the industry ever ground Glen down to the point when he's thought, "I can't fucking do this any more, I'm going to work in the local Spar"?
"Not the Spar part, but fucking Jesus, yeah! I was 21 when Island Records dropped me. I remember one of their guys, Nick Angel, throwing a tape of the first Frames album at me. Chris Blackwell signed me and then left the company. No-one that was left gave a shit. It was like, 'Fuck, I shouldn't have signed!' I went and made a record (Another Love Song) that was ridiculous. It had way too many influences – it was a flawed attempt at a debut, which had a couple of good songs and a lot of stuff that really didn't work. We were dropped and to rub salt into the wound, Island said, 'Tell you what, we'll send you to New York for a month to work with some songwriters and if we like what we hear we might pick ya up again'. In other words, 'You might actually come out with a few decent tunes if you bring other people in'. I walked the streets every day; didn't meet anyone; got really down for a while and then thought, 'Fuck it, I'll fucking take their money and have a fucking good time'. I wrote 'Revelate', 'Fitzcarraldo', 'Angel At My Table' and 'Red Chord' in the hotel they were paying for, and then took them to another label.
"I'd been crushed, I'd been punched in the fucking face by the industry but I pulled through. You know, dude, if I ever turn into that guy who's bitching about the industry 24/7, I'll give it up (laughs).'"
Glen Hansard recently turned 42, an age at which I suddenly went, "Fuck me, I wouldn't mind having kids." I haven't found a woman stupid or desperate enough to have them with me yet, but after years of thinking, "No way!" it's something that's definitely on the Clarkian agenda.
"So I'm not the only one! Family's a big thing for me," he confides. "My father died a couple of years ago. My mother, she's not in the best of health right now. She smokes like a fucking chimney and it's getting to her finally. I do believe that at a certain age you have to start singing a deeper song and that song might be family. The idea of living on a small farm with a wife and kids is, to me, kind of ecstatic. I'll have to get a wife first, but hey! I think that's the only thing that'll steal me away from the affection of strangers."
Advertisement
While the money men are screaming for a new Swell Season record, the plan after touring the guts out of Rhythm & Repose – Glen is playing all three days of the Electric Picnic – is to reconvene The Frames.
"Man, I need to. Fucking hell, those boys deserve a fucking medal for the patience they've displayed for the past five or six years. It's incredible. Because I just wandered off. I left the band at some point and my head was in another place. I was making music with Mar and then Once happened and then, bam, it turned into The Swell Season. The Frames were part of that of course, but the whole time they've been sitting there patiently going, 'Okay Glen, are we a band anymore or are we not?' And now I go to New York this year, ostensibly to have a rest, and make a solo record that they're going to tour with me. Un-fucking-believable loyalty! We'll start kicking ideas around on the road, then come back and make an album.
"I've all these different things going on in my life, but what I'm still most proud and protective of is The Frames," he concludes. "They're the well from which all this crazy stuff has sprung."