Glen Matlock : "Don't know what we want but we're gonna do it anyway. That's basically what the Pistols were about"
Sex Pistols legend Glen Matlock on his brilliant new memoir Triggers, the enduring power of Nevermind The Bollocks, and encountering fellow rock legends Ronnie Wood and The Edge.
It's most definitely rock legends day chez Nolan when I catch up with Sex Pistols bassist Glen Matlock. We're convening to discuss his brilliant new memoir Triggers: A Life In Music, which uses many of the classic songs he contributed to as a jumping off point for reflections on his life. Earlier this morning, I'd also been talking to ex-Sonic Youth man Thurston Moore, who was raving about Matlock's first book, I Was A Teenage Sex Pistol.
"I did that about 25 years ago and it was well-received," reflects the 67-year-old Matlock over Zoom, his swept-back silver hair offsetting his Van Dyke beard. "It's still available, but this book's a bit different. It's based around lyrics I've written and songs that have affected me, and it explores the stories behind those tunes. One thing feeds into another, but I think I've got a different viewpoint now than when I wrote Teenage Sex Pistol, which was a long time ago."
How does Glen feel his perspective has changed?
"I'm a bit more laissez faire about things," he considers. "I actually enjoyed doing the original book, because there was a lot of bad blood in the Pistols and things were said. It was a cathartic experience to write it. But I've had 25 years of benefitting from that catharsis and now I have a different take. I've also done loads of things since then. Tomorrow morning, I'm flying off to the States yet again to do some shows with Blondie, who I've been playing bass with.
"I've also been busy with my latest album, which came out earlier this year. You think nothing's happening, and then the phone rings and you're off somewhere. I'm in quite a privileged position and it puts everything in perspective somehow."
Advertisement
As a Sex Pistols obsessive, I found Triggers a delight to dive into, though Matlock is keen to emphasise that it covers all phases of his career.
"I'm not trying to denigrate the Pistols, but the other book was purely focused on the band," he notes. "Hopefully this is a bit different."
The London punk scene that crystallised around the Pistols immortal 1977 debut, Nevermind The Bollocks, not only produced some all-time classic music. It also saw a great flowering of talent in writing, fashion (as outlined in Triggers, Matlock got an in when he started working in Malcolm McLaren and Vivienne Westwood's Sex clothes store), design and film.
Indeed, whilst I have a pretty in-depth knowledge of the Pistols and punk, it's only lately, for example, that I learned acclaimed director Derek Jarman filmed early Pistols footage. Similarly, I recently discovered that another punk alumnus was John Maybury, who helmed classic promo clips for Sinead O'Connor's 'Nothing Compares 2 U' and the Pet Shop Boys' 'West End Girls'.
In another remarkable tidbit in in Triggers, Matlock reveals an early student rep who put on Pistols gigs was one Alex McDowell. Still a good friend of the bassist, McDowell went to a spectacular Hollywood career, working as production designer on the likes of David Fincher's Fight Club and Steven Spielberg's Minority Report. In teasing out punk's aesthetic influences, Matlock also mentions Stanley Kubrick's cult movie A Clockwork Orange.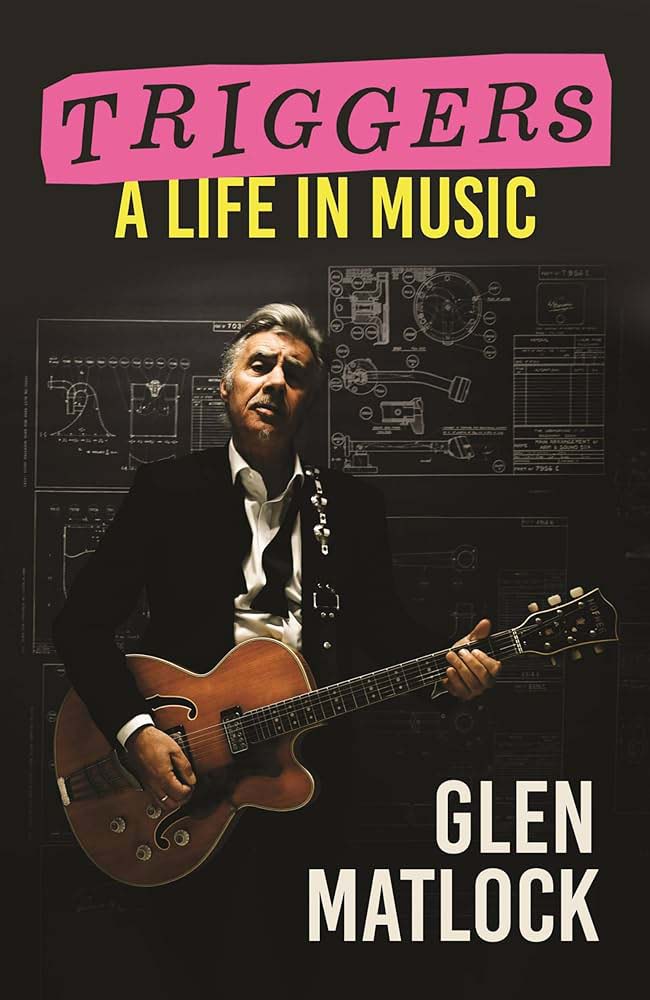 I've always felt the Pistols' 'Pretty Vacant' is an almost perfect punk-pop anthem, in that it feels like the Clockwork Orange gang wrote a song and made a video to go along with it.
Advertisement
"If you think that, that's kind of cool," enthuses Glen. "One of the pre-punk bands was Heavy Metal Kids with Gary Holton, who ended up playing Wayne in Auf Wiedersehn, Pet. His band were very Clockwork Orange. I'd read the lyrics, but I hadn't heard the song 'Blank Generation' by Richard Hell and the Voidoids. I thought I understood it and it turns out I got the wrong end of the stick. He was was saying, 'We're an open book, it's a blank page.'
"Whereas, I thought with what was going on in London at the time - and I don't really wanna raise this too much with your pedigree! - it was the IRA, three-day weeks, strikes, a hung parliament and rubbish piled on the streets. It just seemed we were going nowhere fast. To me, that's 'Pretty Vacant'. It's a primal scream kind of song - not the band! - but it's that feeling of, 'Don't know what we want but we're gonna do it anyway.' That's basically what the Pistols were about."
Elsewhere in the book, Glen reflects on his experience of going to art school. The art school tradition has had a seismic impact on British rock and roll, with many of the key figures either studying art or utilising art school strategies.
"It had an influence on me, although I was only studying fine art at St Martin's for a year," explains Matlock. "It's a pretty big deal these days, and even back then it was, although I didn't realise it. But in the summer holidays, I decided to take the Sex Pistols seriously, so that was probably my art project. But on top of it being a good place to float ideas around and find a bit of breathing space - and not go and work in the biscuit factory, or be an electrical engineer - it was a bit of goofing off.
"But there was a scene with all the little art colleges in London, which are now amalgamated. There were events at the Royal College of Art on Friday nights, where there was a guy called Edwin Pouncey, who went to work as an illustrator under the name Savage Pencil. I got chatting to him, and I think through that, he ended up doing A Night Of Treason, which The Clash and The Slits played at.
"All these things were kind of intermingling, somehow, with what John was doing, although he wasn't at art school. And Steve and Paul weren't, they thought it was poncy! It wasn't really poncy - it was if you wanted it to be, and if you didn't, it wasn't. But it was just another thing and it was exciting. The other thing about art college was that it was right in the middle of Soho when I was 17."
Advertisement
Of course, the visual element of the Pistols was phenomenally powerful, from the fashion and videos to the artwork devised by the late Jamie Reid, who passed away earlier this year. The many different strands of the group were teased out in Danny Boyle's Pistol series from last year, based on guitarist Steve Jones' memoir Lonely Boy. Certainly, it was a hit and miss affair, and the Pistols' internecine battles - almost as much a feature of the saga as the actual music - inevitably kicked off again during production. Matlock, for one, wasn't happy with the show.
"I was disappointed actually, because before it was made, I went and had some meetings," he says. "I put my side of the case and then when it came out... I wouldn't have signed off if I knew it was gonna be like that. From what I know, my portrayal isn't very truthful. It's quite well shot, I seen it at a private screening. It goes on about me getting sacked, which I wasn't - I left - and that's what I'm annoyed about. On top of that, I said to Steve Jones' face, 'You've got a shocking fucking memory!' He went, 'What do you mean?!'"
In fairness, there were some terrific performances, none more so than Anson Boon as Johnny Rotten.
"Yeah it was good," nods Glen. "I mean, John moaned about it more than anybody else, but I thought he came out of it quite well to be honest. I thought the guy who played Malcolm McLaren was very good - he caught the way Malcolm spoke very well. And I thought the woman who played Vivian had her very particular accent down. I did meet the actress briefly and I didn't realise she'd been married to Elon Musk twice!"
Advertisement
In Triggers, there are further great anecdotes, including Matlock attending a private screening of a concert film by Rolling Stones offshoot The New Barbarians, which was scheduled for a DVD release. Having arrived and taken his seat in the dark, it was only when the lights went up in the screening room that Glen realised he was sitting between Ronnie Wood and The Edge.
"What was funny about it," he recalls, "was that I'd actually been at the gig, way back when! It wasn't long after I met Steve and Paul, so it was kind of like a full circle moment."
Triggers : A Life In Music is out now.