The 30-track album will be released on November 19th.
On Thursday morning, Taylor Swift shared a word puzzle teaser on social media that featured jumbled track titles for her next album, Red (Taylor's Version).
Fans got to work and quickly cracked the code, discovering the re-recording will feature Phoebe Bridgers, Ed Sheeran, Chris Stapleton, and Gary Lightbody, which Swift promptly confirmed.
The 'All Too Well' singer shared her excitement with her fans on social media this morning, stating, "I know some of you thought that would be like trying to solve a crossword and realising there's no right answer BUT...you played it good & right. Congrats pals, you guessed the correct titles and feature artists on Red (my version)."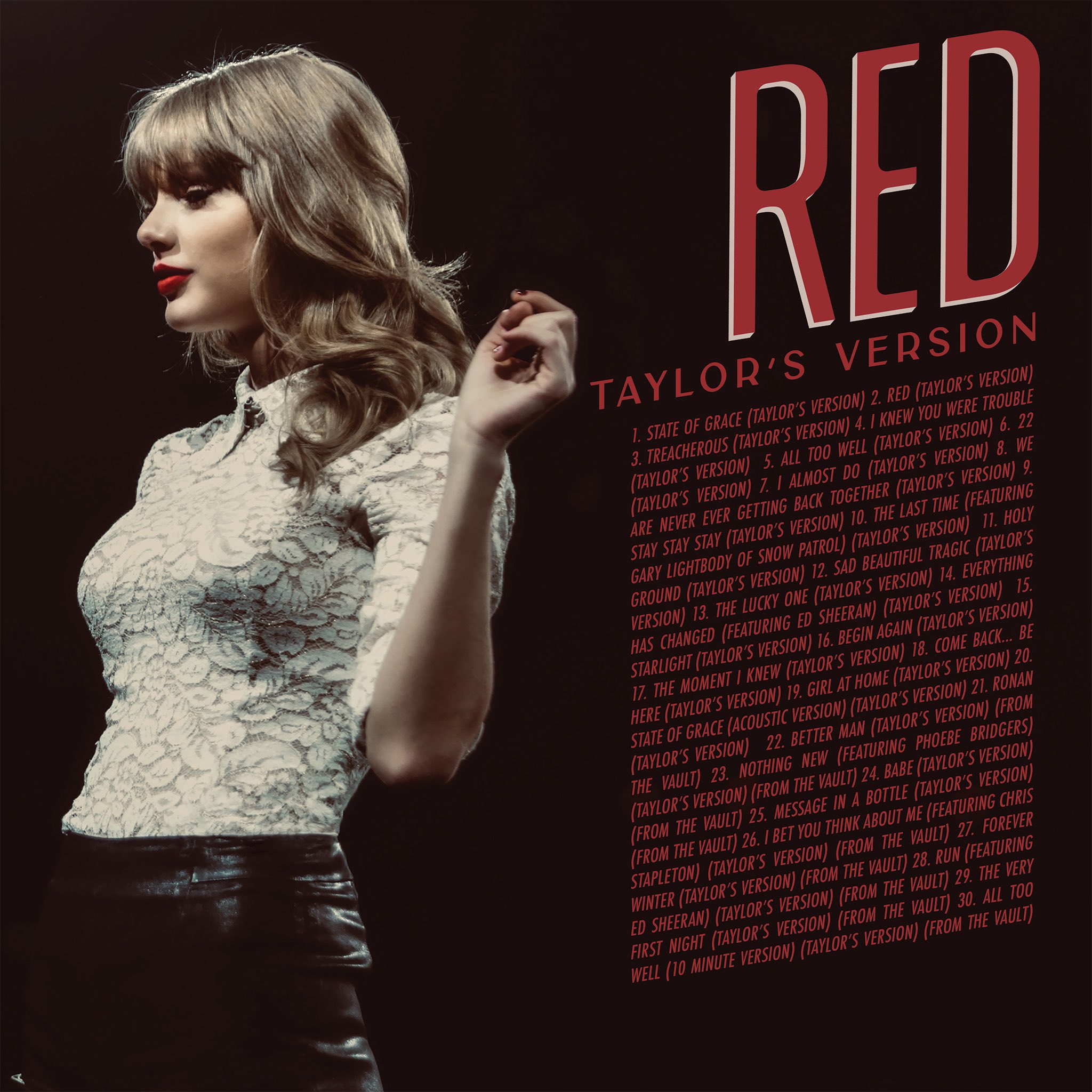 This will be Swift's second re-recorded album, following Fearless (Taylor's Version) released in April. Like the last rerecorded album, Red (Taylor's Version) will include 'From the Vault' tracks that the Grammy award-winner wrote during the Red era and has kept hidden from her fans for years.
Advertisement
Accompanying the release of the track title puzzle was a pre-save link for the album where fans could unlock "the vault" and access new bonus material for correctly guessing the titles, and a pre-order link for the album's CD.
Check out the extended track list below.
Red (Taylor's Version):
01 State of Grace
02 Red
03 Treacherous
04 I Knew You Were Trouble
05 All Too Well
06 22
07 I Almost Do
08 We Are Never Getting Back Together
09 Stay Stay Stay
10 The Last Time [ft. Gary Lightbody]
11 Holy Ground
12 Sad Beautiful Tragic
13 The Lucky One
14 Everything Has Changed [ft. Ed Sheeran]
15 Starlight
16 Begin Again
17 The Moment I Knew
18 Come Back… Be Here
19 Girl at Home
20 State of Grace (Acoustic Version)
21 Ronan
22 Better Man
23 Nothing New [ft. Phoebe Bridgers]
24 Babe
25 Message in a Bottle
26 I Bet You Think About Me [ft. Chris Stapleton]
27 Forever Winter
28 Run [ft. Ed Sheeran]
29 The Very First Night
30 All Too Well (Ten Minute Version)