Hot Press Artist of the Decade Hozier reflects on his remarkable journey so far – from the breakout success of our Track of the Decade 'Take Me To Church', to his acclaimed Cry Power Podcast series. The Co. Wicklow musician also opens up about Bernie Sanders, Michael D. Higgins, transgender rights, and the parallels between direct provision and the camps at the US-Mexico border.
It's been just seven years since he burst into all of our lives with his seismic debut single 'Take Me To Church' – but there's no denying Hozier's legacy as the defining figure of Irish music over the past decade. From his universe-conquering hit singles to his trailblazing activism, he has carved out a fiery path in modern music that only a handful of greats have walked before him.
As tens of thousands of votes piled in for the Hot Press Readers Poll, the tallymen and women were poised. By the end of a fiercely contested count, it had become abundantly clear to everyone here at HP central that the Co. Wicklow musician had lifted the coveted title of Artist Of The Decade – an extraordinary achievement in the face of stiff competition from the legendary likes of U2, who also polled superbly, Snow Patrol, Lisa Hannigan, Glen Hansard and Damien Dempsey.
"I'm delighted," he grins, shaking his head in disbelief. "They're all the heavy hitters, and they're all inspirations. Lisa Hannigan has always been a bit of a guiding star for me – in the quality of her songcraft, and the character of her lyrics.
"I'm constantly bowled over by U2, too – how much they work, and how hard they work," he adds. "Same with Glen, and everyone else on that list. All of them are shockingly hard workers, and dedicated to their craft. I'm really honoured."
There's been no shortage of starry highlights over the past decade for Hozier – from performing at the Grammys, to becoming the fourth Irish person in history to score a No.1 album in America. But his true highlight?
Advertisement
"More than anything, I've been blessed to share stages with artists that I love, respect and admire," he says modestly. "Especially performing and doing a song with Mavis Staples. She's a very special artist, and a very special person. She represents the best in people. And her life's work represents the best of what a song can be – and what a song can be a vehicle for.
"Then there's working with Booker T and Brandi Carlile. I've had a crazy seven years, and there have been some real special moments."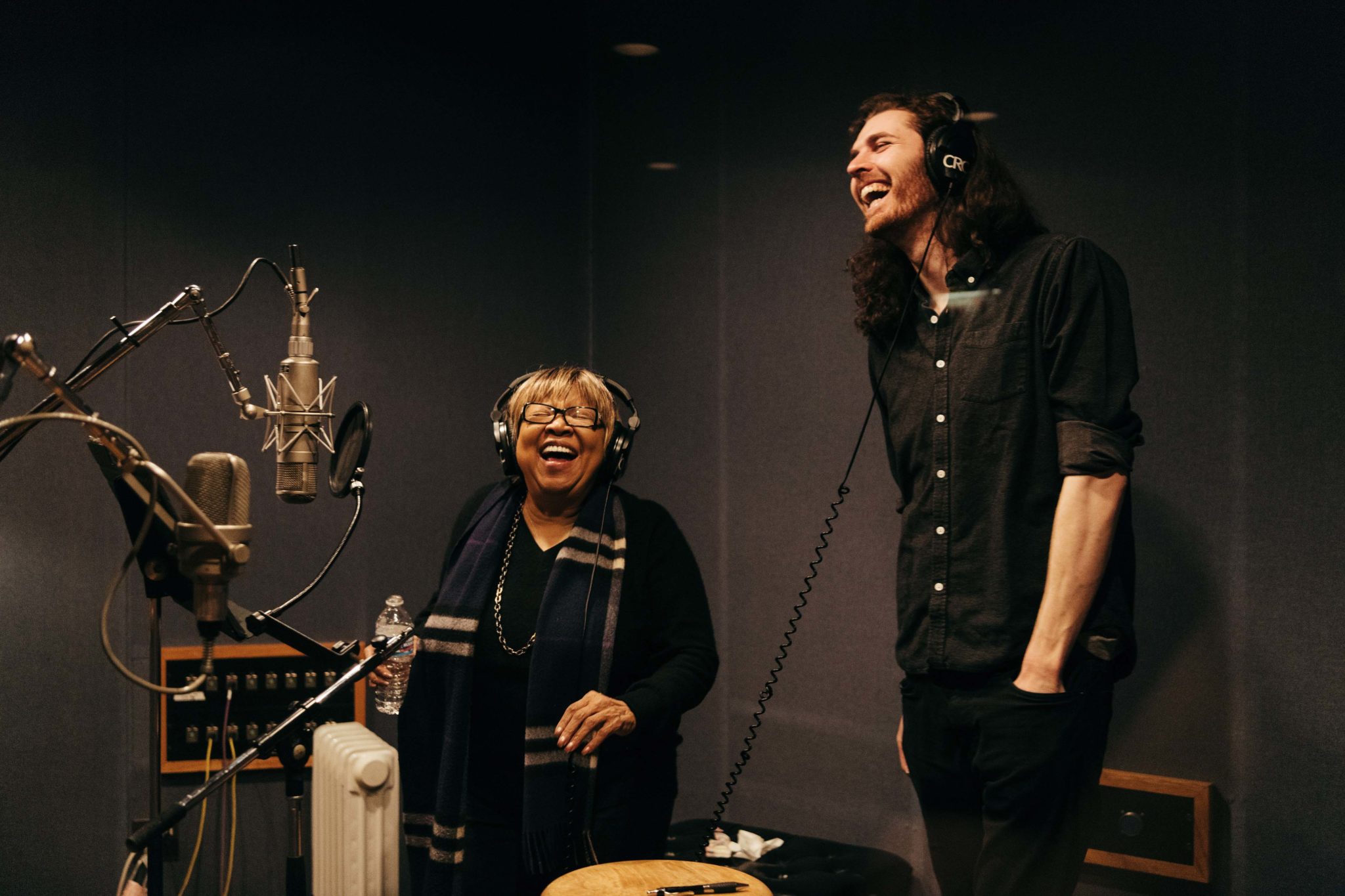 TRANSGENDER PRIDE
As even a cursory listen of his music will reveal, the blues tradition runs deep through Hozier's sound. But, as he reveals, he also shares an affinity with the interlinked world of folk, which is entering a golden age on these shores – something he's well aware of, having recently shared his appreciation for Ye Vagabonds and Lankum with his 1.4 million Instagram followers.
"The first songs I ever wrote were very much folk songs," he relates. "I didn't release any of the stuff, but when I was 16 and 17, I was setting Oscar Wilde poems to slide folk. That influence is always simmering – and I always have a back pocket full of what I would consider folk songs and ideas. I've actually thought of engaging more with traditional Irish folk in my songwriting. I'm keeping a space for some collaboration in that, somewhere down the line."
Following these early forays in folk, Hozier ultimately found his sound on breakout hit 'Take Me To Church' – the worthy winner of Track Of The Decade in the Hot Press Readers' Poll. The song, which has since clocked up over a billion Spotify streams, catapulted Hozier's career to unfathomable heights. As it continues to reverberate around the world seven years later, it's hard to imagine that it started life as vague scribbles, when Hozier was still barely out of his teens.
Advertisement
"I used to carry around this little notebook with me everywhere," he recalls. "That's how it started. I had either just left school, or was in my early years of college. I'd jot down these lyrical ideas that were kind of disembodied, but I had nowhere to put them. So, they rattled around in my pocket for ages – nearly a solid year or so, until I found a home to put them into. I was sitting at the piano one day, and things just fell into place quite quickly around it. I loved the song, and I was proud of it – but I thought only a very small audience might hear it. I was doing the odd open mic night, but I hadn't released anything at that point."
Of course, the song's audience soon proved slightly larger than an open mic crowd.
"It's a funny one, how that worked out," he smiles humbly. "I was incredibly fortunate. It takes a long time to adjust, when a song that you've made takes off like that. But I suppose that's just how it works for a lot of musicians. You still end up writing the songs at home, and working on it on a laptop in your bedroom. Somebody said that the laptop is the new folk instrument. I'm sure that will leave a sour taste in someone's mouth! (laughs). But in the 1950s, it was an acoustic guitar in every bedroom – now it's a laptop. Everybody has the ability to put a musical idea down, and explore music creatively."
The success of 'Take Me To Church' was aided in no small part by the track's viral music video, which took a defiant stance against homophobia, and was subsequently shared by Stephen Fry. It's since taken on an additional life as a LGBTQ+ anthem. Was that subject matter always at the heart of 'Take Me To Church'?
"When the song came together, I was seeing it from that angle," nods Hozier. "It's there in the 'born sick' lyric – and reflecting on the Church's habits of pontificating over who, and how, we should love. Then we got to explore it more with the video project, with Brendan Canty and Feel Good Lost."
The singer has since further cemented his status as an ally to the LGBTQ+ community by waving a Transgender Pride flag during a performance of the iconic track in London.
Advertisement
"I've been incredibly fortunate to enjoy a lot of support, and I've a huge amount of LGBTQ+ fans," Hozier explains. "When fans throw their flag up, the natural thing to do is pick it up and give it a place on your stage.
"I'd imagine it's a very tough and frustrating time for someone who identifies as trans," he continues. "I can't imagine what you face in seeking and endeavouring to live your life as you need to. Especially when you've got high profile celebrities, who are welcomed onto television platforms to debate the issue and the validity of your existence, as if it's not something that's life or death – as if it's something that can be bandied around. It's important that people reflect on just being kind, and being there for people, both as neighbours and as members of a society."
TERRIFYING PROSPECT
When he's not tearing up stages around the world, Hozier has been shining on a light on such issues with his acclaimed Cry Power Podcast series. Since launching the podcast in October, he's been joined by the likes of Annie Lennox, Bono and Marcus Mumford, as he sets out in pursuit of answers to what he describes a "the harder knot to untie: the question of why people do what they do."
"In a neoliberal world, a lot of the problems of the world are left to be sorted out by the free market," he argues. "And yet, that sort of extreme individualism, which is a term Michael D. Higgins used in his inauguration speech, feels so against our own nature. It's in human nature to be kind to one another, and look after one another. So what is it that moves these people to work so hard for this thing? What's the central instinct? A lot of them would say that it would be completely unnatural to do anything else.
"And then, from that, comes the fascinating and vital stories that these people have to tell," he continues. "I'm very fortunate to have a very engaged fanbase, who are conscious about the world that they live in. That's really exciting, and super-encouraging."
While each guest on the Cry Power Podcast has had their own moving story to tell, he reveals that the next episode in the series is set to be extra special.
Advertisement
"Speaking to Michael D. Higgins was a real honour," he grins. "I was sitting in his office, behind his desk, and hearing him speak of his experiences. He spoke about witnessing what happens when society allows itself to spiral to places where people disregard each other, scapegoat each other, and humiliate each other – and what that leads to. He's done a huge amount of work abroad, which I'd never known about, in gathering information about massacres and genocides. He's just a remarkable man and intellect."
Another recent guest, Amnesty International Ireland's Colm O'Gorman, has been a significant voice in the calls to end direct provision. Hozier, like many Irish people, shares O'Gorman abhorrence for the deeply flawed system – which turns 20 this April.
"It's a State-built issue," he reasons. "The way that direct provision keeps people trapped within it for so many years, and the way there's such undesirable conditions within it, is, as Colm would say, a deterrent. It's the same with the camps at the border of America, and the reports of conditions there – children who are dehydrated, and children with fevers going untreated. The reasons these children are being separated aren't necessarily arbitrary – it's to deter and terrorise people. For a parent coming over the border, who has carried a child halfway across the world in their arms to bring them to safety and security, the idea that their child would be ripped from their arms is an absolutely terrifying prospect. So, when it comes to the conditions of DP, it's as cynical as that – it's to deter people from coming to Ireland and seeking refuge.
"But there is progress," he adds. "In the recent election, it was encouraging to see that those running campaigns from a nativist, anti-refugee standpoint received so little of the vote."
NEXT CHALLENGE
Hozier played an active role in encouraging his Irish fans to vote in the run-up to our general election, but he's also impassioned when it comes to politics on the other side of the pond. He endorsed Bernie Sanders (who counts himself among Hozier's 848,000 Twitter followers) in 2016 – and by the sounds of things, the Brooklynite has his firm support once again.
Advertisement
"His policies, from a European standpoint, are not radical," Hozier remarks. "He's talking about providing healthcare to people. He's talking about third-level education. From the perspective of a European social democracy, there's nothing crazy or radical about what he's doing. I would love to see the American people have a President who would fight for offering those things for them. They deserve no less."
As he continues to use his voice and talent to articulate these standpoints through song and commentary, it's clear our Artist Of The Decade is ready and raring to take on his next challenge – whatever form that may take.
"I feel like every time you start making a work, there's a lot of potential paths you could take it on," he muses. "I'm excited to work on the next record, but I might look at doing a side project of some kind too – because there's always more ideas in your head than you can cram into one cohesive voice that follows a line. It might be fun to have a separate outlet."
As the Hot Press Readers' Poll confirms, there's a hell of a lot of people out there who'd say amen to that. Andrew Hozier-Byrne, we salute you.