As tickets are flying for his upcoming 3Arena shows, we revisit our chat with Andrew Hozier-Byrne about his short-lived break from touring, his duet with Mavis Staples, advocacy, and more.
The first thing you obviously notice about Andrew Hozier-Byrne is his height. Not professional basketball player tall, but towering over everyone else in the chi-chi French restaurant where we're meeting today to discuss his return to frontline rock 'n' roll action. Then you cop the shy smile that suddenly turns into a megawatt dazzle, the way his voice quietens when he's trying to explain something, and the little clap of the hands when he thinks the point's been made.
Hozier's physical stature probably doesn't matter a whole lot to the gazillion people who've bought or streamed his music these past five years, but his warmth, passion and ability to write songs that tug at both heart and conscience most certainly do.
Another thing you can add to the Wicklow man's attributes is his undiminished fandom for the people who made him want to make music in the first place.
This was evident on the Saturday at Electric Picnic when an uncharacteristically nervous looking Hozier joined Mavis Staples on the Main Stage for a pulling into Nazareth rendition of The Band's 'The Weight'.
It was part payment for the Stax legend singing up a storm on his new single, 'Nina Cried Power', released last week and an affirmatory answer to the question, "Does he have another 'Take Me To Church' in his locker?"
Advertisement
"I realised pretty early on in the writing of 'Nina Cried Power' that it was a duet, and that the person I wanted to sing it with me was Mavis Staples," he explains. "I wasn't arrogant enough to automatically think that she'd say 'yes'. When she did, I was at first elated and then very aware that I was going to be sharing the studio with one of the greatest vocalists of all-time. No pressure! It's hard not to be intimidated by someone of her stature, but Mavis is the most magnificent person to be around. She's super warm and caring and giving. She really threw herself into it and was so open to ideas. We flew out to Chicago to record that with her and, yeah, I'm thrilled."
Having grown up listening to such classics of hers as 'I've Learned To Do Without You', 'Freedom Highway' and – swoon – 'I'll Take You There', Hozier got his first live sighting of Ms. Staples a few years back at the Newport Folk Festival.
"Along with their sister jazz festival, they've always documented the artists who've played there, which means that there's this really amazing footage of Skip James, Son House, Howling Wolf, Muddy Waters and Dylan going electric. Their thing in the '60s was that whether you were performing on the main stage or in front of the hotdog stand, everybody was paid the same. It's a lovely ethos to have, but probably wouldn't fly these days. Anyway, Mavis was at Newport with various members of her family and, as I knew she would, blew me away with not only her old songs but also the newer stuff she's done with Jeff Tweedy from Wilco. I think she's released more albums in the last ten years than she did in the previous thirty, so there's no resting on her laurels. Her management had talked about the possibility of us collaborating, so when we contacted them about 'Nina Cried Power' it wasn't a completely cold call."
Apart from being a thumpingly good tune, what drew Mavis Staples to 'Nina Cried Power' was its celebration of the Civil Rights Movement, with Billie Holiday, John Lennon, James Brown, Pete Seeger, Marvin Gaye, Bob Dylan and Woodie Guthries also namechecked.
"Oh, 'Nina' is gonna wake the world up," the 79-year-old Chicagoan enthuses. "Such a huge sound it could shake the Earth, filled with soul, passion, and fire, and it channels the struggles of some of my contemporaries. I'm telling you when you hear it, it's going to drive you to rise up."
Advertisement
Endorsements really don't come any more ringing than that.
"Mavis and Nina are from that era where being a black female singer was a political statement in its own right," Hozier proffers. "When I was eight-years-old I discovered a Nina Simone CD and played it falling asleep at night. I was completely hypnotised by her presence on record and the weight of her voice. Through 'Mississippi Godamn' I was introduced to the American Civil Rights Movement and what followed on from it."
I thought we were done with all this institutionalised racist crap when Obama became president, but thanks to Trump and his base 'Mississippi Godamn' is as relevant now as it was in the '60s.
"Absolutely," he agrees. "There are clear parallels with the modern day political climate and the Black Lives Matter movement."
Mavis Staples isn't the only member of black music royalty that Hozier has been hobnobbing with recently.
"Booker T. Jones is across a great deal of the album. I'm not a keys player, so to witness first-hand his muscianship, how he forms and articulates harmony and how lyrically he plays was a joy. Being in a constant state of awe wouldn't necessarily be a good thing, but there were numerous times I looked over and thought, 'Is this really happening?'"
The Nina Cried Power EP also features an impossibly tender love song called 'NFWMB', which spells out as the not quite so tender 'Nothing Fucks With My Baby'.
Advertisement
"That's going to be a hard sell to radio!" he chuckles mischievously. "I was glad that the label loved it and aren't too worried that it won't get a great deal of airplay. Perhaps we'll do a Cee Lo Green-style 'Fuck You'/'Forget You' edit!"
When Hozier stopped touring at the start of 2016, his manager, Caroline Downey, was adamant he could take as much time off as he wanted. Which turned out to be mere months.
"I came off the road with a phone-full of memos and voices notes," he explains. "A lot were immediately disregarded, but there were a few that I started playing around with. There was a six-month period of writing and demoing in the latter half of last year, which is a bit of a blur to me. You're exposed to a great deal of stimuli and infuences on the road, but you just don't have time to translate them into a new song until you stop for a while."
He also needed some down time in Bray to realise the magnitude of what's happened to him since 'Take Me To Church' blew up.
"Yeah, it was only when I came home that I was able to fully process what's happened," he nods. "In London and New York you kind of blend in, but in Dublin everybody seemed to know me. I did struggle with that at first. This sense of achievement, though, is fleeting. You can give yourself a pat on the back but, as far as I'm concerned, I haven't succeeded really with what I want to achieve in the great scheme of things."
Which is?
"It's increasingly hard with the way music is promoted and consumed these days, but I want to stay in the game and have a career that matches – in terms of longevity, anyway – heroes of mine like Tom Waits and Paul Simon. I was heartbroken that I missed Paul Simon's farewell show in the RDS. I saw him last time round on the Graceland tour and was just thrilled by it. I must see where this tour's ending up and try and fly over for it."
Advertisement
If he needs a gig buddy for Flushing Meadows Corona Park in Queens, NY on September 22, I'm free. Like anyone who picked up a guitar as a kid, Hozier had dreamt of stardom, but even with a major record deal and super-well connected manager – Caroline Downey also happens to be one-half of concert giants, MCD – he didn't expect it to come knocking so soon and so loudly.
"The success of the first album took me completely by surprise – the cart's before the horse and you're going out there green as grass," Hozier admits. "I don't know how the fuck I did those first American TV shows because I was in absolute ribbons. I'd only been in front of a camera once before that. Something I'll wish for the rest of my life is that I could do it again differently. It was really difficult getting used to singing a song like 'Take Me To Church' three times a day in an air-conditioned studio, and the rest of the time talking in interviews. You're trying to keep cool and pretend that this is normal but, no, it was tricky on the way up."
According to its producer, Rob Kirwan, Hozier's debut album was recorded under the influence of Feist, St. Vincent, Little Dragon and The National. What was on the studio hi-fi this time round?
"Tinariwen and Ali Farka Toure: that kind of West African thing where folk picking meets blues music. I was also listening to gospel, those Alan Lomax field recordings that I've only discovered recently, and those one-chord mountain blues boogies that dudes like John Lee Hooker used to play."
When I interviewed John Lee shortly before his death in 2001, he had three extremely attractive young ladies, his 'honeys', cooing over him. "Wow, I did not know that. Fair play at his age - and an idea for the future! He was just another incredible artist who survived everything life threw at him."
PRESSURES OF STARDOM
Album production duties fall this time to Markus Dravis, the Anglo-German who also has Mumford & Sons, Coldplay, Arcade Fire, Kings Of Leon and Florence + The Machine on his A-Lister CV.
Advertisement
"Rob is an incredible engineer who mixes as he records using the drums as a foundation. The depth of sound he gets is huge. Sonically, Markus is very different. We talked a bit more about musical ideas and arrangements on this one: what we wanted from the songs. He's got fantastic ears and great vision. I have to say he's not shy about directing you! It was intense but we had a good relationship, and there's stuff that he pulled out of the songs that I wouldn't have.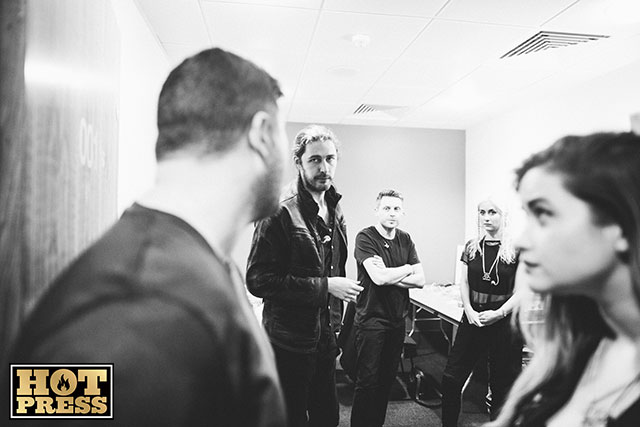 "We flew to Chicago for Mavis, but most of the recording was done in London apart from the guitar and piano for 'Nothing Fucks With My Baby', which was done in my house," he continues. "I'm very proud of it and 'Nina' and another song on the EP, 'Moment's Silence'. There's a lot more to come and, when it does, I hope it'll be enjoyed as a body of work." While never in any real danger of joining the 27 Club – his birthday in March now makes it a numerical impossibility – Hozier understands why the likes of Kurt, Amy, Janis and Jimi found the pressures of stardom too much to bear.
"I won't go into the details in case it identifies them, but I've crossed paths with one or two other artists at festivals or whatever who were clearly in a state of crisis and needed to come off the road immediately," he reflects. "It's been a steep learning curve for me, too. I have the bruises and scars, and might have got into real difficulty if I hadn't had such good people around me. Alex, my bass-player and musical director who I met in college, is one of my nearest and dearest. Also, having an Irish crew, your head will never be allowed to get too big. I'm constantly being slagged by everybody, which is a good leveller. My management have always been very careful: there are no massive egos or other kinds of toxic influence when we're out on the road. You're aware, though, of this massive machine being created around you. You can't stop or stall the brakes because everyone is relying on this machine. There are dudes with wives and kids at home: it's their livelihoods. You're constantly putting fires out in your mind and dealing with post-gig comedowns. I don't exactly know how to explain it, but a lot of musicians come off stage and feel a sort of despair. It could be a coming down, adrenaline sort of thing. You're going from panic to stress to elation to anxiety as you post-mortem the gig. Fortunately, though, I have my band of brothers and sisters around me. I look at them and think: 'We're in this together. Everybody's tired, everybody's doing their best to pull through.' I can totally understand why artists who don't have that might struggle."
Hozier has also had to get used to the fact that there are people out there like Rick McDaniel, a Virginia evangelist who, getting his vestments in a twist over 'Take Me To Church', wrote him an open letter that started: "Dear Andrew, I have been meaning to write this for some time but when I saw your performance at the Grammys it finally moved me to action. When I first heard about your song 'Take Me To Church' I was intrigued. I thought it was good someone would write a song about going to church. I listened to the song, I liked your voice, I liked the arrangement and I liked the song. But then I listened again, I read the lyrics and my thoughts drastically changed. The song sounded good until the words began to sink in: 'I'll worship like a dog at the shrine of your lies/ I'll tell you my sins so you can sharpen your knife/ Every Sunday's getting more bleak, a fresh poison each week/That's a fine looking high horse, what you got in the stable?/ We've a lot of starving faithful.'
DAVE GROHL & KANYE WEST
"Why so much hate? Lies, poison, knife. Every Sunday's getting more bleak for the starving faithful. Really? It's worth noting you wrote this song when you were only 22-years-old. Your fellow Irish rocker Bono has arrived at a very different view of the Church and Christianity with a few more years of life experience. Maybe given some time and a few more interactions with Christ followers you might have a change of heart."
Advertisement
Google the rest, it's an absolute hoot.
"Yeah, an open letter asking me to find God," he says with a shake of his head. "That people think there's gravity to what you're saying is in one way, I suppose, flattering but it can be quite alienating when somebody presumes to know things about you that you don't know. 'Who the fuck am I? Who's this person they're sending this letter to?' It's quite hard to renconcile your own sense of self with the image they've built up of you."
Has he ever played in Russia where somebody in the Federal Security Service doubtless made Vladimir Putin aware of the 'Take Me To Church' video?
"I haven't. I'd be afraid I'd never come back!"
The pressures of being a global superstar are, he insists, far outweighed by 'pinch me, am I dreaming?' moments like getting to perform with Annie Lennox at the aforementioned Grammys.
"I'm not sure I'll ever get my head round that," he grins. "It's one of the most surreal nights of my life. I was walking back to my dressing-room after having a Jimmy Riddle and in the corridor chatting away were Dave Grohl and Kanye West. As I passed by them, Dave stops his conversation with Kanye and says, 'Hey, dude, I'm really looking forward to playing that show in Slane. See you then!' It was months before the Foo Fighters played at the castle, but he'd done his homework and knew exactly who I was.
"The myth of him being 'the nicest man in rock' was completely confirmed for me. Really, I was blown away. As for Annie Lennox, wow, she's such an iconic artist and such a powerful woman. In the conversations I had with her, she was incredibly supportive. She's somebody who knows what she wants out of her work and is no nonsense about it as well.
Advertisement
"She sees through the bullshit of the industry, so I have a lot of respect for her. We did a mash up of 'Take Me To Church' and 'I Put A Spell On You', which worked out really well. Prince was in the audience, so I was trying to push my eyes back into my head! It's so incredibly sad what happened to him not long after."
As saddened as he was by Prince's death, it was David Bowie passing away at the start of 2016 that totally knocked the wind out of Hozier.
"My Dad was always a huge Bowie fan, and played his records in the house non-stop," he reminisces. "It's very hard to talk about David Bowie in the past tense. He had such a hunger for it. His last record, Blackstar, was so deep and so dark. What a way to go, leaving an album like that. I think he will be unparalleled. To me there's an iconography to him, he defines artistry in so many different ways. We're losing icons at such a rate. Lyrically, I looked to Bowie and Leonard Cohen an enormous amount. If I can keep making music for the rest of my life like them, I'll be thrilled."
VERY DIFFERENT COUNTRY
Were Nina Simone alive today you know that she'd wholeheartedly approve of Hozier's own activism, which has seen him champion LGBTQ rights, same sex marriage, Repeal and the need for abuse survivors to be fully acknowledged, apologised to and recompensed by the Catholic Church. Tears were shed, both on and off stage, last month at the #Stand4Truth rally in Dublin when he performed a version of 'Take Me To Church' full of the righteous anger the occasion merited.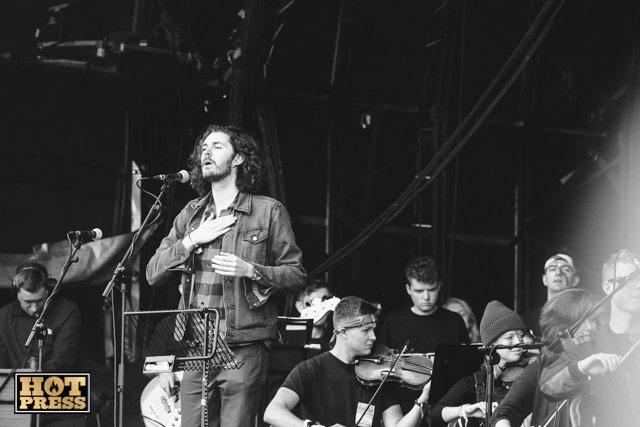 "I was in Los Angeles at the time of the marriage referendum, but flew back in the day before to vote and was so proud when it proved to be an overwhelming 'Yes', as it was with Repeal. The distance travelled from when I was a kid, and the word 'gay' was used to describe anything that was bad, is incredible. I have great faith in the Irish people's sense of justice when they're allowed to express it.
Advertisement
"I was out of Ireland for so long and came back to a very different country both socially and musically. The cross-pollination is amazing with artists like Rusangano Family, Soulé and Kojaque who's an outrageous talent. The bar's really been raised. It's not all good, though. There are a lot of challenges facing my generation in particular. One of them being that Dublin is such a hard place to live and pay rent in." Before we leave Hozier to tuck into a fancy plateful of French food, any more of those ' Am I dreaming?' moments he'd care to share with us? "I forgot to tell you about the Grammy's after-party where Annie and myself really enjoyed ourselves," he beams again. "We woke up the next day with outrageous hangovers and had to do the video shoot for 'Work Song'. If I look pale, it's not the lighting or the colour grading! But, the pinnacle for me, the dream come true, was coming home last year and playing to a Longitude crowd that knew every word of every song. For that to happen with my friends and family there was incredible."
The Nina Cried Power EP is out now.
RELATED