Eastbound 2019: A New Dublin Music Festival Announced Including Lion, Wild Front and More
A brand new music festival is set to take place across Dublin this year. 
The music festival, titled Eastbound 2019, will run from May 7th - 12th and will feature the very best new and breaking artists in some of Dublin's best music venues, including The Sound House, The Workman's Club, Grand Social and Whelan's.
With a lineup boasting performances from Lion, The Snuts, Whenyoung, Maisie Peters, Men I Trust, Wild Front, Rhys Lewis, Gwenno and many more yet to be announced, Eastbound 2019 is destined to impress.
All tickets are €13.50 and will go on sale Wednesday, 6th February at 9 a.m. Tickets for events will be sold separately available on Ticketmaster.ie and outlets Nationwide.
Find the full day-to-day breakdown of artists and venues for Eastbound 2019 below, alongside more information on the currently announced artists.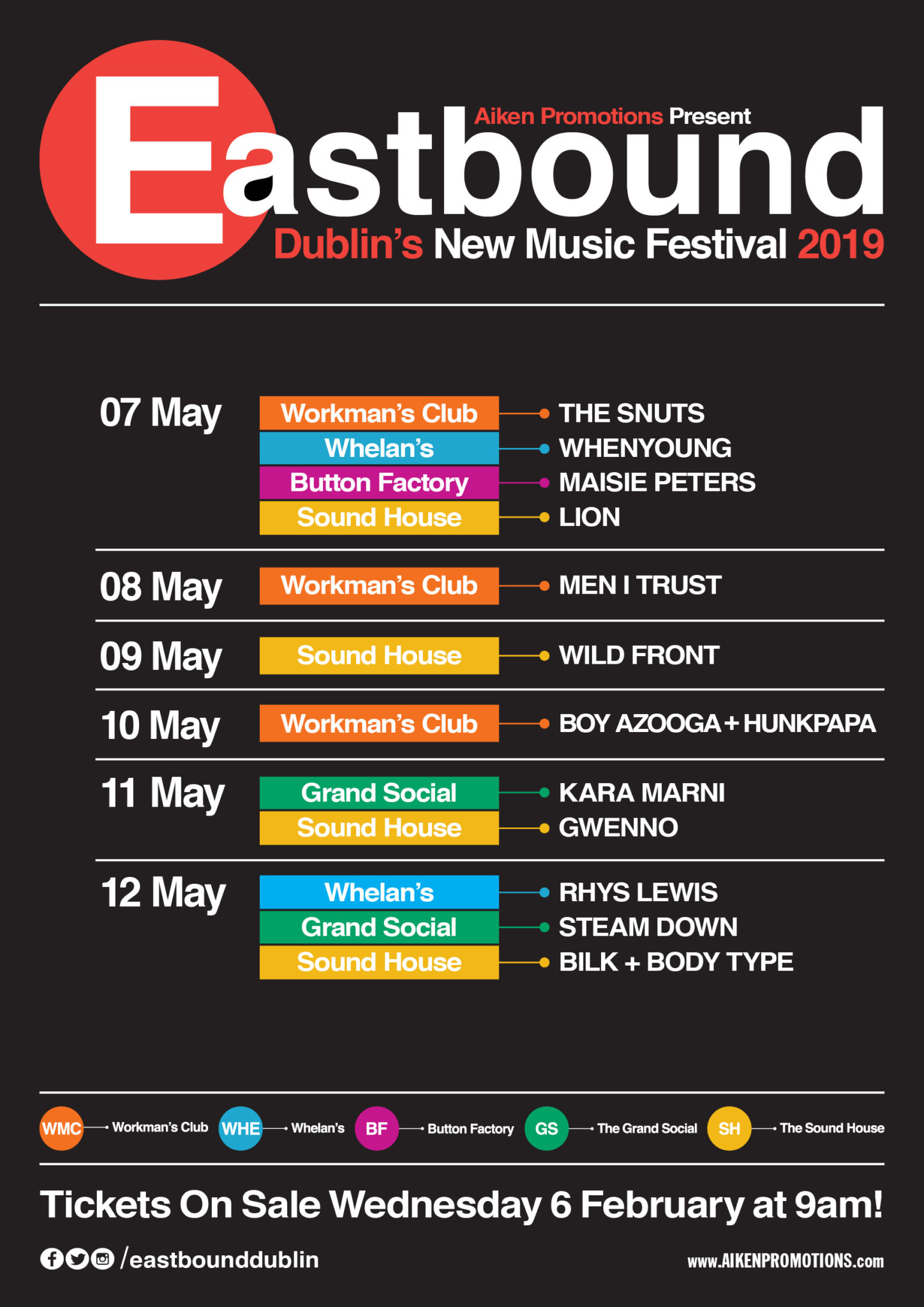 Advertisement
LION // The Sound House // May 7
LION – aka Beth Lowen – makes her Dublin debut at Eastbound. Blessed with a ferocious, Janet Joplin-esque voice, check out 'Self Control' and 'Oh No' from her eponymous debut EP.
THE SNUTS // The Workman's Club // May 7
Initially emerging as a word-of-mouth phenomenon and then scoring over 1m Spotify streams of their early demos, The Snuts' energy and charisma (plus a handful of anthems) has been rewarded with a cult following at home in Scotland.
WHENYOUNG // Whelan's // May 7
2018 was a landmark year for the Limerick natives with the release of their debut album "Given Up", and a string of live shows including Shane MacGowan's 60th birthday celebration alongside Nick Cave and Sinead O'Connor, and supporting Dream Wife, The Vaccines and Peace.
MAISIE PETERS // Button Factory // May 7
Advertisement
Eastbound is delighted to present Maisie Peters' first Irish headline show. The Brighton songwriter first emerged in 2017 when her debut single 'Place We Were Made' went viral, and 2018's 'Worst Of You' has already hit the 22 million play mark on Spotify.
MEN I TRUST // Workman's Club // May 8
Described by Pitchfork as 'dream pop', Montreal-based Men I Trust release their third studio album - 'Oncle Jazz' - later this year.
WILD FRONT // The Sound House // May 9
With over 3 million streams on Spotify, Wild Front come to Dublin for an Eastbound headliner before sharing a festival stage with Foals and Two Door Cinema Club this summer.
BOY AZOOGA + HUNKPAPA // The Workman's Club // May 10
Boy Azooga released their debut album "1,2 Kung Fu" in June 2018 to very favourable reviews, dubbed "bright, exciting and full of effortlessly intelligent song writing" by NME. Formed in 2017, Armagh's HUNKPAPA haven't released a single note of music to date yet have scored plaudits from the likes of BBC Radio Ulster and BBC Radio 1. A lethal double-header.
Advertisement
GWENNO // The Sound House // May 11
Gwenno Saunders is a Welsh Music Prize Winner (for her 2015 debut album Y Dydd Olaf) and former member of The Pipettes.
Eastbound will be her first Irish headline show.
KARA MARNI // The Grand Social // May 11
Self-described as "soul with a sprinkling of pop," Marni has a voice beyond her years, with soaring vocals and a distinct sound that sets her firmly in her own lane. Influences include Roberta Flack and Anita Baker and contemporary greats such as Amy Winehouse and Lauryn Hill.
BILK + BODY TYPE // The Sound House // May 12
Boasting influences from the Jam to Eminem, Essex-based 3-piece BILK write honest songs to inspire the youth of today, their music being a social commentary to the challenges facing young people today. Australia's BODY TYPE have played shows with the likes of Big Thief and Pond and have already graced the stages of Gizzfest, Bigsound and Fairgrounds festivals at home.
STEAM DOWN // The Grand Social // May 12
Advertisement
Occupying a bold centre-point between Afrofuturism, grime and future soul - all fused together with the fearless spontaneity of jazz – Steam Down's weekly sessions at London's Buster Mantis club are already the stuff of legend.
RHYS LEWIS // The Workman's Club // May 12
RHYS LEWIS started 2019 with the release of a new single 'Better Than Today' on January 4th which has already passed the 1 million stream mark. He has toured with artists like JP Cooper, James TW and Freya Ridings, and Eastbound will be Rhys' first Irish headline show.