With the countdown well and truly on, Forbidden Fruit Festival have announced a tempting selection of acts for their after-parties throughout Dublin City.
Having already generated a whole lot of excitement for festival season with their stellar lineup - featuring Skepta, Mura Masa and Elbow – Forbidden Fruit's after-party lineups will ensure we'll all be running around Dublin City into the early hours.
Growing in prominence each year, the festival's after-parties have become legendary for their exclusive DJ sets. This year, they're upping the ante with some major international guests joining some of Dublin's best collectives.
Fresh from their sets on the stage at Kilmainham, you'll be able to catch the likes of Mall Grab, Kojaque and Maribou State in some of Dublin's best venues, with more great acts performing throughout the city.
Check out the full lineup for Forbidden Fruit Nights below…
Advertisement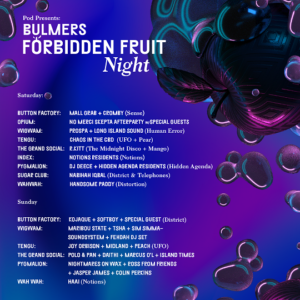 Bulmers Forbidden Fruit Festival will take place across the June Bank Holiday weekend in The Royal Hospital, Kilmainham, Dublin 8.
Tickets for Forbidden Fruit Nights will be available on the festival's site across the weekend.