By: Aoife Bradshaw
Hot Press' former art director Neil McCormick's debut novel #Zero tells the story of a pop star plagued by insecurity, machismo, narcissism and, of course, fame, perched on the cusp of combustion.
Journalist and broadcaster – and former Hot Press art director and film critic – Neil McCormick is the celebrated author of Killing Bono, a personal account of living in the (immense) shadows of his former classmate, which has been translated into several languages. In 2015, the book was made into a major motion picture starring Ben Barnes and recent Hot Press interviewee, Robert Sheehan.
Now, his first foray into fiction, McCormick's #Zero charts similar waters by charting the highs and lows of a contemporary rock star haunted by both his demons and the price of fame in today's society. There is no reason to think that this literary outing has anything to do with Bono or indeed U2.
The book is being crowdfunded via the Unbound platform and is well on its way to publication, with the exciting update announced on Sunday that the cover design has been unveiled. The novel's cover encapsulates the frenetic energy of stardom featuring a blood red background with a half-skeleton half-human musician, along with the taunting logline that "When you have the most famous face in the world, you can run, but you can't hide" in neon yellow. The illustration was designed by Mecob which has produced covers for the likes of bestselling authors Iain Banks and Alexander McCall Smith.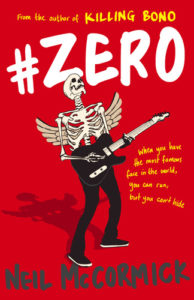 Speaking about the cover design, McCormick said: "It is always fascinating to see how different artists interpret your work. I would never have come up with this image myself. It has moved a long way from my original idea. But I like it. This is a more lateral take on the theme of a rock star on the run, pursued by his own demons. I think it conveys some of the energy of the book, the darkness and humour, the thriller tempo with hints of the narrative's arc."
Advertisement
In terms of updates on publication, McCormick stated that though things have been moving at a slower pace than he would have liked during the past year, the arrival of the cover of #Zero is a "quickening sign." He went on to say that a full edit of the novel has also been completed and that it is due for 2019 release.
For more information on the novel see #Zero's Unbound Crowdfunding page: https://unbound.com/books/zero/