'Seven Seas' was originally inspired by an illustration done for the Hot Press Annual in 2017. It deals with environmental issues in a unique and compelling way...
David Rooney has released a new track and accompanying video, entitled 'Seven Seas'. It is produced by the legendary Dublin artist and producer Stano.
"'Seven Seas' a tale of two seagulls," David Rooney tells Hot Press.
"The first seagull was an illustration on the theme of the scourge of sea plastic created for the Hot Press Annual in 2017. The song grew directly out of that illustration. I sang it one night after dinner for some friends who were over from Germany. One of them, Jana, then 15, was immediately a fan of the song – and later she introduced me to the world of Greta Thunberg, who had not yet made headlines around the world.
"I have had a life-long love of seabirds, which began when my family lived for a time in Midleton Co. Cork: the nearby estuary was a sanctuary and refuge for a ten year old boy who dreaded every single day in the local Christian Brothers' school."
How did the link with Stano come about?
Advertisement
"Stano came to one of my gigs and we talked sometime afterwards about bartering artwork for his forthcoming album for the wealth of his experience producing and creating music! Stano chose 'Seven Seas' as the song he'd like to work on.
"Off and on over the next year various versions of the track emerged from sessions in both Stano's studio and up at Hellfire Studios. Stano has a fascinating way of working: he is like a collage artist chopping, cutting and sticking various elements together. Finally, what we ended up with was quite a simple arrangement which featured mainly myself on guitar and vocals, with my long time keys sidekick Jay Wilson providing harmony vocals and atmospheric synth. Jay's extended playing on the grand piano, which closes the track gives me goosebumps every time I hear it."
Where does the the second seagull come in?
"Well, unbeknownst to me when we began recording," Rooney explains, "Stano's title for his album that I was about to illustrate was A Seagull that Flew into Another World. As with all Stano's work it is truly a sonic feast.
"I had worked with film maker Donal Moloney on a previous video for 'Madeline' from the debut album Bound Together. The video for 'Seven Seas' features Donal's wonderful eye again, this time with a group a very young dancers he encountered on his wanderings around the city of Dublin. Their teacher Cindy Xu kindly allowed Donal to share in the magic."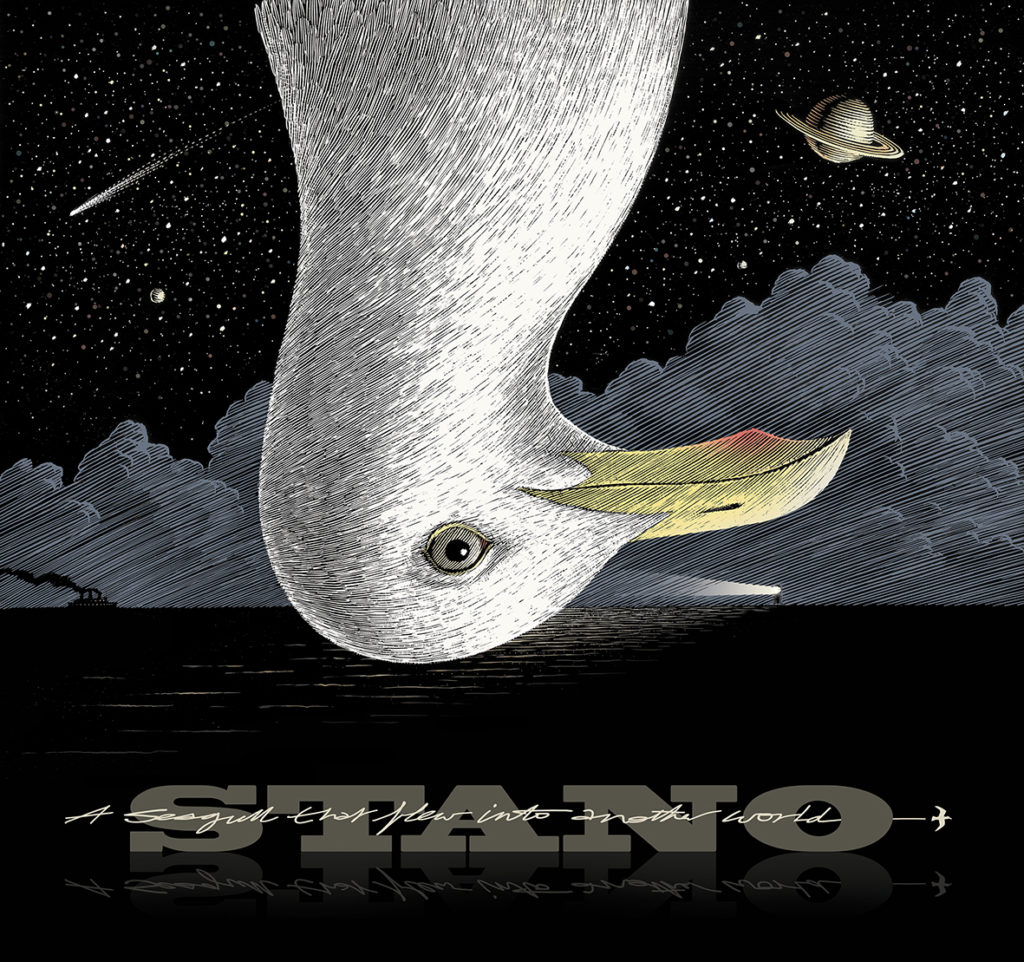 As ever, David has another plan in mind!
Advertisement
"We'd love to continue the film," he says, "with an older dancer responding to the rest of the song and those haunting closing piano chords… any takers out there?"
David Rooney is currently working with God is an Astronaut's Torsten Kinsella on an EP due for release in 2020.
Take a look at the video for 'Seven Seas' below:
• 'Seven Seas' is available on Spotify and Apple Music.