Check out the new video for 'Shitshow' below, plus a string of UK and European tour dates in 2023.
Dublin musician Ailbhe Reddy has announced her brand new album Endless Affair and 2023 UK and European tour with a video for 'Shitshow'.
The follow-up to her critically acclaimed Choice Music Prize-nominated debut album Personal History is due to arrive on March 17th 2023 via MNRK UK.
2022 saw the indie artist move to London from her native Dublin after signing with MNRK and make her UK festival debuts at The Great Escape, Visions Festival and Latitude Festival, winning great swathes of new fans along the way.
New single 'Shitshow' – dubbed a "humbling account of a party's aftermath set to fuzzed-up, down-trodden guitars" - officially heralds the announcement of her new album. With gorgeous vocals and addictive riffs, it's the perfect single to launch an album announcement to.
If you're a dedicated music fan looking at the Endless Affair album artwork, you're likely to recognise some familiar faces (SOAK being one of them) and the Dublin location of the shoot. The video was directed by Greg Purcell of Collective Films and the artwork photography is by Ruth Medjber.
Advertisement
"'Shitshow' came from a lyric I played with for a few months which was "my god, look at the state of me, this is so embarrassing, won't you take me home?" It's kind of addressing another person and kind of addressing myself from the perspective of the morning after," Ailbhe Reddy says of the single.
"I had those lyrics for a while and while working with Tommy McLaughlin on the record he jokingly said we should call the album 'Shitshow' and I vowed to work that word into a lyric so it perfectly fit into this song. It's about looking back on a night out with regret while also addressing and apologising to an ex-partner about my antics. The first verse is to myself and the second verse is to someone else. It's kind of a tongue in cheek examination of a bad hangover."
"Tell me how did I get here? Some endless pitiful affair," she starts. "Drag my body upstairs and look in the bathroom mirror. I don't recognise myself, my God look at the state of me/This is so embarrassing/Won't you take me home? 'Cause I need to forget everything if I stand a chance of beginning again."
Check out the video for 'Shitshow' below.
The central idea of Endless Affair addresses the challenges we face in letting go and accepting finality.
With her new album, Ailbhe Reddy poses these ideas across a spectrum covering the playful and up-beat to the sombre and heart-wrenching, plotting the album's path in a way that mirrors life's own evolution from the care-free to the serious.
Advertisement
Previous singles 'Inhaling' and 'A Mess' soar atop a swell of fuzzed-up indie-rock and a chorus of joyous hollers, while 'Shoulder Blades' creates the sense that the struggle to let go is shifting away from the backdrop of the party and into that of relationships and mortality.
Endless Affair was recorded in Donegal and produced by Tommy McLaughlin and Ailbhe Reddy.
Pre-order the album here.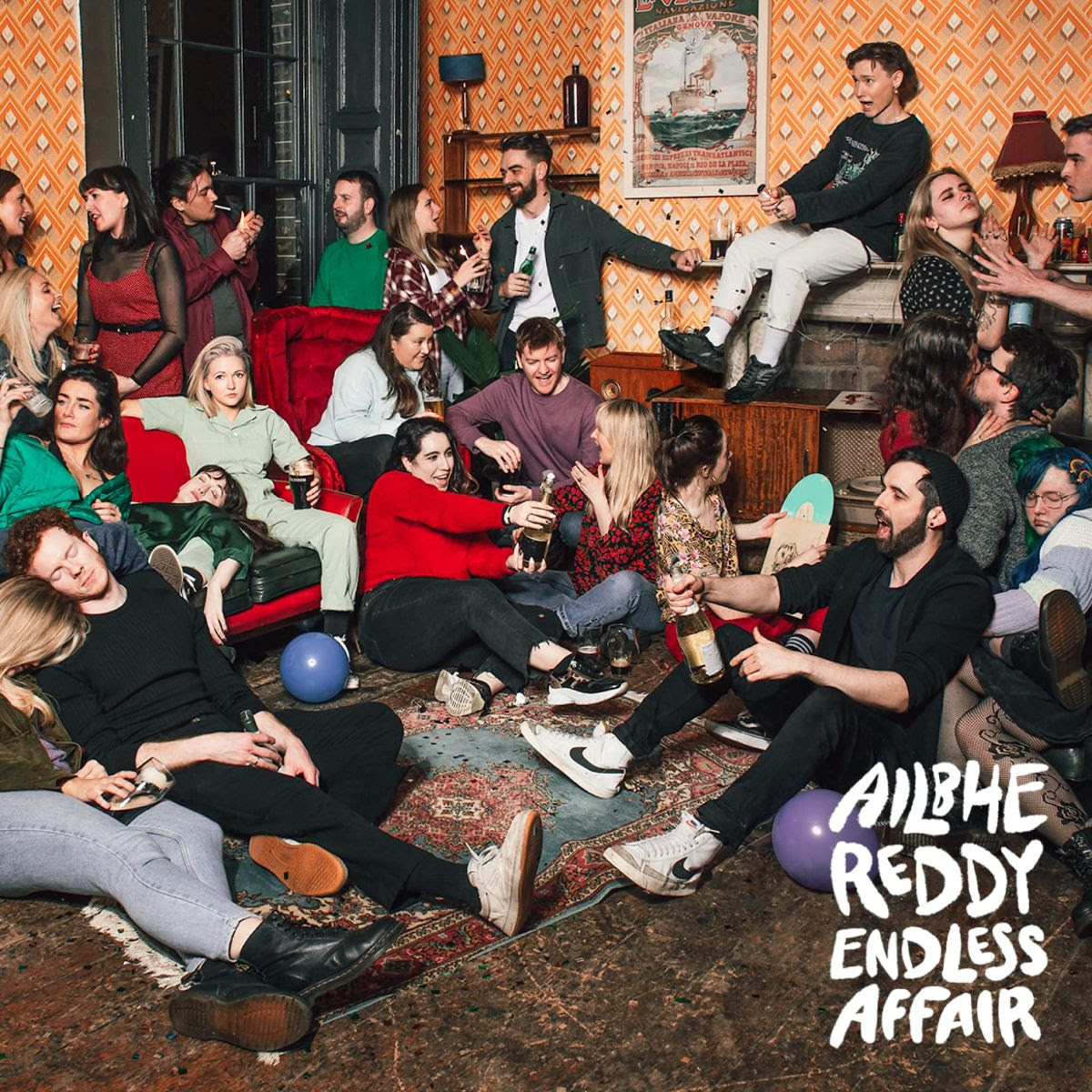 Endless Affair album tracklisting
Shitshow
A Mess
Damage
Inhaling
Bloom
Last To Leave
Shoulder Blades
I'm Losing You're Winning
Good Time
You Own The Room
Pray For Me
Motherhood
Ailbhe Reddy tour dates:
Advertisement
March
10–19 - SXSW, Austin, Texas, USA
April
12 - Portland Arms, Cambridge, UK
13 - Louisiana, Bristol, UK
14 - Gullivers, Manchester, UK
15 - Hug & Pint, Glasgow, UK
16 - Brudenell, Leeds, UK
18 - Moth Club, London, UK
20 - Trix, Antwerp, UK
21 - Pop Up Du Label, Paris, FR
25 - Helios37, Cologne, DE
26 - Frannz, Berlin, DE
27 - Nochtwache, Hamburg, DE
28 - TrivoliVredenburg, Utrecht, DE
May
05 May - Whelans, Dublin, IE
06 May - Whelans, Dublin, IE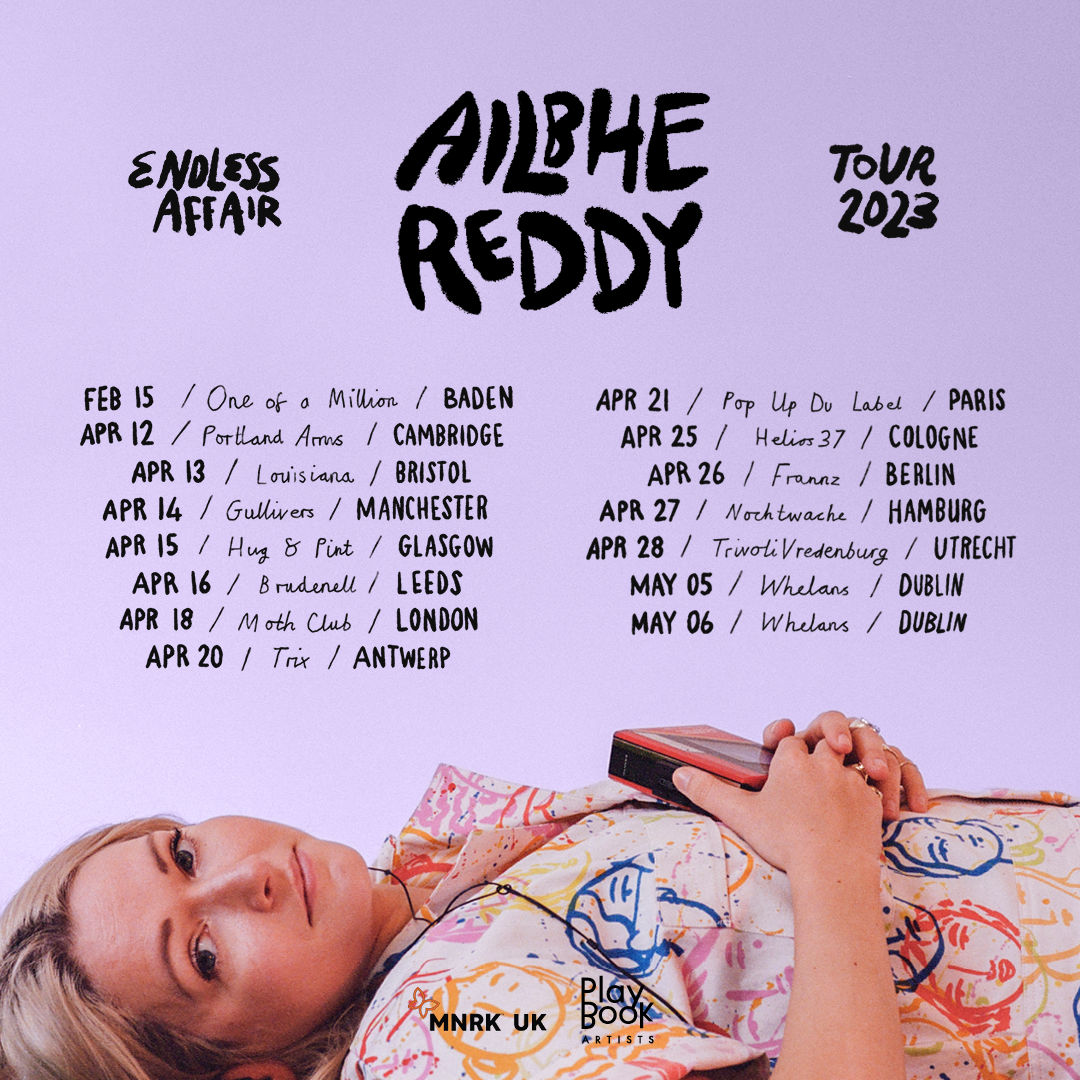 Advertisement