49th & Main on their upcoming [email protected] show: "It's the first gig we've played since Electric Picnic, so we're really looking forward to it"
In the run-up to their highly anticipated December tour, one of the country's most captivating streaming sensations, 49th & Main, will perform an exclusive [email protected] show on November 24th in the Liberties.
Following lauded performances from Malaki and Dea Matrona as part of the [email protected] series, the next show at Aloft Dublin City will take place on Thursday, November 24 – headlined by one of the most hotly tipped acts in the country, 49th & Main.
The gig series, which first kicked off this summer in the Liberties, has celebrated the show-stoppingly brilliant and eclectic array of musical talent that's currently cropping up across Ireland. As new Irish artists continue to make their mark on stages at home and overseas, this series offers a rare opportunity to catch these rising stars in a unique, intimate setting, right in the heart of Dublin.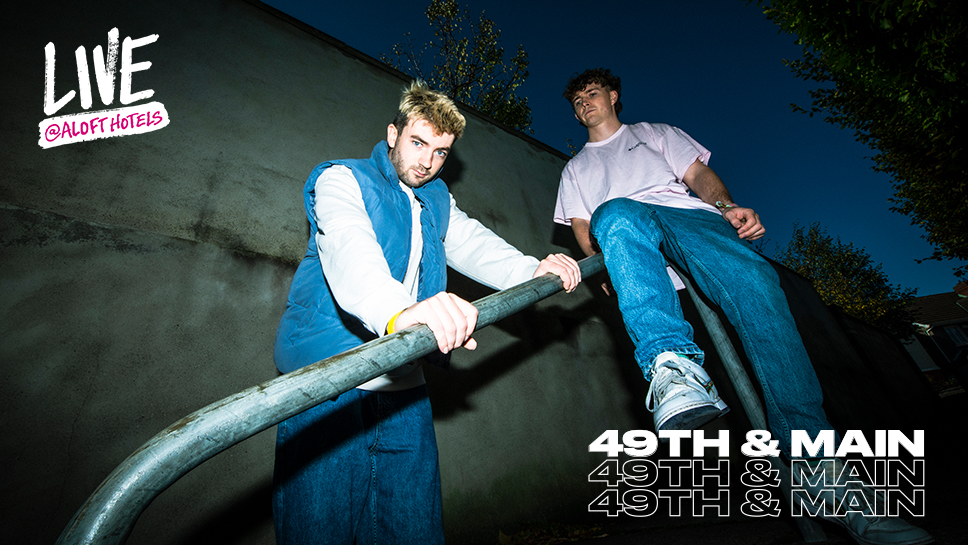 Hailing from Kilkenny, Dublin-based dance-pop duo 49th & Main have continued to make major waves internationally – selling out their first headline shows six months in advance, clocking up over 40 million streams, and playing massive sets at Glastonbury, Electric Picnic and more. This month, the duo also sold out their London headline show in a matter of minutes.
"I'd seen Malaki's [email protected] show before," one half of the band, Paddy King, tells Hot Press ahead of the performance. "Our [email protected] gig comes at the perfect time right before our tour as well, the gig will allow us to ease our way in with a 200 capacity. I'm preparing for it the same way as I treat all our gigs, but I'm really looking forward to this one in particular. It'll be the first show we've played since Electric Picnic. The settings are always changing but you've just got to give the best you can. Performing in the seventh-floor bar in the Liberties should be loads of fun, though."
Advertisement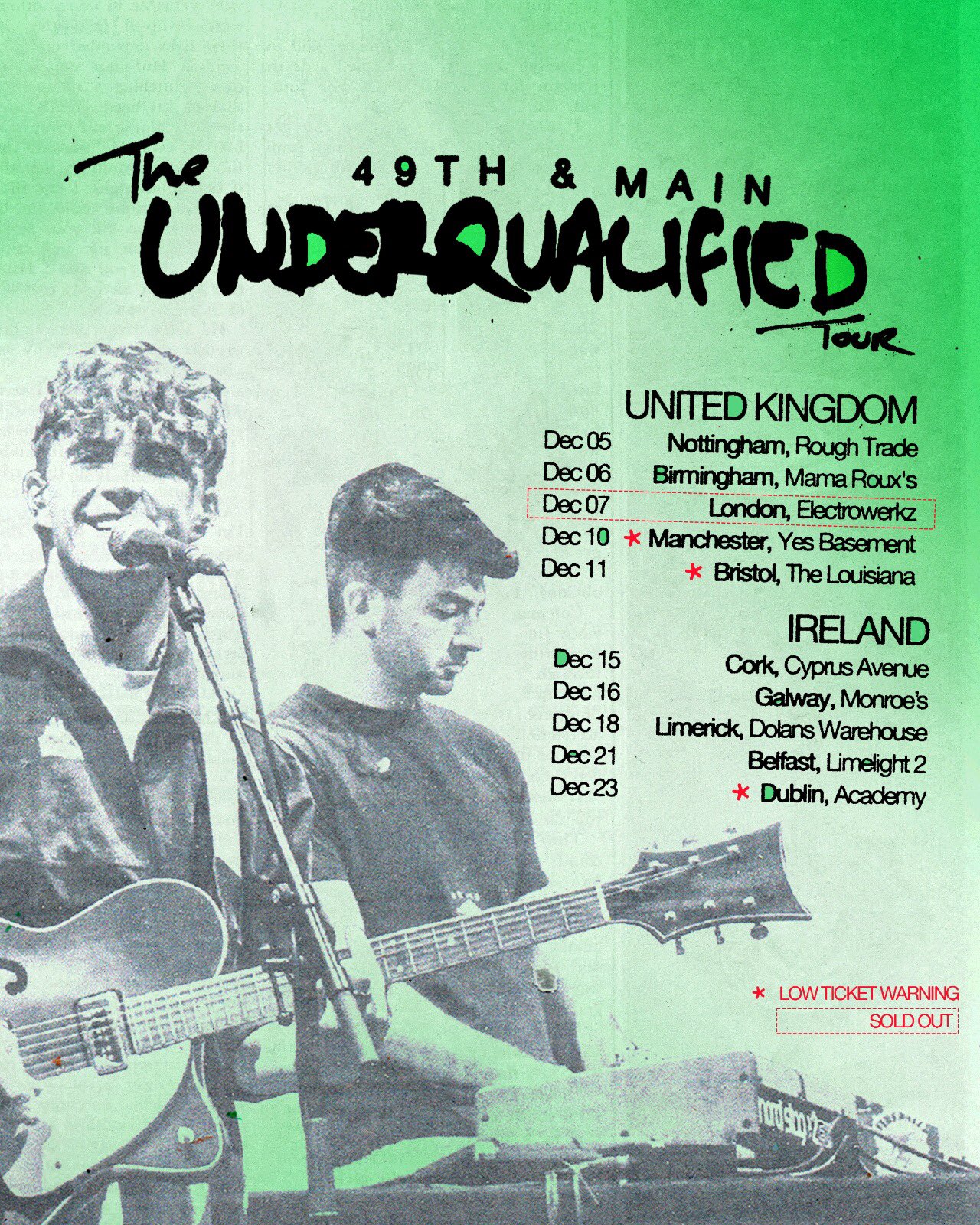 In December, the laidback pair set off on The Underqualified Tour – which, following a string of UK dates, includes shows at Cyprus Avenue, Cork (December 15); Monroe's, Galway (16); Dolan's Warehouse, Limerick (18); Limelight 2, Belfast (21); and a sold-out show at The Academy, Dublin (23).
"The tour's name was a joke as to what we think we are," Paddy laughs. "We felt like underqualified is exactly the right phrase, but it's just good craic. We started during Covid and didn't know what way it was going to go, we were just having a lot of fun. As it progressed and we started to get gigs, they warmed us up. Ben [O'Sullivan] had never played music in front of anyone! It was funny how out there our band had to become so suddenly."
Given their signing to Ninja Tune imprint Counter Records, with their live shows managed by Paradigm, will the lads be tempted to relocate?
"We're happy to be based here at the minute," King replies, casually. "I think in a year's time, our lease is up in the Milltown house we're living in but we're not really sure. There's nothing set in stone in our minds. I don't think Ben has any interest living in London, I'm not too pushed either. I'd like to live somewhere sunny. There's no real plans to move abroad right now though, essentially."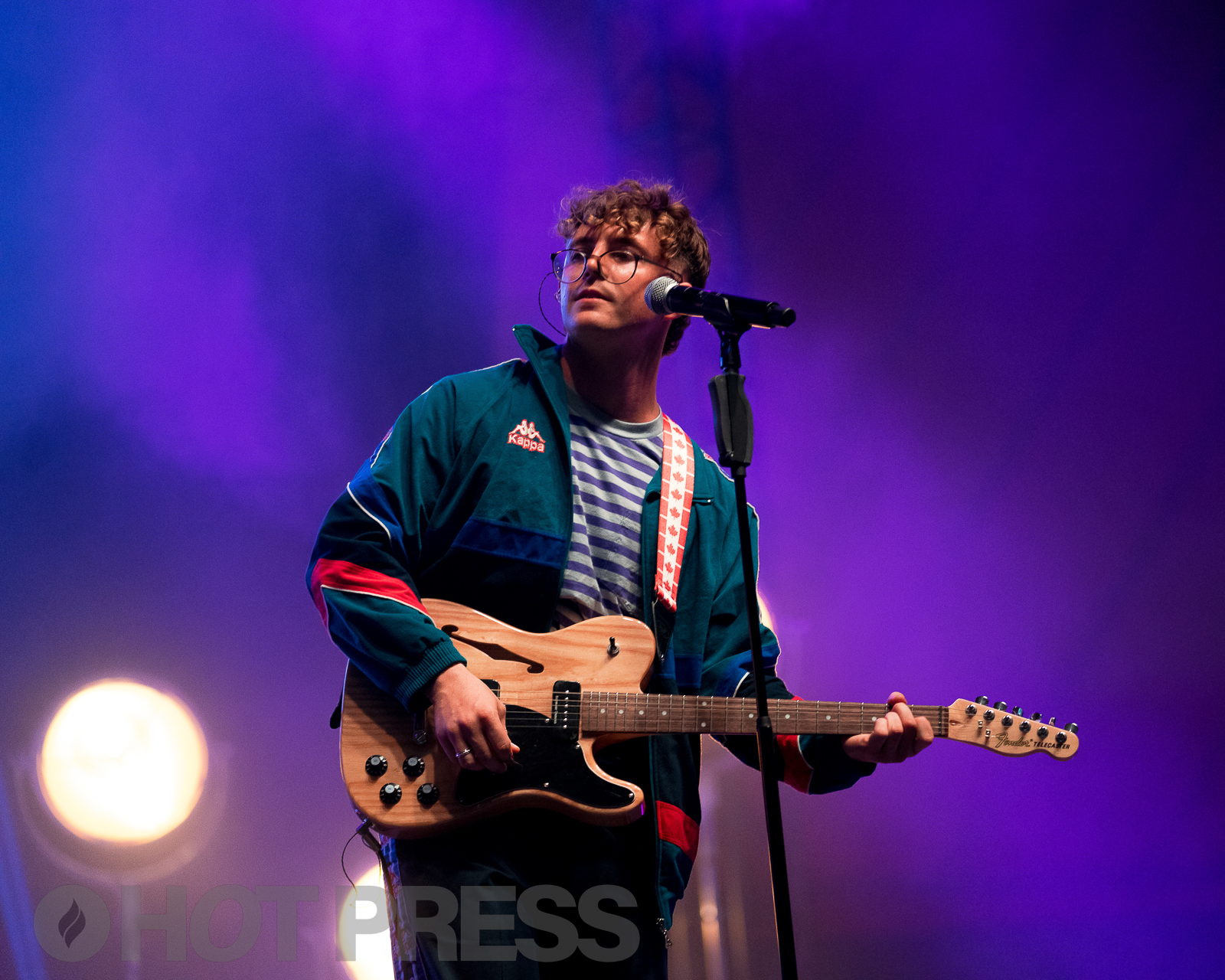 By the summer of 2020, the soul-driven groove of 'Catching Eyes' and the indie house-tinged 'Don't You Like It?' had garnered millions of streams, without 49th & Main ever having even graced a stage together. Things have changed in the two years since, with Paddy and Ben performing at Longitude, Sea Sessions, Forbidden Fruit, Electric Picnic and more this year alone. They've also just been added to the Other Voices Dingle Gin Trail today.
Advertisement
"We definitely feel more comfortable gigging since the summer," Paddy grins. "Even now, there'll be a nervous energy beforehand, and I'll even feel sick a lot of the time, but also excitement. Once you go out, it's 100 percent. I know that once I'm out there, it'll be fine. Ben never really shows any nerves but I'll personally be very quiet and stick to myself before the gigs. It's gotten a lot easier in my own mind. Everything's going to be sound."
"We had a funny experience in Glastonbury in terms of playing a crowd who had no idea who 49th & main were. We were in the acoustic tent with a handful of people, so it wasn't exactly the tent we probably should have been in either. People were sitting down when we came out first. Once they hear the music and feel the energy, they usually react the way we want them to."
The 'Underqualified Tour' is also stopping over in the UK, with four dates in Ireland still selling a few tickets - but not for long, we suspect.
"There's Cork, Galway, Limerick and Belfast. Dublin is sold out," Paddy says. "There's only a few tickets left for Galway. London, Manchester and Bristol in the UK are sold out. Nottingham and Birmingham have room to go. We'll hit some radio stations over there and get some local artists on the bill to drum up some more hype over there, maybe some competitions."
"Coming into 2023, the tour is a great way to introduce our newer material," he adds, excitedly. "We didn't actually get to bring some of our new EP to the live set until now because we just didn't have a lot of time during the summer to practise with the band. We decided to leave it until the December tour, but the layout of how we perform is going to change as well. We'll have new equipment, different lighting, a whole new feel to the shows."
There's no better time to catch 49th & Main in action than [email protected] – before their ever-building momentum sees them jetting off across the globe...
Advertisement
Apply for tickets to [email protected] – headlined by 49th & Main – on Thursday, November 24, below:
RELATED