Lifestyle & Sports
27 Jan 22
ONESONIC: An Irish Audio Company Taking On the International Competition – and Winning
David Cawley is the founder and CEO of the rising Irish audio operation, OneSonic. Here, he explains why the way you listen to music really matters; how OneSonic outshines the competition – and the extraordinary value his brand offers to people who really love their music.
David Cawley is the founder of ONESONIC, an Irish audio company that aims to go head to head with the very best international competition in the headphones and speakers market.
When he sits down to talk to us via Zoom, David is using one of his own company's products – a pair of brand-new headphones that certainly look the business. Unfortunately, as they're just at the prototype stage at the moment, I can't give you the full low-down. Not yet, that is!
As a man who is obsessed with top quality sound, it makes sense that Cawley is also a major music fan. When I ask him about the company's origins, he doesn't talk about business plans or spreadsheets. Instead, he goes all the way back to picking the clarinet up for the first time, when he was all of four years old.
"I've been playing music my whole life," he laughs. "It's my passion. But I studied Engineering in college and then did a Master's Degree in applied acoustics. So that interest in music and in sound was a constant for me."
ELUSIVE COMBINATION
It's over a decade ago now since he got involved directly in the business.
"I founded a company Allegro Acoustics in 2010," he recalls, "which is an acoustic and audio design consultancy business. Through my work there, I started to see potential openings.
"I couldn't understand why some of the big audio entertainment brands did certain things the way that they did," he explains. "I could see, for example, that price was an issue they weren't handling well. Not everybody can afford to spend over €600 on a pair of headphones."
Seeing the problem is one thing. Knowing what to do about it is another.
"It eventually dawned on me," he says, "if no one else is, why don't we do this ourselves? So I came up with a plan. The quality of what I call 'the music enjoyment experience' is at the pinnacle of what people want in their audio devices – but can it be done at an affordable price? For me, the answer is yes. It can. But that's something that the competition doesn't really do very well."
Cawley clearly cares about all aspects of what ONESONIC do. He is involved at every stage of the process and is naturally proud of the superb quality thEy are delivering across the range
"For ONESONIC, it is always about putting the music fan first," he says. "I've taken all of our products all the way through, from infancy to design, to manufacturing – and then on to what's actually on the market now. Honestly, I love all of them, because we've brought all of our devices to their optimum potential – which is the elusive combination of really good sound quality, nice ergonomic design so they're easy to use, and aesthetic appeal. In short, they look, sound and feel good. And they are very, very reasonably priced."
Of course, where would headphones be without your favourite artists to listen to? Cawley raves about the wave of talented young Irish musicians coming through at the moment.
"I hear brilliant new Irish acts all the time; for example, at the moment I'm really excited about Inhaler, who are such a great band. I'm really into those guys. But there's so much fantastic music out there in Ireland now, across all genres.
"Ireland is like a village," he adds. "The population isn't much more than a quarter of London, that's how big – or rather how small – we are. People tend to forget that. When you look at what we've done in music with U2, The Cranberries and The Script, to name just three, we've had some massive bands that have come from this village of a country.
"So for me, it matters that ONESONIC is an Irish company, based in a country that has proven itself musically on the international stage time and time again."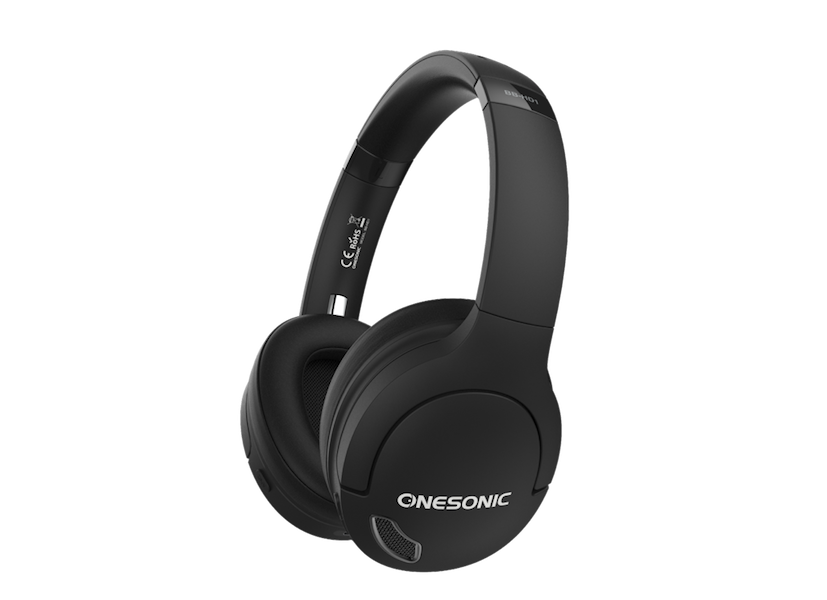 AT ONE WITH SOUND
In deciding how to name his brand, Cawley was inspired by listening, in his car, to a song he describes as 'one of my favourite songs of all time' – 'Bad' by U2.
"There's some parts of that song that to me are just magical," he enthuses. "It's so, so powerful musically. It's just amazing what really good music does for you, in that moment, as you're listening to it. So I got thinking about that: 'What is actually happening when you're in that mode when you forget about everything else, and you are just immersed in enjoying the music?'
"I felt: it brings a sense of oneness to the listener. Listening to great music – on great equipment – you're at one with yourself."
From there it was just a small leap to ONESONIC.
"Sonic means sound in different languages," he explains, "so putting that together, ONESONIC means to be 'at one with sound'. That's what we're all about. That may seem a bit philosophical – but that idea filters through our entire product range of immersing yourself in sound. It's all about being at one with yourself, being at one with sound – and truly enjoying your music to the max."
See onesonic.com for more.