Raise your glasses and bid an earnest "sláinte!" to our fine independent Irish distillers!
Irish whiskey has undergone a huge renaissance in recent years, driven in part by a worldwide whiskey boom and the success of legacy brands.
In the new issue of Hot Press, we explore the state of play in the independent Irish whiskey world, choosing our top picks from expert distillers and blenders dotted around the country.
We talk to the people at Sliabh Liag Distillers and Slane Irish Whiskey; sample the latest Grace O'Malley limited-edition; highlight some interesting innovations; and generally celebrate Uisce Beatha!
As a companion to our Independent Irish Whiskey Special, here are some quality glass-fillers to try this spring...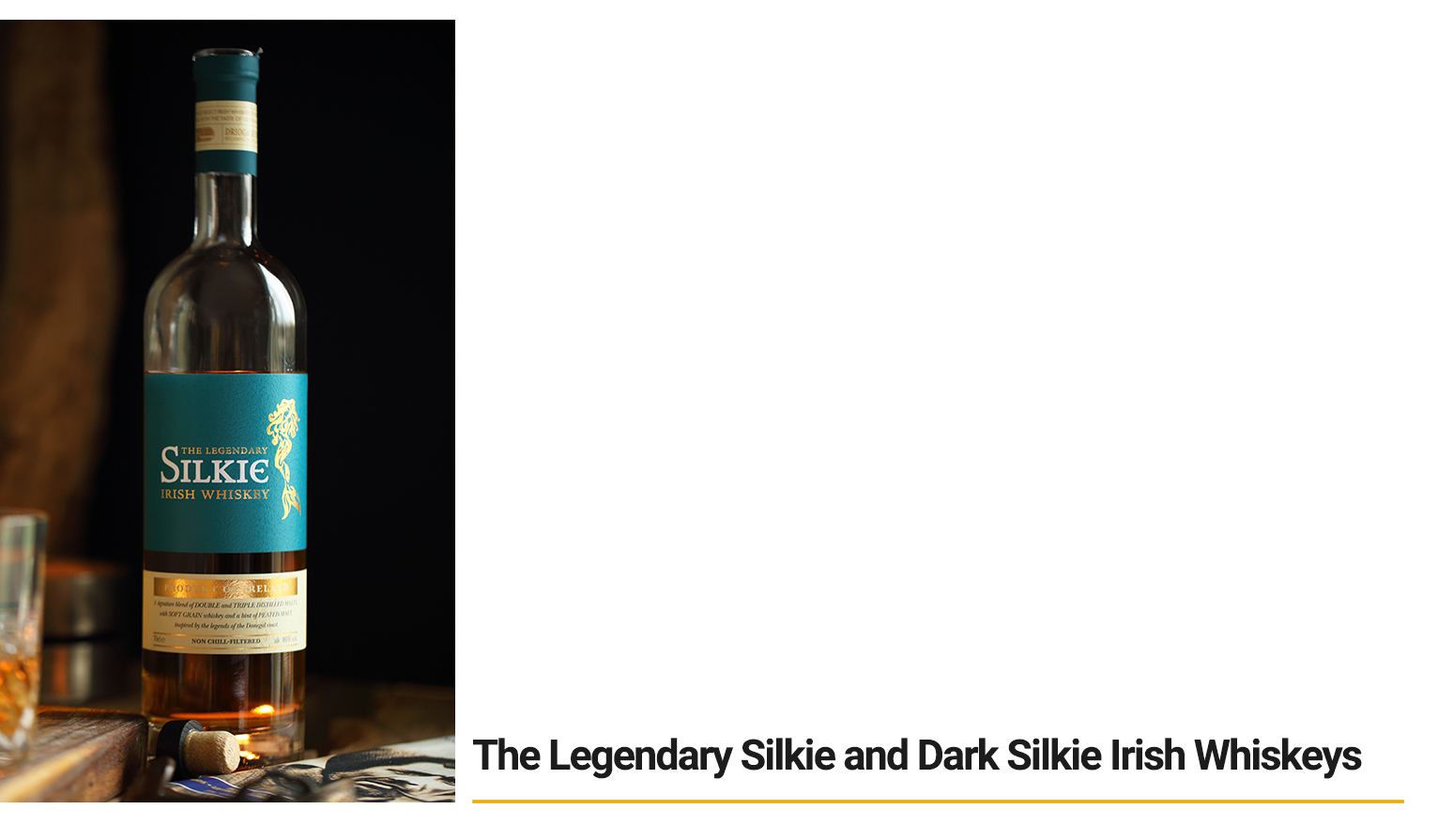 Sliabh Liag Distillers are carving out their path on the Wild Atlantic Way, making it their mission to reclaim the distilling heritage of Donegal. Currently constructing a state-of-the-art distillery in the village of Ardara, their Legendary Silkie Irish Whiskeys have already picked up a host of accolades, most recently a Category winner award for Silkie at the World Whiskeys Awards.
Inspired by the legends of the silkie seals along the Donegal coast and blended from select double distilled, triple distilled and peated malts with soft grain whiskey; the Legendary Silkie Irish Whiskeys revive memories of whiskeys distilled in the county decades ago.
Silkie has just 2% peated malt in the blend, giving a hint of smoke on the finish. The whiskey's signature softness encompasses hints of pear, sweet oat biscuit and easy maltiness for a gorgeous finish. In Dark Silkie, the peated malt content is increased to 15%, bringing together salted-caramel sweetness, pipe tobacco, dark chocolate, liquorice and oak wrapped in a dry blanket. Legendary Silkie Irish Whiskeys are designed to be savoured by the glow of a warm turf fire.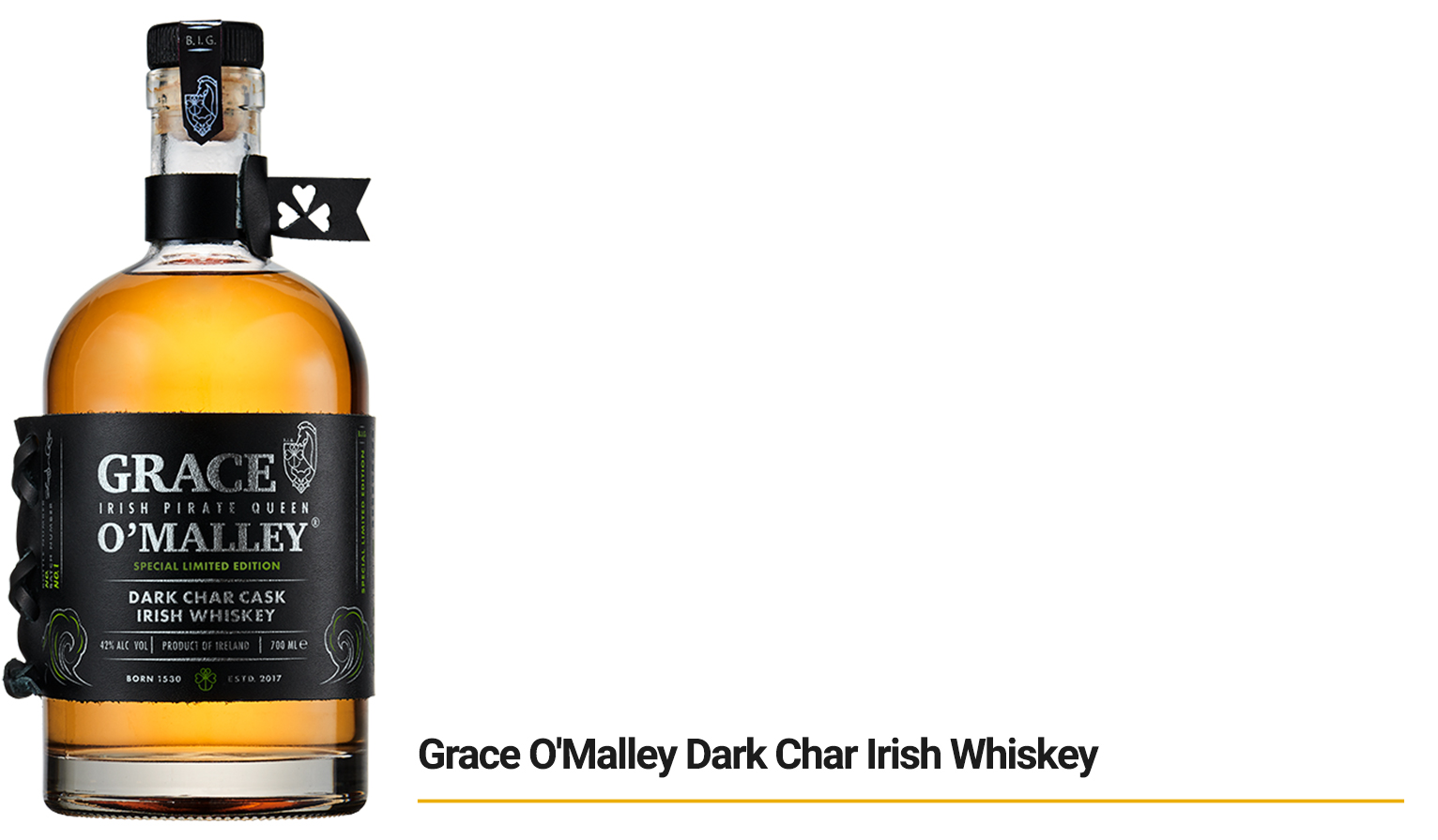 Brave, bold and irresistible; Grace O'Malley Irish Spirits was established in 2017, dedicated to the 16th Century Irish pirate queen of the same name. Master blender Paul Caris' latest creation is Grace's limited-edition 42% Dark Char Cask Irish Whiskey, which is presented in a hand tied, embossed leather label and manages to look every bit as good as it tastes.
"Charring a cask primes the wood to release flavours such as vanilla and toffee notes," Paul explains. "We have toasted and charred French Oak and American Oak casks to level 4 and used these in finishing. It gives added complexity and depth to the whiskey."
A special blend, Grace O'Malley Dark Char Cask Irish Whiskey combines multiple batches of varying age statements up to ten years to deliver a perfect balance of fruitiness, age character, complexity and smoothness.
Tasting notes offer coffee, bourbon vanilla, chocolate milk, roasted wheat, and caramel candy on the nose, while a medium body palate showcases complex flavours of dried fruit cake and layers of oak. The extra time in the darkness of a deep char cask delivers a smooth finish with hints of roasted coffee bean.
Irishmalts.com, jamesfox.ie and the celticwhiskeyshop.ie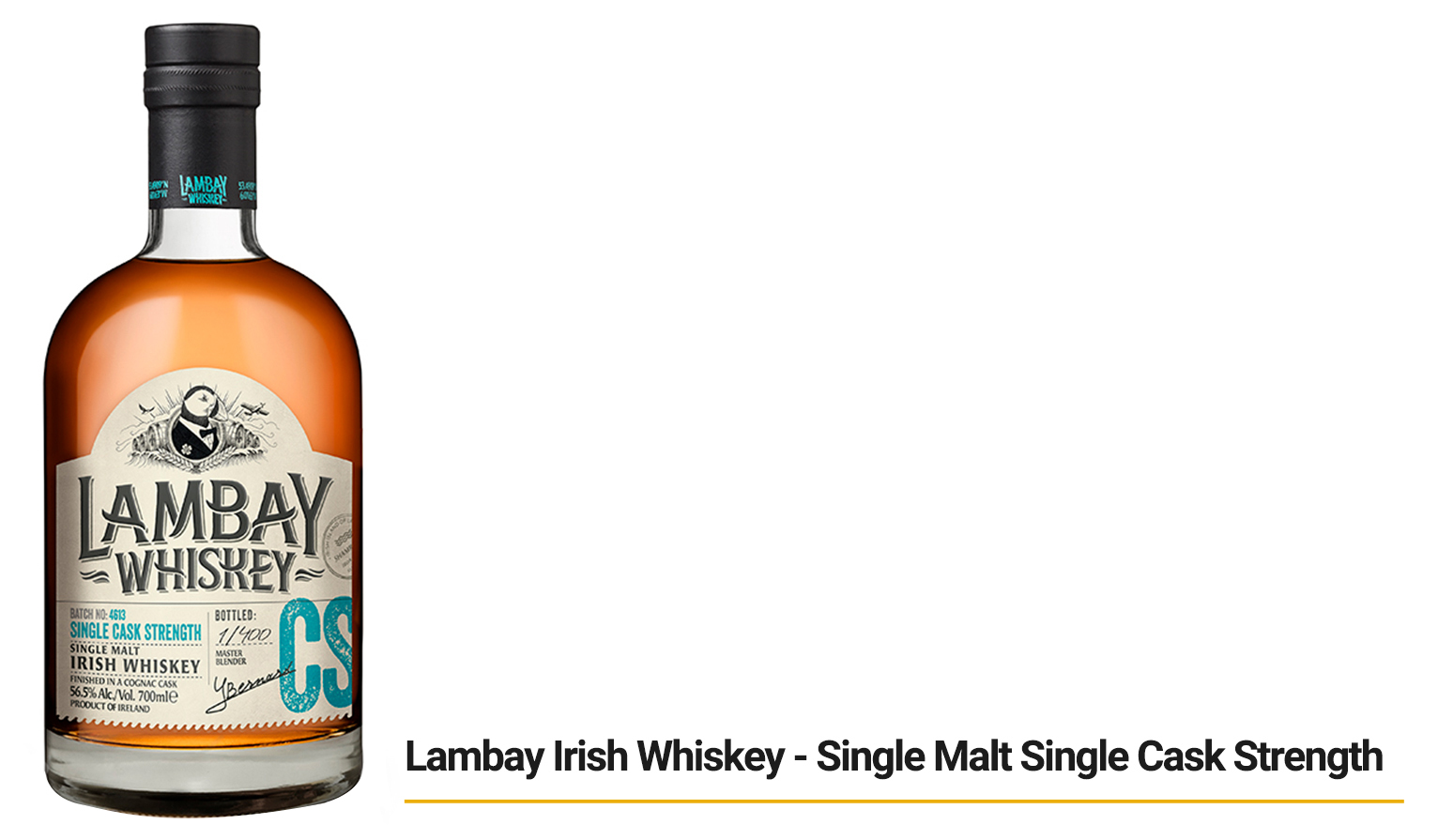 Our St. Patrick's Day was greatly enhanced by taking part in Lambay Whiskey's Twitter tasting, which celebrated the release of their 56.5% ABV Single Cask Strength Single Malt, Cask 4613.
Lambay Irish Whiskey made their market debut as an independent whiskey bottler and blender in 2018. A collaboration between Camus, the world's leading family-owned cognac producer, and the Baring Family's Revelstoke Trust, Lambay Whiskey is a combination of centuries-old Irish whiskey-making expertise and five generations of French cognac blending and maturation expertise.
Hiding in plain sight, Lambay Island is truly a unique wildlife location. It is also home to the brand's bonded warehouse where French oak cognac casks mature delicate whiskey. Lambay Whiskey Single Malt, Single Cask Strength Cask 4613, is the latest release. This Single Malt is a triple distilled whiskey, bourbon cask matured and finished in cognac casks that have crossed the sea from France to Ireland's shores.
Unique and rich in aromatic profile, this Single Cask Strength expression of Lambay Whiskey Single Malt is a pure taste of island life. Cask 4613 is the fourth cask release of twenty in this exclusive collection. Limited to 400 bottles, each label includes a batch number and rare signature of Lambay's Master Blender, Mr. Yonael Bernard. At least seven years old and full of rich wood and floral notes, the triple distillation of the Single Malt delivers a sweet finish with honeysuckle and acacia.
lambaywhiskey.com (available from March 31st).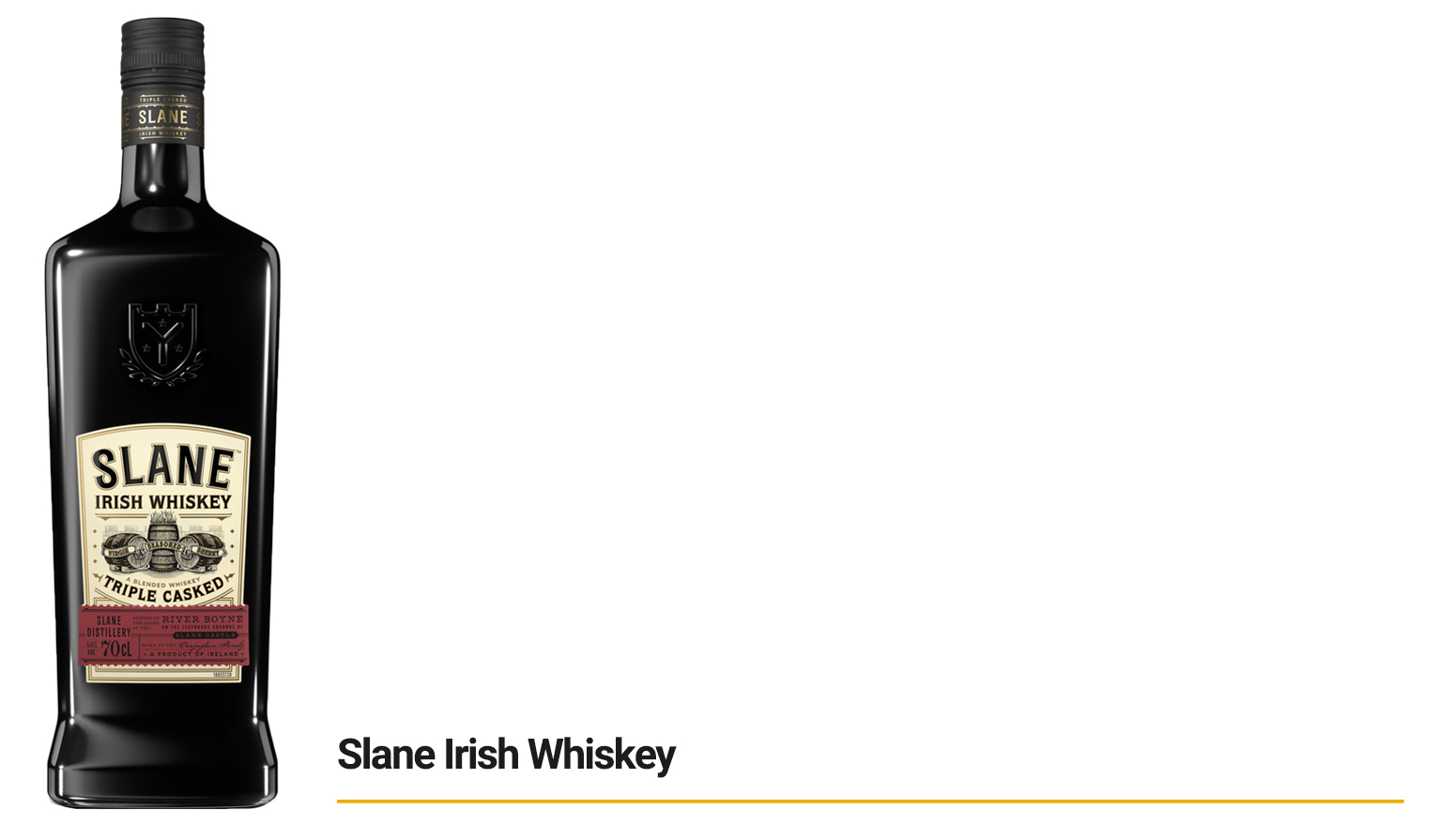 Hailing from the Boyne Valley, Slane Irish Whiskey is matured in three distinct casks—virgin oak, seasoned Tennessee whiskey and Oloroso sherry—before being blended by master craftsmen. From Brown-Forman and the family behind the infamous Slane Concert series, this complex and layered spirit is full of rich character - much like Lord Henry himself. The charismatic Conyngham Family have welcomed rock royalty to their home over the decades, bringing more than a million music fans to the Slane Castle grounds.
With notes of vanilla, banana, butterscotch, dried stone fruits and subtle baking spice, each sip of Slane Irish Whiskey takes you on a sensory journey, uncovering the subtle layers of the spirit's complex character. The award winning Irish whiskey delivers a gorgeous finish with hints of brown spice and caramelized wood sugar. Smooth, elegant and robust; Slane Irish Whiskey brings grain and malt whiskeys together for truly epic flavour.
Honour The Legacy. Sip Responsibly.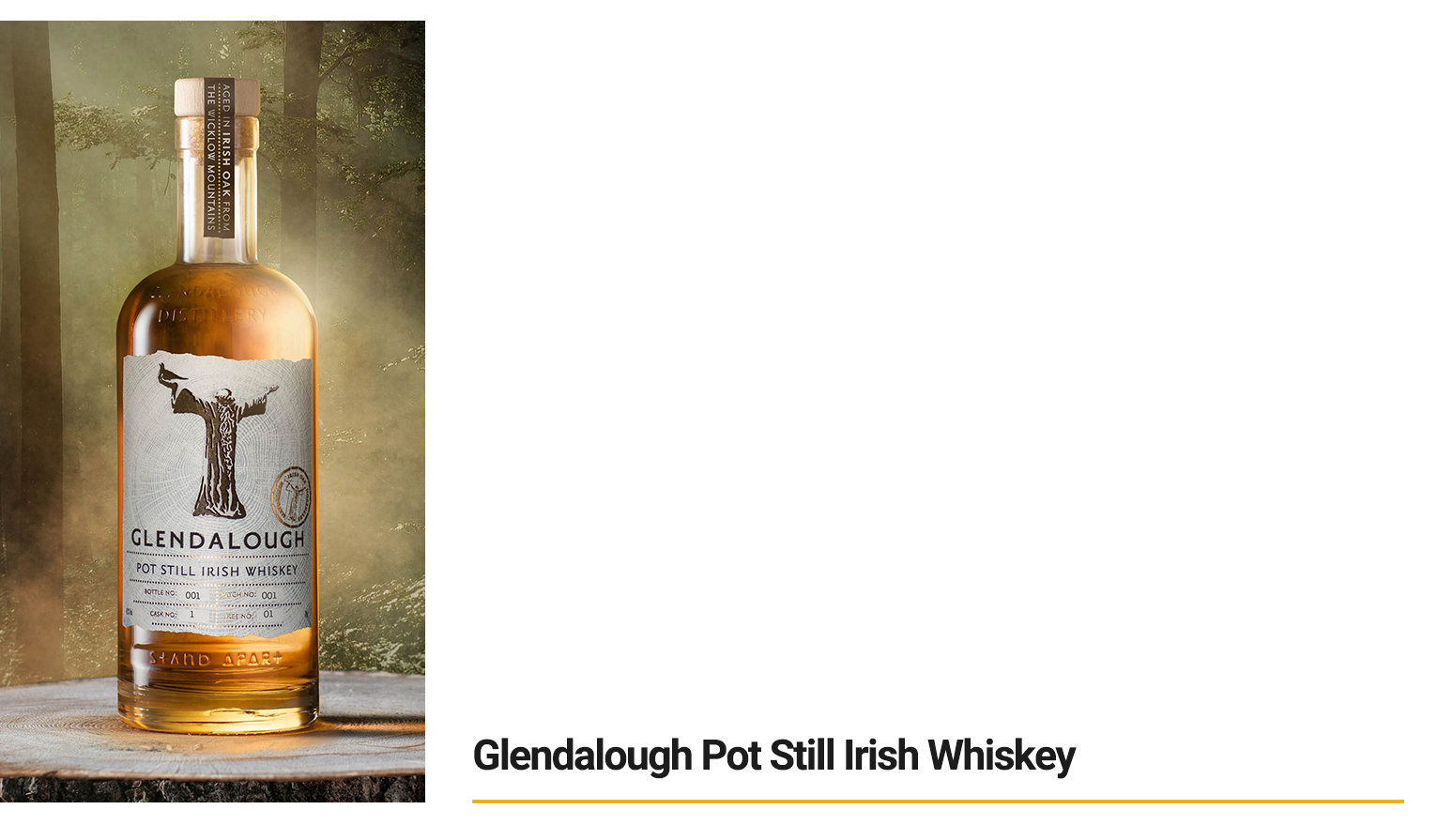 There is no more Irish a whiskey than Pot Still, so the Glendalough team felt it only fitting that their Pot Still went into Irish oak. Prior to that, Glendalough's Pot Still Irish Whiskey liquid was first matured in "alligator charred" ex-bourbon casks for three years before being transferred into the special Irish oak casks.
The Irish oak casks were made from trees that Glendalough sustainably harvested under a 'Continuous Cover Forest Management System' in the Wicklow Mountains surrounding the distillery. For every tree sustainably felled, seven saplings were planted in its place. While the bourbon cask softens and sweetens the whiskey, the higher levels of flavour in Irish oak complement and balance the classic pot still spices.
Released in late 2019, Glendalough's Pot Still has already been deemed a triumph by leading international drinks experts after scooping gold at the 2020 World Whiskies Awards and also the 2020 San Francisco World Spirits Competition.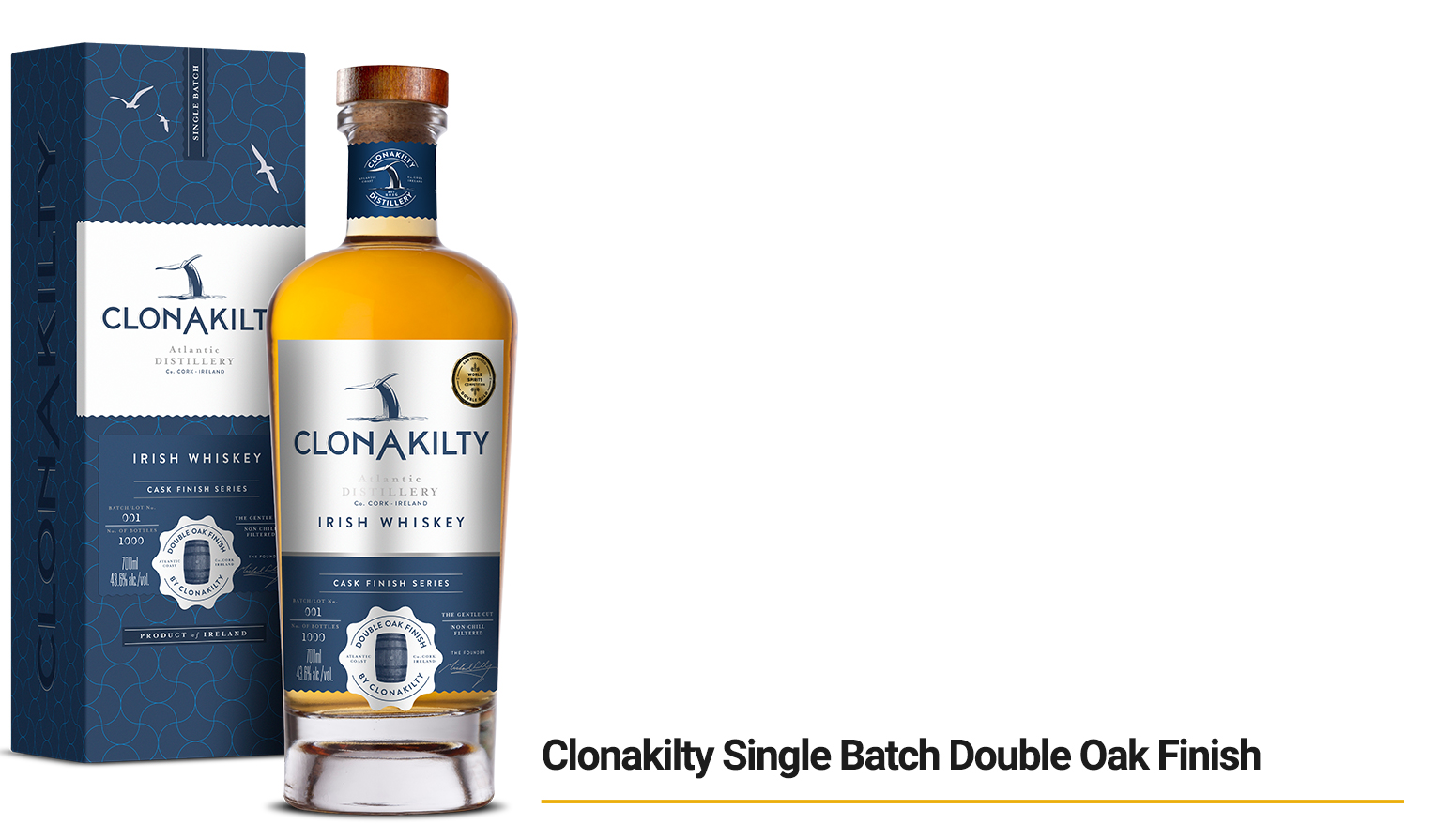 The Clonakilty Distillery crew will be at it again at 7pm on April 7th when they join forces with the Whisky Wire's Steve Rush for a Tweet tasting. The Scully family have farmed the coastal land their distillery is on for nine successive generations.
Clonakilty Single Batch Double Oak Finish is the flagship of Clonakilty's cask finish range and is proving popular among whiskey aficionados seeking a high-quality affordable Irish spirit. A premium product matured in former bourbon casks, Clonakilty's whiskey is finished in virgin American oak before being shaved, toasted and re-charred in ex-red wine European oak casks at their Atlantic Ocean warehouse.
In 2019, the award-winning Clonakilty Single Batch Double Oak Finish scooped double gold at the San Francisco World Spirit Competition, and was more recently named the World's Best Blended Irish Whiskey at the World Whiskey Awards 2020.
Featuring vanilla aroma alongside flavours of ginger, hazelnut and a long finish with caramel sweetness and spices that linger on the palate; notes of almond, hazelnut, ripe apple and pear make for an unforgettable whiskey-drinking experience.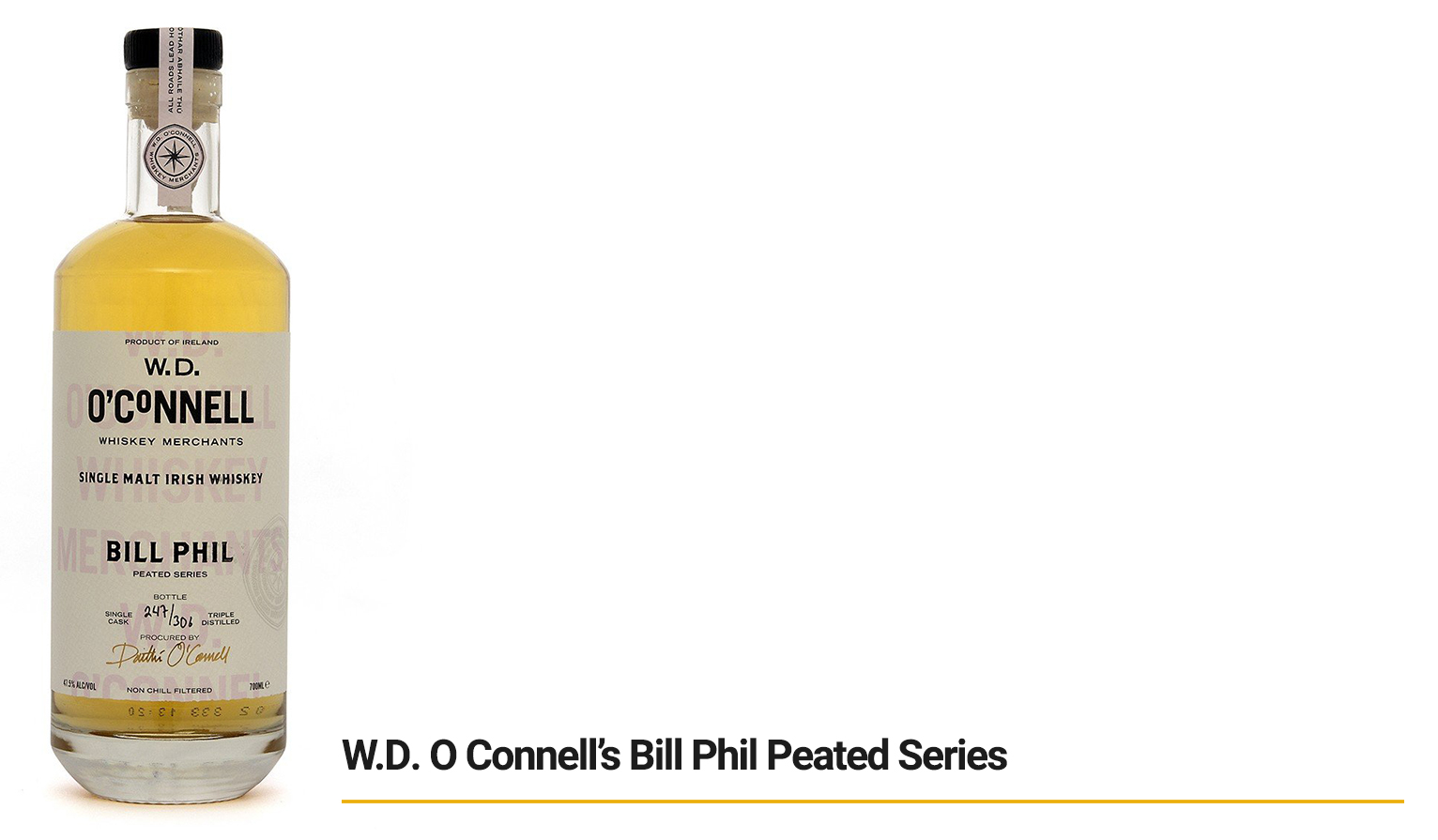 W.D. O'Connell Whiskey Merchants are an independent whiskey company started by Daithí O'Connell - sailor, pilot, and founder of the respected brand. Procuring premium spirit and aged whiskies from multiple distilleries, W.D. O'Connell Whiskey Merchants later apply their own maturation and finish preferences using a methodology dating back to Irish whiskey bonding traditions.
Aiming to be the biggest independent whiskey bottler in Ireland by 2035, W.D. O'Connell Whiskey Merchants bottle genuine small batch releases of 1-10 casks at a time on a regular basis, meaning that no two whiskey releases will ever be the same. The company's products include the PX Series, The Cask Strength Series , the Bill Phil Series, and the innovative Cask Share offering where 1 share equals 1 bottle.
The delicious W.D. O Connell's Bill Phil Peated Series Batch 2 is now available. It is a triple distilled peated single malt, limited to 504 bottles and distilled by the Great Northern Distillery. Featuring delicious flavours on the palate of crumbled biscuits, sweet banana bread, lightly smoked malt and a touch of bergamot.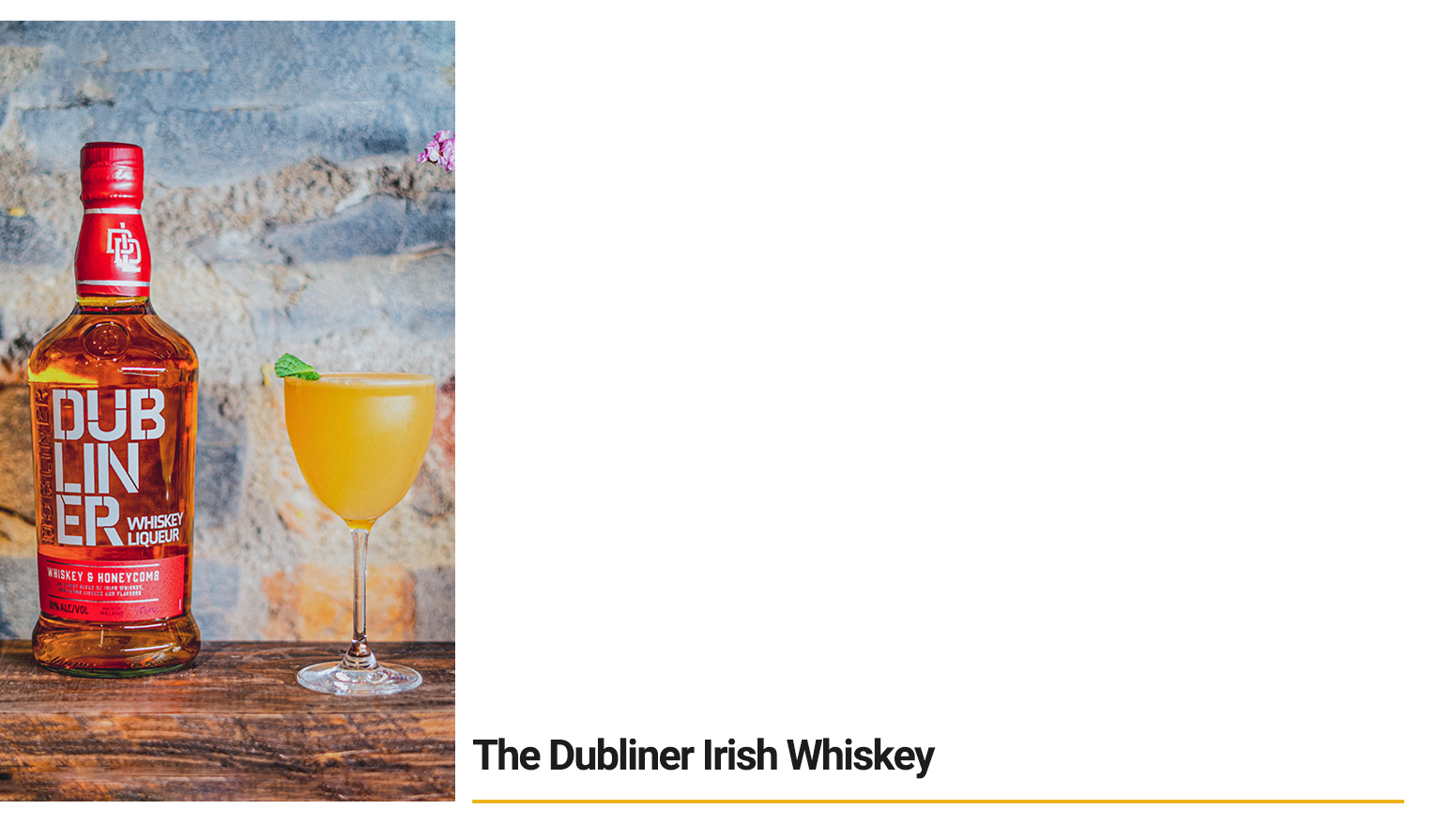 The Dubliner Irish Whiskey, a 3 year old blend of malt & grain Irish Whiskey, aged in American Bourbon casks for a silky smooth finish. Perfect in your favourite whiskey cocktail or in a tall glass with soda and lime. The Dubliner has recently undergone a revamp. The new logo and bottle design forgo traditional packaging in favour of an updated contemporary look and feel. The Dubliner range includes the award winning Dubliner Whiskey & Honeycomb, a delicious tipple, ideal for someone with a sweet tooth! Try over ice or as an alternative in a espresso martini.
The Dubliner Irish Whiskey is part of the Dublin Liberties Distillery, based in the Liberties, in the heart of Dublin City.

RELATED
Lifestyle & Sports
21 Apr 21