Lifestyle & Sports
13 Aug 19
The Great Outdoors: Exploring nature, water and cycling trails in Ireland
It's no secret that aviation harms the environment with its huge CO2 emissions. While flying is very comfortable and takes you to the most popular vacation spots, there are as many beautiful places worth visiting in Ireland as anywhere else in the world. So why not spend a vacation over here and give mother earth some time to breathe? It's time to appreciate the fantastic nature and landscapes our country is blessed with.
Exploring Nature
From cliffs to caves to islands – Ireland has a lot to offer. And you can explore these magnificent places in so many ways: cycling, hiking or even horse riding. The possibilities are endless. Besides the more touristy attractions like the Wicklow Mountains and the Cliffs of Moher, there are many more spots that will take your breath away.
Just take your bike and head off to the Great Western Greenway for example. The cycling and walking trail runs along the coastline from Westport to Achill and features beautiful award-winning scenery. That's right, in 2011, the Great Western Greenway won the "European Destination of Excellence" award.
If you're not into cycling, go for a hiking tour instead. The perfect destination would be Cave Hill, just on the outskirts of Belfast. The sometimes challenging hike is rewarded with an amazing view over the city. There's an equally astonishing view when you visit Slieve League Cliffs in the North of Ireland. At 1,972 feet, they are the highest accessible seacliffs in Europe, surpassing the Cliffs of Moher by 1,270 feet – impressive numbers and an even more impressive landscape. Speaking of impressive: the Giant's Causeway in Bushmills is one of the most unique places Northern Ireland has to offer. With its outstanding rock formations, it offers exceptional scenery you won't see anywhere else.
A hiking tour is also a great way to explore Ireland's many picturesque caves. In the West of Ireland, the Doolin Cave hosts one of the largest free hanging stalactites in the world. At 23 feet, the huge dripstone is definitely worth a visit. The Maghera Caves in the North, however, boast not only a magnificent interior, but also such stunning nearby attractions as the Assaranca Fall and an ancient castle. Equally gorgeous is Glencar Waterfall, located at Glencar Lough.
Advertisement
Ireland also boasts a stunning array of small islands with spectacular landscapes. Inishmore, the largest of the Aran islands, is one of them. With amazing views and striking cliffs, it perfectly showcases the magical nature of Ireland.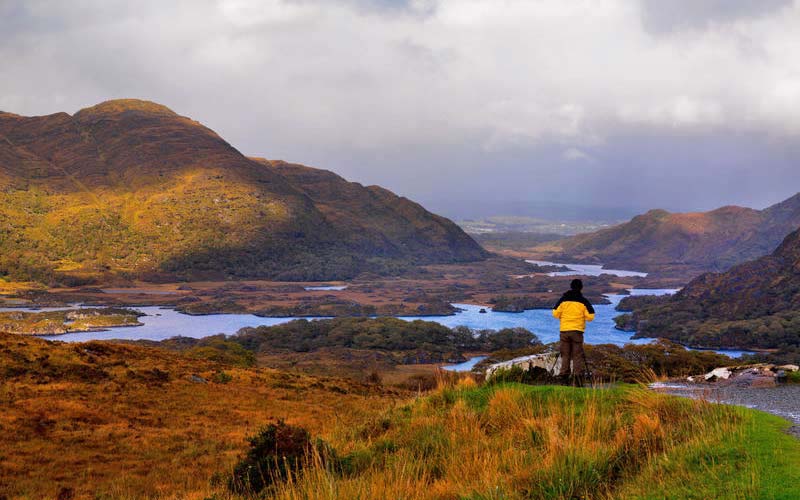 Water
As an island boasting over 3,000km of coastline, Ireland's relationship with water runs deep. No matter what corner of the country you find yourself in, you're never too far from the sea. So, whether you're braving the Irish Sea at one of Dublin's famous swimming spots, trying out the surf breaks at Bundoran in Donegal, or island-hopping off West Cork, there's no shortage of coastal activities to keep you occupied.
The Forty Foot in Sandycove, Co. Dublin is a world-renowned swimming spot, frequented by hardy year-round sea swimmers and fair weather floaters alike. Singer-songwriter Loudon Wainwright III listed the historic bathing area as one of the best places to swim in the world in a New York Times article last year – and as the author of the iconic 'The Swimming Song', he has it on good authority. If the in-and-out immersion isn't your cup of tea, head around the corner to the tiny Sandycove Beach for a more leisurely dip.
While you're in the area, why not book a course at Dun Laoghaire Powerboat School (West Pier, Dun Laoghaire, Co. Dublin)? Located in the sheltered Dun Laoghaire Harbour, the school offers a range of certificates in powerboat driving skills, depending on your experience level.
Advertisement
In recent years, Ireland has also emerged as a surfing mecca, with world class breaks rivalling surfer strongholds around the world. Bundoran Surf Co. (Main Street, Bundoran, Co. Donegal) offers lessons for all ages and abilities year-round, along the south shore of Donegal Bay – popularly referred to as the Surf Capital of Ireland.
Island-hopping may be a term more closely associated with the Aegean, but the stunning islands dotted along West Cork's rugged coastline are hard to beat. Ferry operators offer trips to the picturesque likes of Sherkin Island, Cape Clear, Bere Island and Heir Island. For the more adventurous, explore the hidden gems along the coast, by day or by night, with Atlantic Sea Kayaking. Schull Sailing Centre (Colla Road, Schull, Co. Cork), located on the water's edge in the stunning Schull Harbour, also offers a range of sailing and powerboat courses, events and activities, for everyone from beginners to Olympians.
Of course, the Irish attraction to the water doesn't end with the sea. Rivers and lakes of every shape and size are also home to plenty of activities.
Roscommon, a county almost entirely surrounded by uisce, offers a great selection of water sports centres. The Baysports (Hodson Bay, Co. Roscommon) is Ireland's largest inflatable waterpark, and boasts the Guinness World Record-holding World's Tallest Floating Slide. Shannon River Adventure (Rooskey, Co. Roscommon) is located less than an hour away on the mighty Shannon, and offers kayaking, canoeing, pier-jumping, island trips and adventure camps.
Cycling
Advertisement
With summer in full bloom, it's time to get out and make the most of Ireland's beautiful emerald landscapes, and there's no better way to experience the sunlit wonder of it all than on two wheels. On a bike, you become part of the landscape; immersed in the sights, sounds and smells of nature. The swathes of sylvan green fields and the extensive trails through our beloved national parks have helped keep people on their bikes for years. So, If you've been eyeing up that dusty racer in the shed, there's never been a better time than right now to get back in the saddle.
The many scenic greenways that have been developed by local councils have made it easier than ever to, as Freddie Mercury would say, get on your bike and ride. The fantastic Waterford Greenway runs along an old railway line all the way from Waterford City to Dungarvan. The 46km cycling and walking trail has gorgeous views of the Comeragh Mountains, the ornamental gardens of Mount Congreve, The Copper Coast and Dungarvan Bay. The Great Western Greenway is the longest off-road cycling and walking trail in Ireland. Meandering along the old Westport to Achill railway line, cyclists can take in the spectacular Nephin Beg mountain range and cycle across Clew Bay to Croagh Patrick. Other fantastic cycle-trails include the Great Southern Trail, which takes in the beautiful views of West Limerick and North Kerry, and the Grand and Royal Canal Ways in Dublin. All of these routes are perfect for cyclists of all abilities and many offer bike-rental and shuttle bus services enabling you to cycle as little or as long as you like.
The marvellously monikered Iron Donkey Bicycle Touring offer bike tours for budding-cyclists of all levels of experience. They have guided tours across the four corners of Ireland, taking in breathtaking sights like the Burren, The Cliffs Of Moher, The Giant's Causeway, the Ring Of Kerry and much more. CycleWest Ireland offers a unique range of fully supported, guided tours, self-led and multi-activity packages. Their tours take in the magnificent landscape of Connemara, the limestone hills and stunning plateaus of the Burren Region, the remote villages and offshore islands of Galway Bay and the historical Aran Islands. Bespoke tours and family adventures are their speciality. In Mayo, Electric Escapes make taking to the road on two wheels even easier. Their electric bike tours will have you cruising through the countryside of the Wild Atlantic Way in no time. Take in sights like Ireland's only fjord, Killary Harbour; the Sheefrey Pass; and the Bangor Trail, with its glacial riverbeds, waterfalls, bronze age forts, ancient abbeys and castles.
It's been proven that cycling is the most environmentally friendly way to travel. While cars create millions of tonnes of greenhouse gas emissions each year, bikes are pollution-free and involve minimal waste. An increased interest in cycling could also help ease the traffic and congestion in our city centres, as proven by the success of the Dublinbikes scheme.
The health benefits of cycling cannot be overstated. Aside from the joy of exploring this country's amazing scenery and the stress relief of avoiding traffic in the city, cycling has been proven to boost your physical and mental health. Cycling is an aerobic exercise, meaning your lungs, heart and blood vessels all do their bit too. Studies have shown that this can reduce your risk of heart disease and certain types of cancer in adult men.
Further to this, research conducted at the University of Michigan reveals the overwhelming effect that cycling can have on improving your mood. Breathing in fresh oxygen releases serotonin, the "feel good" chemical, meaning that your mind gets a boost just as much as your body.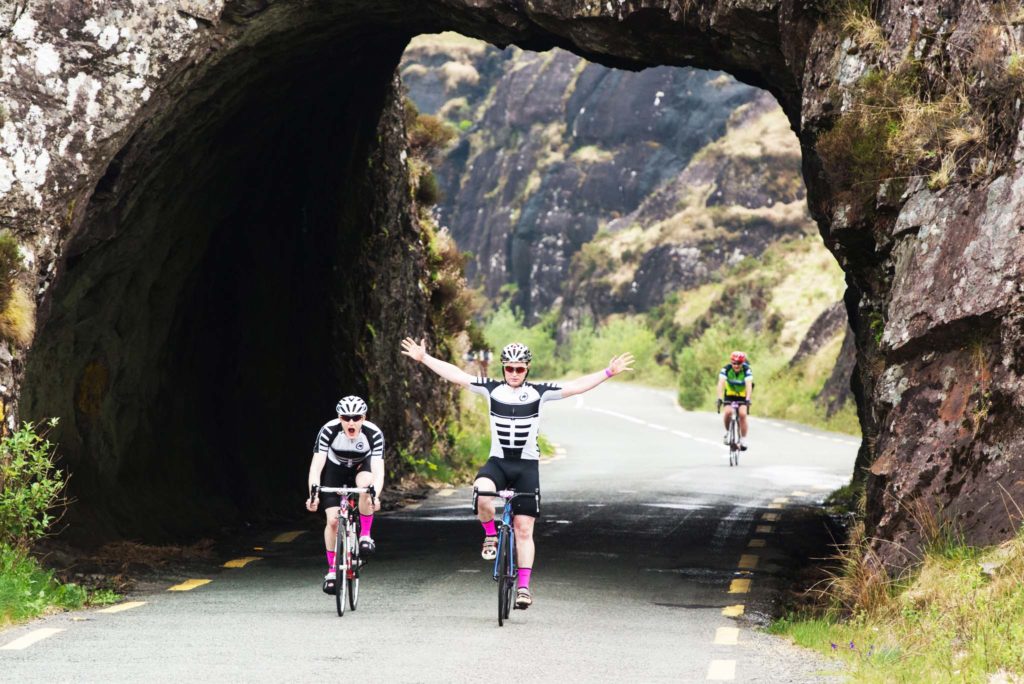 Advertisement
Family Fun
Finding holiday activities the whole family can enjoy is not easy. Nevertheless, Ireland's nature is so versatile, that there's something for everyone – from animal lovers to little adventurers.
Younger kids, for example, will love the many open farms around Ireland. Wallaby Woods in Donadea is not only home to over 60 species, but also boasts other fun activities such as zip lining and climbing, as well as a football area and an outdoor aquarium. With a great variety of different animals, pony rides and tractor trailer rides, the pet farms of Glendeer and Tullyboy are perfect for a family vacation as well. Eagles, hawks, owls and other birds are the focus of attention at the Irish Raptor Research Centre/Eagles Flying near Ballymote. The interactive bird shows and the large petting zoo will surely enchant every child.
For especially courageous and adventurous kids, climbing might be the perfect outdoor activity. Skypark near Dundalk in Co. Louth offers aerial adventures for young and old, as well as plenty of entertainment facilities on the ground, such as archery and minigolf. Another possibility to reach new heights is Family Rock Climbing in Killiney Hill Park. The instructors provide a safe environment and the equipment to learn how to rock climb and abseil. More adventure parks worth visiting include the Loughcrew Adventure Centre in Co. Meath and the Killary Adventure Centre in Co. Galway. Both feature various activities from climbing walls to obstacle courses.
In the summer months, a trip to a waterpark is the perfect way for families to unwind. The children can let off steam while parents can relax in the water. One of the most exciting waterparks in Ireland has to be the Baysports Water Sports Centre in Hodson Bay, Co. Roscommon. It hosts the Guinness World Record-holding World's Tallest Floating Slide that even parents can't resist trying out. Dublin also has its own inflatable waterpark: Aqua Park Harbour Splash in Dun Laoghaire first opened in 2018 and quickly conquered the hearts of children and adults alike.
Returning to our topic of sustainability and eco-friendly vacation, there is one other adventure park we highly recommend. The Rock Farm in Slane, Co. Meath invites you to discover ecotourism, an environmentally friendly way to enjoy your holiday. That doesn't mean you have to forgo luxury and entertainment. Rock Farm provides luxury glamping facilities as well as exciting activities like kayaking and rafting – all while caring about the environment.
Advertisement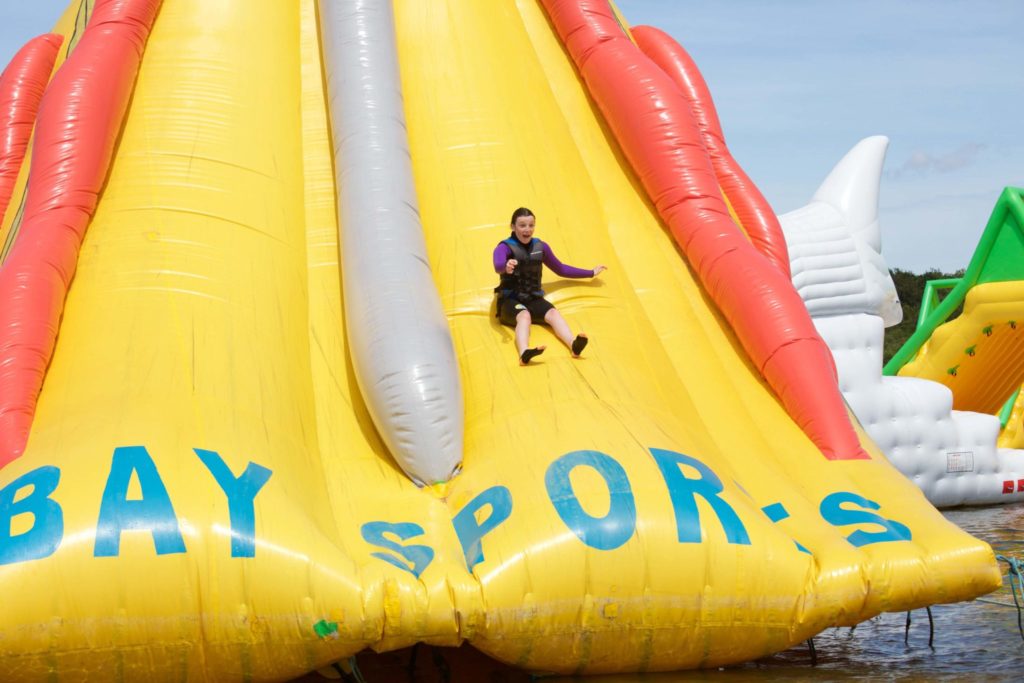 Safety
While it's hard to beat a day in the great outdoors, it's also important to know your limits, and be aware of the risks associated with your activity. Keep yourself hydrated by packing plenty of water, and bring a hat if you're going to be exposed to the sun for long periods. It's a good idea to keep a compact first-aid kit in your bag, and make sure your phone is charged, so you can call for help if necessary. Always tell someone where you're going, and what time you expect to return.
Wear a lifejacket if you're on the water – no matter how strong a swimmer you think you are. If you see someone in trouble near the water, resist the urge to enter the water yourself, but throw them a line if there's one available. Call 112, and ask for the Coast Guard.
If you find yourself in the water unexpectedly, float on your back until the cold water shock passes. Once you're calm, attempt to swim to safety or call for help.