A look into the new MOSCHINO [tv] x H&M collaborative line. Apparently fuchsia faux fur, sequins and condoms are in.
High street brand H&M announced its upcoming collaboration with Moschino earlier this year. Now months later we finally got a glimpse at the new line, MOSCHINO [tv] x H&M, launching 8 November worldwide online at HM.com and in selected stores. Creative Director of Moschino Jeremy Scott debuted the innovative line in Times Square New York 24 October. The star-studded catwalk opened by Gigi Hadid, featured the 'it' models of 2018 with the likes of Winnie Harlow, Bella Hadid and Candice Swanepoel. Legendary supermodel Naomi Campbell closed the show.
The inspiration behind the line comes from the merge in social and traditional media to introduce a captivating new "zapping" experience for the digital world. Creative Advisor of H&M Ann-Sofie Johansson regards MOSCHINO [tv] H&M as "the perfect collaboration for fashion right now, mixing together pop, street culture, logos and also glamour".
Scott is most excited to be able to further share fashion with his followers. He stated "The MOSCHINO [tv] H&M collection is a gift to my fans and I wanted to give them the most MOSCHINO collection ever. I tried to include all the ingredients you would expect from one of my shows - cartoon couture mixed with a street wear vibe doused with hip hop worthy amounts of bling bling to create a totally MOSCHINO look,". The collaborative line is much more accessible with items costing €20-400. Scott created the collection for women, men and even pets. Yes, now your dog can even wear Moschino for less.
Fits for your best friend! #HMoschino @moschino pic.twitter.com/rqSl9n1BS2

— H&M USA (@hmusa) October 17, 2018
Advertisement
However, ponchos for pooches may not be the most 'out there' item in the collection. According to Vogue, Johansson believes "Right now, fashion is so bold, so energised and so much about making a statement with what you wear." With that mantra in mind, the ready to wear collection features a condom dress. There's a minor condom theme throughout the line, although Scott wished to put more emphasis on condoms and safe sex in his work.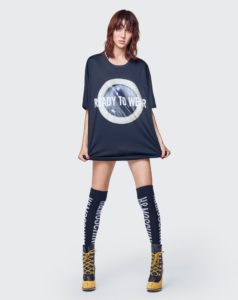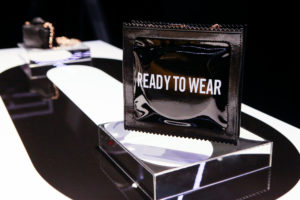 Scott explained his vision of free Moschino condoms to ELLE, "I told H&M I wanted to give them out at the show, and at the stores, too; honestly, I want to give them out wherever we can. I say, let them be free, wherever they can be, so that kids who are embarrassed to buy them or even who just forget to buy them will be like, "Oh, this is free! This says Moschino and I can just take it!" And it'll lead to more safe sex, and more awareness of safe sex. That's my dream."
Scott takes his duty as a public figure very seriously and vows to encourage young people in the right manner, whether its safe sex, voting or promoting diversity. The collaborative line aims to be as inclusive as possible. Drag Queen Aquaria was one of the models to promote the line, along with model, actress and body positive activist Barbie Ferreira (below).
Watch a clip from the fashion show below.
Advertisement