Lifestyle & Sports
01 Mar 22
aparto student residents host sustainable fashion event for Sick of Plastic campaign
Residents from Trinity College, UCD, TU Dublin and RCSI added their style to the runway, featuring outfits created from student and staff clothing donations as well as garments from Dublin's vintage stores.
Student accommodation platform aparto has joined forces with its Dublin 8 residents to support sustainable fashion, putting on the 'Feel Good Fashion Event' showcase at Binary Hub for a good cause.
The award-winning UK and Ireland accommodation is determined to play its part in a greener way of living and to encourage its residents to do the same.
With in-person events back in full swing, stylist Irene O'Brien played host to a feel-good vibe on February 16th - encouraging guests, residents, and community friends on the night to adopt a more conscious way of thinking about fashion and upcycling with their day-to-day style.
When residents move out of aparto across the UK and Dublin, the platform encourages recycling and upcycling, by finding a home for any unused food, toiletries, and clothes for an annual fashion show.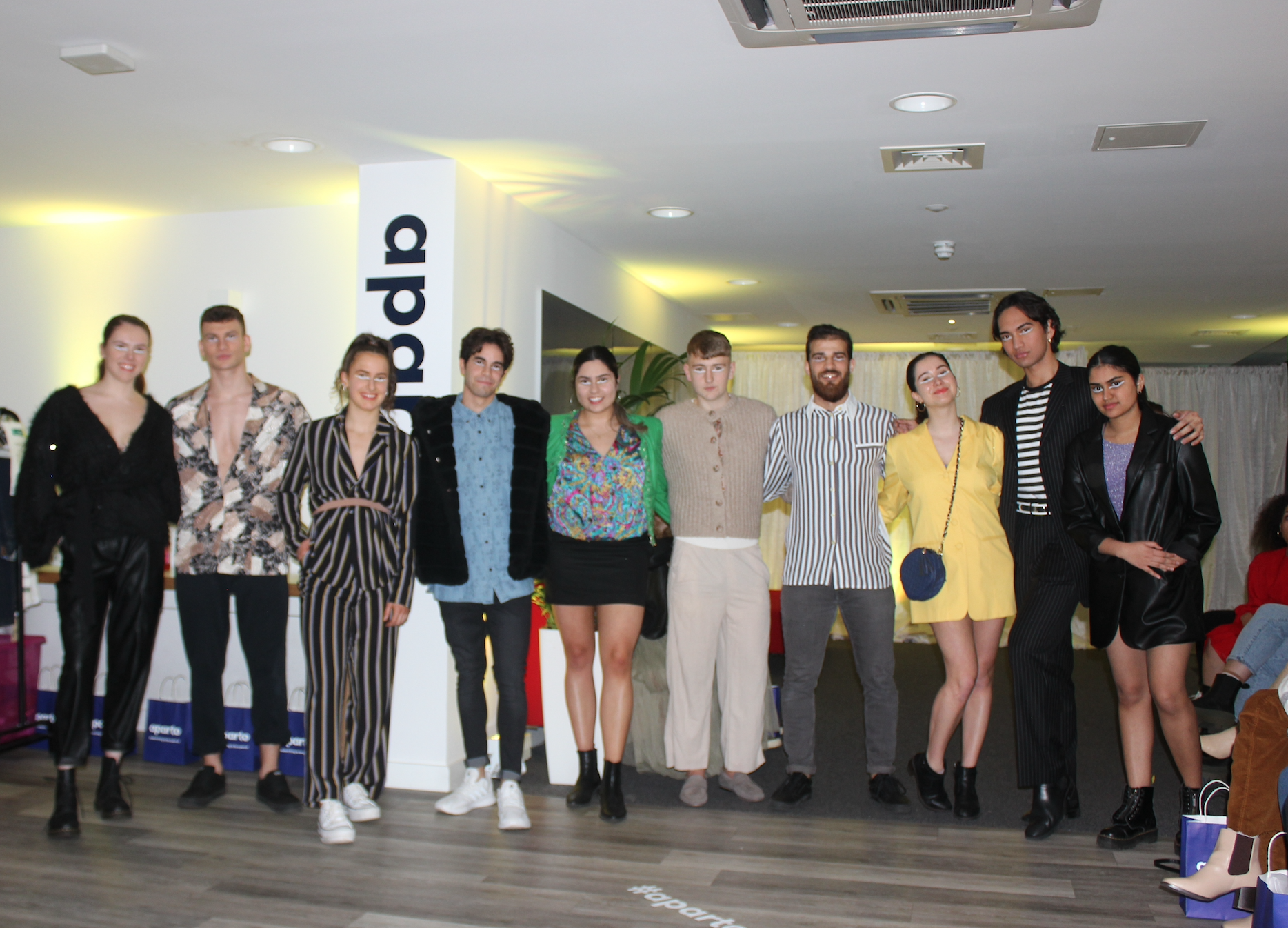 Advertisement
10 residents from across Trinity College, UCD, TU Dublin and RCSI set their sights on the runway, featuring 20 contemporary cool outfits created from student and staff clothes donations alongside garments from Dublin's vintage stores. Thrifting on the night went to support funds for the Sick of Plastic campaign, with Voice Ireland adding its community of Irish activists to the bill.
Guests on the night were treated to Teeling Whiskey Cocktails, Nobl Water – water on a mission, All About Kombucha - Ireland's only Carbon Neutral Kombucha. 70 Native Irish Trees will also be planted following the All About + aparto event partnership. Additionally, Greenminds.irl, who turn rubbish into something worth keeping, brought an inspiring sense of plant life fun to the social spaces at the Binary Hub.
"We want to be recognised as an environmentally conscious and friendly destination, so our students feel proud of where they live," Tom Rix, aparto Europe's Managing Director – Operations, said. "At the same time, we are fully committed to the local communities and environments we serve. We will continue to host more of these wonderful 'Feel Good Fashion Events' to showcase that we are all putting our greener footprint forward!"
Mindy O'Brien, Chief Executive of Voice of Irish Concern for the Environment (VOICE) also added her take on the sustainable evening.
"VOICE and the Sick of Plastic Campaign are thrilled to be part of aparto's thrifting event, which demonstrates that clothes and other items can continue to have second, third and fourth lives! Buying pre-loved items is one part of the circular economy which embraces conscious consumption and reuse.
"Reuse is key to reduce waste in our current consumption model and we need to change norms and values," O'Brien continued. "In terms of excessive packaging and single use plastic items, Our Sick of Plastic campaign is putting pressure on supermarkets and politicians to change the current business linear practice of take, use and dispose, pushing for packaging reduction and reuse."
Lights...Camera...It's countdown for FEEL GOOD FASHION!🎥🌾 #Teamaparto are proud to announce - Feel Good Fashion Event, Wed 16th Feb at Binary Hub💃🏻🕺It's all about living that little bit greener! 🌿#apartofyourstory #studentliving #apartofsustainability #apartofdublin #dublin8 pic.twitter.com/aHaL6tEujE

— aparto student (@ApartoStudent) February 11, 2022
Advertisement
aparto is Hines' student accommodation platform, which comprises around 100 staff running 14 sites across the UK and Ireland, and two newly launched sites in Italy with Spain to follow.
Its vision is to be the leading student living operator in Europe, with a special focus on great service and genuine community creation. The platform creates a residential experience tailored to each asset's unique location including hosting on-site events and networking, operations and design services, a wide range of amenity provision and extensive health and safety management.