Your Place or Mine cast: "We were supposed to be best friends for 20 years, so we started video calling every day a month before shooting"
Reese Witherspoon and Ashton Kutcher deliver memorable performances in Your Place Or Mine, the fresh rom-com from debut director Aline Brosh McKenna.
Best friends Debbie (Reese Witherspoon) and Peter (Ashton Kutcher) have known each other for 20 years, despite being total opposites. Practical, risk-averse accountant Debbie craves routine and stability with her son Jack (Wesley Kimmel) in LA. Meanwhile, stylish brand consultant Peter thrives on adventure in New York City. When they swap lives for a week, everything they thought they knew flips on its head.
Written, directed and produced by Aline Brosh McKenna (The Devil Wears Prada, 27 Dresses), Your Place Or Mine also stars Jesse Williams, Zoë Chao, Steve Zahn, Tig Notaro and Vella Lovell. A debut effort for McKenna, she notes there's an autobiographical element to the story.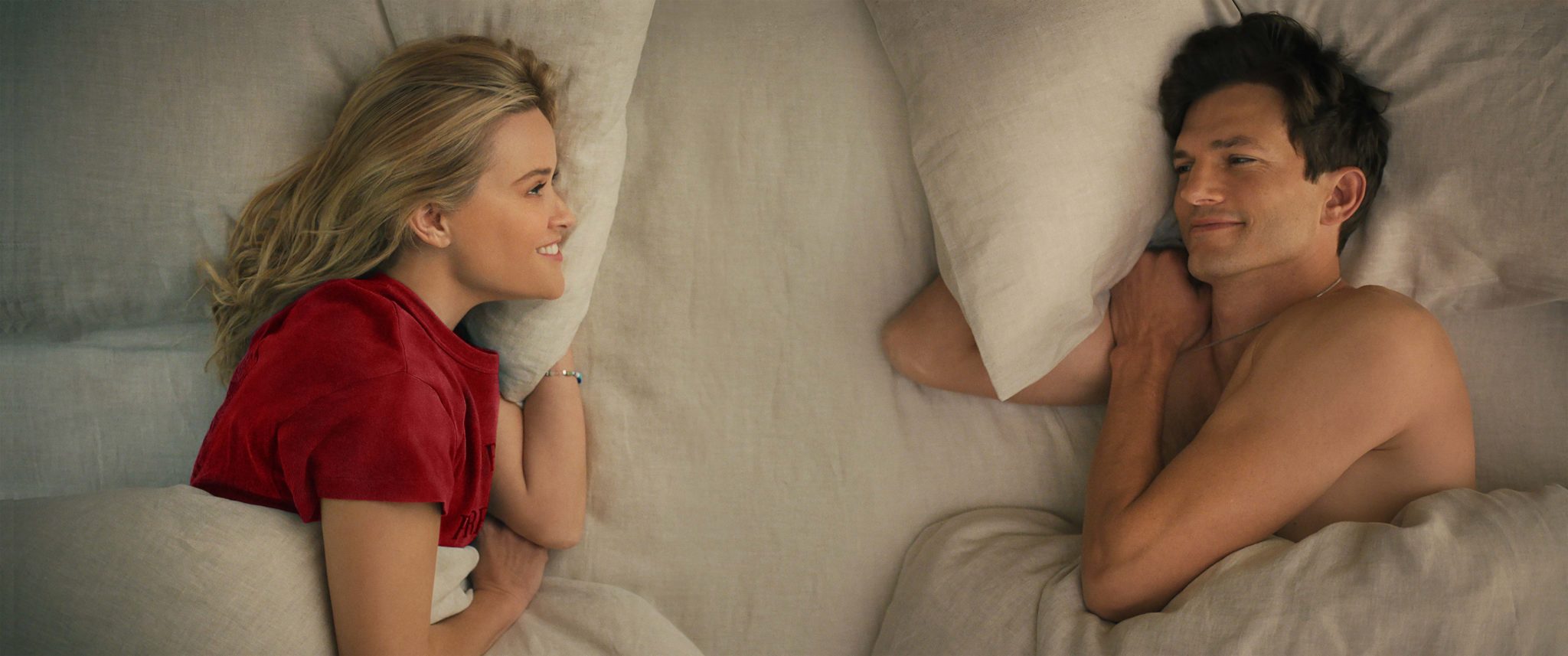 "It was based on personal experiences," reflects the director. "I wanted to do a romantic comedy for people who have been through something in their lives and accumulated some life experience. It was an idea I had for a long time, and when it finally came to a finish, it was true to my story. Then, you know, I like to work with unknowns!" she laughs, gazing at Kutcher and Witherspoon in particular. "I'm really looking to discover people, as you can see. I was lucky enough to find these folks."
Part of Debbie's character is her adoration of reading, sparking her lifelong dream of becoming an editor. Given the enormous popularity of her book club, was Witherspoon an obvious choice for the role?
Advertisement
"I have never read a book " the star responds, sarcastically. "It's not on brand at all."
"You don't have to convince anyone that Reese likes to read," Aline beams. "I told her, 'I think you can easily make the audience believe you like books!'"
"I don't know how to read," Ashton chimes in, deadpan. His character, Peter, is relatively new territory for the former That 70s Show star. I think Peter was a juxtaposition with Debbie, so that was fun to play. He's meticulous. Everything needs to be in its place, compared to Debbie.
"It's not like I haven't played grown-up guys before – I think it was very much about the hair. Aline had a very particular hairstyle she felt this character had to have. She used the word 'grown-up' a lot. I was like, 'This is my hair, it's 45 years old – the same age as me!
"I'm not a very big fiction reader, but Peter's very well read. I ended up going through about 10 books for the film that Aline sent me. They all had notes in them about what the character learned from each novella. She told me I had to read them all, and I did!"
What was Kutcher's favourite?
"When Breath Becomes Air was devastatingly wonderful, and High Fidelity was very good. I actually fell in love with reading fiction again from this experience, so that was fun. But don't read Permanent Midnight right before you go to bed. That's just a note to everyone. It's about Jerry Stahl's addiction."
Advertisement
Your Place or Mine is unusual for a rom-com, in that it rarely features the leads in the same room. Instead, they communicate mainly through FaceTime.
"We decided to connect probably a month before we started shooting, when I had a little panic attack because we knew nothing about each other!" Witherspoon says.
"We didn't know each other at all," Ashton confirms.
"We only met one time at a party – and it was weird," Reese offers.
"She thought that I was quirky," Kutcher grins.
Advertisement
"I said quirky, but I really thought he was weird. No, I'm kidding," his co-star beams. "A month before shooting started, I was like, 'We're supposed to be best friends for 20 years!'So we started sending each other videos every day."
"We would ask endless questions: What are you afraid of? What's your pancake topping?" Kutcher interjects.
"Who's your best friend? Why are they your best friend?" Reese adds. "It was actually fun. Our kids and dogs got in the videos. You met my dad that way."
"We hung out on your porch," adds Kutcher. "By the time we started shooting it, we were used to communicating this way. It felt really natural."
One of Debbie's love interests, Theo, is a lyric editor. It's not an entirely unusual role for Grey's Anatomy star Jesse Williams, who was an English teacher prior to acting.
Advertisement
"I'm an avid reader," he nods. "I was definitely a fan of fiction until I became obsessed with non-fiction for the last 10 to 15 years. I've been returning to that recently and I did teach. Books changed my life in high-school. Aline was awesome enough to get me a vintage signed copy of one of my favourite books ever, Toni Morrison's Song Of Solomon. Books are a transformative thing for me."
"Jesse and I also collaborated on a list of books for his office," says McKenna. "The art in Theo's office is more like copies of Jesse's own art, so it's authentic."
Elsewhere, Wesley Kimmel – who plays Debbie's son Jack – had a remarkable resemblance to his character on paper; not least his hockey playing abilities.
"I started hockey when I was little," says Kimmel. "For that first audition, I looked up to my mom and I was like, 'This is literally me'. Jack and I had the exact same qualities, the exact same issues, the exact same allergies. That meant it was easy to be natural in the audition."
"I've never had the same allergies as my character in 32 years. Have you?" Witherspoon turns to Kutcher.
"You're allergic to me," he quips.
"No I'm not!" Reese laughs
Advertisement
"Dust mite and grass," Kimmel notes, solemnly.
Some of the audience will presumably have mixed feelings over who Debbie should choose, given Theo's dashing nature.
"Early on, I realised it's not really a battle between Peter and Theo," Jesse posits. "It's about what's true for Debbie. That's one of the lessons of the film. She surrounds herself with people intentionally or not, who want what's good for her. The people around you are a reflection of you, which is like the adage about choosing your friends wisely.
"Even though Theo is a random meeting, he still puts energy towards her realising her greater self. Sometimes people in your life are a season. He's there, he's available, but her ultimate decision wouldn't be because of a failing of Theo's. Or maybe it was just body odour?!"
As she wasn't already busy enough, in addition to writing, directing and producing, McKenna co-wrote the song 'Embers', which appears in the film multiple times.
Advertisement
"We used The Cars as Peter's music," she says. "They were a band I had grown up on. I noticed that men tend to pick a band or artist they love and really stick to that. For her, we had a bunch of female singer-songwriter artists, but we wanted a song that was hers.
"I was lucky enough that Sid, who did the composing, and Allan, who works with him, invited me to write a song with them. It was really fun and we spent hours on the phone. I told them stories about some of the experiences that had led me to write it and what my inspirations were.
"We came up with this idea of 'Embers' as a relationship that's not in flames at the moment, but it's still there and just needs to be stoked. I was on TikTok and found this young group of artists from the Berkeley School of Music. They sing a capella a lot, so we did the arrangement with them. It represents Debbie's hope for reigniting herself, ultimately."
If anyone is going to find three men romantically interested in her, it's Reese Witherspoon – though it's not exactly a typical for women in their forties, or older, to be pursued by more than one person in a movie.
"Reese has three men who are interested in her in this movie," says McKenna. "One day, she was like, 'Why do they all like me?' But I wanted to show the other people in her life as well. When you're falling in love, but you're not 21, there's more of a history. Sometimes with romantic comedies, the female lead is incredibly chaste, to a point where it seems unrealistic. It was fun to give her a number of different love interests to play off. She just has to take the risk in the end, and see what happens!"
• Your Place Or Mine is on Netflix now.
Advertisement
The new issue of Hot Press is out now, starring Inhaler and The Academic.
RELATED