Wolf star George MacKay: "It's not a typically triumphant story. Reckoning with yourself is always difficult and complex"
Celebrated for his lead performance in war drama 1917, English star George MacKay discusses his role in Wolf, a compelling drama about a young man who howls at the moon.
The last time I spoke to George MacKay, we were in a London hotel discussing his brilliant performance in the kinetic, expressionistic and intriguingly queer film The True History Of The Kelly Gang, and his role in Sam Mendes' epic war film 1917, which had just picked up three Oscars. 
Though MacKay is only now starting to gain name recognition, he has a reputation as one of the warmest and most affable young actors working today, beloved by both journalists and film crews. And true to form, in our last interview, we had a great conversation about the Oscars, his method acting and his upcoming projects.
That was February 2020. Film journalists plan and God laughs. 
Walking into a suite in the Merrion in Dublin – the first in-person junket I've been to after two years of Zoom chats with actors and directors – everyone in the hotel and on the PR team seems delighted to be back to the normalcy of in-person interviews. We're still masked up, but we're here.
MacKay gives a characteristically warm welcome, asking how I've been during Covid. He also expresses relief and gratitude that no-one in his family got sick, and that he was able to keep working – though not without some bumps.  
Advertisement
The actor is in Dublin to promote his new film Wolf, an intriguing drama written and directed by Dublin-based Italian Nathalie Biancheri (Nocturnal). MacKay plays Jacob, a young man who believes he is a wolf, and is in a behavioural clinic filled with other young people believing their true selves to be animals of different varieties.  
Though encouraged by the clinic's founders (Paddy Considine and Eileen Walsh) to renounce his animal self through a series of increasingly distressing and (ironically) dehumanising exercises, Jacob only ever feels free when running and howling. He forges a unique relationship with another patient (Lily-Rose Depp), who believes she is a wildcat. 
MacKay gives a wonderful performance, conveying Jacob's sense of unease, repression and constriction as he's forced to behave like a human, and the freedom and empowerment he finds while inhabiting the world as a wolf. The Irish-Polish co-production was due to begin shooting in Ireland in early 2020 – and then came the first lockdown.
But for MacKay, the break had some benefits. 
"Myself, Nathalie and our movement coach Terry Notary had been in Dublin for the film festival," he reflects, "and we had a week to workshop Jacob and the wolf, to work on movements, and to try and find the physicality of the character. Then as we were starting to wrap up, there were more Covid reports on the news, and at the airport they were asking us to pay contactless for hygiene, and it was starting to feel uneasy. 
"But the plan was to take two weeks off and then all come back to Ireland for three more weeks rehearsal, then the shoot – and literally in those two weeks, everything in the UK and Ireland shut down." 
Advertisement
The cast and crew of Wolf were relatively lucky – by cocooning together in Ireland, they were able to start shooting in the summer of 2020, and MacKay benefitted from the extra time to find his wolfish instincts. 
"I had crawling homework!" he laughs. "I had character work, and I was lucky that a lot of the seeds that had been planted in that one week's rehearsal grew a lot over the extra three months, physically and emotionally. We always said that for Jacob, crawling should be the most comfortable place for him, you have to legitimately feel that he's not going around doing an impression, that this is where he feels at home. So for that to bed in properly, the extra time was really helpful." 
As we all went through our sourdough and banana bread phases, MacKay was crawling around the London apartment he shares with his partner – "She was very giving about the amount of crawling that was happening!" Though perhaps thankfully for his neighbours, he saved practising his howl until he was back rehearsing with Biancheri in Sutton.
 
"That again was so important, because you think what is a howl, what are the different kinds of howls and what are they expressing," says George. "You're thinking about how Jacob would do that with human lungs, and where there's an amalgamation of expressing that purely as a human, but trying to marry it to something wolfish. Then being very specific on what each howl means – if it's a release, if it's a call to your kin, whatever." 
MacKay grew to love the feeling of the howl. 
"It's like having a really good cry, or shout, or singing," he enthuses. "I'm a big Jeff Buckley fan, and you can watch footage of him where he gets lost in his singing. I remember hearing him talk about the point in a really long gig where you're so tired you're just doing things instinctively. And I felt that, in a much more truncated way, it's what the howl is for Jacob. He's allowed to just go somewhere else when he does it. 
Advertisement
"You feel quite emotional afterwards, you feel giggly or want a cry, it's intense. And working with Terry on the movement, he tried to focus on a meditative approach, where being the wolf was a space free from self-criticism or self-censorship, where it was free from human thought, almost. So together it did feel quite incredible." 
MacKay is often called a method actor, as he physically trains extensively for his films, writes diaries for his characters and tries to inhabit them – though refreshingly, doesn't used method acting as an excuse to be obnoxious to his co-workers, and quickly shifts out of character when the camera isn't rolling. But his intense approach makes for an interesting pairing with Biancheri, who has a background in documentaries. 
When tackling a real phenomenon like species dysphoria, the film takes a more interpretive approach than focusing on accuracy, asking what would happen if species dysphoria was well-known and widespread in society, and how would it be treated and stigmatised in some spaces. But despite the film not taking a literal approach, Biancheri wanted MacKay to fully understand his character's experience in this heightened world. 
"I loved the script and Nathalie's first film Nocturnal," says George. "Then when I got to meet her, she's so curious and everything she loves, from films to documentaries and literature, is always quite deep and profound and questioning. So when we met, we had a lot of conversations about Jacob, and she would set me diary entries about things that are never expressed in the film, because Jacob is such a silent character.  
"But these things inform him, like 'What happened to your brother?' 'What put you here?', 'What was the point where people started realising the wolf thing wasn't funny anymore?' Then she set me one for 20 years after the ending of the film, thinking about how his life is. Which was really hard and difficult, but gave me so much to think about and grapple with as Jacob is deciding his future." 
I note that there's a through-line in MacKay's work of playing characters that have a clear sense of how they are perceived or who they 'should' be – and their inner conflict around who they really are. In 1917, MacKay played a soldier who is constantly terrified, while knowing that his job is to appear brave and to run straight towards danger.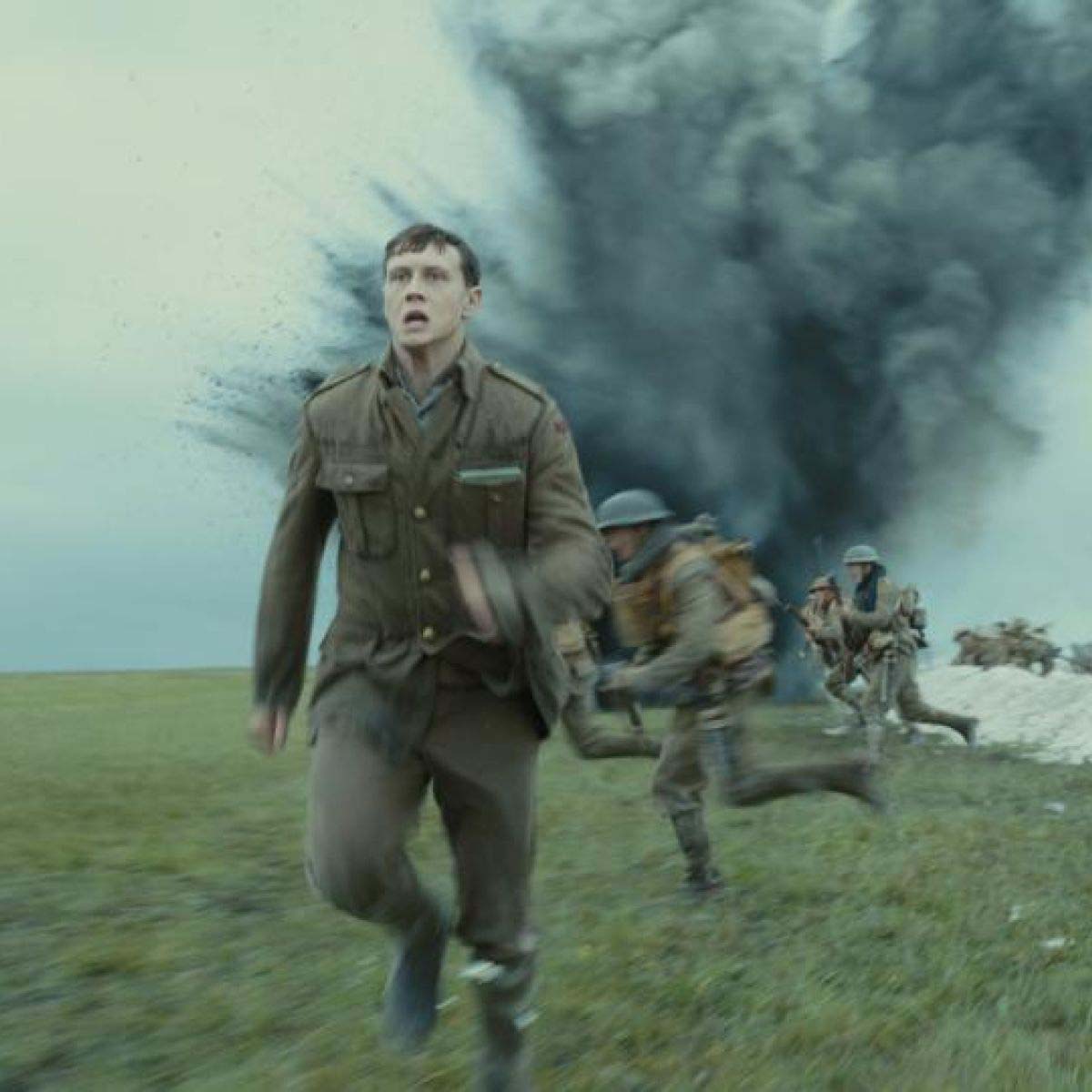 Advertisement
In Captain Fantastic, he portrays a teenage boy slowly growing away from his father's extremist anarchist life. The True History Of the Kelly Gang played with the perception of the Australian outlaws by examining sexuality, queerness and subversion. Wolf is the most heightened version of this inner conflict that we've seen yet, and I wonder if these choices have been conscious. 
"I've started to notice that a bit more, and it's definitely something I'm fascinated by," says MacKay. "Sometimes as a struggle, sometimes just as an intrigue. And perhaps an element of self-awareness around being in a job where your work gets looked at even if you don't look at it, and thinking about why I choose projects that explore things. For me, it seems like people's identities are a relationship between the things that are important and true to that person, and then how they are perceived. 
"Re-examining history in The True History Of The Kelly Gang made me think about all the historical stories we're now re-examining, saying this was never what happened, and who wrote those stories and how did they spread and who did they benefit? We're going through a cultural shift of re-examining which is really important." 
This gap between how we are perceived by others and who we really are seems to be an overarching struggle for culture at the moment, particularly given the inescapable influence of social media, reality television and yes, our interest in celebrities. MacKay gives a basic example. 
"Right after 1917 and the press run around that, I looked busier than I had ever been – but it was the longest I had been without work," he notes. "So every time I look at someone who is so busy and feel bad that I'm not where they are, I remember that image and reality are not the same." 
The film's premise is ripe for allegory around trans people's fight for their rights, and the clinic onscreen often feels like it's portraying a version of gay conversion therapy, with the parallels of repression, psychological torture and stigma. But Wolf, perhaps wisely, never leans too fully into these metaphors, which could have easily cheapened the artistry of the material and become a clumsy allegory for very complex issues.
"For me, it felt like an important story for any point in your life where you feel a discordance with what the world is asking you to be, and who you are. And that's universal. What I admire about Nathalie's interpretation, and how the film is written, is that there's bravery not just to the characters, but also a lot of difficulty. It's not a typically triumphant story. Reckoning with yourself is always difficult and complex, and I think we respect that." 
Advertisement
• Wolf is in cinemas from March 18.
Revisit MacKay's 2020 interview with Hot Press here.
RELATED