Two years on from the beginning of the Harvey Weinstein scandal, 2019 saw the publication of two outstanding books by the reporters who broke the story – Ronan Farrow of The New Yorker, and the New York Times duo of Jodi Kantor and Megan Twohey.
Outside of US media circles, few who read Farrow's original articles in The New Yorker were aware of the background to his reporting, which he grippingly documents in his book Catch And Kill. The culture in the newsroom of NBC – where he originally began working on the Weinstein story – that he describes is shocking. Sexist attitudes are pervasive amongst the network's executives, some of whom were friendly with Weinstein.
Among those overseeing Farrow's reporting was president of news Noah Oppenheim, who enjoys a parallel career as a screenwriter: Jackie (2016) is his most notable credit. Writing recently in Vanity Fair, Farrow's fellow NBC reporter, Rich McHugh, argued that Oppenheim and NBC news chairman Andy Lack "behaved more like members of Weinstein's PR team than the journalists they claim to be."
It gets stranger. Noah Oppenheim was originally discovered by the NBC duo of Phil Griffin and Hard Ball presenter Chris Matthews. During a stop-off at Harvard University on a work trip, they read one of his articles in the Harvard Crimson and were impressed. That evening, they located a drunk Oppenheim in a corner at a party, and offered to put him on TV.
Farrow recounts some of what Oppenheim wrote for the Crimson. In a proto-alt right diatribe defending male-only clubs at Harvard, notable for its overt nastiness and misogyny, the young Oppenheim opined, "To the angry feminists: there is nothing wrong with single-sex institutions… women who feel threatened by the clubs' environments should seek tamer pastures. However apparently women enjoy being confined, pumped full of alcohol and preyed upon. They feel desired, not demeaned."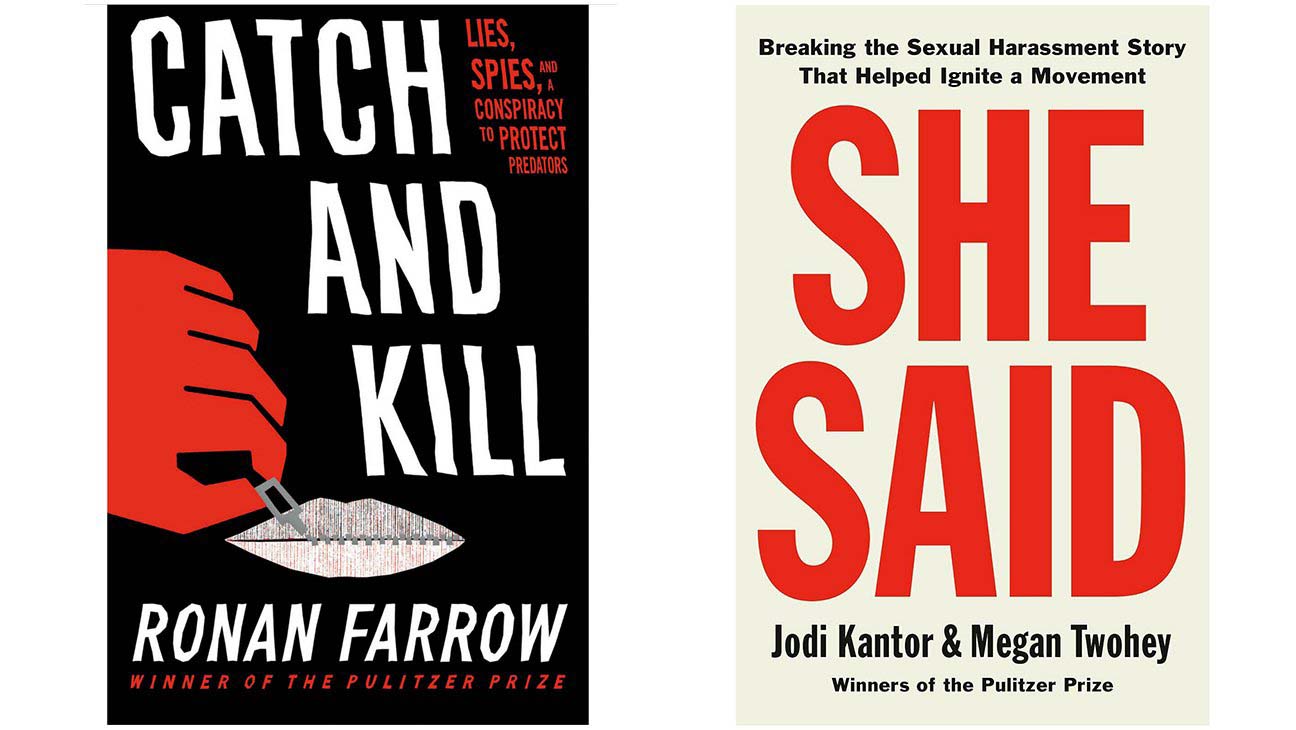 Advertisement
After the contents of the article were revealed in Catch And Kill, Oppenheim was met with a deluge of outrage. He apologised profusely, telling The Los Angeles Times, "My reaction to seeing those excerpts is that I'm mortified by them. I couldn't be more sorry I wrote them."
He was not alone, however, at NBC. Farrow's painstaking investigative work involved countless conversations with women central to the story, including Rose McGowan. Remarkably, he had even obtained the notorious recording of Weinstein harassing the model Ambra Gutierrez. As Farrow attempted to break one of the biggest global stories of the decade, NBC assigned Dateline's David Corvo – who himself had a personal history with sexual harassment issues – to review it.
The most disturbing allegation in the book concerns the Today Show's Matt Lauer, who has been accused of sexual harassment by several ex-staffers. In Catch And Kill, former NBC employee Brooke Nevils accuses Lauer of raping her in his hotel room during the network's coverage of the 2014 Sochi Olympics. Lauer has denied the allegation, but he has now left NBC.
With NBC erecting roadblocks, Farrow – under enormous personal stress – took the story to The New Yorker, who published it almost immediately. One subplot of Catch And Kill involves Weinstein's hiring of the Israeli spy firm Black Cube, extensively staffed by ex-Mossad personnel, to dig dirt on his accusers. Remarkably, a New York-based private detective subcontracted to Black Cube to follow Farrow, Igor Ostrovskiy, would eventually make contact with the journalist and aid in the writing of the book. Putting reporters under surveillance, he said, crossed a line.
Kantor and Twohey's She Said, meanwhile, describes a number of women central to Kantor and Twohey's reporting of the Weinstein scandal and the wider Me Too movement – including Gwyneth Paltrow and Ashley Judd – gathering in Paltrow's home to reflect on the saga to date. The meeting gives one of the attendees, Rowena Chiu, the strength to finally go public with her allegations against Weinstein. The final line of the book has her telling the reporters, "I'm not just going to let it slide away."
You can read the complete article in one brilliant sweep in the Hot Press Annual – in which we distill the highlights and low-points of the year, across 132 vital, beautifully designed pages. Starring heroes of the year Fontaines D.C. on the front we cover Music, Culture, Sport, Film, Politics, the Environment and much, much more. Buy this superb publication direct from Hot Press here.
Advertisement
RELATED