Marilyn Manson & Johnny Depp: Where does defamation law prevent survivors from speaking out?
Trigger Warning: Mentions of sexual abuse, non-consensual drugging, non-consensual sexual activity. This article contains disturbing and graphic content.
Marilyn Manson has now begun the process of suing Evan Rachel Wood for defamation after she named Brian Warner (aka Manson) as her abuser and rapist. Mere weeks ago, we saw the world celebrate Johnny Depp's "win" in a Virginia defamation lawsuit against alleged abuse victim, Amber Heard - despite the Pirates of the Caribbean actor losing his UK "wifebeater" libel case against The Sun.
While the cases are vastly different, does defamation law need to be reexamined in order to protect abuse victims? In a recent viral thread by twitter user @k4mil1aa, the relationship between the Manson and Depp cases is examined, as well as the dangerous precedent the Depp case has set for domestic abuse victims.
Manson immediately started love bombing her. She said that he made her feel like they had a special bond. To show Manson that she belonged to him, he had her carve an "M" right next to her vagina to "show ownership". He carved an "E" on himself as well. pic.twitter.com/QXZzHYe6u2

— Kamilla (@k4mil1aa) July 1, 2022
In the op-ed Amber Heard wrote, allegedly about the abuse she suffered at the hands of Johnny Depp, Heard didn't name her abuser. In this new case, Evan Rachel Wood has very publicly named her abuser as Marilyn Manson, both through social media and through her documentary series Phoenix Rising. Even if Evan has stacked evidence against Manson, as well as multiple witnesses and others who have also suffered at the hands of him - does this still count as defamation? The law, both in Ireland and the US, is a tricky one which can catch victims of abuse in a cobweb of fear. It should be noted that Heard also had evidence to back up many of her claims (in 10 out of 12 incidents according to the judge in the UK libel case).
Advertisement
Evan Rachel Wood is an actress, known for shows such as Westworld and 13. Evan met Marilyn Manson as a teenager and she began a romantic relationship with him at the age of 18 - Manson was 37. From there, the actress has claimed a torrid and twisted series of abuse, multiple rapes, assault, and threats to her life began.
Apart from her work as an actress, Wood has worked for many years as an activist for abused women - becoming an integral part of the Phoenix Act which extends the statute of limitations from 2 years to 5 years, despite Evan's original ask of 10 years. The Act was passed in California in 2019 and was made law by Governor Gavin Newsom on January 1, 2020.
Evan spoke about the abuse she suffered in a relationship in detail to the court during the Phoenix Act process, however she never named her abuser. That was until an Instagram post the actress uploaded in February of 2021. The post read: "The name of my abuser is Brian Warner, also known to the world as Marilyn Manson.
"He started grooming me when I was a teenager and horrifically abused me for years. I was brainwashed and manipulated into submission. I am done living in fear of retaliation, slander or blackmail. I am here to expose this dangerous man and call out the many industries that have enabled him, before he ruins any more lives. I stand with the many victims who will no longer be silent."
 

View this post on Instagram

 
Following her statement, Warner posted a retaliation, denying all allegations. The musician said: "Obviously, my art and my life have long been magnets for controversy, but these recent claims about me are horrible distortions of reality. My intimate relationships have always been entirely consensual with like-minded partners. Regardless of how – and why – others are now choosing to misrepresent the past, that is the truth."
Advertisement
As a result of Evan's post, four other women came forward with similarly horrifying allegations against Manson.
Wood's Instagram post was followed up by more harrowing details shared through Instagram stories. Later in February 2021, Evan shared that in 2019 she had to file a police report after becoming aware of a threat from Leslee Lane and Lindsay Usich (Manson's wife) to release of underage photos of the actress.
On her stories, she wrote: "On Dec. 19, I had to file a police report after I was alerted to threats made by @leslee_lane and @lindsayusichofficial (Brian's wife) for conspiring to release photos of me when I was UNDERAGE, after being given large amounts of drugs and alcohol, after Brian performed on Halloween in Las Vegas to 'ruin my career' and 'shut me up'." The actress included a copy of the police report as well as resurfacing an old recount of her alleged abuse at the hands of Manson.
Shortly after these accusations, Warner was dropped by his record label and manager. In a statement, Loma Vista Recordings label said: "In light of today's disturbing allegations by Evan Rachel Wood and other women naming Marilyn Manson as their abuser, Loma Vista will cease to further promote his current album, effective immediately. Due to these concerning developments, we have also decided not to work with Marilyn Manson on any future projects."
Following a slew of allegations and attempted law suits by others who allegedly suffered the same abuse as Evan, along with a massive showing of support from other celebrities, and a raid of Manson's house by police, Phoenix Rising was released.
In this documentary series, released in March of 2022, the actress goes into detail about this abuse, talking to other women who had allegedly suffered at the hands of Manson as well. The series includes the graphic description of the production of Manson's 'Heart-Shaped Glasses' music video. According to Evan, the pair had agreed to perform a simulated sex scene - but when it came to filming, Manson began to actually penetrate her. The viral thread by @k4mil1aa claims: "people on set say they were disturbed, and that he was feeding her drugs."
Advertisement
Manson has continued to deny Wood's allegations of abuse. His attorney, Howard King, told news outlet Billboard in a statement:
"Of all the false claims that Evan Rachel Wood has made about Brian Warner, her imaginative retelling of the making of the 'Heart-Shaped Glasses' music video 15 years ago is the most brazen and easiest to disprove, because there were multiple witnesses. Evan was not only fully coherent and engaged during the three-day shoot but also heavily involved in weeks of pre-production planning and days of post-production editing of the final cut. The simulated sex scene took several hours to shoot with multiple takes using different angles and several long breaks in between camera setups. Brian did not have sex with Evan on that set, and she knows that is the truth."
Following the release of Phoenix Rising, Marilyn Manson broke his silence, filing a defamation lawsuit against his ex partner Evan. He called her allegations of sexual abuse against him a "malicious falsehood", and claimed her "organised attack" is why there have been multiple allegations of sexual misconduct against him since the actress first named him as her alleged abuser.
Wood has not sued Manson, or brought an abuse case before any court. She has simply spoken out about the abuse he allegedly inflicted on her to warn others. With a stack of alleged evidence on her side - should this defamation case be allowed to go ahead?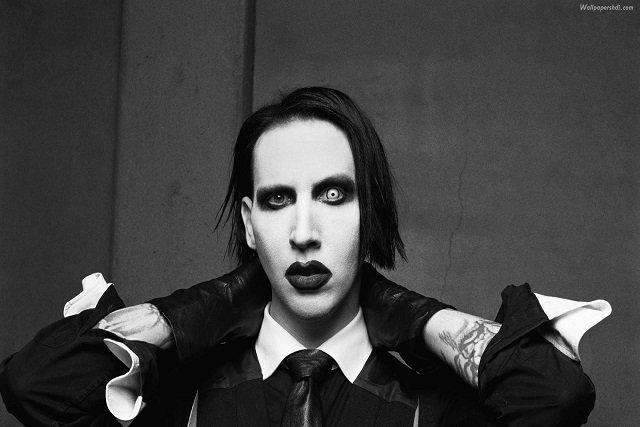 The shock rock musician has garnered accusations of abuse since 2001, when he was charged with assaulting Joshua Keasler after allegedly spitting on the man's head and rubbing his G-string-clad genital area on it during a concert. Manson was accused of felony fourth-degree criminal sexual conduct along with misdemeanour assault and battery. The musician pleaded no contest to disorderly conduct and received a $4,000 fine. Himself and Keasler eventually reached a settlement.
Manson also wrote extremely explicit things about his treatment of women in his 1998 autobiography The Long Hard Road Out Of Hell. A particularly gruesome section of the book highlights an encounter with a deaf fan who he covered in raw meat before a number of band members proceeded to have sex with her. She was then urinated on by Manson and his bandmate. While this anecdote was described as consensual, another story in the book which featured fellow musician Trent Reznor of Nine Inch Nails, details how Reznor and Manson allegedly physically and sexually assaulted an intoxicated woman in the '90s.
Advertisement
The musician has even spoken to press about the alleged abuse he perpetrated on Evan. In an interview with Spin in 2009, Manson recounted Christmas day 2008 - where the artist confessed to calling Evan repeatedly. Manson said: "And every time I called her that day — I called 158 times — I took a razorblade and I cut myself on my face or on my hands. I look back and it was a really stupid thing to do. This was intentional, this was a scarification, and this was like a tattoo. I wanted to show her the pain she put me through."
He also spoke about the correlation between his ex-girlfriend Evan and his song 'I Want to Kill You Like They Do in The Movies', saying: "I didn't want people to ask me every time I did an interview, "Oh, is this record about your relationship with your ex-girlfriend?" But that damage is part of it, and the song 'I Want to Kill You Like They Do in The Movies' is about my fantasies. I have fantasies every day about smashing her skull in with a sledgehammer."
While Manson was dropped from television projects, he's barely faced any repercussions for the alleged abuse. For one, he appeared on Kanye West's recent album DONDA and performed alongside the rapper on numerous occasions. There also hasn't been a criminal trial. The same goes for Johnny Depp, who is also in court for assaulting location manager Gregg Brooks in 2018. He was dropped from film projects, but reports of him turning up intoxicated, constantly late and forgetting his lines on set have plagued the star for years.
With multiple cases of alleged abuse, and Manson's own descriptions of perpetrating abuse, are Evan Rachel Wood's accusations really defamatory?
If we go back to look at the Johnny Depp V Amber Heard case, we can see that this as opened up the door for people to claim defamation, even with intense amounts of alleged evidence and witnesses against them. Twitter user @k4mil1aa draws similarities between the Depp and Manson cases due to the online trial that has already begun. Fans of Manson's claim that his autobiography, in which he admits to rape, abuse, murder fantasies, stalking, and blackmail, was fiction. In a previous interview, Manson had claimed: "If there's anything I'm ashamed of I can always say it was fiction." Twitter and Tiktok users are already comparing Wood to Heard, and using hashtags like #MarilynMansonIsInnocent.
A factor that was rather concerning during the Depp V Heard trial was the alleged use of bots on social media by the Depp side. Multiple journalists reported concerning patterns throughout the trial.
Advertisement
Alexa O'Brien, an investigative analyst and writer focused on intelligence, had been closely following the trial's presence on social media. In a tweet she said: "There is some serious bot activity happening around this Depp/Heard trial— at the level of subversive propaganda— insane swarms— propagation of false accounts of trial— haven't seen anything like this before." Vice had reported that at the time of the Depp V Heard trial in the UK, Heard had alleged "that Depp relied on bots and insidious social media accounts to slander her."
After the trial, Elaine Charlson Bredehoft (Heard's lawyer) said on TODAY that she believes the vitriol against Heard and massive support for Depp on social media had an effect on the jury, which was not sequestered during the trial. "They went home every night. They have families. The families are on social media. There's no way they couldn't have been influenced by it, and it was horrible," the lawyer commented.
"It really, really was lopsided. It's like the Roman Colosseum how they view this whole case. I was against cameras in the courtroom, and I went on record with that and had argued against it because of the sensitive nature of this, but it made it a zoo."
Heard's legal team commissioned a report by the firm Bot Sentinel, which has findings not independently confirmed by NBC News, analysing the negative social media comments against her. Bot Sentinel, an app funded mainly through donations that studies targeted misinformation and harassment campaigns, says it found 300 fake Twitter accounts promoting negative sentiments about Heard.
Conservative media outlets also promoted a one-sided narrative of the case. Vice recently reported that Ben Shapiro's popular conservative news platform the Daily Wire has spent nearly $50,000 promoting ads about the trial on Instagram and Facebook — most of it degrading Amber Heard.
 

View this post on Instagram

 
Advertisement
This trend of bashing female celebrities, promoted by "men's rights activists" is deeply concerning and sets the precedent for what will happen with high-notoriety abuse cases from here on out. This combined with the fact that Manson and Depp are close friends, so close they have matching tattoos and Depp's child is the goddaughter of Manson, is extremely worrying for what could happen in the Manson V Wood trial. Both men also collect Nazi souvenirs together (Evan Rachel Wood is Jewish), according to Rolling Stone.
From an Irish perspective - if a defamation case like this was to happen over here, the abused would be completely and utterly pummelled. Under Irish law: "A defamatory statement is a statement that reasonable members of society would think damages your reputation." Instances of rape or domestic abuse are notoriously hard to "prove" in an Irish court of law. Given our history with these issues, I wouldn't be surprised if the Depp V Heard case and the public reaction to it deters women all over Ireland from ever coming forward about abuse.
After the trial, Fianna Fáíl TD Jim O'Callaghan tried to console those worried by claiming it was "a very unusual case. It wasn't a criminal action, but a defamation action, a civil action in America." The TD is pushing the Minister of Justice, Helen McEntee, to adopt a Domestic Violence Register, similar to the Sex Offenders Register - where people who are convicted of an offence will be listed. However, this wouldn't necessarily be helpful. The victim would have to have viable proof of a conviction, and how would the abuser's next victim check the list?
The Femifesto, an Irish group of activists, have launched a petition to rally the government to further women's rights in Ireland. In the manifesto they have presented, the group aim to campaign for a change to sexual offence hearing and trial protocols to align with the recommendation in The Department for Justice's Review of Protections for Vulnerable Witnesses in the Investigation and Prosecution of Sexual Offences.
The group agree with the recommendation to exclude the public from all sexual offence hearings, not just rape cases - due to the highly intimate and private nature of the crime, and similar to family law cases, the privacy of the complainant should be protected. If this change was brought into Irish law, the difference for domestic abuse cases would be huge.
With the alleged evidence Evan Rachel Wood has against Marilyn Manson, it's hard to see how a jury could find her allegations defamatory, but this is another case we will have to wait with clenched jaw to see the outcome of.
RELATED