Interview: Niamh Fagan and Letizia Battaglia on their crime documentary Shooting The Mafia
Focusing on photographer Letizia Battaglia, who has fearlessly documented Sicilian mafia wars, Shooting The Mafia is one of the year's most startling documentaries.
Shooting The Mafia has a double meaning. Covering a war between rival gangs in Sicily from the '70s to the 2000s - which in one year left a thousand dead - the film explores the era through the story of Letizia Battaglia. A photographer for a local newspaper, she captured both the bloody aftermath of these mafia slayings and some of the men pulling the strings. The idea for the film came from Irish producer and Hot Press alumnus Niamh Fagan.
"On holidays in Sicily, I went to a small anti-mafia museum," she recalls. "I saw these amazing large, poster-sized photographs. They were black and white and very distinctive. I became fascinated. Learning more about Letizia, I thought: 'Why don't we know this amazing woman in our part of the world?'"
Fagan recruited acclaimed English director Kim Longinotto to helm the documentary, and the now 84-year-old Battaglia to take part. Following a two-year shoot, the trio's hard work paid off, with the documentary playing at the Berlin, Dublin and Sundance film festivals to great reviews.
It's the presence of Battaglia which sets Shooting The Mafia apart from similar gangster documentaries like Cartel Land, and Italian crime series such as Gomorrah and Suburra. Following an unhappy marriage, it was only at the age of 40 that Battaglia began working as a photographer. While many in her position may have reconsidered their career path after regularly photographing up to five dead bodies a day - not to mention receiving death threats - for Battaglia, that wasn't an option.
"I had to take these pictures because it was my job," she says. "But I was also very passionate about the work and I wound up exhibiting the photos out of social responsibility. I wanted to show people what was really happening. I don't care about death threats, I can deal with them. I want to go on. I won't be disturbed by what people try to do against me."
Advertisement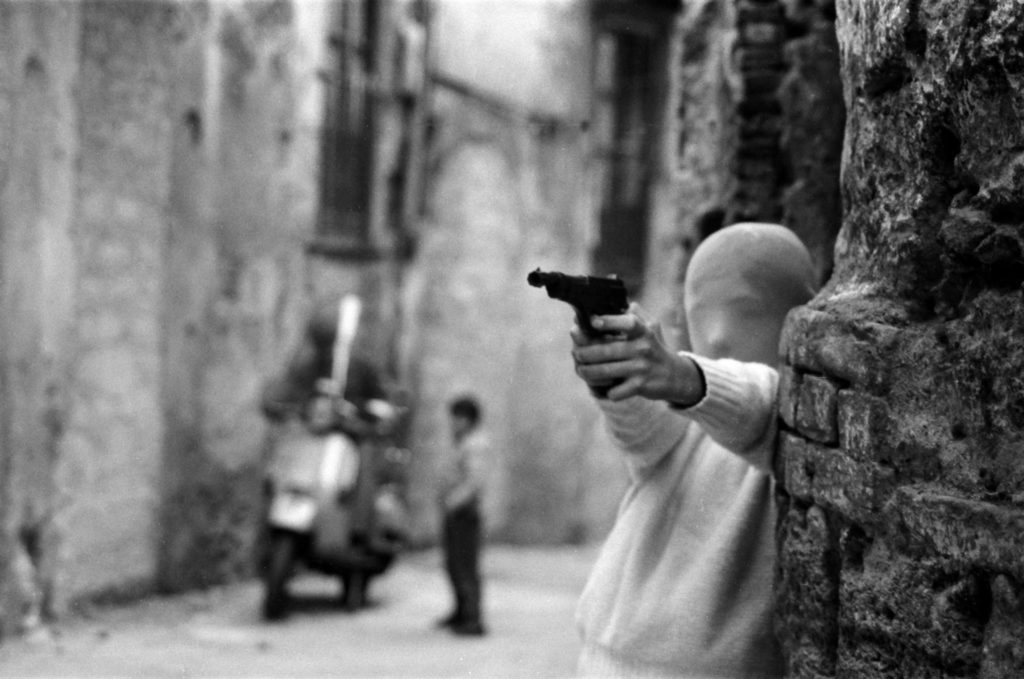 Thanks to Battaglia's striking photographs, which de-glamorise the mafia lifestyle, and some incredible repurposing of footage from older Italian classic cinema, Shooting The Mafia is a documentary that deserves to be seen on the big screen. It's also a very thoughtful film about gender dynamics, with stories from Letizia's life and the gangster backdrop making a grand statement about weak men who, in the pursuit of power, hurt women.
"Obviously, the mafia is patriarchal," says Battaglia. "While in the mafia some women do have power, they are always ranked below men. They depend on male decisions."
To this day, Battaglia along with her fellow photographer and boyfriend, Roberto Timperi (also featured in the documentary), rebel against traditional patriarchal society by photographing cross-dressers and transgender people.
Depicting their subjects as powerful and sensual, Timperi states, "We are challenging notions of masculinity, but also highlighting the hidden side of society, which in 2019 people should accept."
Fagan has been bowled over by audience reaction to Shooting The Mafia.
"We've had amazing feedback," she enthuses. "We've been to Sundance and Berlin, and Letizia was there for all of them. When she walked in after screenings for Q&As, there were gasps from the audience. People adored her. She received standing ovations. It was wonderful."
You can read the interview with Niamh Fagan and Letizia Battaglia in the Hot Press Annual – in which we distill the highlights and low-points of the year, across 132 vital, beautifully designed pages. Starring heroes of the year Fontaines D.C. on the front we cover Music, Culture, Sport, Film, Politics, the Environment and much, much more. Buy this superb publication direct from Hot Press here.
Advertisement