Dating Amber's Lola Petticrew: "A lot of people said two gay characters was one gay character too many"
Dating Amber is the latest Irish coming-of-age story to capture the attention of the world. Belfast actress Lola Petticrew, who plays the titular protagonist, discusses identity, sexuality and Ireland's thriving creative community.
As the Covid-19 pandemic forced the film industry into a grinding halt, Hollywood's finest were left with no choice but to head off to their mansion of choice, and kick back for a few months. But while Matt Damon hunkered down in Eddie Irvine's €8 million Airbnb in Dalkey, Irish actors Lola Petticrew and Fionn O'Shea, the stars of the hit new film Dating Amber, outdid the lot – swapping life in film set trailers for three-and-a-half months in a caravan in Co. Wicklow.
"It wasn't much of a change from what me and Fionn's day-to-day life would be anyway," Lola tells me. "We'd usually be hanging out together in one room all day. But it was really fun, and nice to spend time with my pal. I got to cook a lot, and we watched a lot of films and TV. It was just a nice pause and reset. I mean, it's a really turbulent, complicated, harsh time – but all you can do is try to make the best of it."
Real-life best pals Lola and Fionn appear alongside Sharon Horgan and Barry Ward in David Freyne's Dating Amber – which exclusively premiered on Amazon Prime, followed by a cinematic release in July. The hilarious, and often deeply moving coming-of-age story, set in mid-'90s Kildare, has garnered considerable international attention – with the two young protagonists already being tipped as top emerging talent.
But while there's plenty of star turns in Dating Amber, a cameo appearance from Hot Press's 1995 'Drugs In Ireland: What The Hell Is Going On' issue really steals the show – if we do say so ourselves.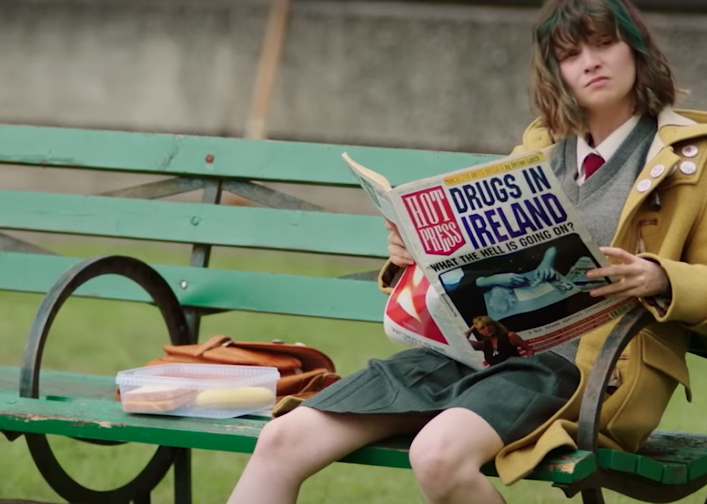 Advertisement
"I was so delighted about that!" Lola says of the moment her character brandishes the issue. "We were having so much fun trying to pick what cover we should use."
Making no qualms about pushing boundaries, the film follows two teenagers who fake a romantic relationship, in order to hide their true sexuality from their classmates. As Lola notes, "a lot of the most interesting work comes from exploring identity."
"No matter what way you frame things, that's what we're all doing all the time – trying to find ourselves, or connect ourselves to the world in some way," she continues. "That's all about identity. It's the human question: 'Who am I, and what am I doing here?' It's always interesting to explore that through different frameworks."
Although set in the '90s, Dating Amber arrives at a pivotal time in the country's history – with same-sex marriage finally legal across the island of Ireland.
"It's amazing to be a part of the conversation at the minute," agrees Lola. "I've definitely found that the conversations are a lot bigger and more nuanced than before. I don't want to say that means things are better – because what's happening with trans kids at the minute is the same thing that happened with gay kids in the '90s and the early '00s. But the language has evolved – so hopefully things get better."
Indeed, it wasn't so long ago that a film like Dating Amber would have been near impossible to make on these shores.
"Dave has been pretty open in saying that he got a lot of rejections when he first came up with the idea," reveals Lola. "A lot of people had said that two gays characters was one gay character too many! We've obviously come far – it's five years since marriage equality in the South, and last year we passed it in the North. But socially, there's still a lot of catching up to do."
On a personal level, Lola also acknowledges that the film played a major role in helping her to explore her own sexuality.
Advertisement
"I'd been using the term 'bisexual' for years," she reflects. "Since I was quite young, I kind of always knew. But the term never really fit with me. Something felt like it was missing. I spent years sort of wrapped up in this culture of heterosexuality, and had suppressed a lot of my own personality, and a lot of my own sexuality. When I was doing the film, I had to give so much weight and thought and care to Amber's story and her sexuality. I realised that I hadn't done that myself.
"So, through conversations with Dave, through making the film, and through conversations afterwards, I've really given myself the same sort of care that I've given Amber. I discovered what fit for me was the term 'queer'. That was a really transformative moment for me, and I've never been happier. So artistically it was really fulfilling – but personally, I can't even put into words what the film did for me."
A graduate of the Royal Welsh College of Music & Drama, Lola has kept busy over the last few years across TV, film and stage – starring alongside Bronagh Gallagher in A Bump Along The Way last year, and appearing in upcoming BBC thriller Bloodlands. She was also one of the standouts of the stage adaptation of Edna O'Brien's The Country Girls at the Abbey Theatre in Dublin last year.
"I got to go out every night on stage and play this feisty little Irish country girl – which is obviously a massive reach!" Lola laughs. "Being in the Abbey as an Irish actor is just such a gorgeous thing. My first play after drama school was a show at the Peacock, so I just couldn't believe that I got to be at the national theatre again – telling such a massive piece of Irish history with The Country Girls, and getting to meet Edna.
"Every night, I saw that a lot of women had come up from the country – people who had read it when it was originally banned. You could see how much it meant, for them to see themselves on the stage. That's what we mean when we say 'representation matters'."
As Lola will readily admit, it's a thrilling time to be an emerging Irish actor – with homegrown filmmaking, acting and writing making its mark on the international scene like never before.
"Me and Fionn talk about it an awful lot," she says. "It feels like such an alive time. It's like the eyes of the world are on Ireland at the minute – and that's ultimately down to the success of things like Derry Girls and Normal People, and writers like Sally Rooney, Naoise Dolan and Emilie Pine. There's all this beautiful, nuanced work coming out of Ireland, and everybody around the world wants to be a part of it. I can't wait to see what happens next. I'm just thankful I get to be here to witness it – nevermind be a part of it!"
Advertisement
• Dating Amber is out now.
Photographer: India Mullen
Stylist: Oisin Boyd 
RELATED