Regency era outing Bridgerton ruffled more than a few feathers last season, becoming the second most watched series of the year - only behind South Korean drama Squid Game. Returning for season two without former leading man Regé-Jean Page, the outing explores intimacy in a less X-rated manner.
Sex Education's Simone Ashley plays the role of new leading lady Kate Sharma, the elder sister of Anthony Bridgerton's intended high society bride Edwina. The 26-year-old (dubbed a "spinster" despite being single by choice) vows to prevent her only sister from marrying Anthony, but ultimately falls in love with the bachelor herself.
Kate Sharma's younger sister is played by fellow newcomer to the series, Charithra Chandran. Based on Julia Quinn's The Viscount Who Loved Me, Chris Van Dusen's adaptation sees the sisters grew up in India. They return to London in order to find a noble husband for Edwina in particular, but the hostility that naturally appeared between Kate and Anthony slowly thaws from frosty apprehension and heats up to new levels.
Need us to convince you to watch? Here are five key reasons why season two is as gripping as the first.
The Chemistry
The natural chemistry - sexual and otherwise - between Simone Ashley and Jonathan Bailey is "off the charts", as writer Chris Van Dusen confirms.
Advertisement
"It's a different story this season, we're with Anthony and Kate and that's very different from Daphne and Simon," he insisted. "There is so much sexiness in the looks across the room and the hands grazing and the fingers almost touching. You can really feel that build from episode to episode and you know that when we get there, the climax - if you will - is going to be well worth it."
Simone Ashley, who plays Kate, agreed: "It makes sense for these characters because they're so protective over their families and so truthful to their duty and their responsibility. For them to break that wouldn't have made sense. The sex scenes have a meaning behind them - they're very earned when the fireworks happen."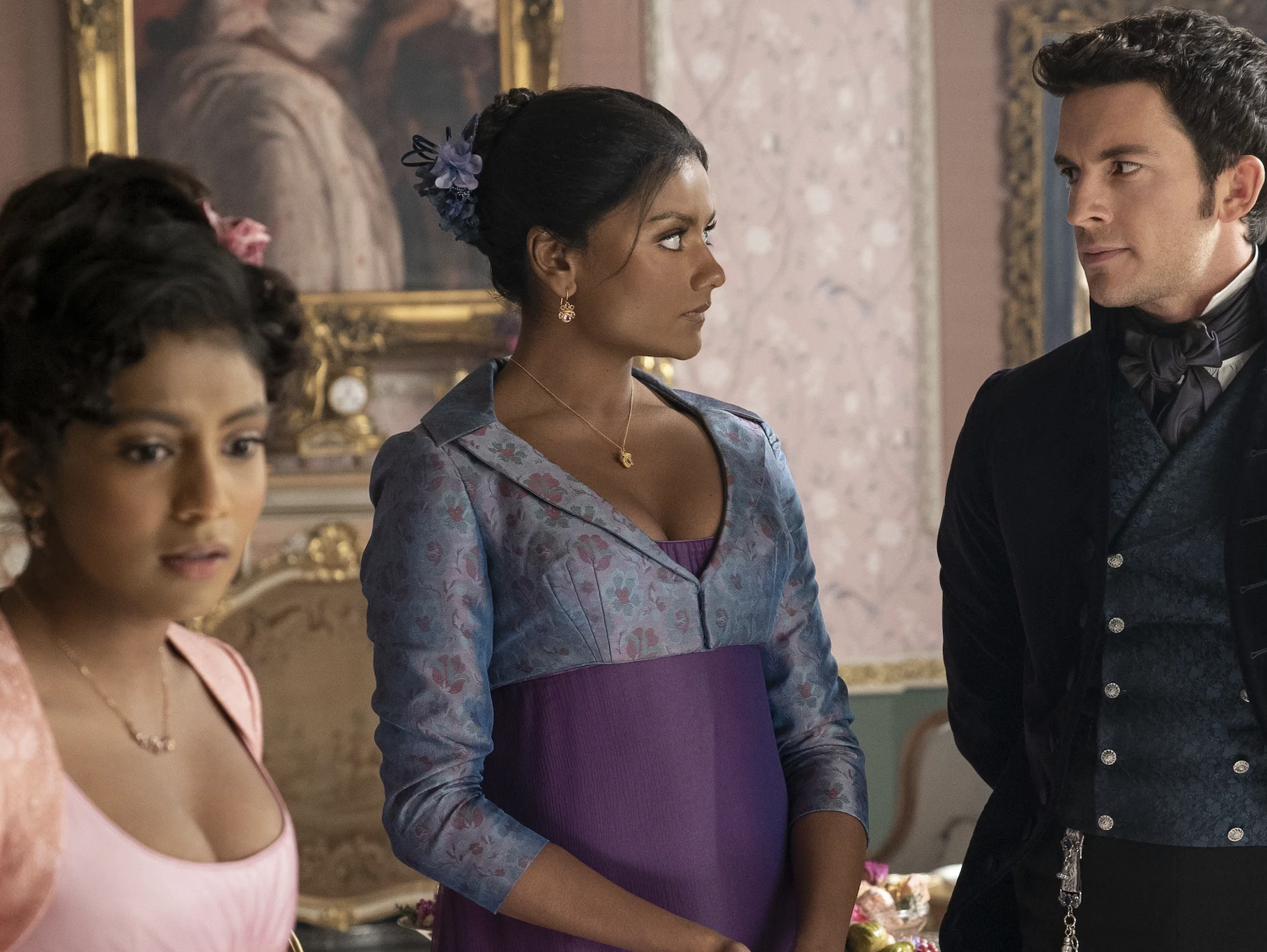 The Cast
Aside from Simone Ashley and Charithra Chandran dutifully stirring things up, Ireland's own Nicola Coughlan shines as Penelope Featherington, and her alter ego Lady Whistledown, after her identity was revealed at the end of season one. Watching the character fight to maintain her anonymity creates for a fascinating sub-plot, while Claudia Jessie (Eloise Bridgerton) adds comic relief to every scene she's in with ease.
Adjoa Andoh returns as the elegant (and sharp-tongued) Lady Danbury, who somehow manages to pull Queen Charlotte's strings - played by the regal Golda Rosheuvel. Phoebe Dynevor is back in a backseat role as Daphne Bridgerton, though without her husband, the Duke (Simon, portrayed by Regé-Jean Page). Ruth Gemmell continues to shine as the compassionate Lady Violet Bridgerton, while Polly Walker schemes for her daughter's financial security in the role of Lady Portia Featherington
Luke Thompson (Benedict Bridgerton, who is pursuing his artistic talent) and Luke Newton (Colin Bridgerton) add charisma to the brotherly roles, with Benedict getting more airtime this season. The modiste Genevieve Delacroix (Kathryn Dysdale) will help out an unlikely source as the series goes on, but we wouldn't want to spoil anything...
Advertisement
The Darcy Nod
THAT infamous white shirt scene of Pride & Prejudice (1995) was hailed as the "female gaze" in action, and Chris Van Dusen took notes. Lifting a leaf from Colin Firth's book, Anthony Bridgerton can be seen emerging from a lake in the trademark shirt, with other nods to Jane Austen littered throughout the series. Like Darcy, Anthony had also resigned himself to staying single in the bachelor lifestyle.
Rejected by the opera singer Siena in season one, the Viscount realised that his duty was to find a wife. Yet he still shuns love. Will Anthony get his happy ending? The pattern of stubborn leading men being challenged by fiercely independent women doesn't seem to be getting any less popular, and neither does the enemies to lovers trope.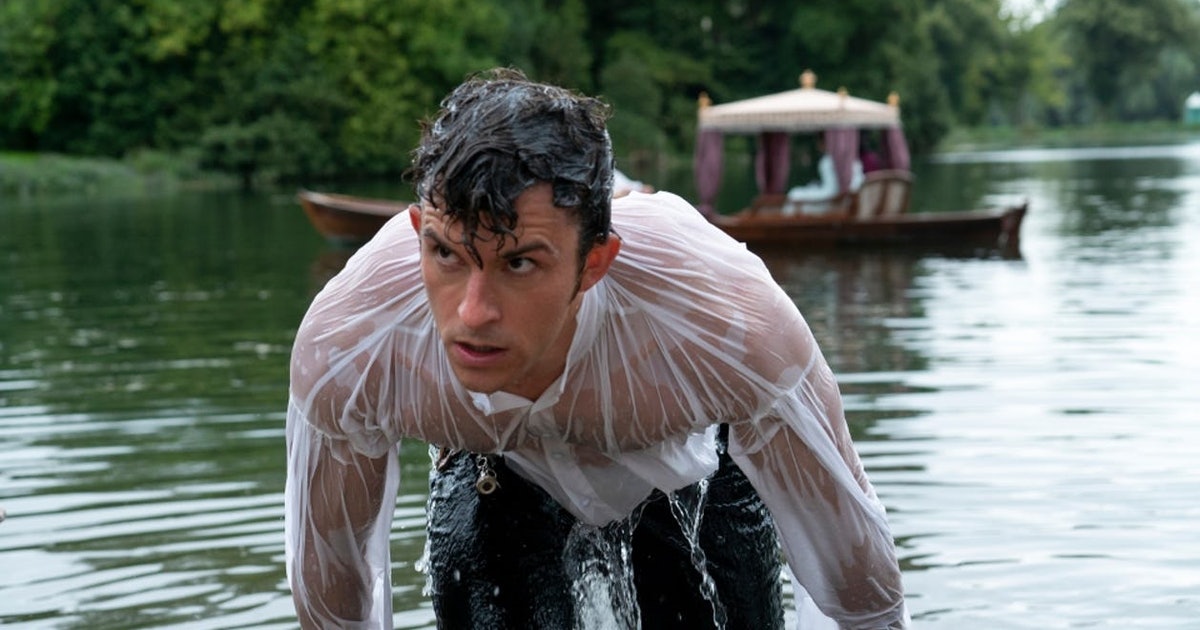 The Glamour
Costume designer Sophie Canale has taken over from the gorgeous work of Ellen Mirojnick in season one, and the results are equally glitzy. Canale drops in humorous sartorial Easter Eggs, like coordinating floral-embroidered gowns with petite, essentials-only Regency handbags — or "reticules". Contemporary runways, including those from Chanel, helped provide inspiration for period-inauthentic fabrics and textures - many of which wouldn't be introduced to Great Britain until the 1830s or become popular for clothing until the 1970s. Artistic licence worked out in Sophie's favour, it seems.
There was a team of 120 people in house, and further-out workers for the series. Just for costumes, Canale had milliners; two female cutter with a team of patternmakers each; a men's tailor; four assistant costume designers; a dyer; an embellishment team and embroiderers. The design team averaged about 700 costumes, with about 160 'makes' every six weeks. For the women, each one of those costumes has a hat or hairpieces, jewellery, embroidered gloves, and shoes that are dyed to match the dresses. Pretty incredible stuff.
Advertisement
The Soundtrack
The Shonda Rhimes production hit the headlines in 2020 when it procured classical renditions of hits from the likes of Ariana Grande, and season two follows the same recipe. Vitamin String Quartet, one of the most popular contemporary string ensembles in the world, return with their interpretations of Nirvana's 'Stay Away' and Robyn's 'Dancing on My Own'.
Emmy-nominated Kris Bowers reimagines Madonna's 'Material Girl' and 'Kabhi Khushi Kabhie Gham', a Jatin-Lalit/Lata Mangeshkar song from the eponymous 2001 Bollywood film. Duomo reinterprets Alanis Morissette's 'You Oughta Know' and P!nk's 'What About Us'. Season Two's covers also includes new arrangements of Rihanna's 'Diamonds' by Hannah V & Joe Rodwell, Harry Styles' 'Sign Of The Times' by Steve Horner, Calvin Harris and Disciples' 'How Deep is Your Love' by Kiris Houston and Miley Cyrus' 'Wrecking Ball' by Midnite String Quartet. They pull them off, too.
The second series of Bridgerton arrives tomorrow: Friday, March 25.