The Stephen Schwartz hit musical 'Wicked' celebrates 15 years on Broadway with a special concert in Marquis Theater in New York. Stars such as Indina Menzel, Kristen Chenoweth, Ariana Grande and Adam Lambert performed at the event 'A Very Wicked Halloween' which will be televised on NBC on 29 October.
The hit musical 'Wicked' is celebrating 15 years on Broadway. To commemorate this anniversary, a special concert was filmed in New York's Marquis Theater in its honour. 'A Very Wicked Halloween: Celebrating 15 Years on Broadway' will be televised on 29 October on NBC in the U.S.
The original Elphaba and Glinda took to the stage, played by Indina Menzel and Kristen Chenoweth when the show first debuted in 2003. Stars such as Ariana Grande, Pentatonix, Adam Lambert and Ledisi were also in the line-up to celebrate this one short day.
An Ari fan in the audience recorded the singer's performance posting it to Twitter and it does not disappoint. Grande sang 'The Wizard and I' giving it her signature styling with flawless riffs.
Upclose of Ariana Grande performing #Wicked15 anniversary broadway concert pic.twitter.com/MTFHU5rfrL

— Ariana Grande Update 🤍 (@ArianatorFallen) October 17, 2018
Sharing her excitement, Grande tweeted "honored to be included in this celebration of 15 years of my favorite musical of all time 💚 would not miss it for the whole universe". No stranger to the musical, the singer showed her love back in 2013 when she released 'Popular Song' with Mika. Grande began her career on Broadway as Charlotte in the original cast of '13: the Musical'. Unaware she would be that girl to one day join her idols in celebration, Grande posted a selfie with Indina Menzel with the caption "if y'all told me ab any of this fifteen years ago ........................... bye. 🖤"
Advertisement
If you can't wait to watch the anniversary special there is plenty of Wizamania to enjoy now. Barbie have released Elphaba and Glinda dolls. Costing $50 each the collectables are available from the Gershwin Theatre or online from barbie.mattel.com.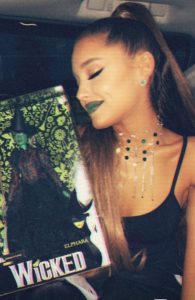 Inglot are also launching a Wicked-inspired makeup palette. Sure to be a popular product, the palette will be available online from 29 October and in the Times Square store. As another wonderful way to honour the Stephen Schwartz show, the Empire State Building will be emerald green on 30 October.