Donald Trump has promised to appeal the decision and called the findings a "disgrace" after a jury ruled that the former US President sexually abused wrJean E. Carroll in the 1990s.
After a jury found Donald Trump liable for sexually abusing writer E. Jean Carroll, the disgraced businessman has lashed out at the court proceedings on his right-wing social media platform Truth Social.
After deliberating for just under three hours, the jury in Manhattan unanimously concluded on Tuesday that Trump sexually abused the American columnist, and then defamed her after he called her a liar. The jury also rejected Trump's denial that he assaulted Carroll, and ruled in her favour.
Trump lashed out on his Truth Social site following the verdict, and claimed that the outcome was a "disgrace", as well as "a continuation of the greatest witch hunt of all time".
The former US President also claimed that the judge was biased, and said that he had ensured that "the result was as negative as it could possibly be, speaking to, and in control of a jury from an anti-Trump area..."
Trump, who refused to attend the trial and waived his right to testify or present a defence, has continued to insist that he never sexually assaulted Carroll, claiming that he never even knew her.
Advertisement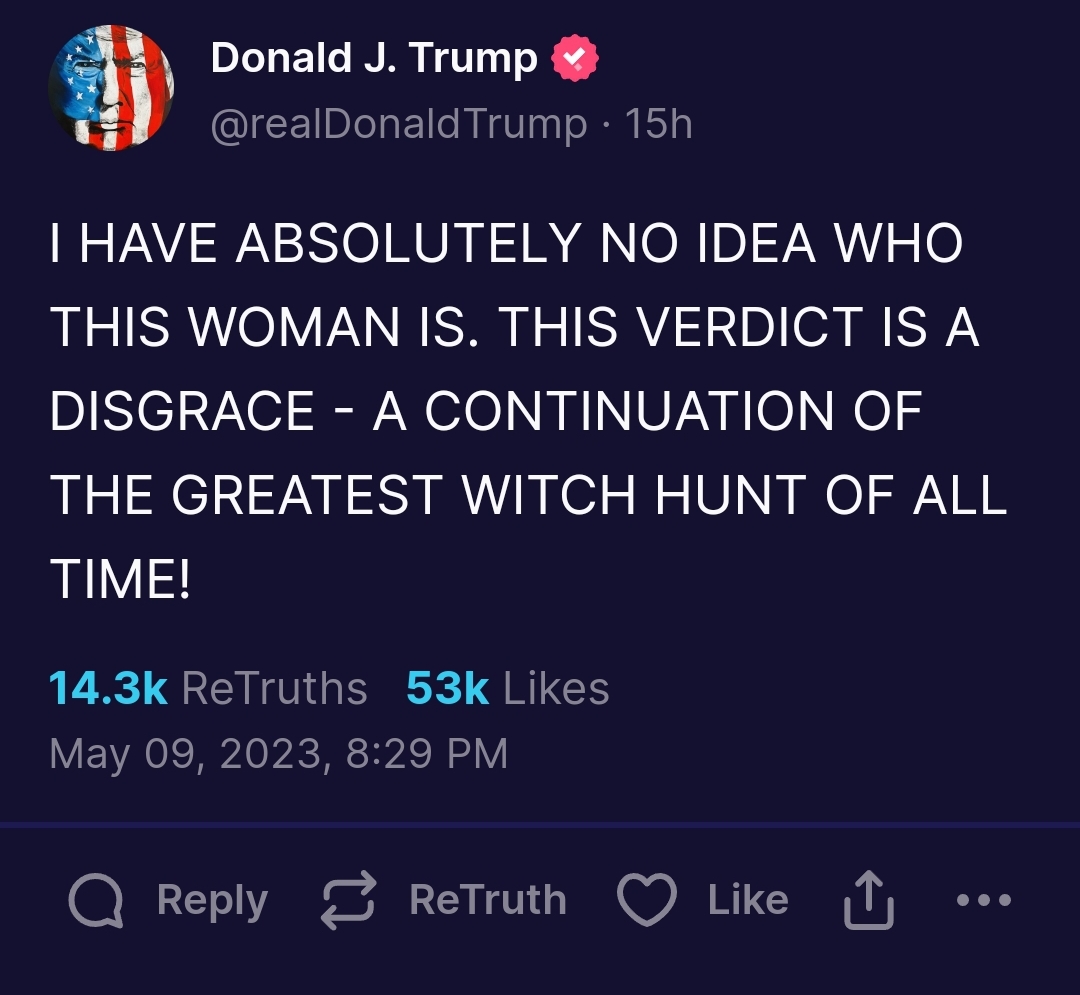 The jurors' task was to decide whether Trump raped, sexually abused or forcibly touched Carroll, and then to separately decide if Carroll was defamed.
Carroll testified during the trial that Trump raped her in a Manhattan department store dressing room in either 1995 or 1996.
She also said that Trump harmed her reputation after her accusations by claiming to his 4.83 million followers on Truth Social that her claims were a 'hoax' and a 'lie'.
Following their unanimous decision that the Carroll was sexually abused, the jury awarded the former Elle magazine advice columnist $5 million in damages.
Trump will not face criminal penalties or any prison sentence, as this was a civil case. It is expected that the case will have a lasting effect on the 76-year-old's presidential campaign for 2024, as the verdict happened just one day before a scheduled "town hall" broadcast on CNN, where Trump was expected to discuss his fourth official presidential candidacy.
National 24-hour Rape Crisis Helpline: 1800 77 8888
Advertisement