Taylor Jenkins Reid: On celebrity, the '70s, sexism, and new novel Daisy Jones & The Six
Inspired by the flurry of gossip that followed the release of Fleetwood Mac's seminal Rumours, Taylor Jenkins Reid's new novel, Daisy Jones & The Six, offers a fascinating insight into the excesses of '70s rock stars.
Taylor Jenkins Reid isn't exactly used to doing cross-Atlantic tours. As an author, she normally leaves that sort of thing to the musicians she writes about. But the runaway success of her latest novel, Daisy Jones & The Six, has taken this self-confessed "homebody" way out of her comfort zone.
"Oh, I'm not well-suited to it!" she laughs, as we look over the breakfast menu in Dublin's Fitzwilliam Hotel. "And I will say, as someone who likes to stay at home, to take me out and say, 'You're going from this city to this city' – it's been tough! I've had to learn how to dress appropriately for human interaction."
The previous night's human interaction saw Taylor take to the stage in front of a live audience at Whelan's (rock star status confirmed then!), for a discussion with RTÉ Arts Correspondent and author, Sinéad Crowley, about her new novel.
Daisy Jones & The Six is told as an oral retrospective by the members of one of the most successful bands of the '70s – who inexplicably broke up following the release of their magnus opus, Aurora. Their interlocking, and sometimes contradictory, stories detail the unique chemistry between the band's frontwoman and frontman – Daisy Jones and Billy Dunne – as well as the love affairs, hedonistic nights on the road, internal disputes, jealousies and fuck-ups that took place away from stage. A fictionalised oral history, with an interviewer probing each member of the band for answers, its style is so engrossing and life-like that many people assumed Reid was an actual rock journalist and The Six an actual band.
Advertisement
DOWN IN HOLLYWOOD
There was a significant level of hype before Daisy Jones & The Six hit the shelves in March. Did the author see that coming?
"No! I had no idea," Taylor says, tucking into a scrumptious-looking poached egg and avocado breakfast. "This is my sixth book. I've had other books that have done fairly well in the US, but I've never had this much international attention."
Work first started on the book towards the end of 2016, says Reid. The spark came from the author's fascination with the moderately successful Americana duo The Civil Wars, whose unexpected break-up in 2014 had Reid probing for answers as to what exactly happened.
"The Civil Wars were made up of a man and a woman who were both married to other people – but they wrote this incredible, intimate-sounding music together. I was fascinated by what their relationship must be like to have so much creative chemistry."
Reid was also looking self-reflexively at her own behaviour, at her place as a random member of the public, feeling compelled to know the answers about her favourite musicians. It was potentially compelling material on which to base a novel.
Advertisement
"I started getting into the idea of writing a story about a band that breaks up right when things are getting big – and the personal relationships which could be the cause of that. Then I decided to set it in the '70s, because the other thing that excited me was entering that world of Fleetwood Mac and Led Zeppelin.
"In general, we have a nostalgia for that time. I think a lot of it's because that was a period of excess, but it was before the danger of excess was really clear. The '80s were obviously a time when sex became more dangerous, drugs became… well it occurred to people just how dangerous drugs were. In a lot of ways, it feels like the '70s were the last hurrah."
Reid's 'fictional oral history' approach – which involves each band-member personally recalling stories to an interviewer, like talking heads in a music documentary – allows the action to zip along, while also accommodating incredibly potent and emotional moments. How did she arrive at the style?
"I don't think I could've written the book in any other style," she admits. "It felt very necessary to write it this way, because I wanted it to feel real. I think that, if Daisy Jones & The Six had been a real band, this is the way it would've been told. Oral history is about making you to feel like you were there. I hadn't seen fiction told that way very many times, so when I started to write, it did take a bit of learning. But I just started, found my way, got to the end of that first draft, and then did a really significant edit."
Taylor Jenkins Reid originally attended film school before moving to LA. She worked in film production for four years ("it wasn't exactly where I wanted to be, but I wasn't sure why"). It was only after she started writing blog posts in her spare time that she realised her talents would be better utilised behind a computer than a camera. Daisy Jones (and Reid's previous release The Seven Husbands Of Evelyn Hugo) allowed the writer to reflect on her time in Hollywood, and at the sometimes obsessive nature of people's interest in celebrities.
"I'm fascinated by a number of celebrities in particular," she says. "But I'm also fascinated by the system that makes us raise people up and watch what they do. I think it has everything to do with the fact that people need something to focus on. We need stories to tell ourselves. I don't think there's any difference between what we do with certain actors and musicians, and what people were doing with Greek gods. We need people to look up to. We also need people to punish. Celebrities are such an easy way to do that. It gives you some control and some distraction.
"But it also reflects what we care about," she adds. "If you look at the celebrities at any given time, you can tell a lot about our sexual attitudes, you can tell the types of things that we value. Even our body types. The female body types that we value now are very different than the body types that we were valuing in the '40s and '50s. And that says a lot about our culture."
Advertisement
DREAM COME TRUE
There's another dynamic in the novel, of a fictional public that's begging for this fictional story to be told; begging to hear more about what happened with Daisy Jones & The Six. Many people have made a connection with the widespread interest in the internal relationships and dynamics between the members of Fleetwood Mac, during and after Rumours.
"We always want to feel like we are entitled to the information that we want," Taylor says. "But with celebrities – like it or not – we're not actually entitled to that information. I'm completely obsessed with Stevie Nicks and Lindsay Buckingham. I've listened to Rumours I can't tell you how many times. I'd listen to their later albums and hear a lyric that one of them says and think, 'WHAT DOES THAT MEAN?' Then for the purposes of this book, I really studied their work and their interactions, and I became near obsessive about it.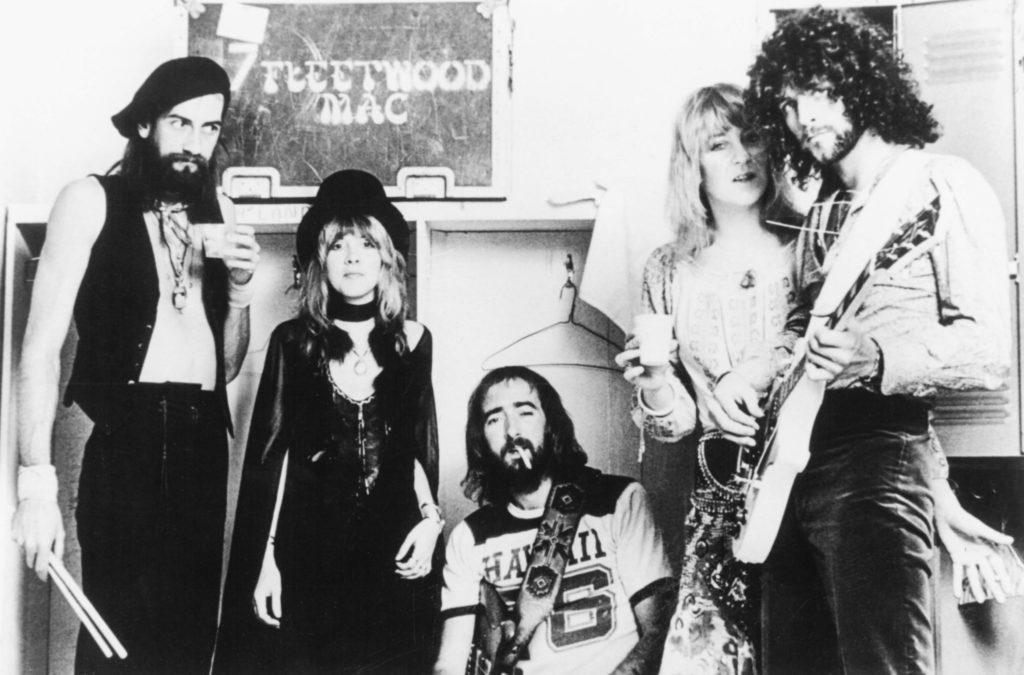 "Look, I'm keenly aware that, if I ever think that I have a relationship with a celebrity – I'm wrong. And yet, I'll tell you, was driving down a boulevard in LA, driving through the Canyons, listening to Rumours, and I hear this one line and I'm like, 'Ugh, if I ever got to meet Stevie Nicks I'd just have to ask her, "...Did you and Lindsay sleep together after Rumours?"' I'd just have to know. Then I think, 'My God, I have no right to know that!' But you sometimes feel like you do, because musicians specifically make you feel like they understand you. So you feel like you understand them – and you don't. That's what this book is about. It's about feeling so connected to something, wanting to know the truth, but understanding that the truth belongs to those who lived it."
Reid's novel doesn't succumb to the nostalgic 'weren't the good old rock days so much better' view. This is realism, right down to the casual sexism that Daisy, her fellow bandmate Karen, and all the women in the novel, endure.
"That was crucial," says Taylor, "My main focus is telling an entertaining story, but just as important is telling a story that highlights what it's like to be a woman at any given period of time. Seventies rock was a very male-dominated space, and I wanted to tell the story of what it meant to be a woman then. There are multiple women in this story who navigate this environment as best they can. And I don't know how much different it is today from the '70s. Maybe it is different in how sexism has gone a little bit more underground, but it's still very much there. I'm facing it in the work I do. Daisy's facing it in the work she's trying to do."
Advertisement
In recent years, society has been looking back at previously idolised celebrities and casting a clear eye back on them, in a way that doesn't excuse their bad, sometimes even criminal behaviour. While there's nothing particularly sinister in the behaviour of the characters in Reid's novel, it does take an unflinching look at the way good artists can sometimes be flawed and do bad things.
"I do think context is important," says the author. "The men in this book behave in ways which wouldn't fly now. That's great. That shows progress. As a woman trying to create art today, I'm facing a different type of man. It was difficult for me, trying to find that line between being honest about how men treated women at that time, and telling a story that is palatable for modern tastes. So what I tried to do was signal, in certain moments, that there are perhaps attitudes that some characters had in the '70s that – on reflection in the book's interviews – they now know better from.
"But if you're asking about how people got on at that time… I think a lot of things that happened in the '70s with rock stars are not forgivable. I didn't want to delve too far into the question of whether you can separate the art from the artists. That's for another book. This book is more about a slice of a time and place, and it's about trying to tell it honestly."
The book made such a connection with fans that, before it had even been released, noted bookworm Reese Witherspoon featured it on her book club. She is now set to produce a mini-series on Amazon based on the story. Where was Reid when she heard that news?
"I was at home and I just got an email from my management team," she beams. "I never thought that would happen. Members of my agency team have worked with her before, so there is a connection there, which is one of the nice things about having worked in Hollywood. But even then, I never in a million years thought Reese Witherspoon would read this book. The fact that she did and she felt passionate about it, and wanted to option it and immediately sell it as a TV show… Saying something is 'a dream come true' is a cliché, but sincerely, when you think of your wildest dreams, this is the type of thing you think of."
Daisy Jones & The Six is out now, via Hutchinson London and Penguin Randomhouse.