Talos: "We had pretty much a whole record done, and I deleted it all. I wanted to throw it all away and start again"
A "life raft" for him during the pandemic, Talos' third album, Dear Chaos, manages to be even bolder and more cinematic than its predecessors. The Cork artist also known as Eoin French sits down with Hot Press to discuss Covid recording, mental health, Lisa Hannigan and personal growth. 
With four tracks from the artist's third studio album already released, it's fair to say Eoin French (aka Talos) is back at the top of his game.
In his last Hot Press interview in 2019, the architecture lecturer turned indie-maestro confessed his glee at escaping the daily 9-5 slog. With the world sent into a tailspin shortly after, the musician "definitely craved the more regimented life", but "became a slave to routine" in a much different way.
Dear Chaos was largely written and recorded during this period as well. An isolating time regardless of your work; Eoin described just how lonely the process of songwriting during a pandemic can be.
Advertisement
"It was incredibly difficult," Talos divulges now. "I found it difficult to justify releasing or finishing anything. I became very unsure of my ability to make music for a long while. However, the pandemic also gave me space to sit with the album and to keep making music. I bought a piano and sat at it for two and a half years, learning and writing. I became more educated and a better player… I hope!
"I'm proud of what myself and Ross (Dowling) did on the last album, but it didn't really feel finished," French continues. "Maybe it's a good thing that I couldn't overthink it… I'm not sure. It made starting this new one feel like a battle. Every time I sat down I couldn't finish anything – I was questioning everything and going around in circles.
"I had about nine songs at the end of the first 12 months. We had pretty much a whole record done, and I deleted it all. I wanted to throw it all away and start again. We did that in December 2019/January 2020 and went up until it finished, this year."
The Cork-based artist explains he was grateful for the company of Dear Chaos.
"We all went through a lot of shit over the last two years, but the album became a companion. When things were tough, it allowed me to pour sadness or happiness into it… whatever it might have been. It actually became like a life raft."
Advertisement
French is delighted that Dear Chaos has the widescreen cinematic feel he was striving for,
"Weirdly enough the 'soundtrack' sound is something I've kind of tried to do," he reflects. "I've said before that every record should feel visual and invoke imagery. The album really is the soundtrack to my experiences over the last two years.
"I didn't particularly want the record to sound different, but I wanted to feel different after making it, compared to the last one. The album is like I was finding my way through a cave. I was holding onto a rope and along the way I'd make sketches of where I went. The songs are like little fragments of a map."
This new sound is paying off for the musician, thus far.
"The fan reaction has been incredibly humbling," French admits. "It's such a personal thing when you're making music and when you release it, it's like giving over a diary or a journal. You're opening the door to a very interior room in your life and thoughts. I always kind of struggled with that.
"Sharing it this time, I've felt a lot more rewarded from it. I know the corners of the songs and I've seen all the nooks and crannies of them. I've sat with them long enough to be like: 'Okay. They can go now.'"
Advertisement
Among many favourite tracks on the record, French is particularly excited for fans to hear his collaboration with Lisa Hannigan, 'Crows'.
"I'd written a version of 'Crows' and I played it for my good friend Mary Hickson," the singer explained. "I wanted a female vocalist – Lisa Hannigan was number one for me, but I didn't think it would happen. Mary sent her a text and she ended up coming to the studio the next week.
"It was the most memorable moment during the recording process. Lisa's just a great person. I was sitting at the desk in the studio, and she started doing the vocals behind me and the hairs on the back of my neck stood up. There was a bit of fiddling with arrangements after recording, but it was one of the least stressful or strenuous songs to put together."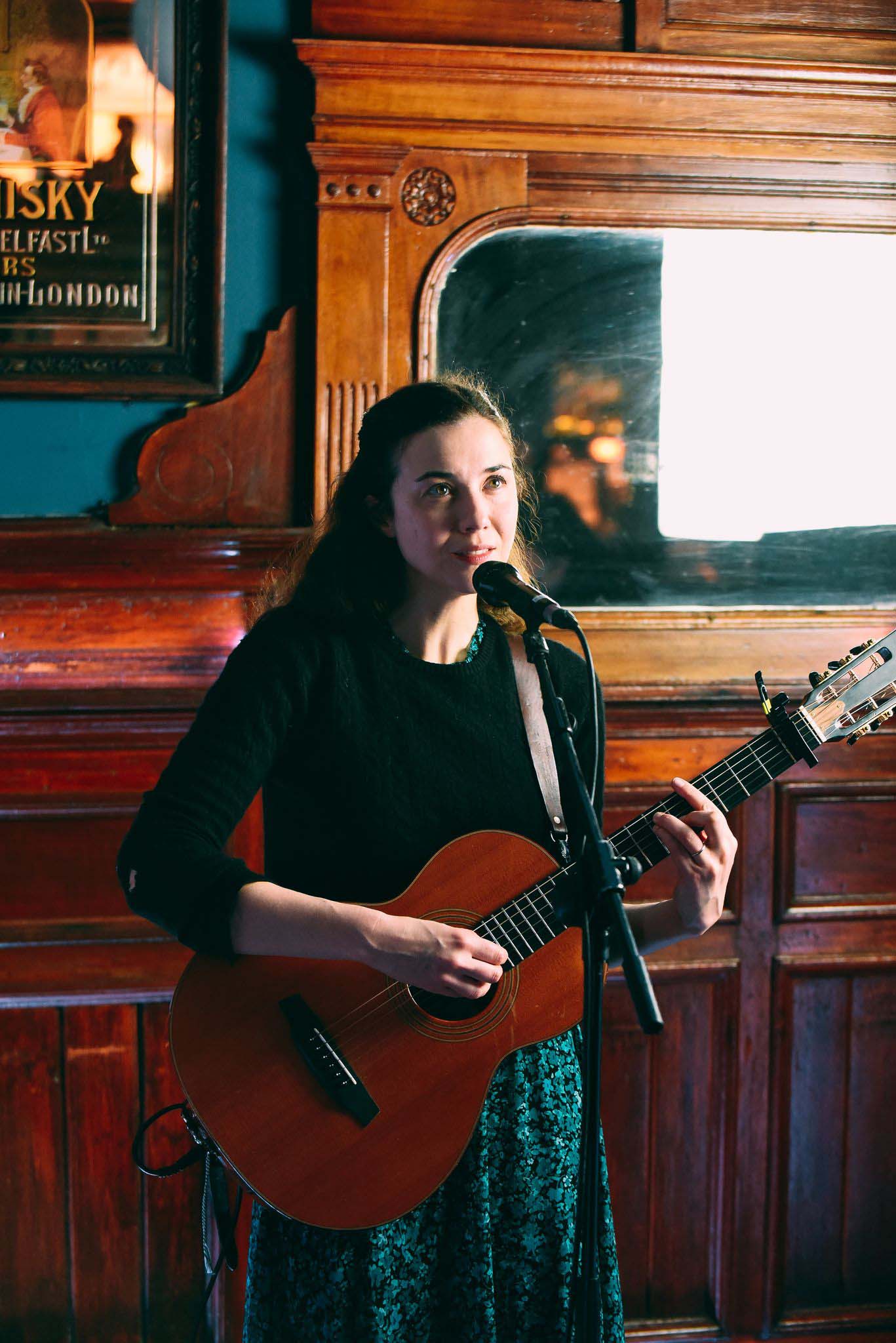 In the singles already available to fans, as well as throughout Dear Chaos, there are undertones of struggle and mental health issues, accompanied by magnificently dark videos.
"Dear Chaos is definitely made up of personal experiences," French explains. "It's funny – the story in the 'Dance Against The Calm' video, I actually had nothing to do with. The conversation around that music video started in 2019, before the song was even written. The idea ended up being so bizarrely close to not only what the song was talking about, but also themes in my life at the time.
"I don't try to intentionally discuss mental health or prominent issues. You can fall into the trap of insincerity if it becomes your shtick, you know what I mean?"
Advertisement
"That was the best thing about the pandemic – I was just left with music, for better or for worse. It made me realise that I was getting up at fucking six o'clock in the morning and writing music that may never see the light of day, so it obviously wasn't about releasing the music.
"The album helped me look at the parts of my life and myself that I don't like and forced me to actually address it. People know when you're bullshitting. The hard part is having to face the opening up part of it and realise you can process it into something."
Advising those emerging artists who might be struggling with this concept, French says: "I never really want to sound like I'm pontificating, but finding what you love is a bonus. Like if everything disappears in the morning and you're just left with a keyboard or a guitar would you still play it? If the answer is yes, then it doesn't really matter what happens around it. What you're going to get from it is growth, and probably a deep, more intricate understanding of yourself. Then you'll be able to better who you are."
• Dear Chaos is out now. Talos plays Connolly's of Leap (October 7); Live At St. Luke's, Cork (8 & 14); and Pepper Canister, Dublin (15).
Read more interviews in the new issue of Hot Press, starring The Coronas.
Advertisement