By: Lucy O'Toole
Creative husband-and-wife team Roseanne Lynch and Richard Lennon are shining a light on an unsung Dublin jazz hero with their upcoming play, Zandra, Queen Of Jazz.
Phibsborough in the 1910s might not be the first thought that springs to mind when you say the word jazz. Yet it was from these Dublin streets, gripped by revolutionary action during the Easter Rising and the War of Independence, that Irish saxophonist Josephine Alexandra "Zandra" Mitchell set off on a stunning journey that saw her perform with legends across Europe, lead her own band and witness the rise of Nazism in Berlin.
Creative duo Roseanne Lynch and Richard Lennon have made it their mission to ensure that Zandra's incredible story emerges from the mists of time, with Zandra, Queen Of Jazz - a play that incorporates storytelling, comedy, tragedy and, of course, the music itself.
"All of this started for us two years ago," says star and playwright Roseanne. "I used to play the saxophone when I was in school and, as a musician, Ritchie was scandalised that I wasn't playing anymore. So I went back to it, and decided to listen to some more of what was out there. I searched 'female saxophone Ireland' on Google, and found this RTÉ Lyric FM documentary about Josephine Alexandra Mitchell - the first female saxophonist in Ireland."
Although few people have ever heard of the Dublin musician, Roseanne felt that Zandra's extraordinary life had all the makings of a drama.
Born into a musical family in Phibsborough, Dublin in 1903, Zandra was first discovered on a trip to London, when she was playing in her brother's jazz band. So began a journey that would take her across Europe, rubbing elbows with legends like Coleman Hawkins and Django Reinhardt and, unusually for a woman at the time, leading her own band, Baby Mitchell's Queens of Jazz. However, settling in Berlin from the '20s through to the '40s, Zandra lived what Roseanne describes as "quite a precarious existence".
Advertisement
"The Nazis really didn't like jazz and the freedom it represented," she explains. "They were cracking down on anything perceived to threaten their power, so it was a huge risk to play jazz at that time."
"Of course, there are so many parallels between the world she was playing in and the world we're living in now, with these oppressive regimes taking hold. Part of the reason I was so drawn to her story was the question: 'Does it mean anything to play jazz if there are Nazis marching outside?' The idea of freedom versus oppression, and how art and politics are connected, also inspired us. Ultimately, she was out there making up her own rules and defying anything that was expected of her."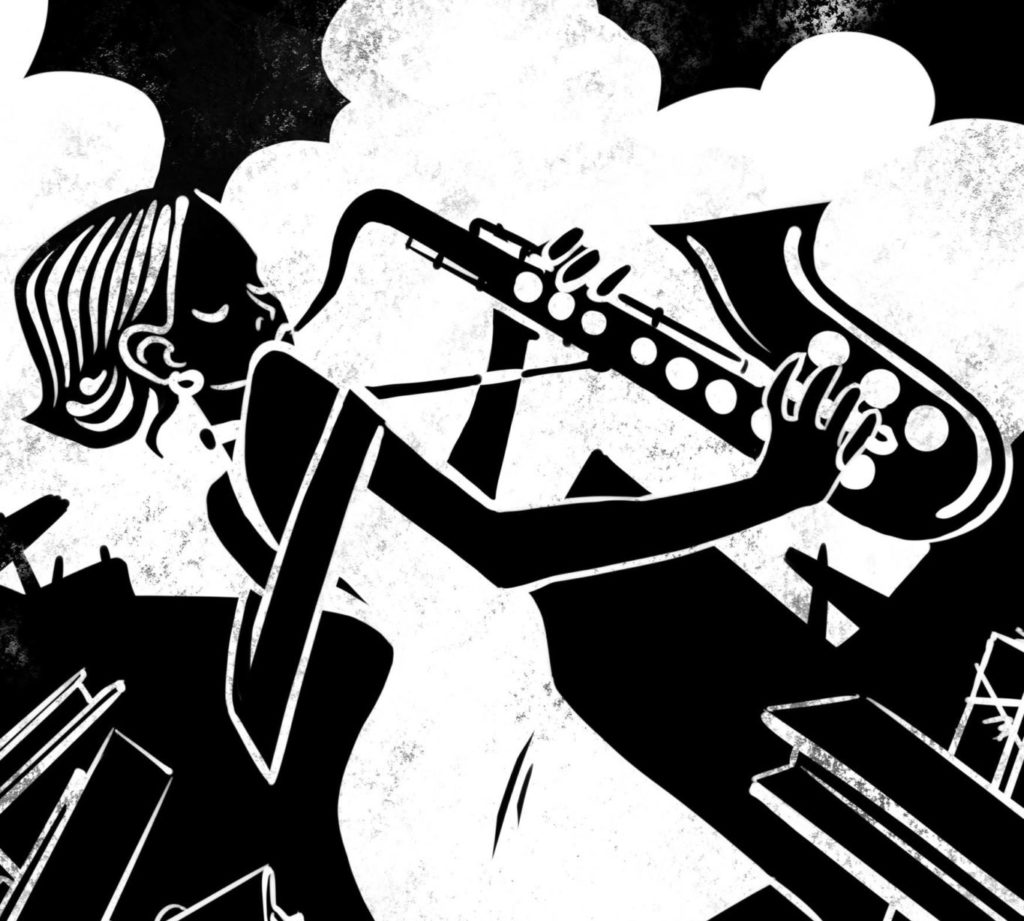 With a grant from Dun Laoghaire-Rathdown County Council, Roseanne and Richard set to work researching Zandra's life, and spent hours speaking to one of her old friends in Donegal, where she spent her later years.
"Those chats we had really formed the basis of the play," Roseanne says. "He has all her photos and postcards and letters. He actually let me play her old saxophone! It was so surreal."
A one-woman show, Zandra, Queen Of Jazz sees Roseanne taking on the title role, with other characters represented with original music by Richard.
"They're represented by the instruments they played, or by tonalities or timbres that fit their characters," Richard explains. "The way I'm writing it, it's not just jazz from the '20s through to the '40s. There's a bit of an expressionist quality to certain things, with more modern cues."
Advertisement
Zandra, Queen Of Jazz is the latest project from Roseanne and Richard's company Darn Skippy Productions - a multi-disciplinary collaboration that allows the husband-wife team to use their varied areas of expertise across theatre, film and music projects.
"We were doing so many creative projects together, we eventually decided to give ourselves a name," Roseanne recalls. "'Darn Skippy' was something Richard had said to me in the first few weeks when we were dating, and I had no idea what it meant! I found out it's basically an emphatic 'yes', and now we say it every day to each other - so it seemed like the right name for us."
Of course, their two-year-old daughter Violet is the real brains behind the operation.
"Things change when you have a very mobile two-year-old, with her own way of doing things," Richard laughs. "We have to go about this in a slightly different way than we would have two or three years ago. But it's been amazing, and it's really forced us to focus on what we need to do."
"You can't take yourself too seriously when there's a two-year-old with chocolate all over her face laughing at you from the side," Roseanne adds. "She's such a masterclass in how to enjoy life, and seeing the world through her eyes is really special. She's totally made the play better, just by existing."