After Horslips confirmed that veteran guitarist Johnny Fean passed away this morning at his home in Shannon, at the age of 71, Hot Press are revisiting our 2009 chat with the groundbreaking band. In a statement this afternoon, the Celtic rockers said: "For well over 50 years Johnny was our best friend, our creative collaborator, our guitar hero. Johnny wasn't only one of the greatest players ever, he was also the sweetest man in rock and roll. His immeasurable talent won him countless supporters throughout the years. We remain his biggest fans. He devoted his life to music and we'll be forever thankful that he did. The band wish to express their heartfelt condolences to Johnny's wife Maggie, brothers Ray, Donal, Shearie, sisters Gail and Corna and all the extended Fean clan. Johnny will be sorely missed."
They were the first true Irish rock stars, a band that blended Celtic mysticism and proggy excess with eye-popping results and paved the way for U2 and The Boomtown Rats. Now, three decades since their last tour, HORSLIPS are back. To coincide with their hotly-anticipated O2 show and new 'Best Of', the band talk about dropping acid, Father Ted-like encounters with outraged members of the clergy and hanging with the 'walking pharmacy' that was Motörhead's Lemmy.
London may have been swinging and Haight-Ashbury dropping out, but in late 1960s Ireland it was still the Catholic Church and their anti-young people political minions who ruled the roost.
How bad was it? Well, no one had considered yet that the Magdalene laundries weren't being as run as ethically as they might have been; RTÉ thought popular culture was something you got in yoghurts; and the nearest thing to a full-blown rock 'n' roll festival experience was the National Ploughing Championships.
Add in the beginnings of three decades of internecine violence in the North, and it's no wonder that Ireland's leading export back then was its people.
"The only way to really have fun in Ireland in the late '60s/early '70s was to organise your own gigs or 'happenings' as the hippies were fond of calling them!" reflects Eamon Carr whose band Horslips helped bring colour to what up till then had been a decidedly black & white country. "There was a DIY mentality, which while accompanied by far too much hair to be termed 'punk' shared a lot of punk's objectives."
Advertisement
And penchant for pulling 'The Filth and the Fury'-style media stunts.
"For Horslips' first proper gig, we hired a venue in Navan, which with a bit of effort we knew we could put a few hundred people into," Carr, now the Evening Herald's rock guru in residence, explains. "To advertise it, we did this fantastic poster up which had our logo, a cigarette dangling from a pair of red lips and the words 'Funky Ceildh + Afrodisiac Lightshow' on it. The Afrodisiac Lightshow being a guy called Des O'Mahoney who'd done a six months electronic course in the Tech and sent away for a kit to make a stroboscopic lamp! Anyway, a few days after sticking these posters up we get a call from the curate who owned the hall saying the gig was cancelled. It turns out that Father Wotsitsname had been approached after the bingo by a group of concerned mothers who didn't want that sort of thing happening on their doorsteps – whatever that sort of thing was! Wanting to get our own back on the bastard for pulling the show, I decided in proto-Malcolm McLaren mode to ring up all the papers including the big one of the day, The Sunday Press, who ran a story under the headline 'Bingo Priest Bans Pop Group!' It sounds very Father Ted now, but at the time locking horns with a priest was considered the height of anti-establisment behaviour!"
Before taking on the might of the Catholic Church, Carr had been a founder member of Tara Telephone – a suitably weirdy-beardy poetry and beat performance collective, which was equal parts W.B. Yeats and Allen Ginsberg.
"It started off as just readings, then we roped in a few musicians and had John Peel interested in doing an album with us," Eamon resumes. "One of the people who would have been at some of those sessions was Phil Lynott whose first question when I invited him down was, 'Will there be chicks?' Having lied and told him, 'Yeah, hundreds', he turned up with Eric Bell dressed like Sly Stone, which this being a jeans and pullover sort of a place caused quite a stir! He was really nervous about reading his stuff, but needless to say everybody loved it. It's funny, I think other people realised Philip was a poet before he did."
Although regarded now as the original of their species, Horslips and Thin Lizzy were in fact following in the footsteps of a small, but dedicated coterie of Irish rock 'n' rollers who'd refused to go down the showband route.
Advertisement
"There was a beat club scene in Dublin in the early '60s populated by people like John Kehoe & The Greenbeats who were the first Irish band to play The Cavern Club. That was a really big deal at the time, as was Bluesville going top 10 in America with a song called 'You Turn Me On'. Philip had served his apprenticeship with Brush and the boys in Skid Row; Rory Gallagher and Taste would have been playing around; Granny's Intentions were flying the flag in Limerick; Eire Apparent, who started life as Henry McCullough & The People, were another big draw who'd had an album produced for them by Jimi Hendrix. I think they toured the States with him as well, so Lizzy and us were by no means the first bands to venture outside of Ireland."
While Carr was busy serving his rock 'n' roll apprenticeship, his bass-playing bandmate Barry Devlin was concerned with altogether more spiritual matters.
"Yes, I went into a seminary when I was 17 and left when I was 21," he laughs. "The first I girl I kissed after I came out was unbeknownst to me the reigning Miss Norway, which is a story I never tire of telling! We met recently for the first time in 40 years after I googled her and discovered that she's now a society grand dame in New York.
"I was actually a terrific seminarian – my wife will testify that I'm a natural celibate! – but after four years went, 'There's no one in the portacabin', and became the happy atheist I am today."
I don't know where he got that portacabin analogy from, but it's a cracker! We've actually got a full-house today with Eamon and Barry joined by their Horslips bandmates Johnny Fean, Charles O'Connor and Jim Lockhart, now a senior RTÉ radio producer, who recalls the band having some vociferous critics when they started.
"And finished!" he deadpans. "No, there were a lot of trad purists who really, really didn't like a bunch of guys in make-up playing instruments they felt they had ownership of."
"Bastards!" O'Connor chips in. "They wanted to see ancient men in Doolin earning no money, not young kids wearing Afghan coats and flares. The reaction was even worse in the cities where we were lucky on a couple of occasions not to have been lynched."
"Going back to the punk thing, in their eyes we were the Clash or the Pistols come to destroy The Pure Drop," Eamon Carr resumes. "We didn't see ourselves as folkies – we were a rock 'n' roll band who just happened to use some of those elements."
Horslips also had a run in with the Country 'N' Irish mafia who were every bit as intimidating as Tony Soprano and his New Jersey waste disposal management pals.
Advertisement
"We played Joe O'Neill's place in Glenamaddy once and outdrew Big Tom who was up the road in a marquee by 500 people," O'Connor reminisces. "Afterwards we got a phone call summoning us to this pub where Tom and his big-handed mates were knocking back pints in this tiny dark room, and generally looking like extras from a County Galway remake of The Godfather. I just think they wanted to see these hippies who were taking money out of their pockets. We lived on a separate plane to those boys who really were your proverbial cute hoors."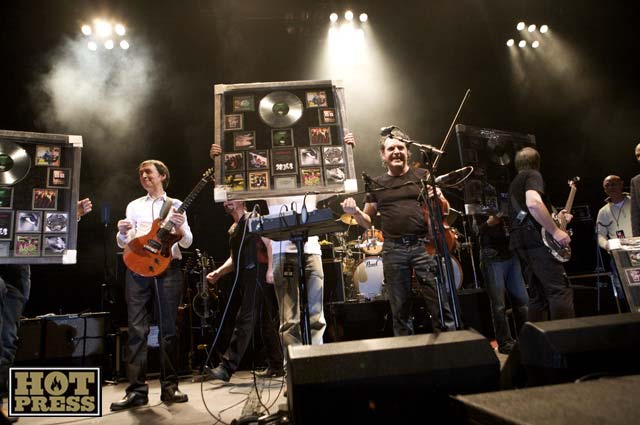 "I always admired the MacGyver-like ingenuity the showbands put into their stage costumes," Carr enthuses. "There was one guy called Magic who wore a suit made out of flashing lightbulbs and was therefore in constant danger of electrocution. Then you had Tarzan & The Apes who had these expensive monkey suits made, which alas were too hot to wear under the lights. An emergency band meeting was called at which it was decided to get rid of the monkey heads, but keep the furry bodies so that they could re-brand as Frankie Stein & The Monsters! As part of this re-branding, they bought themselves a coffin, which wouldn't fit into the back of the van and therefore had to be strapped to the roof. Going home one night, they heard a ripping noise and a thud as the coffin flew off and landed in a field. They'd had enough of it at this stage, and left it there for some poor farmer to discover the next day!"
While all these showband comedy capers were going on around them, Horslips were becoming a serious band capable of filling Ireland's biggest venue at the time, which was the National Stadium. As well as going top 5 at home, their debut Happy To Meet, Sorry To Part album – recorded at Longfield House in Tipperary on the Rolling Stones Mobile – earned them a cult following in the UK.
"He didn't like us as much as he did The Undertones, but we did a couple of Peel sessions and became good friends with his trusty lieutenant John Walters," Charles O'Connor says. "I think we put Peel's nose out of joint one day when we did a five-man moon at him on the motorway! He cooled on us after that."
You couldn't go anywhere in London in the early '70s without someone sticking an LSD tab down your throat. Was it the same in Dublin?
"I remember a band called Quintessence playing in Christchurch Cathedral," Carr continues, "and the posters around town saying, 'Don't smoke, drop', which set the chemical agenda for the night!"
Advertisement
"There was a lot of acid," Barry Devlin concurs. "We went to a festival in Ballyvaughan in 1971, which was organised by the drug dealers of Dublin, and where you could have played the same note for an hour and everybody would've loved it."
Horslips mightn't have taken truckloads of drugs themselves — or so they insist! – but they knew a man who did.
"We used to hang out with Lemmy when he was in Hawkwind and, fucking hell, he was a walking pharmacy!" O'Connor fondly recalls. "I had pictures in a photo-booth of Hawkwind's exotic dancer, Stacia, sitting on my knee. She had her tits – which were bigger than my head – out and I lost the photos!"
Stacia Blake, who was indeed inordinately fond of exhibiting her 52" chest in those days, going on to become an internationally acclaimed artist who studied at Limerick Senior College and Cork's Crawford College of Art & Design.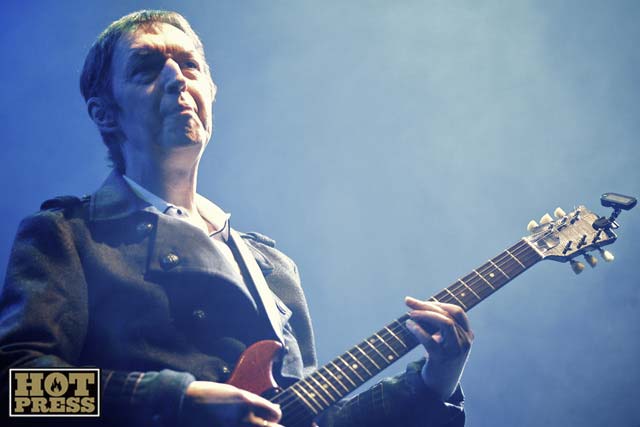 "One of my all-time favourite rock 'n' roll stories is about Hawkwind's Robert Calvert, an old pal of mine who's sadly no longer with us," Eamon Carr takes-over. "He was going down the King's Road with a royalty cheque for 'Silver Machine' in his pocket when he happened to see this splendid suit of armour in a shop window, which despite it being the middle of summer he bought and walked all the way back to Hampstead in. He had the sword as well, but no one stopped him to ask what he was doing. Anyway, his partner Eli arrives home, opens the door and lets out a huge scream when she sees this suit of armour in the hallway. Startled now himself, Robert stumbles back into the living room where he crashes through the coffee table and dislodges a set of bookshelves that fall on top of him. The ambulance men are called and he wakes up the next day in hospital strapped to a bed!
"There was another occasion when I went downstairs one morning and found that all the living room curtains were missing. I couldn't work out what had happened until I saw an unconscious Lemmy, who'd decided to crash for the night, behind the sofa wrapped up in them. We identified with that rather than The Chieftains or Planxty who were the big traditional bands of the day. The distinction would've been much clearer-cut in England where we had people like Jimmy and Johnny Lydon and the future Pogues at our gigs."
Advertisement
Not fitting into any neat category, Horslips found themselves touring round Europe with such a diverse array of acts as Nazareth, the Bonzo Dog Doo-Bah Band, Thin Lizzy, Rory Gallagher, Huey Lewis, Annie 'n' Dave's pre-Eurythmics outfit The Tourists and, recalls Eamon Carr, "some nice young lads who'd made their own badges called XTC."
The road miles really started to mount up when Horslips made a concerted effort to break the States with their Aliens and The Man Who Built America albums, which both dented the Billboard chart.
"Irish wasn't a great nationality to be in England during the '70s," Eamon continues. "We mixed in reasonably enlightened circles, but still had to put up with the Paddy thing and our van being searched. America on the other hand welcomed us with open hands – and open bars! Apart from London where you could go to the Speakeasy and hang out with Keith Moon, Brian Eno, Emerson, Lake & Palmer, The Stranglers and whoever until six o'clock in the morning, British towns closed down at eleven, which was no good to a bunch of Irish lads who'd just played a gig and wanted to go out on the tear. Horslips embraced the 24-hour culture in the States massively!"
They had to work hard for their hi-jinx though with one particularly gruelling American tour comprising of 90 dates in 90 days.
"We had a following in Philadelphia, North and South Carolina, bits of Florida, bits of California and from New York all the way up the East Coast to Canada," Barry Devlin says. "We also got a huge amount of radio airplay – so much so that when U2 started touring there in '80/'81 Paul McGuinness came back and said, 'All the DJs wanted to talk about in interviews was you!' But that stopped once The Unforgettable Fire was released!"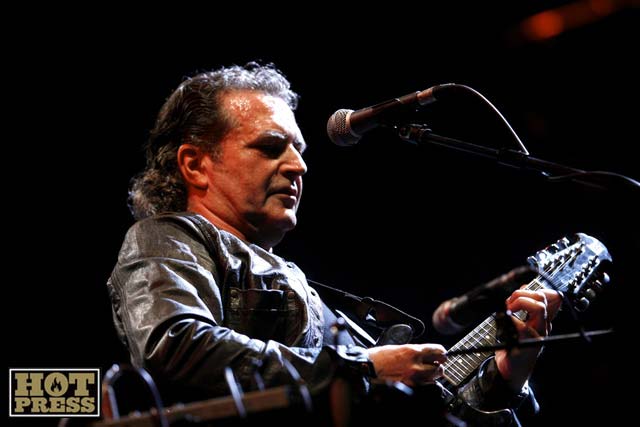 "Barry produced some of their demos," Carr elaborates, "and I got a call very early on from Paul asking would I go down to a gig U2 were playing in McGonagle's – he was just signing them at this point – and give them the once-over. Steve Averill's band The Modernaires were on first and then the boys did their thing. I was like, 'Yeah, yeah, this is interesting.' Adam cut a good image as the moody blonde bass-player; Bono climbed up on the P.A. stacks and had plenty of front; and The Edge was their secret weapon. He had this totally unique style, which was halfway between Television's Tom Verlaine and the high-end, discordant, toppy, almost psychedelic thing Jefferson Airplane had done in the '60s. I felt – quite wrongly as it turned out – that America would love them, but the UK, which was totally in the grip of punk mightn't get it. And because I reckoned on them having to go to the States where you had to do two pretty lengthy sets a night in the clubs, I was concerned that Larry, who wasn't that long playing the drums, mightn't have the necessary stamina. Anyway, eight months later I saw them again and he was absolutely brilliant. I'd forgotten about all of this until years and years later when Larry's dad, who lived on the same road as my parents in Artane, came over to me at a gig and said, 'You're the fella who said my son would never make it!' I was like, 'Er, no, it wasn't quite like that!' What I suspect happened was that McGuinness doing the Brian Clough motivational thing had told Larry, 'Yer' man from Horslips doesn't think you're up to the job, prove him wrong!'"
Advertisement
Horslips were touring their penultimate album, The Man Who Built America, in the States when another, rather more abrasive Irish band pitched up there on the back of a UK number one single.
"The hype surrounding the Boomtown Rats and 'Rat Trap' was huge, but Bob, bless him, managed to bury the band at a music convention gig I was at in San Diego," Eamon Carr says. "They did 'I Don't Like Mondays' for the first time, and were generally going down quite well until Geldof – playing to the American punks in front of the stage – goes, 'Stop! Stop! Only you guys are dancing. I want the lights put on and you to turn around and look at these people who are controlling your music.' These people, of course, being the invited record company staff and radio DJs who headed straight for the exit, vowing in the process to do as little as they possibly could in the future for the Rats. Nowadays there's enough alternative media to do that and survive, but back then it really was career suicide."
Horslips' own demise when it came in 1979 was rather less self-inflicted.
"The main reason we broke up is that after ten years of album/tour/album/tour we were bloody knackered," Barry Devlin grimaces. "Also, punk had hit leaving us wondering if we were dinosaurs. The band started to pull in different musical directions, the record company fucking hated our Short Stories & Tall Tales album and we didn't fancy playing to diminishing crowds for two years while we pulled ourselves up again."
After testing the waters in 2004 with an unplugged album, Horslips are going the whole reunion hog next month with shows in the Belfast Odyssey (December 3) and Dublin O2 (5), which dwarf anything they attempted back in the '70s.
"I won't say it's like riding a bike, but it is amazing how much stuff has come flooding back – most of it good!" Devlin concludes. "To have a 'Part 2' where we can show the kids what we did in the war is something we're all enormously excited about."