On 14 June, 1995, the legendary Cork guitar genius Rory Gallagher died of an MRSA infection. Later this week, Hot Press will publish a a Special 25th Anniversary Issue of the magazine.. But first, on what is a historic if sad day, we want to remember just some of the qualities that made Rory such a revered figure not just in Ireland but across the world...
For the past six weeks or more, we have been thinking about Rory.
There aren't many Irish people who are known simply by their first name. There's Michael D. Sinéad. Nell. Bertie. Glen. Packie. Bosco (okay, that's a joke, but you see what I mean). Leo is almost there but not quite. Katie is close too. The same with Saoirse. She'll likely get there in the end, but even she – one of Hollywood's biggest female movie stars – hasn't reached that level yet..
Bono is in a different category: he is the only one after all. The same with Hozier. And Philo. Nicknames are a fabrication. They immediately set you apart. That's their purpose. But to own a proper name is a different matter entirely.
Rory! Rory! Rory!
There is a pretender out there by the name of McIlroy. But that's what he is and that's what he will remain. Anyone who was ever at a gig by the great G-man will have heard the chant. They will know the score.
Advertisement
Rory! Rory! Rory! Rory!
Fifty times, they'd scream it. Rory! Rory! Rory! More if they had to. Rory! Rory! Rory. Until he emerged again. Him to the fore, the other musicians in the band following. Rory! Rory! Rory! Up to the microphone. Spotlight shining. The hint of a smile. His right hand raised in salutation. Plectrum at the ready.
Rory! Rory! Rory!
"Did you ever…" Duhn. "Did you ever…" Duhn. "Did you ever…" Duuuuuuhngngngngng.
"Well, did you ever wake up with bullfrogs on your..." And then an explosion. "...mind?"
He owned the name. It was his. Rory! Rory! Rory!
So how did that happen? If you weren't there at the time it might be hard to fathom. But he was the man. Van was first out of the traps, an extraordinary talent. But he had a cerebral thing going on: mystical, poetic and allusive. Philo came after: he was all limber sexuality, what Dublin girls called a ride. A rock 'n' roll star.
Advertisement
Rory brought something else to the table, something unique. Something extraordinary. He was a guitar genius. He could play like a demon, wringing sounds from the instrument that he wasn't entitled to. He was fast. But he was also musical. He could make that battered Fender Stratocaster talk and sing and dance and wink. No one handled a six-string better.
That might have – would have – been enough to seal his reputation. But there was more. And it was of extraordinary import. A gift that is only offered once in a very blue moon.
Success, money, image, acclaim: none of these things really mattered to Rory Gallagher. He dressed in exactly the same way as his audience. Check shirt. Jeans. Boots. On occasion a T-shirt. Nothing fancy. And he carried the same ethos into everything he did. He was one of us. He could have been a member of the audience. Except for one thing. Well, one thing encompassing many.
He was a guitar wizard. A one-off. A fucking phenomenon. He… was… the... man.
Those nimble fingers. That razor sharp intuition. Finding the right notes. Bending them. Twisting and shaping a melody on the hoof. Sticking with the pattern. Then taking off and rolling with the flow. Finding a new groove. Repeating phrases. Going off on one. A surprise inflection. An unexpected run. Racing to the front of the stage. A man possessed now. Head shaking from side to side. That smile widening. Another flourish. High up. Down low.
Magic in every position, in every mode. Ineluctable. Mercurial. Sensational. Awe-inspiring. From the heart.
How do we understand this connection between a brain that is processing something and the sound that is emerging from the guitar, the amp, the speakers?
Advertisement
In the end, understanding just isn't the right word when what happens is – for a start – about feel. About flow. About following an inner pathway that is defining itself only as it happens. It is a neural event, but of the best possible kind. It is being inexplicably but incontrovertibly in the now, in the moment; separate but connected, sending out into the universe noises that represent nothing less than art incarnate.
Rory! Rory! Rory!
He owned it because, in the most literal sense, he was peerless. In a class of his own. A druid. A musical seer. A visionary. An explorer. A troubadour whose instrument spoke in tongues. An embodiment of the very idea of being a musician. He was Rory.
Digging back, remembering warm greetings and huddled meetings along the ancient highway, it all comes flooding back. We have been on the road again with Rory Gallagher these past few weeks and tears have been shed. Listening again to the music. Hearing other musicians talk. Harkening to their stories. Tuning in to their tributes.
It has been a beautiful journey. But, as it took shape, it also felt important. Stirring. Inspiring.
And so, on this, the anniversary of his ineffably sad and desperately premature death, we raise a glass in his memory.
Rory! Rory! Rory!
Advertisement
He was a man we loved. A musician we revered. A songwriter we doffed our hats to a thousand times.
A cup of strong coffee beside us we chase a melody through the honeycomb of memory. "Ain't it strange that I feel like Philby/ There's a stranger in my soul/ Lost in transit in a lonesome city/ I can't come in from the cold."
Know the feeling. Been there. Still not sure that there really is a way back.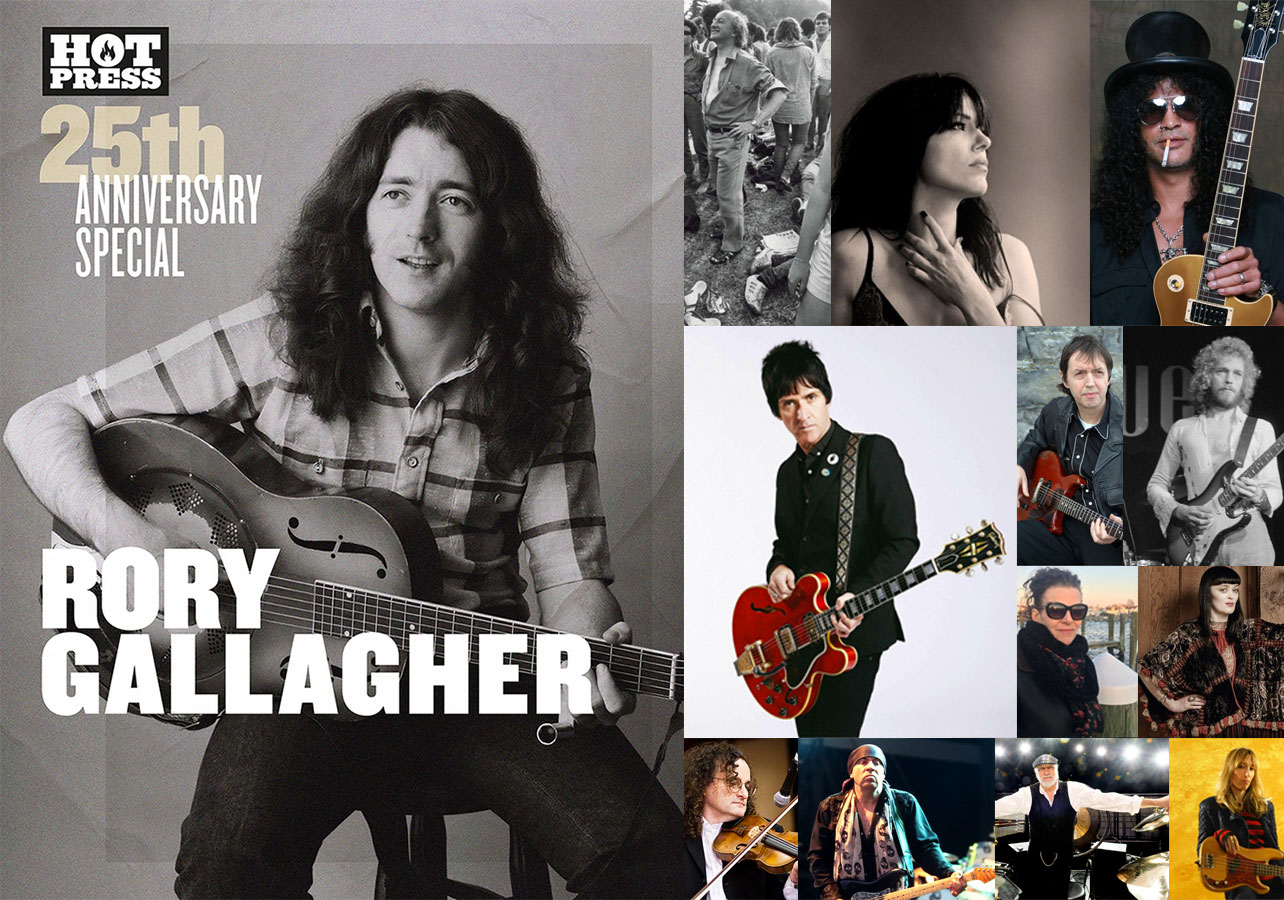 On Thursday 18 June, we publish a Rory Gallagher 25th Anniversary Special Issue of Hot Press. We think you'll love it.
We've been talking to and hearing from some of the greats. Johnny Marr. Steve Van Zandt. Imelda May. Slash. Mick Fleetwood. Mary Stokes. Ian Anderson of Jethro Tull. Winston Marshall of Mumford & Sons. And a whole load more besides. Our own writers have been delving into their unique, personal memories. Pat Carty. Dermot Stokes. Paul Charles. Eamonn McCann.
There was a moment during the week when, suddenly, the weight of it all hit home. And the depth of the emotional river into which we had dived. We wanted to do the memory of Rory justice. And as the tributes and the stories came flooding in, we knew that we had hit a seam. There was gold here.
Advertisement
But then, there always was with Rory. And so the tributes on hotpress.com start today: keep your eyes peeled as anniversary progresses. And on Thursday, fans will open their copies of Hot Press and read stuff about Rory that will have the tears falling down like rain. We know that feeling too. It is called the blues.
What you gave us will live forever, my friend – its lustre undiminished, its value imperishable.
Rory! Rory! Rory!
Shine on you crazy diamond. Now and forever. World without end.
G-man.
• To buy the Rory Gallagher Special Issue of Hot Press, click below...
Advertisement
Main pic: Colm Henry