Remembering Lisa Marie Presley: The triumphs and tragedies of the Presley dynasty have attained an almost Shakespearean scope
Following the untimely death of Lisa Marie Presley last month, Paul Nolan reflects on her remarkable – and often turbulent – life and times, and also recalls a memorable visit to Graceland in September of last year. 
Having visited Graceland last September, it was somewhat surreal – and desperately sad – to read of the untimely death of Lisa Marie Presley in mid-January. Poignantly, on the Sunday before her death, Lisa Marie had been in Graceland to mark what would have been Elvis's 88th birthday.
The following Tuesday, she was in Beverly Hills to attend the Golden Globes, where to her delight, Austin Butler won Best Actor for his portrayal of her father in Baz Lurhmann's hit biopic, Elvis. Just two days later, aged only 54, Lisa Marie suffered cardiac arrest in Calabasas, and passed away in hospital that night. In a tragic parallel, her 27-year-old son Benjamin had also died in Calabasas, taking his own life in the depths of lockdown in July 2020.
Before her death, I'd only been peripherally aware of the bare facts of Lisa Marie's story, and reading the obituaries last month, it was impossible not to be taken aback at the high drama – melodrama, even – of this unique American life, which proved another extraordinary chapter in the epic Presley saga. For a start, there was the attempt at a solo music career that yielded three albums, each incorporating the blues, country and gospel influences with which the Presley name is synonymous.
Then there was the 1988 marriage to singer Danny Keough that produced two children in Benjamin and his sister, actress Riley Keough; the further high profile marriages to Michael Jackson and Nicolas Cage; a fourth marriage to musician Michael Lockwood that produced two more children, before ending in divorce in 2021; the involvement with Scientology; and the opioid addiction she would subsequently write about with painful honesty.
Elsewhere, in addition to 15 percent of Elvis Presley Enterprises, Lisa Marie also owned Graceland. The home has attained near-mythical status in US popular culture, and concurrently, the triumphs and tragedies of the Presley dynasty have attained an almost Shakespearean scope. In that sense, Graceland serves as both a monument to the American dream and a cautionary tale about the corrosive effects of fame.
Advertisement
When you go in the front door of Graceland, across the hallway, there's a beautiful black and white photo of Lisa Marie as a child with her mother, Priscilla. As I followed the coverage of Lisa Marie's death, I sometimes thought of that picture and wondered – if you could have told Priscilla at that moment what the future held, what would she have made of it?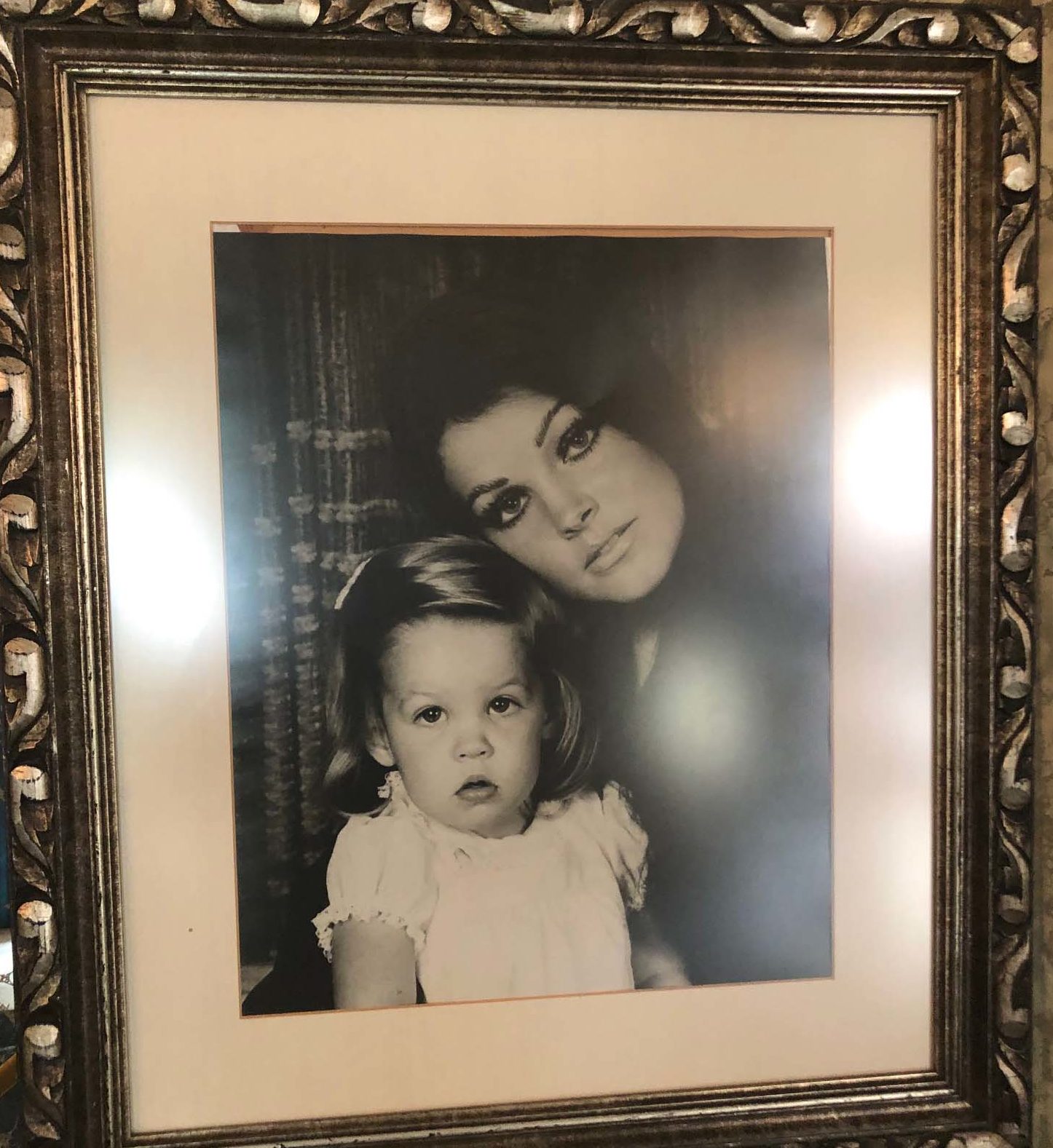 Later in January, on a cold and overcast day in Memphis, a public memorial for Lisa Marie was held on the front lawn of Graceland. She was remembered as a "precious jewel", and Priscilla read out poems by her daughters. Early the following month, in the sort of development that often follows a celebrity's passing, it was reported that Priscilla had challenged the "authenticity and validity" of an amendment to Lisa Marie's will, which would see her replaced as an overseer of her daughter's estate.
According to court filings, Priscilla disputes a 2016 amendment to Lisa Marie's Living Trust, which replaced her and a former business manager with Riley and Benjamin Keough. Thus, the Presley family story continues to unfold.
MEMORIES
It was a balmy 25 degrees when my Uber driver dropped me off in the Graceland carpark on a Saturday in late September. After walking for a few minutes, you come to a small wooden bridge across a stream, and on the other side is a sign that says, "Graceland – the home of Elvis Presley". A short distance up, giant white gates mark the entrance to the Graceland compound.
In amongst the gift stores and restaurants, the main building is the ticket shop and visitor centre. Upon entering, the lengthy queues emphasise just what a goldmine Graceland – located around 12 miles outside Memphis – continues to be. The summer of 2022 saw two significant milestones: it was both the 45th anniversary of Elvis's death at the house, and the 40th of when it was opened to the public.
Advertisement
In the years after the singer's passing, Priscilla was told by lawyers and financial advisers that the estate was financially struggling and most likely needed to be sold. But as the source of precious family memories – it was originally bought by Elvis as far back as 1957 – she told them: "We're not selling Graceland. That will never happen."
Working with a Kansas investment adviser named Jack Soden, who remains CEO of Elvis Presley Enterprises to this day, Priscilla explored the possibility of making Graceland a visitor attraction. After consultations with museum curators, the house officially opened in June 1982. In the four decades since, approximately 22 million people have toured Graceland, and these days, it's the second most visited house in the US after the White House.
"It was so profitable right from the beginning," said Soden, "because the overheads couldn't catch up with the revenue." Just how profitable was evident from perusing the various price tiers in the Graceland ticket office. After mulling it over for a few minutes, I decided that, fuck it, I was going to go all in on a VIP pass, which set me back a hefty $100 (in the innocent days of 1982, the cost of basic ticket was a mere $5).
Then, of course, there are the sundry gift stores, which offer just about every kind of Elvis paraphernalia, including t-shirts, key-rings, posters, puzzles, bobble-head figurines and more. Well – to coin a phrase – it's one for the money.
My tour didn't start until later in the afternoon, so there was a bit of time to kill. I took a seat on one of the benches outside and – gazing at the woodland in the distance, with the PA belting out Elvis classics – had a surreal feeling I've only really experienced at other landmark locations in New York and LA: "I can't fucking believe I'm in Graceland."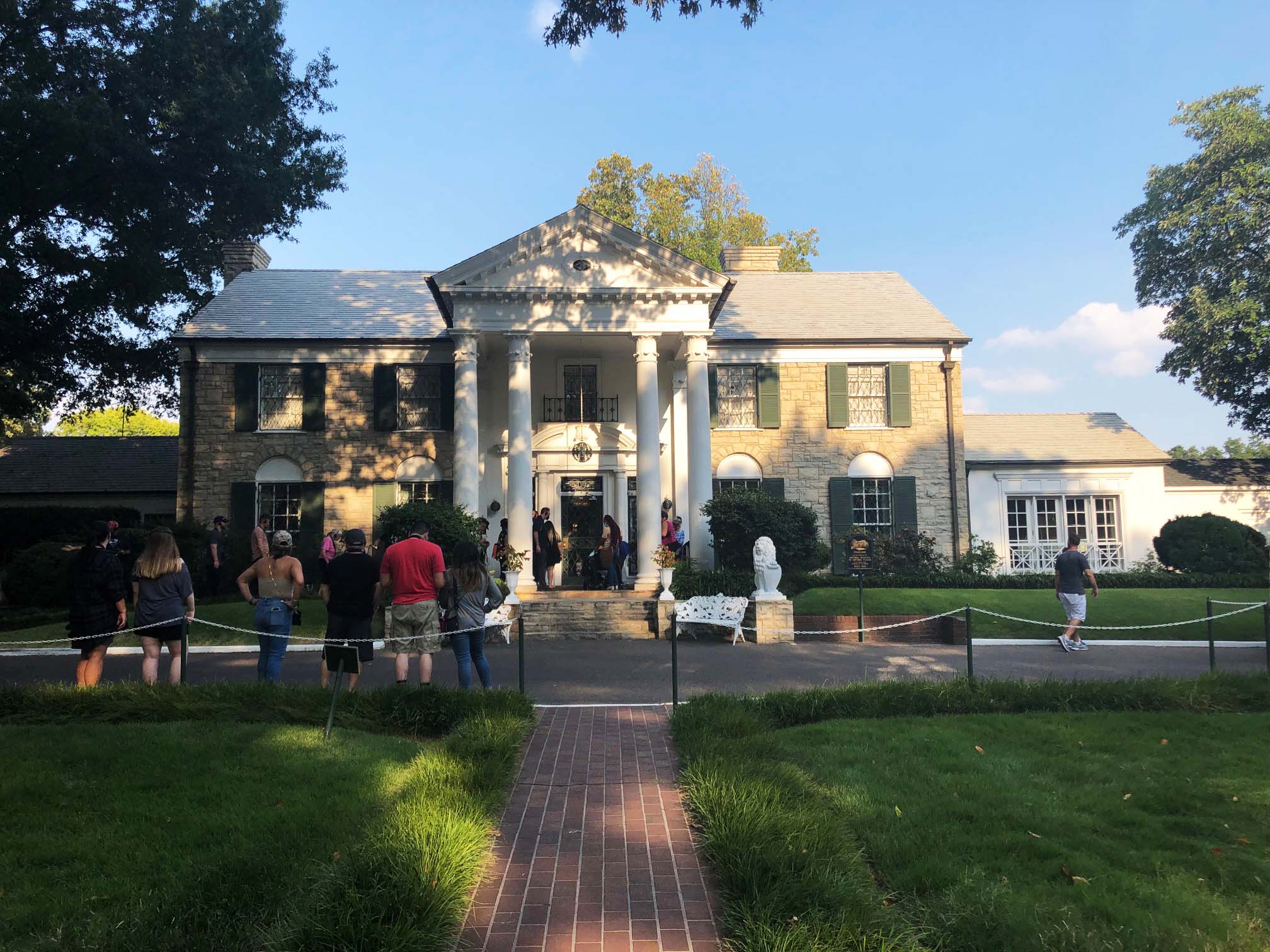 GOLDEN YEARS
Advertisement
By the time it was ready for my tour, the ticket office was rammed, leading to lengthy delays. Eventually, a staff member called my group outside to a shuttle-bus, where we were given an iPad and headphones, which would provide an audio commentary on the house tour.
After a short drive through the compound and across the road, we arrived at Graceland. I stood on the front lawn and took in the house. Whilst big, measured against the excesses of Beverly Hills, it has a homeliness that's positively modest. At the same time, there's no getting away from the fact that Elvis's life was the archetypal American rags-to-riches story.
Born in a shotgun shack in Tupelo, Mississippi, the singer would live the majority of his adult life in the ornate surroundings of Graceland. The house was also where, hooked on prescription pills and in declining health, he passed away in the bathroom on August 16, 1977, aged only 42.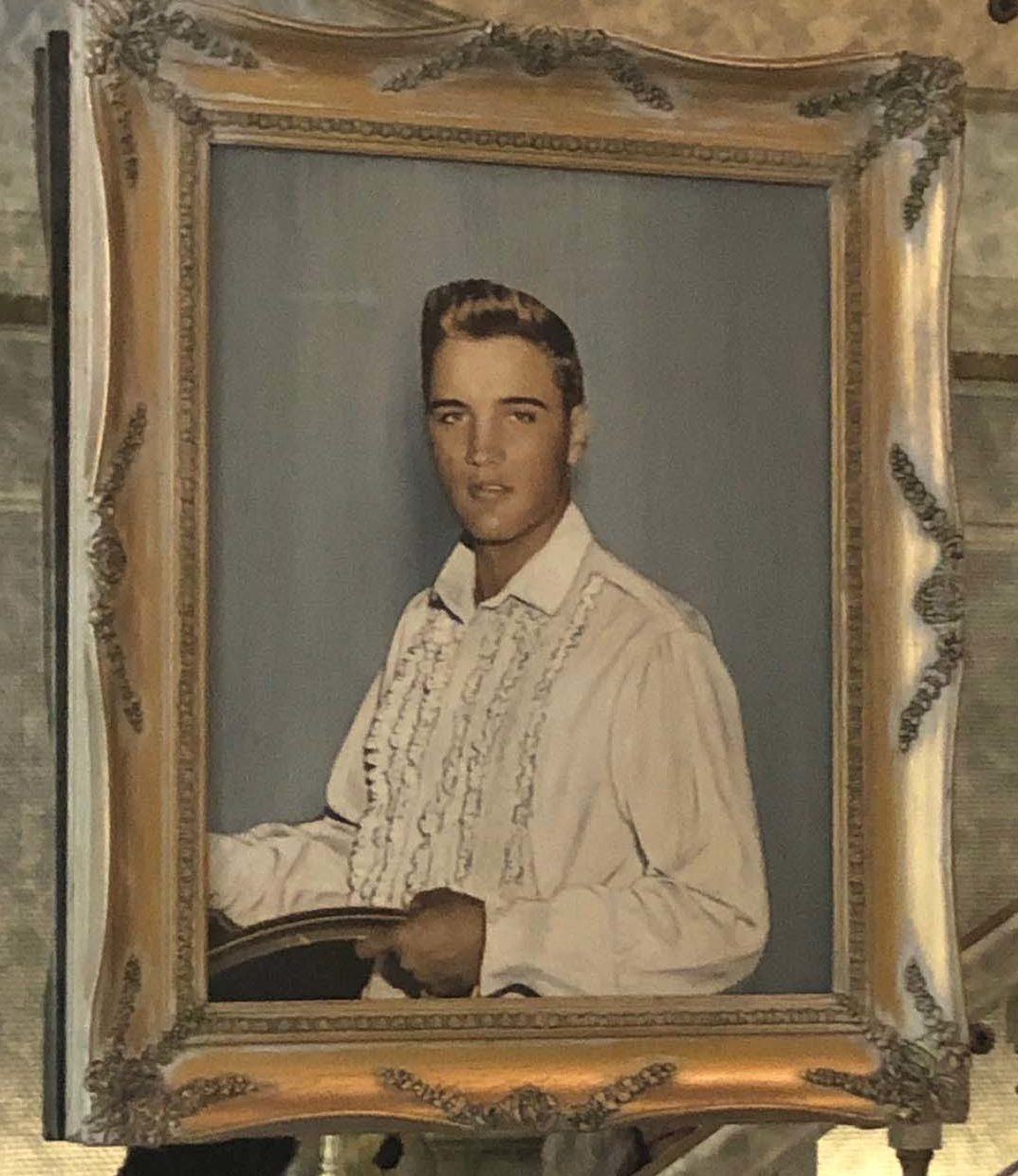 Beforehand, someone in Memphis had told me it was remarkable how well Graceland had been preserved, but even still, I wasn't quite prepared for how frozen-in-time it seemed. Indeed, it felt virtually untouched from the day of Elvis's death, with all of the '70s furnishings, ornaments and TV sets still in place.
To the left of the downstairs hallway was the dining room, and on the right the living room, both decorated with the same peacock-stained glass. There was  definitely something melancholy about all of the period detail, an uncomfortable reminder of our own mortality. Nonetheless, there were also moments of absurd humour, which equally seems an essential part of the human condition.
As I stood in the hallway, the tour guide on my headphones explained, in a comically deadpan voice, how Elvis – a martial arts enthusiast – would occasionally put on impromptu karate demonstrations when he came downstairs to greet guests. It was a moment worthy of The Simpsons.
Advertisement
While there are obviously countless attractions devoted to stars of music and film around the world, Graceland is virtually unique in allowing you into the private living space of an icon. From that perspective, it is somewhat mindblowing to look out of the Graceland living room window onto the huge front lawn, and think this was the view Elvis had, day after day.
I then made my way through the kitchen to the Jungle Room, which was filled with exquisitely crafted wood furnishings. An area where Elvis liked to play music, it was here that he recorded the classic 'Moody Blue' in November 1976.
For me, one of the great "what ifs" in music history concerns another departed icon, David Bowie, and his original ambition to have the King record his celebrated '70s hit, 'Golden Years'. It is some fucking scenario to imagine Elvis receiving that tune around the same time he made 'Moody Blue', and letting rip over the funky backing track in the Jungle Room. Hopefully, they're doing the mother of all collaborations up above.
Going in the opposite direction, I made my way downstairs to the basement – again with the thought, "This is fucking surreal" – where the pool room was located. Adjoining it was the TV room, where as my headphone tour-guide again helpfully explained, Elvis had three separate television sets installed, having heard President Lyndon Johnson had done the same.
On the day I visited, they were respectively playing an old western, an episode of Johnny Carson's talk-show, and Stanley Kubrick's Dr Strangelove. Back upstairs, we emerged blinking into the sunlight, and made our way past the garage to another building at the back of the house, which functioned as Elvis's office. Beside it was a hallway with a small replica of the Presleys' Tupelo home, and next to that, a room that Elvis – a gun nut in the classic American mould – once used as a shooting range, usually in the company of his pals in the Memphis Mafia.
After a short walk past the sizeable field where the Presleys liked to ride horses, we entered a building that housed an extensive collection of memorabilia; photos, costumes, letters and other mementoes. In retrospect, the most moving part came at the end, when you could view a short home movie clip, showing Elvis and a young Lisa Marie in Graceland at Christmas.
The tour concluded with a group of us filing past the pool outside and finally arriving at Elvis's grave. An artist whose mischievous sense of humour often shone through in his performances, the King would no doubt have loved the famous scene in This Is Spinal Tap where the members of the fictional heavy metal group stand by his graveside.
Advertisement
Nigel Tufnel opines that, "It really puts things in perspective." To which his bandmate David St. Hubbins offers the immortal retort, "Too much fucking perspective."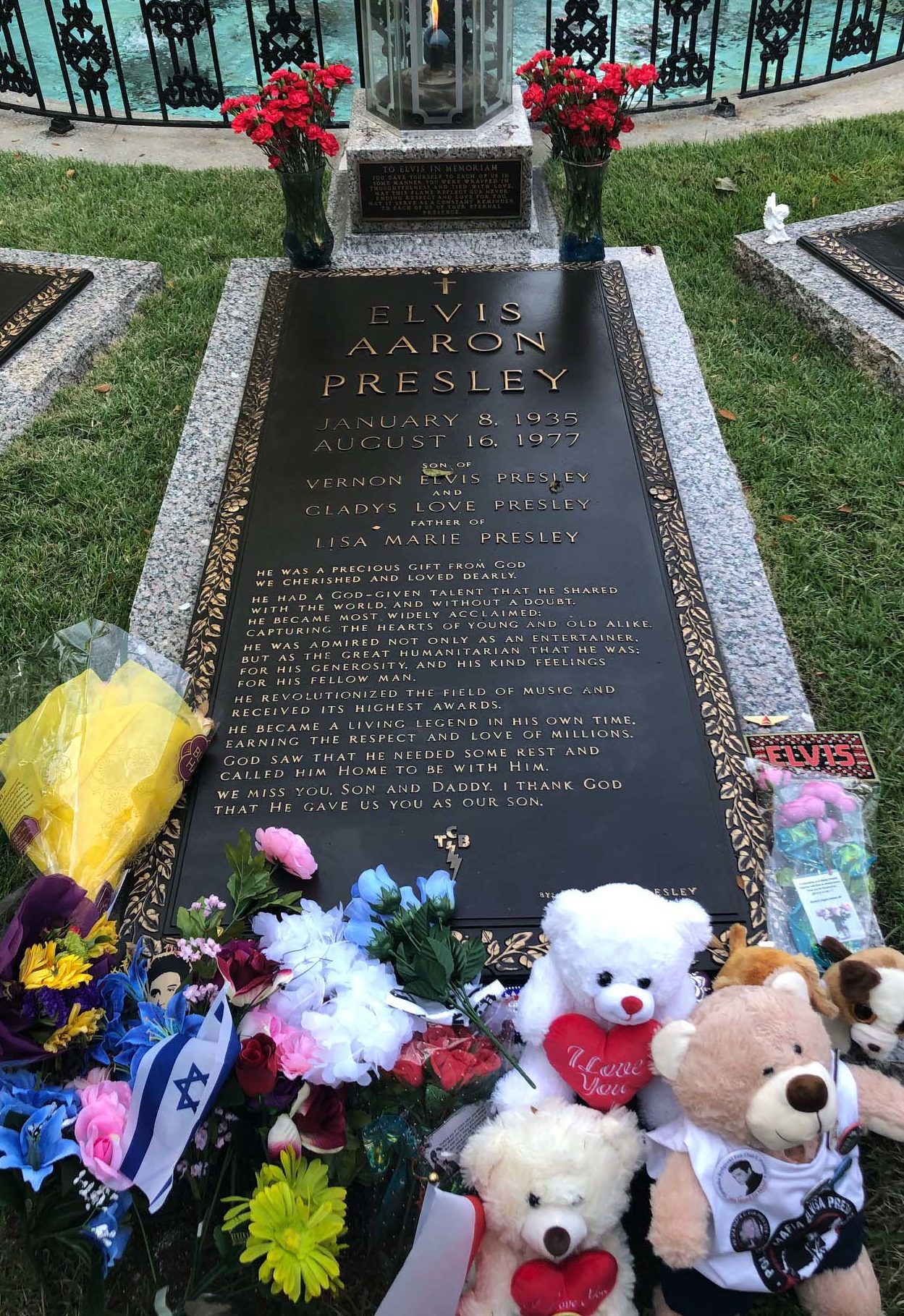 THAT'S THE WAY IT IS
One night over Christmas, myself and my brother had a few cans and watched a Sky Arts showing of Elvis: That's The Way It Is, the mix of backstage and concert footage documenting the singer's August 1970 gigs in Las Vegas. Though it was a period where Elvis's health was on the wane and he was leaning heavily into kitsch, the apex of the film arrives with a truly sublime version of 'You've Lost That Lovin' Feelin'.
As the song reaches its crescendo, the vocal interplay between Elvis and the gospel backing singers – intense and emotional – is nothing short of majestic. It was a potent reminder of just why Elvis, and the Presley dynasty, continue to inspire such devotion well into the 21st century.
In the aftermath of Lisa Marie's passing just a few weeks later, perhaps the most memorable tribute came from Axl Rose, who remarkably has matured into an eloquent elder statesman of rock. Like latterday Bowie and Kubrick, the Guns N' Roses frontman no longer grants interviews, but did release a statement to People about his friend's death.
"Her son's passing was shocking, tragic and devastating," he wrote. "I wanted her to be happy… And really, with the closeness of their relationship, one could hope – but truthfully, it didn't seem, at least without some real time passing, a reasonable reality.
Advertisement
"What comes after life who knows," he continued, "but I'd like to think they're together, her and Ben with her father and Ben's grandfather in some way".
Subsequently, Rose delivered a moving speech at the public memorial, and performed a solo piano version of 'November Rain', one of Lisa Marie's favourite songs.
After visiting Elvis's grave last autumn, I was leaning against a wall beside the pool when I noticed another grave nearby for Benjamin Storm Keough. Unsure of who that was, I looked up his name and discovered he was Lisa Marie Presley's son, as well as learning of the tragic circumstances of his death. That was September 24. On January 22, Lisa Marie was laid to rest next to him.
Hopefully they are now both at peace.