RAYE on Longitude: "My lifetime goal is to make a song people still play when I'm gone"
Supporting SZA at Dublin's 3Arena this month, London hitmaker Raye will also stop by Marlay Park on July 1 to perform a high energy Longitude Festival set.
Raye has nabbed just two hours' sleep by the time Hot Press catch her for a chat, but she remains generous with her time, as her loyal fans can attest to. Having performed a hit-filled, emotional pop set at Dublin's 3Olympia Theatre in March, the 25-year-old Londoner will return to Irish soil on July 1st for a rousing Longitude Festival set.
Not alone will the songwriter be hitting Marlay Park alongside Ice Spice, Travis Scott, Calvin Harris and more, but Raye is also scheduled to support SZA at her 3Arena dates tomorrow, June 21 and Thursday, June 22. Non-stop Aer Lingus flights, essentially. Raye recently reached new levels of fame with her runaway hit 'Escapism' and hugely anticipated debut album My 21st Century Blues, which arrived on February 3rd this year.
The Croydon artist is one of the most streamed artists in the world - 2.3 billion and counting - while her songwriting prowess has seen her write for John Legend, Ellie Goulding, Khalid, David Guetta, Diplo, and (deep breath) Beyonce. Having last spoken to Raye back in 2021, her career has transformed since her cries of frustration at not being able to release her album were heard worldwide, leading to a mutual separation from her label.
"Since the Euphoric Sad Songs EP, a lot has changed. I'm now an independent artist," she tells me, croaky-voiced but still radiating warmth. "I have an album out, which is incredible. I've been doing so many shows, and feeling really satisfied artistically. I'm proud of this album, so it's been amazing hearing so many people listening to it and getting to know me better. It's a beautiful experience."
Advertisement
Longitude is fast approaching, does Raye have a core festival recollection of her own?
"My favourite memory is one I barely remember, you know what I mean?" she laughs. "I love camping and being with friends, waking up in the morning beside them after a wild night. I got lost, maybe accidentally on purpose, and was separated from my friends at the world music tent. I can't recall the festival but I was dancing for hours with strangers! In terms of performing, Beyonce delivers the best festival sets. If I'm on the bill, audience-wise, there's no better crowd than the Irish crowd."
Some top-tier female talent are on the Longitude bill. Has she collaborated with any names in particular, or have them on her list?
"I've never worked with GloRilla, but she's really talented!" the musician nods. "I've done a bit of writing with R&B trio FLO to try and explore different ideas. It's been a busy year, so I've been on the road. I haven't had much time to put my songwriting hat on, but I'm excited to work more with them in the future and create great music.
"I'm a people person," Raye explains. "I love a chat! That's how I can click with artists I work with.. You just have to have conversations and get to know each other. Sometimes I bring a pack of cards and teach them a game. Honesty is really important, I'm a really open person. It allows people to feel safe around me."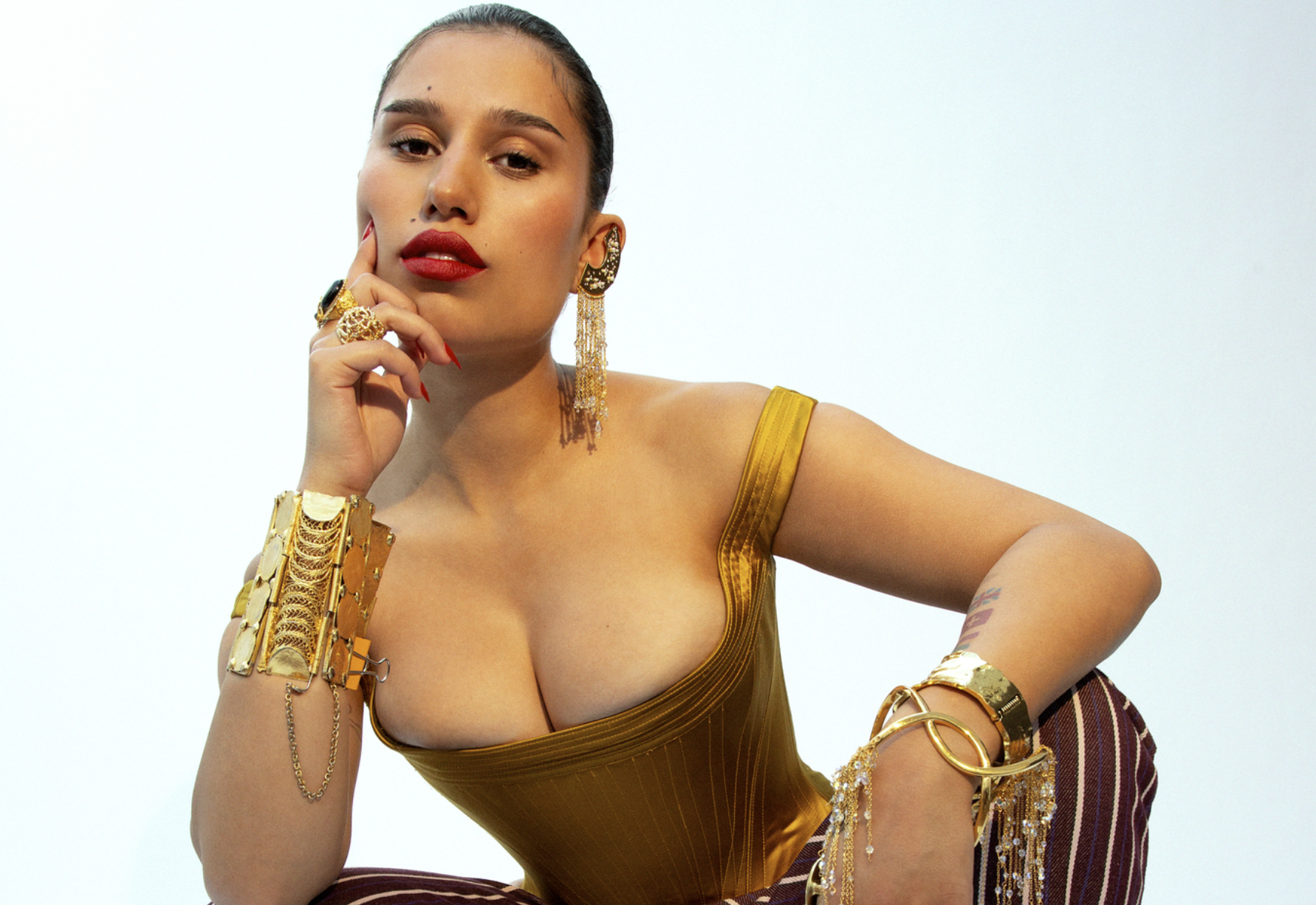 Supporting SZA on her SOS Tour will undoubtedly introduce Raye to global audiences. How does she get a stadium crowd awaiting another artist on her side?
Advertisement
"You just have to do your best! I aim to win ten people over. If that amount of fans come out of the gig saying, 'Raye is great, I'd love to see her again', then I've done my job. It's about enjoying the experience, because I love performing live. Sometimes you can overthink when you're on stage but you have to remember to have fun."
Having released 'Escapism', featuring New Jersey rapper 070 Shake, independently in October 2022, the song went viral on TikTok - catapulting Raye to Gen Z fame.
"I did not foresee it becoming big, which is such a great surprise!" she smiles. "I met 070 Shake through my engineer years ago. We've been friends for a while. I've always wanted to work with her, and wanted her to be on the album. I'm a card game fanatic who enjoys meeting other card game fanatics because it's a less lonely life! This was the perfect song for her. 2023 has been surreal for me.
"The amount of shows that I'm doing is nuts. I'm used to being a studio baby so it's a really different thing. Winning an Ivor Novello was also crazy. That was a huge deal to me," she beams.
In 2022, RAYE was named the Ivors' Songwriter of the year. Armed with one double-platinum, four platinum, two gold and three silver singles to her name, Raye is also indisputably one of the UK's premier songwriters with over 3 billion streams. Was it strange stepping into the spotlight rather than staying behind the scenes?
"It was definitely an emotional experience finally releasing an album. I read all the reviews and watched all the online commentary," she laughs. "It was really moving. I try to take time away from numbers, otherwise you'll lose your mind. Goals-wise, I would love to win a BRIT Award and a Grammy in the future.
Advertisement
"My lifetime goal is to create something so amazing that it creates a thumbprint in music history. That sounds really wild, but you have to dream. I want to make something so sick musically that people will play it when I'm gone!"
RAYE performs at Longitude Festival 2023 on Saturday, July 1 at Marlay Park.
Read the Longitude Special in the new issue of Hot Press, out now.
RELATED
Lifestyle & Sports
24 Nov 23