Pitchfork Music Festival in Berlin will take place November 1-5, while the Paris iteration will run from November 6-12.
Pitchfork has announced the initial lineups for 2023's Pitchfork Music Festival in Berlin and Paris, featuring three Irish acts so far.
Both festivals will be organised in a multi-venue format, spanning a variety of lauded music clubs in both respective cities. Dublin indie-rock quartet Pillow Queens are on the Paris bill representing Irish talent, following NewDad's performance in the French capital last year, while Gurriers and KhakiKid are performing at the Pitchfork Avant-Garde programme in the same city.
Dublin-based noise rockers Gurriers recently dropped their debut single 'Approachable' following appearances at Dingle's Other Voices and a support stint alongside Belfast outfit Enola Gay. Meanwhile, 22-year-old rapper Abdu Huss (KhakiKid) released his debut EP Elevator Music late last year, and recently returned with 'Underbite' alongside CARSTEN2X.
Pillow Queens unveiled their anticipated second record Leave The Light On at the beginning of 2022 after blowing the nation away with their beautiful debut album In Waiting.
Advertisement
Entering its second year, Pitchfork Music Festival Berlin will also feature Armand Hammer, Dudu Tassa & Jonny Greenwood, Fazerdaze, Flavien Berger, Ghostly Kisses, Hagop Tchaparian, Mandy, Indiana, Mavi, MIKE, MorMor, Mykki Blanco, Nabihah Iqbal, Porridge Radio, Sweeping Promises, Water From Your Eyes, Weval, and Youth Lagoon. Events will take place at venues including Zenner, Betonhalle at silent green, Kulturquartier, Astra Kulturhaus, and Festsaal Kreuzberg. More artists are expected to be announced soon.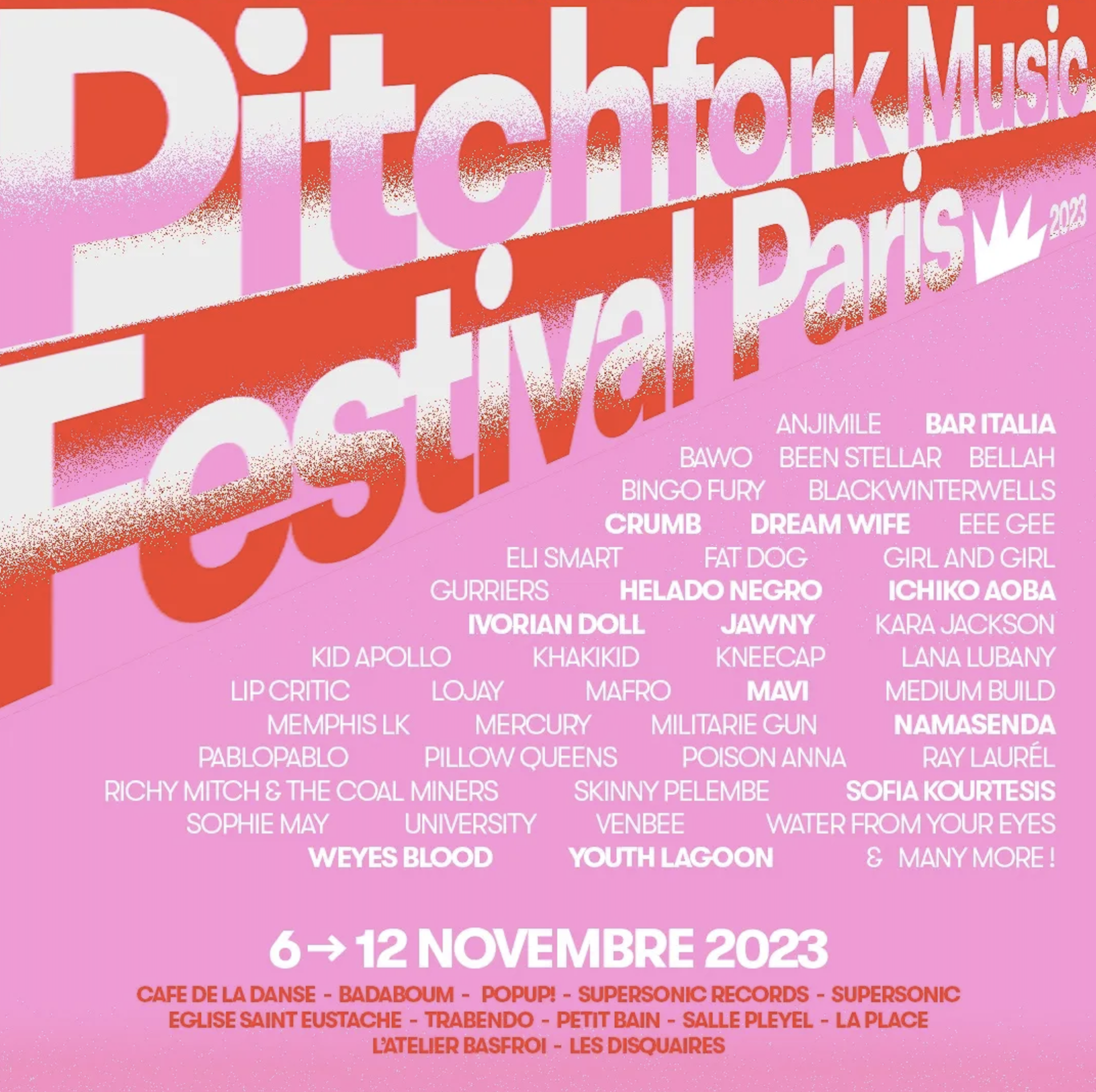 Now in its 12th year, Pitchfork Music Festival Paris is set to be headlined by Weyes Blood. Joining the alternative artist will be Been Stellar, Crumb, Dream Wife, Helado Negro, Ichiko Aoba, Ivorian Doll, Mavi, Namasenda, pablopablo, Pillow Queens, and Youth Lagoon, with more on the way. The festival will take place in several venues, including Eglise Saint-Eustache, Trabendo, Petit Bain, La Place, La Salle Pleyel, and more.
Pitchfork Avant-Garde programming will return during the Paris festival to present independent newcomers. Artists include Anjimile, Bar Italia, Bingo Fury, eee gee, Eli Smart, Fat Dog, Girl and Girl, Gurriers, JAWNY, Kara Jackson, Khakikid, kid apollo, Lana Lubany, Lip Critic, MAFRO, Medium Build, Memphis LK, Mercury, Militarie Gun, POiSON ANNA, Ray Laurél, Richy Mitch & The Coal Miners, Skinny Pelembe, Sofia Kourtesis, Sophie May, University, venbee, and Water From Your Eyes.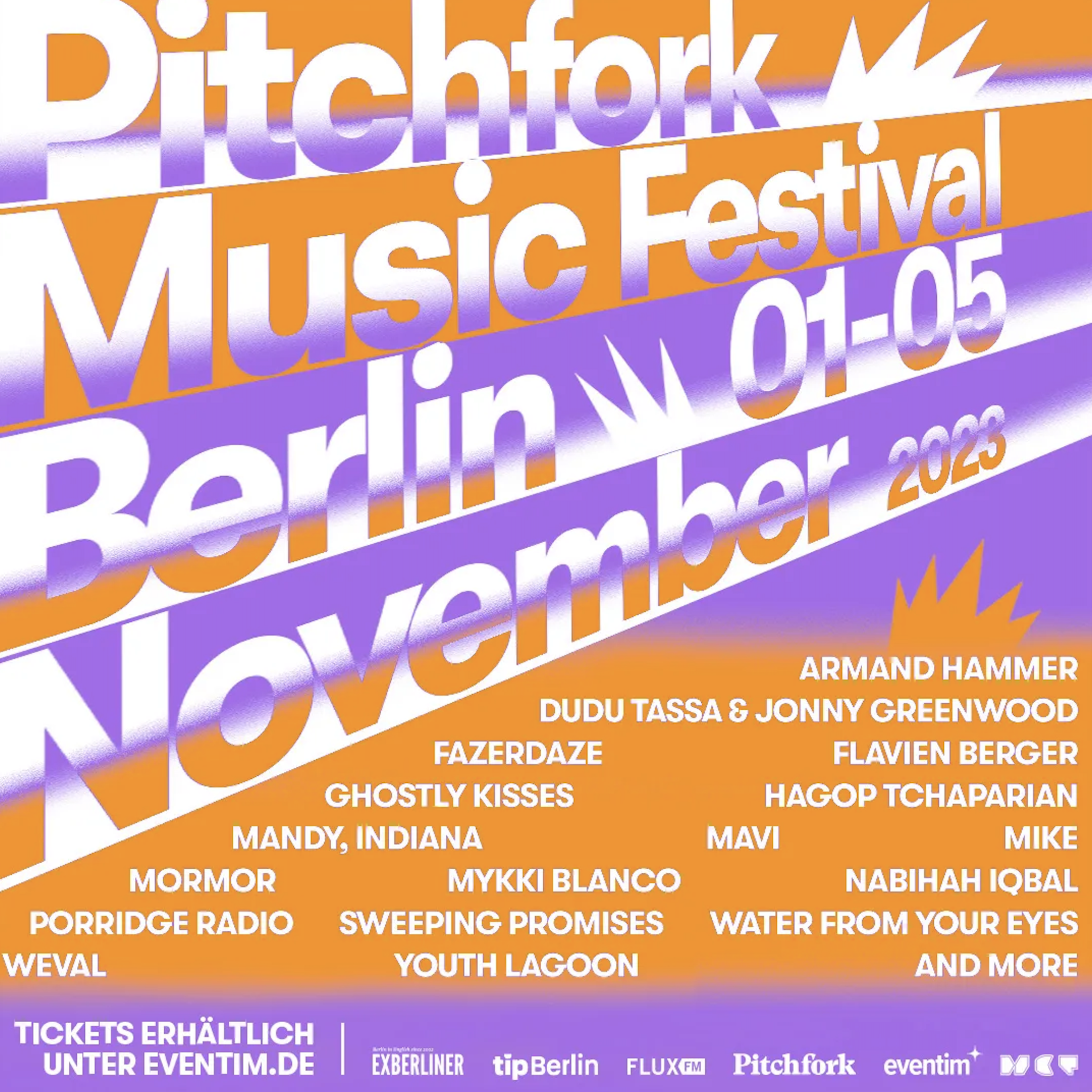 The Pitchfork Avant-Garde performances will take place in the Bastille district at venues including Badaboum, PopUp!, Café de la Danse, Supersonic, Supersonic Records, Les Disquaires, and the Atelier Basfroi.
Berlin will take place November 1-5, while the Paris iteration will go down November 6-12.
Advertisement
Tickets for the Berlin and Paris festivals will be available for presale on Friday, May 12, at 9am GMT (11am. CET) via Pitchforkmusicfestival.de and Pitchforkmusicfestival.fr, respectively.
RELATED
Lifestyle & Sports
22 Sep 23