Now We're Talking - Live: On An Extraordinary Night A Range of Public Figures Opened Up About Mental Health Issues
Hot Press, Lyons Tea and Pieta House played host to a unique event in Smock Alley Theatre last night, where a huge array of Irish public figures talked about their own experiences dealing with mental health, as well the importance of addressing the stigma.
There was a brilliant atmosphere in Smock Alley last night, on World Mental Health Day, for Now We're Talking - Live, the unique collaboration between Hot Press, Lyons's Tea and Pieta House, which aims to break the stigma surrounding mental health issues in Ireland.
The night was opened beautifully by Saint Sister. One of the finest emerging acts in Ireland over these past few years, Morgan McIntyre and Gemma Doherty gave us a stirring rendition, 'The Mater', taken from their acclaimed debut album Shape of Silence.
In our first panel, hosted by Hot Press' Stuart Clark in front of a packed-out audience, Pieta House CEO Elaine Austin, psychiatrist Colin O'Gara, actress Jordanne Jones, Today FM broadcaster Fergal D'Arcy, and Irish rugby international Hannah Tyrrell all spoke impressively about different aspects of mental health.
Elaine Austin informed the audience about a variety of Pieta House's projects, which aim to broaden the discussion around mental health. She spoke about the continuing importance of the Now We're Talking campaign, as well as Pieta House's new 'Resilience Academy', which is helping young people to learn skills and coping mechanisms to help them to deal more effectively with mental health issues.
Hannah Tyrrell shared a very personal story about her own encounter with Pieta House in the past. "My parents picked up the phone when I was self-harming and bulimic," she told us. "I received some wonderful counselling there and it was part of my path to recovery." Her story of feeling like no one could help her - then eventually reaching a breakthrough - was inspiring. "I didn't think anyone would be able to fix me. But slowly I allowed my counsellor in and I began to realise I wasn't the only person struggling with this."
Advertisement
Fergal D'Arcy, who was in fine, effusive form, talked about everything from his serious bouts with anxiety and depression, through dealing with break-ups, to how to handle being in the public eye and facing criticism. A particularly memorable moment came when he shared a message from a caller who was frustrated with Fergal's song-choices and criticised him. The broadcaster used this as the basis for an illuminating discussion on not letting the trolls, keyboard warriors and critics affect you to the point where it's having an adverse effect on mental health.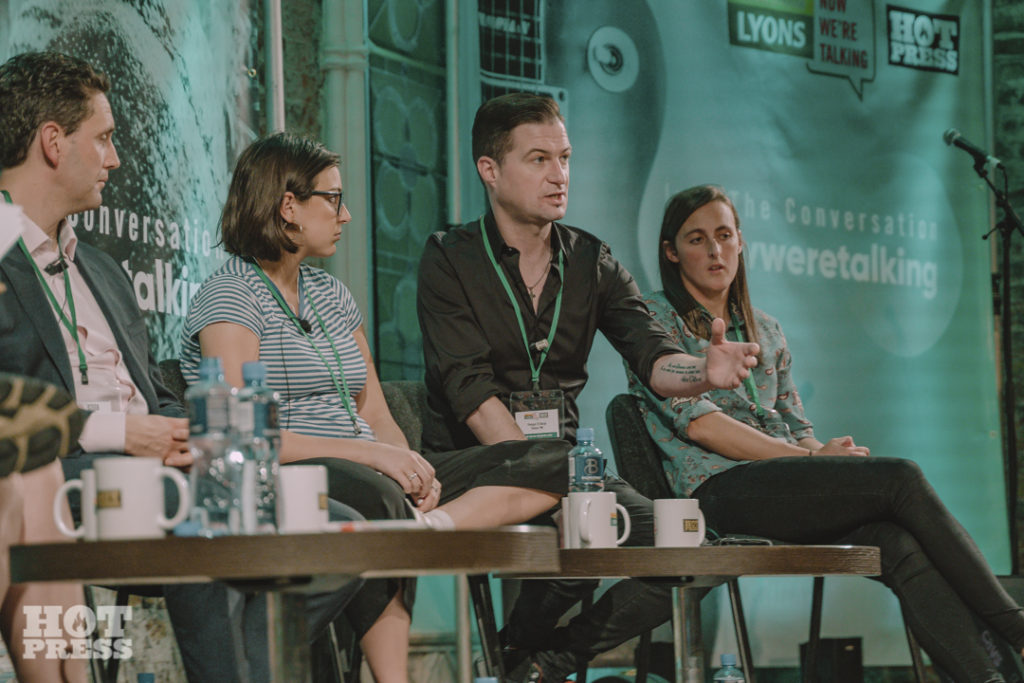 Jordanne Jones – widely regarded as one of the great rising stars of Irish cinema – spoke about being diagnosed with Asperger's Syndrome and borderline personality disorder, and what it meant to live with these conditions. She explained how they could make her obsessive, over-sensitive to the world, and sometimes overwhelmed – but ultimately, she shared how being diagnosed, and being able to talk about these conditions, helped her to look after herself. Jordanne also spoke about the impact that acting has had on her life. "I find it therapeutic," she said. She spoke about her role in the film I Used To Live Here, which deals with the ripple effect of suicide among young people in working class areas, and raised the important point that many young people -– in particular, young people from working class areas – aren't given an outlet for emotions like angry and frustration.
In a highly informative part of the discussion, Professor Colin O'Gara – whose expertise is in addiction – talked about how mental health problems present in a variety of ways. He talked about sub-clinical problems, where people who are feeling down talk it out with their friends or family; then he explored the clinical options available to people who need more help. He also raised the vital point that mental health services in Ireland are underfunded, which is in part due to the fact that we still haven't accepted, at official level, that mental health illness is no different to physical illness and requires an adequate level of treatment. "I hope by the time my children grow up, it won't be like that," he told us.
In breaks between the discussion, the packed house was treated to two fantastic performances. The first came courtesy of the poet Stephen James Smith. Speaking before his performance, he quoted Seamus Heaney to explain how poetry helps him cope with his own mental health issues: "If you have the words, there's always a chance that you'll find the way." Keeping with this theme, Stephen shared his poem 'We Must Create', a powerful statement on the driven nature of making art.
In what was final performance of the first act, the winner of last year's Now We're Talking song competition (run in association with BIMM), Emma Quinn took to the stage. Her song, 'Instead of Demons', blew us away when we heard it last year. A spoken word/stream-of-consciousness rap-style mediation on battling inner turmoil, that then bursts into a soulful chorus, it proved the perfect way to end the first part of the evening.
Advertisement
The second panel of the night featured rapper/spoken word artist God Knows, All-Ireland-winning Tipperary hurler Niall O'Meara, Virgin Media presenter Elaine Crowley, and Pieta House's Leigh Kenny.
In an especially moving contribution, Niall O'Meara shared some searing experiences from his own life. He talked openly about his brother Paul's suicide when Niall was just 11, and how this early experience affected himself and his family in relation to mental health. He also spoke about the pressures and expectations that come with being part of a successful county hurling squad, and how many of his teammates have started to speak up about their experiences with mental health. Finally, he spoke about how - as a primary school teacher - he's been teaching young people how to deal with things like cyber-bullying.
Leigh Kenny, who is the Regional Manager for South Leinster Pieta House, explained the nuts and bolts of what's involved when people come into contact with Pieta House. Leigh spoke eloquently, helping to demystify – as well as de-stigmatise – what it actually means to take the first step and approach an organisation like Pieta House.
Elaine Crowley gave an eye-opening, and often funny, account of depression, and how it can affect a person even when they appear to be doing well on the surface. She spoke, with profound honesty, about the times when the depression almost stopped her from going to work, and the challenges that come with being a public face when you're battling these issues.
Finally, performer and rapper God Knows (a solo artist as well as a member of the Choice Music Prize-winning outfit The Rusangano Family) spoke energetically about the intersection between mental health and music, noting that the common thread in his recent songs has been mental health. He spoke about the process of learning to be understanding whenever you had a family member dealing with mental health issues, as well as the idea of being a role model for people who might look up to him.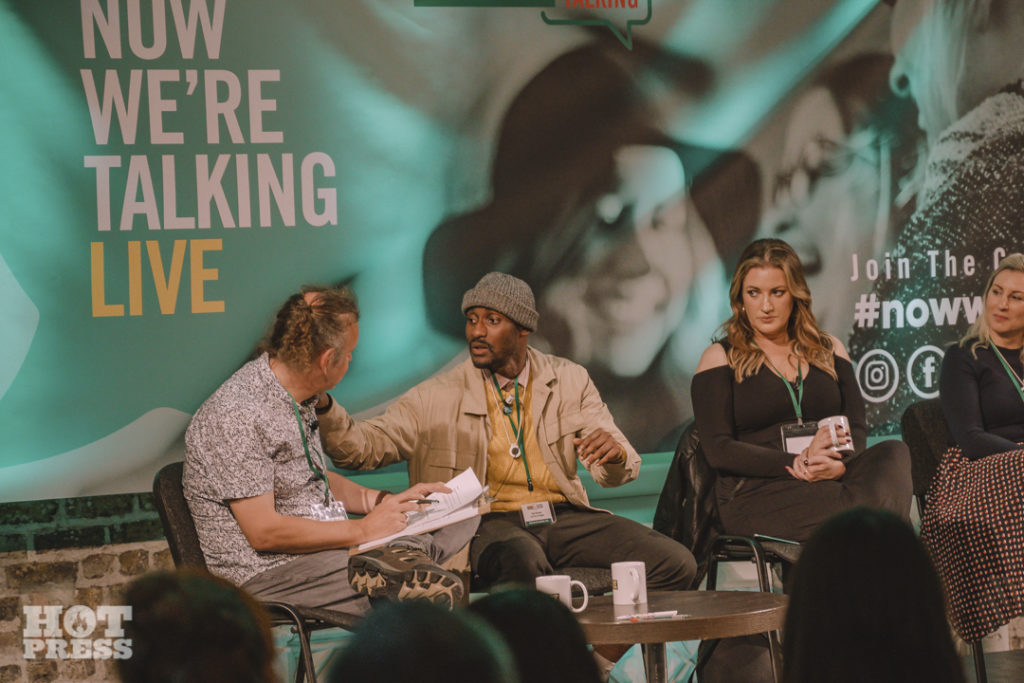 Again, there were performances – from Delorentos and Ham SandwicH – that offered a fine elaboration on the themes of the night. Delorentos' Kieran McGuinness took to the stage to sing 'Am I Done?', a lovely, introspective song about writer's block and the nature of making art, from the band's most recent album True Surrender.
Advertisement
The final performance of the night came from Ham SandwicH. Following a fine, heartfelt introduction from singer Niamh Farrell on the importance of being able to talk about mental health issues, they sang their 2015 single 'All Worthwhile'. With the ever wonderful conversational vocals of Niamh and Podge leading to exquisite harmonies which also included guitar player Brian Darcy, this was a perfect way to end the night...
With a wide range of voices from different backgrounds talking about their unique encounters with mental health, overall, the evening served as an important moment in broadening the necessary discussion about mental health. It perfectly captured the purpose and intent of the Now We're Talking campaign.