Melts: "Things have connected a bit more in this band than in previous bands, we've gone down the right path"
Dublin garage rock maestros Melts discuss their debut album, the brilliant and audacious Maelstrom.
Eoin Kenny and Robbie Brady have been around the block, as the saying goes. Kenny was a vocalist for Dublin alt-band The North Sea, who released their critically acclaimed debut album Anniversary in 2015 but called it a day shortly thereafter.
Elsewhere, Rob was a member of psychedelic outfit Exploding Eyes, who dropped a debut LP in 2016 a year after forming. His experience also extends to his time with The Things and garage rockers Cheap Freaks. All in all, quite the rake of tour dates, recording sessions and line-up changes.
"We've both done similar things over the years, like album releases, says Rob. "But this time, everyone in Melts [including drummer Gaz Earle, bassist Colm Giles and Hugh O'Reilly on guitar] are pushing it a bit more. Everyone's got all hands on deck."
Interestingly, Rob and Eoin were the last members to be added to the rising band's line-up, but the space-rockers clicked as a quintet immediately. The frenetic energy at the core of Melts' debut album Maelstrom, produced by Gilla Band maestro Daniel Fox no less, has something special. Infusing sci-fi elements and Brady's hypnotic organ, the eight-track LP is a perfect storm.
"Things have connected a bit more in this band than in previous bands," Eoin nods. "I think in previous bands we were trying to be something else. When I listen to that material, you can hear influences very obviously in the tunes. With Melts, it might have started out that way, but when we developed the sound we have now, with the sequencer and big guitar parts, we really felt this was going somewhere. From about the 2018 mark, we were heading down the right path.
Advertisement
"With every band you've been in, you're striving to do a certain thing. You're probably overthinking it too much. Then there's the fact that everyone's heads might not be in it as much as yours, or maybe your head isn't in it. We never really set out to have any specific sound with this band. There were a few ideas shot around, but everything was thrown into a pot. Now we can have sketches of songs, organically putting things together. That flow of work excites members of the band."
Eoin outlines their writing process.
"It starts with music first in the studio," he explains. "Rob or Hugh will come in with something and then we record it on my phone. Whatever kind of mood the song has, the meaning and words will follow. That lays out the map for where the track is going to go. It only takes one word or phrase for it to take shape."
While much of the album is conceptual, examining the dystopian aspects of modern life, one of Maelstrom's most affecting tracks centres around suicide.
"'Spectral' is the only song with personal subject matter, where the lyrics aren't as abstract," Eoin reveals. "That one does hold quite a special place for me out off all the tracks. It's been a tricky one because it's tough subject matter; it's about not really being there for someone and feeling guilty, or haunted. You were once close but not anymore. I hope that does connect with people."
Similarly to For Those I Love, often artists feel torn by the desire to put the tragedy into words, in a manner that avoids exploitation or profiting from others' pain.
Advertisement
"Yeah, I almost kind of didn't want to put that as the meaning of the song," Kenny says of 'Spectral'. "I like when our audience can interpret the song in their own way, so I was a bit hesitant sharing the personal link - but that is what the song is about for me. For other people, they might relate to the lyrics from their own relationships or friendship because it's raw. Other songs are colder, in a more sci-fi vein, where people can't connect. 'Spectral' is definitely on the other end of the scale."
"It is nice to have that shift on the album, I think Maelstrom needed it," Rob jumps in. "Everything fell into place. The LP needed a breather and the song came together really fast. That's just one take in the studio and we were done for the day."
"We chase the demo," Rob continues, with a smile. "It has to sound like the version on Eoin's phone. It wouldn't be as lush as the Rolling Stones' music!"
The lo-fi production, though, only adds to the magic. Working with Fox, Melts sought to maintain a live quality to the LP.
"He did help a bit in the studio, but we were in the space of where we wanted to go with the record," says Rob. "Pretty much everything on the record is done live, at the same time, and we did give Dan some references of sound and he was influential with that. We were kind of thrown into the deep end in the studio because we didn't have a whole lot of time.
"We gave Dan some demos, and he just captured our sound but made it ten times bigger. Instead of tidying things up, the atmosphere happened and he pushed us down that route. It's the start of a beautiful relationship."
In the same way that UK bands benefit from having Dan Carey's production credit highlighted in their press release, Daniel Fox's name gets you noticed around Dublin.
Advertisement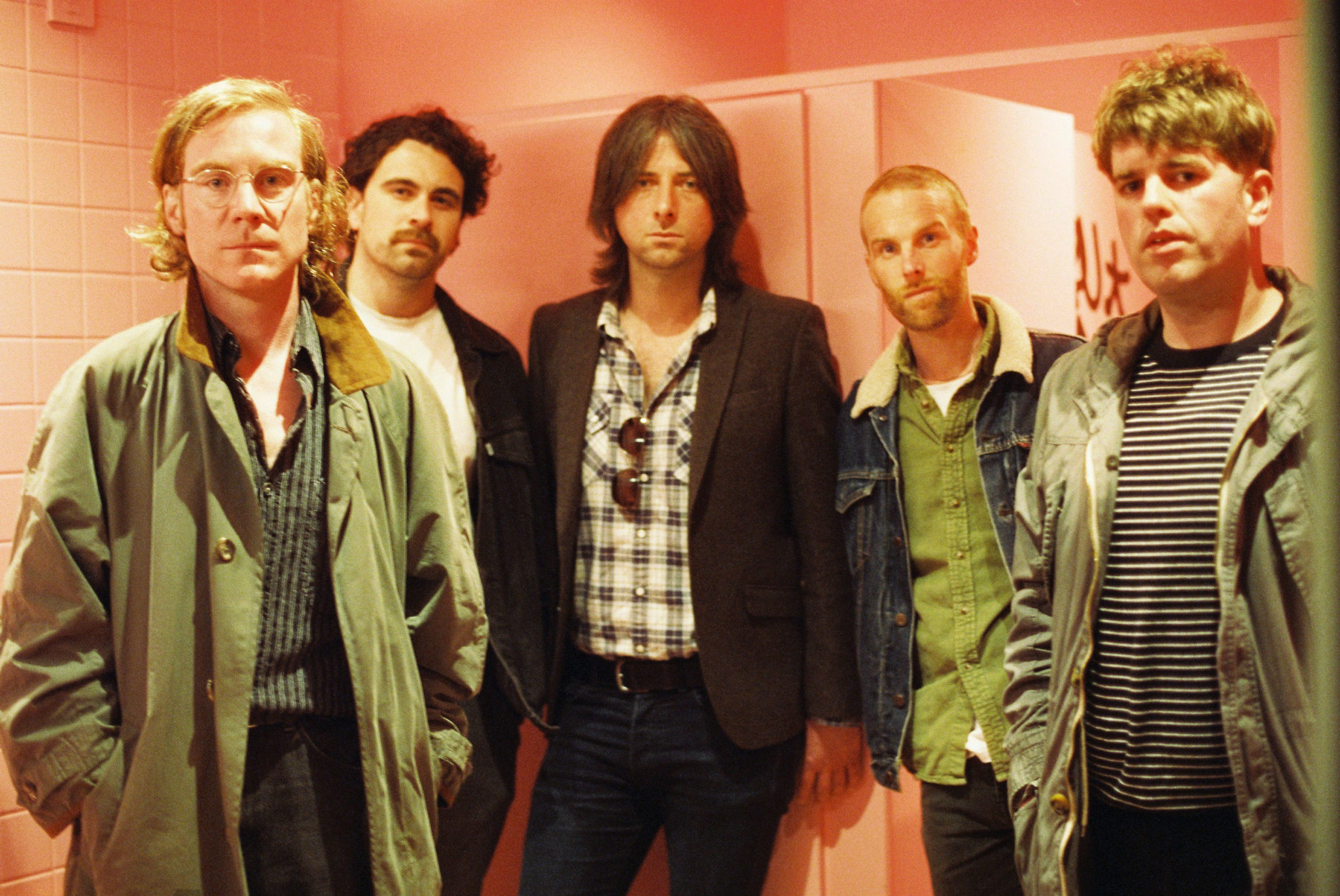 "Yeah, who's the better Dan?" Rob laughs. "We know the Gilla Band guys well - we're big fans. The album that captured my ear from Dan was one he did a couple years ago: Cian Nugent's album, Night Fiction. I was just blown away by the mood he captured. That was one of the reasons we wanted to go with him. Dan can somehow conjure up any specific sound, but still put his own stamp on it."
Unusually, Melts initially shunned the idea of a lead vocalist.
"Gaz and Hugh were putting something together with Colm, and they didn't want to have a lead singer per-say in the beginning," Eoin recalls of their beginnings. "They wanted a more garage kind of buzz, so they didn't want me. I had a reputation for being a lead singer (laughs). I had just come out of a band that had a pretty bad break-up, and finally they brought me down. I joined and it went from being a purely garage band to being a bit more psychedelic.
"We did a gig, then got Rob in the band. Then we started experimenting more with '70s sequencing. We recorded way more songs for the record, but gave up working on the garage-influenced tracks."
"We were going to Germany to record the album and it just kept getting prolonged," Rob interjects. "By the time the album came around, we were changing things and the older stuff was getting eliminated. We had moved on by that stage. We had flights booked and myself, Gaz and Hugh went and ended up just drinking on the streets of Berlin. But it kind of worked out as a blessing, because the sound of the equipment we had is quite specific, so it probably would have been a nightmare."
Did the pandemic put any questions over the band's future?
Advertisement
"I can speak for all of us by saying at the start, we probably didn't know where anything was going," Rob admits. "We were on a roll and about to start an album. There were quite a lot of things we had organised that left us a bit heartbroken when they were cancelled, like Primavera in Spain, but we kept ourselves focused."
Had Eoin and Rob crossed paths prior to Melts?
"I'm from the northside as well, so we've known each other for a few years," Rob smiles. "Not on a close level, but I've known who he was for quite a long time, and he would've known me. We knew Colm as well, but we all had different styles."
"We were in the scene together," Eoin confirms.
"We would've hated each other's bands," Rob quips. Neither ever really contemplated throwing in the towel, despite disappointments.
"Over the years, I've always balanced jobs that are flexible enough to get to do stuff like this," Rob says, after a pause.
"It allows you to do something during the day, so I'd always work odd jobs to pay the bills," Kenny adds. "Music is an expensive hobby… it's not a cheap thing to do."
Advertisement
"And we all know how extortionately overpriced Dublin is," Brady shakes his head.
"There's just no place anymore," Eoin affirms, dejected. "There used to be locations where you could rent a studio in Dublin, but I don't think that exists anymore. There's a few different places in the East Wall, a tattoo parlour and interesting spots. We're in Yellow Door but there's not a lot of places left for run-down factories.
"Wednesday to Sunday you'd be seeing other bands, but then for a couple years we were all in different places in the back of old buildings. It was a bit grimy," Rob recalls. "Yellow Door is a great place because there's a sense of community. When people come over from the UK to watch us play there, they always get a bit lost."
Have Melts got their eye on any other rising Irish acts in the industry?
"You look at Saint Sister putting out albums and selling out the 3Olympia Theatre in Dublin, it's amazing. It's mad," Eoin enthuses.
Advertisement
"A couple of Irish bands we love are now in the limelight, which is awesome," Rob nods. How would Melts respond if they were catapulted to the highest level of fame?
"We'd just drink our way through it," Rob chuckles.
"I'd love to be selling out… just selling out," Eoin laughs. "Ah no, I mean selling out a big hometown show in a few years."
Melts are already planning album number two, with no lockdown to stop them.
"Early next year we'll look into recording," Rob confirms. "The next album will be slightly different. We want to move fast because those two years were wasted!"
• Maelstrom is out now. Melts play Whelans on October 12.
Advertisement