Malachy Tuohy: "I knew I Cross This Universe was a solo album the moment I wrote the title track"
"There is a crack in everything, that's how the light gets in," said Leonard Cohen and so it proves to be on I Cross This Universe, the debut solo album from Riptide Movement man Malachy Tuohy, which finds hope in the darkest of places.
Like wine, whiskey, cheese and Seamus Coleman, a good songwriter matures with age, displaying depths and qualities that weren't immediately apparent in their younger selves. That's definitely the case with Malachy Tuohy, the Riptide Movement singer who's always been able to pen a fine rhythm 'n' booze belter, but on his debut solo album, I Cross This Universe, exhibits a mastery of melody, language and storytelling that's positively Van Morrison-esque.
Add in guests appearances from Maire Brennan and American guitar god Albert Lee, to name just two, and there's lots to talk about as Mal and myself meet up in HP Central.
Seeing as I've just evoked the Great Man, I'll start by asking him about the masterful version of 'Brown Eyed Girl' which the Riptide boys contributed during lockdown to our Rave On, Van Morrison 75th birthday celebrations.
"The key when you're covering a song is to in some way try and make it your own, so we slowed it right down and did it semi-acoustically over Zoom in four different living-rooms!" he recalls fondly. "I was blown away to hear that Van listened to all 75 of the songs – we're major, major fans so it was a huge honour."
Advertisement
If you haven't already heard it, precede immediately to the Hot Press YouTube channel. As for I Cross This Universe, when did Mal realise that it was a solo album he was writing, not a Riptide one?
"Pretty much the moment I wrote the title-track – that song, which anchors the album, is about parallel universes and time travel," he explains. "I thought I could use it to jump around and write about things that are really personal to me. 'The Artist', for instance, is about a relative of mine, Patrick Tuohy, who was born in 1894 and was commissioned by James Joyce to paint a portrait of his father. John. He was born with no left hand but overcame that to become a brilliant artist, albeit one that died prematurely in his thirties. Then there's my version of 'A Song For Suzie', which I did as a tribute to a producer friend of the Riptide's, Tony Colton, who passed away in 2020.
"We were in Heathrow Airport in 2006 and ahead of us in the queue was Tony. He turned around, saw Jay's Rory Gallagher t-shirt and made an approving comment. Jay said, 'Yeah, he was this great Irish guitarist' and Tony went, 'I know, I produced two of his albums with Taste.' We were blown way, got his details and sent him a demo which, seeing as he'd worked with the likes of the Allman Brothers and Johnny Cash, we fully expected him to ignore – but thankfully he didn't and came over to Dublin to produce our What About The Tip Jars? debut, which gave us major belief in what we were doing."
Colton co-authored 'A Song For Suzie' in 1971 with the aforementioned Albert Lee who played on it during his tenure with English country rock legends Heads Hands & Feet.
"Tony, who I'd kept in contact with, passed during Covid when I was writing I Cross This Universe," Mal resumes. "I've always loved 'A Song For Suzie', and when I got down to Gavin Glass' Orphan Studio in Wexford had a go at recording it. We were chatting in the live room and said, 'Wouldn't it be cool if we could get Albert Lee to play on it?' It felt like a real longshot but we got in contact and he said 'Yes'. So he recorded his part remotely in California and sent it over, which again ties in with the theme of different times and places – a song jumping forward 52-years with the same guy playing on it, albeit 5,000 miles away through a cable to a studio in Ireland!"
Advertisement
Another standout with a deep personal resonance is 'Jarlath', a tribute to his late uncle who was in palliative care when he caught and died from COVID.
"Normally, I'd have gone in with my guitar and played him a song, but with only two family members allowed to visit I couldn't," Mal rues. "So, I wrote and recorded a rough version of 'Jarlath' that my Mam was supposed to take into him in the hospice but before she could he passed. I played it at his funeral, though, so hopefully he somehow got to hear it. I asked two friends of mine, Rachel Grace and Maire Brennan to sing on 'Jarlath', which gives it that otherworldly feel."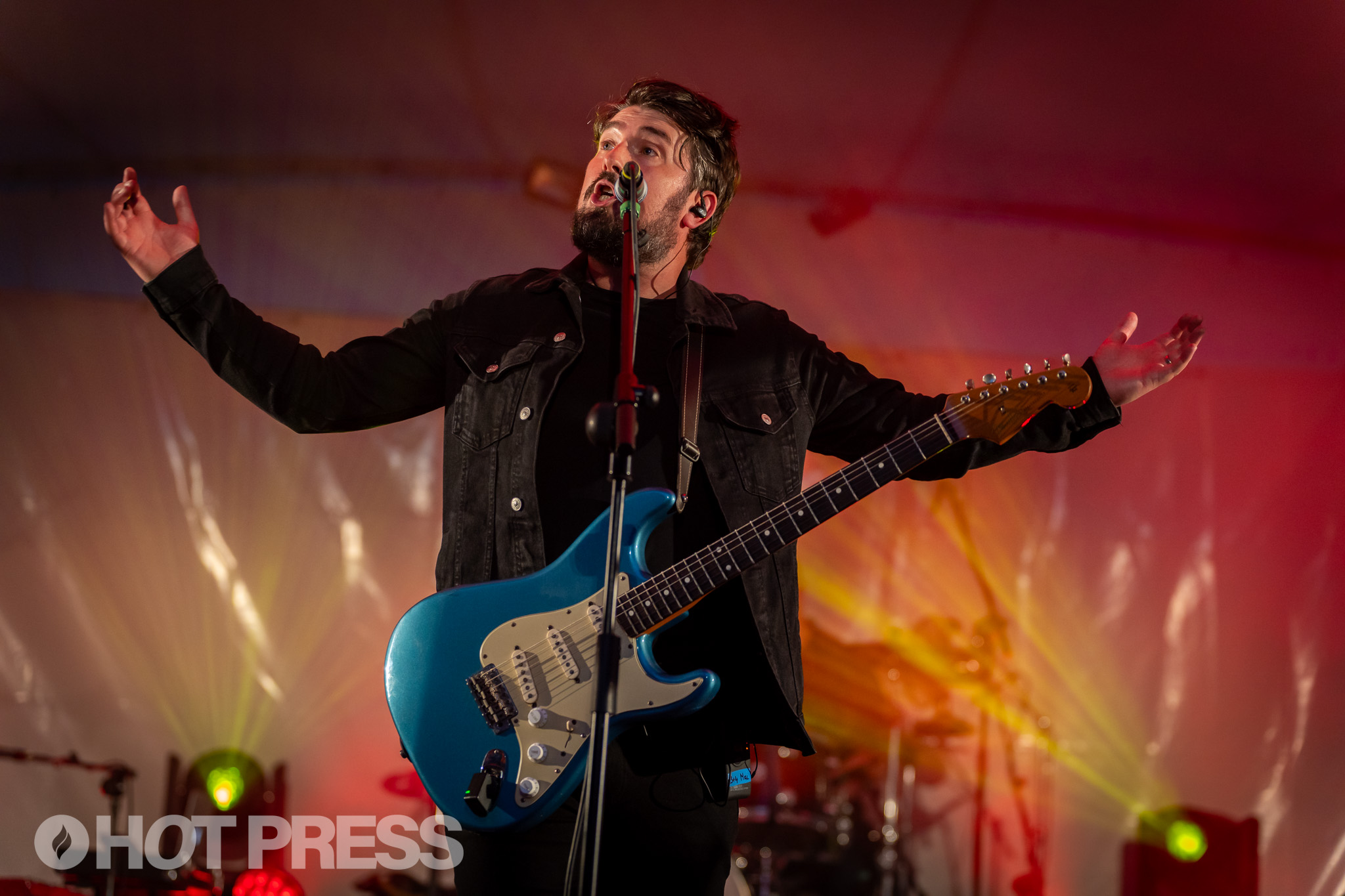 Designed to be listened to in its entirety on vinyl – Mal agonised over the sequencing which is firmly split into A and B sides – I Cross This Universe's penultimate track is 'Rainy Boy Sleep', which is dedicated to the Artist Also Known As Stevie Martin who passed away in 2016 in tragic circumstances.
"Stevie and The Riptide Movement were both signed to Universal in 2014 and we had an agent in common, Paul Charles, who's just had his autobiography published by Hot Press," Mal explains.
"We played together a few times, including at Glastonbury, and really hit it off. My last time running into him was before our respective gigs at the Maritime Festival in Derry. We were supposed to catch up afterwards but didn't and two weeks later he passed, as you say, in tragic circumstances. It was very shocking then and still is now. Stevie was such a kind, gentle soul. Listen to 'Ambulance' or 'Manchester Post' on Spotify and you'll realise what a talent he was."
We could talk more about the uplifting glass half-full pop of 'Lemonade', the celestial 'Requiem' which makes impeccable use again of Maire Brennan and 'Most Of The Time', a twangy '50s throwback crying out for a glitterball, but you'll just have to discover them and the rest of I Cross This Universe yourself.
Advertisement
• I Cross This Universe is out now. The Riptide Movement play Forest Festival in Laois between July 21-23.
The new issue of Hot Press is out now.