Tickets from €25 including booking fees are on Friday 8th July at 10am.
Fresh from the release of her collaboration with DJ John Gibbons, Irish singer-songwriter Lyra has announced details of her upcoming November Irish tour.
The jaunt includes a date in Dublin's 3Olympia Theatre, her debut headliner in the venue, on 8th November 2022. Lyra will be supported throughout the tour by Dublin songwriter Saibh Skelly.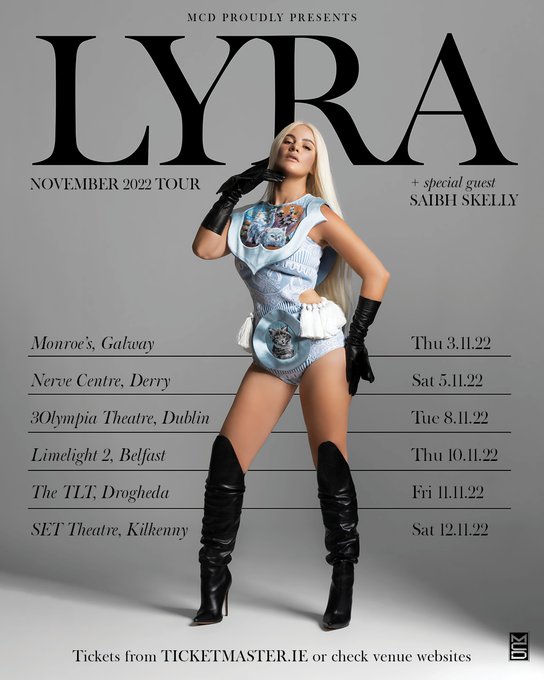 Having self-released her debut EP W.I.L.D., produced by Rupert Christie - who also worked with Kate Bush, Coldplay and Aurora - in 2016, the Cork-born songwriter signed a deal with a major label Universal.
"Before that, I'd been called into a lot of record labels, but I didn't think that I was ready as an artist," she explained to Hot Press last year. "They were very much trying to put me in a lane that I didn't want to be in. A bit more poppy, a bit more polished I suppose, a bit more sexy. I knew that that wasn't going to be me in the long road, so I decided to take my fate into my own hands and bring out my own EP and tell my story of how I saw myself."
Advertisement
Universal released the single 'Falling' before her Electric Picnic festival slot in 2019. Lyra later played The 2FM Christmas Ball, Latitude, sold-out headline shows in London and Dublin, and supported Jess Glynne, Dermot Kennedy and James Bay.
Since then, she has performed on Ireland's Got Talent and Dancing with the Stars, and last November 'Falling' was featured in the massive US hit TV show Grey's Anatomy. 'Falling' was also nominated for Single of The Year 2019 at the RTE Choice Music Awards.
In 2020, her song 'New Day' (a cover of an old Jackie Lomax track) was released as a single and was used to soundtrack TV commercials in the UK (Sky Sports) and the Netherlands.
In 2021, it was announced that Lyra was to be one of the judges on the Virgin Media One talent show, The Big Deal. She also performed on New Year Eve's at Dublin Castle alongside Picture This.
Already, 2022 has seen her collaborate with fellow Irish artist Shane Codd with a remix of her track 'Lose My Mind', and she recorded an original single 'Light Me Up' for the motion picture Riverdance.
Tickets from €25 including booking fees are on Friday 8th July at 10am.
Her 'Edge of Seventeen' collaboration with Gibbons is the latest of a series of releases ahead of her November tour.
Advertisement
Check out the video for the single below.
Revisit LYRA's 2021 interview with Hot Press here.