Live report: Punk-inspired fashion competition honours English punk icon Jordan Mooney
A celebration of homegrown talent, Defying Gravity: A Punk Odyssey launches at Belfast's Banana Block.
A unique events space and living museum, East Belfast's Banana Block was taken over by a host of leather-clad models, designers and fashionistas last Thursday to mark the inaugural outing of the punk-inspired fashion competition, Defying Gravity: A Punk Odyssey.
Originally devised to feature Jordan Mooney, who died of cancer in April 2022 aged 66, this exciting new fashion show pays tribute to her towering legacy, even echoing the name of her 2019 memoir, Defying Gravity: Jordan's Story. Having worked alongside Vivienne Westwood and Malcolm McLaren in their infamous King's Road boutique SEX, Jordan became part of a gang that appeared onstage with the Sex Pistols.
The show was originally timed to mark Belfast being awarded the prestigious UNESCO City of Music status. The city was awarded the accolade in November 2021 due to its "rich musical heritage". It is the only Irish city to be given the honour, and the third in the UK, previously awarded to Liverpool in 2015 and Glasgow in 2008.
Advertisement
With every seat claimed alongside the catwalk, the audience was warmed up by an eclectic pre-show soundtrack, booming classics like Nancy Sinatra's 'These Boots Are Made for Walkin', 'Nowhere to Run' by Martha Reeves and the Vandellas and ELO's 1979 global hit 'Don't Bring Me Down.' The night was curated by a host of creatives, featuring a live soundtrack by acclaimed Belfast producer & DJ Phil Kieran, A/V from Visual Spectrum, visuals and film courtesy of Stephen Hackett, hair by Andrew Mulvenna and costume design by Cathy Prior, who worked on the critically acclaimed Channel 4 series, Derry Girls. To top it all off the show was hosted by Belfast's beloved broadcaster and Coronation Street appreciator, Julian Simmons.
The fashion show welcomed four special guest judges including legendary Glasgow fashion designer Pam Hogg, North Coast stylist and illustrator Sara O'Neill, award-winning hairdresser Andrew Mulvenna, and London musician Marco Pirroni, who has worked with artists including Adam Ant, Siouxsie and the Banshees and Sinead O'Connor.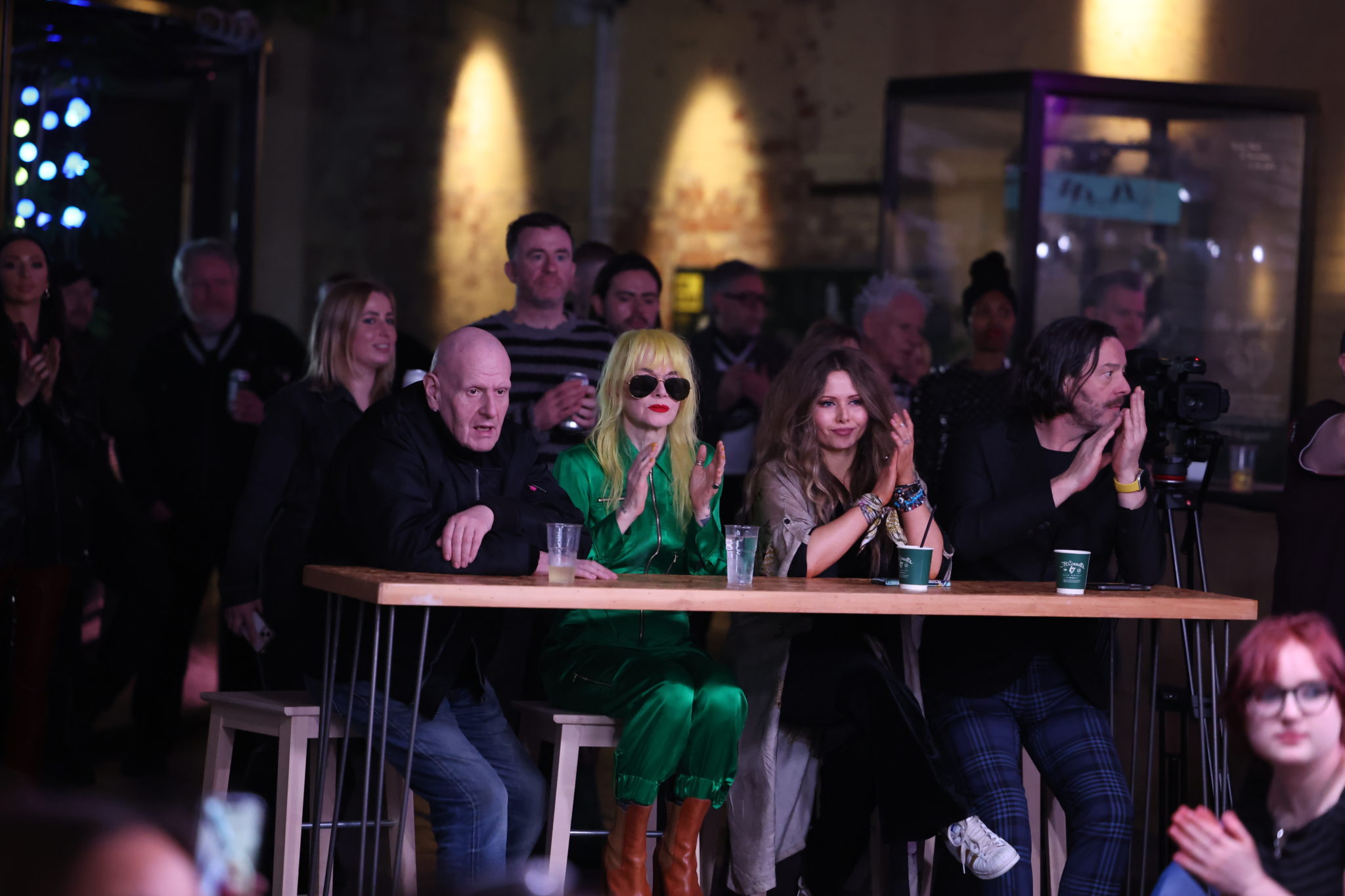 An impressively polished event, the evening showcased bold creations by a slew of uber-talented young designers representing the Belfast School of Art, including Kaylee Doherty, Giuliana Caggese, Lauren McGrath, Caroline Ingram, Anastacia McGivern, Sinead O'Loan, Aoife Harvey and Tara Ozgen. The night gave a diverse range of local fashion designers the chance to present their work and gain immersive work experience with a major TV network and a £1000 cash prize. Walking home with the main prize was Robert McGillicuddy, a current 2nd-year student at Belfast's University of Ulster's School of Art, BAHons Textile Art, Design and Fashion, while Ryan McGuinness and Matthew Tanner were both worthy runners up.
Defying Gravity co-founder Sinead Green said of the event: "It was borne from our friendship with Jordan Mooney, and in tribute to her... She was our original guest judge and as she passed away last year, we wanted to continue with the show in her memory and deliver something that she would be proud to be a part of." Green continued: "We wanted to create an annual event that showcases and engages with multiple disciplines across the creative industries in Belfast, but with a celebration of music being at its core."
Advertisement
A wholly enjoyable night all-round. Roll on next year's installment.