Leith Ross: "Queerness is such a vital part of everything that I do. I love being associated with it"
Fresh from playing a sold out show in Dublin's Grand Social, Canadian singer-songwriter Leith Ross opens up about their debut album To Learn, scheduled date at Vicar Street this November, High School Musical and more.
I meet the unassuming, soft-spoken Leith Ross in the lobby of The Gresham Hotel on O'Connell Street ahead of their Grand Social headliner on April 24th. The anticipated show comes as part of their debut sold out UK and European tour, despite the musician's debut album To Learn still waiting in the wings to arrive on May 19th via Republic Records.
Having garnered massive TikTok support for their gentle form of narrative storytelling, achingly personal indie bedroom tunes and ability to infuse empathy into their songs, their fanbase is full of young, often queer, teenagers yearning to feel seen. Raised in a tiny spot outside of Ottawa, Ontario, journalists tend to lead with the 'small town coming-of-age' line.
"Totally. That's why I generally try to forget about it. I don't rep the town!" Leith laughs, sitting on a plush couch in the hotel bar. "I went to an arts high school in the city, which I liked, but where I was raised is very conservative. The MP in that area is now running for Prime Minister and he's an evil snake of a man. I hate Pierre Poilievre, for the record."
Advertisement
Given Ross' diaristic accounts of queer love in all forms (romantic, platonic and communal) and diverse fanbase, the Winnipeg-based artist tends to be quizzed on LGBTQ+ topics.
"Strangely, I really love claiming queerness in that way. It's such an important part of everything that I do," Leith remarks, sincerely. "When I was a lot younger, I had that feeling of not wanting to be pigeonholed or an aversion to only being questioned about queerness. But now I'm like, queerness as a lifestyle and a politic and a way of loving, a way of living, a way of making music - is crucial to me. I love being associated with it all the time."
The likes of boygenius, Clairo, King Princess, MUNA, Arlo Parks, Lil Nas X, Sam Smith, Hayley Kiyoko and Janelle Monae have allowed queer artistry to shine on a massive scale.
"When I was younger, I didn't know many visible LGBTQ+ artists. I would just go on deep-dives on YouTube for any gay songs I could find. Now, all the artists from this community who inspire me are my friends. It's beautiful. I'm also very blessed to have wonderful parents who support both me and my music," Ross adds, brightly. Leith's mother is a pharmacist and their father is a retired high school teacher of ethics, world religion and English. "That explains a lot about me! We were having discussions about the meaning of life when I was 12 at the dinner table. I just got set up to be a very introspective, world-questioning, little human being."
"I'm super grateful for that gift I was given so young. I wasn't really coming into myself until I was 22 or 23," Leith concedes, smiling. "I matured in a lot of ways. I lost some people, but now I have a little group where I'm positive we're going to be around forever. It's an incredible feeling. I'm really into queer community building and having it be an alternative to the more stereotypical, romantic love - not a replacement. When I was growing up, I thought I'd find one person who I love more than anyone, be with them forever, and it would be enough. Now I want to live with 20 people!"
"Why isn't that seen as more of an option: to live with your friends forever?" they laugh, shrugging. "It feels ridiculous to me. Our late-stage capitalist society has completely made us believe that individuality is the thing but none of us could survive without each other. I've been trying to bring that back into my life and my community, that feeling of dedicating myself to many people and trying to keep those relationships strong."
Advertisement
How does that work when Ross has only begun their touring journey as an artist?
"Tour is crazy, and hard. It's so romanticised. Hitting the road? I think you mean exhaustion, not eating properly, not sleeping enough! You can never visit any of the places that you're in, which is the most painful thing in the world. You don't even have two hours to walk around. Tour is worth it to meet the people listening to the music but everything else is difficult."
It doesn't take long before Leith and I unpack the needlessly harsh experience of making a living as an artist in a society that often doesn't value their work or struggle.
"Especially in the west: individuality, the failures of capitalism. Of course I managed to get that sentence in!" they laugh. We're into the Gen Z Communist portion of the proceedings I see. "Yes!" Leith confirms. Their older brother and younger sibling also received the dinner table philosophy discussions, so the Ross family are well-informed.
"Absolutely. We all got the training really young. It's a burden sometimes. Constant existential crises, all the time. Most of the songs that I write are about the meaning of life! Why am I alive? What's the point of it all? You have to go through it. When I meet people who haven't, I'm like: the universe goes on forever, and we're on one planet. I know that's the oldest thought experiment in the book, but it really takes 30 seconds to think about it. It starts to freak you out."
What kind of floating rock crises appear on your new album?
Advertisement
"More hopeful ones," Leith suggests. "The existential crisis but then some kind of solution. There's at least four-ish songs that are about more general philosophical concepts about things that I've learned about life. Then there's the classic songs about relationships and heartbreak. In the time that I was writing that record, there was a lot of trying to understand myself in becoming an adult and my place in the world."
Having released their debut eight-track project Motherwell in 2020 following beautiful singles 'Tommy' and 'Everyone I've Never Met', Leith maintained their stratospheric artistic momentum in 2021 with 'I'd Have To Think About It', amassing nearly 12 million Spotify streams.
Armed with a rising profile on TikTok and among tastemakers, Leith signed to Republic Records in 2022. '(You) On My Arm' marked Leith's first release of 2023 and follows their previous viral singles like 'Orlando.' The breakout 'We'll Never Have Sex' has amassed over 42 million Spotify streams and millions of video views to date. Do the wild numbers add a level of expectation for To Learn's release?
"It is a lot of pressure. It feels anxiety inducing for sure," they nod. "I just get nervous about all the things I'm vulnerable about on To Learn being public information but, and I've been saying this the past couple of weeks, the thing that has been getting me through it is not taking myself seriously.
"The music industry makes you feel like you have to be this capital-A Artist. I keep finding myself being like, 'Aw, man, I should craft more of an image for myself'. The only thing that makes me feel normal is: who do I think I am?" Leith laughs. "People like it, hopefully, and if not I'm just one person and I feel like I've reached all of my dreams already. Now I'm just coasting, trying to be a good thing for people."
Advertisement
One glance at Ross' TikTok and YouTube comments and you may feel overwhelmed by the intensity of their young fanbase's vulnerability. The confessional aspect is a two-way street.
"I don't know where the line is yet in terms of 'trauma-dumping'," the musician remarks, honestly. "It depends on the day. Sometimes I have enough capacity to respond and handle it. I feel good emotionally and I feel like I can read those things. Then it feels amazing - I just bawl my eyes out. There's actually no way for me to psychologically understand that something that I've done has affected someone that much. It's the most humbling experience that I've ever had to know that there are human beings in the world that have been changed by something that I did. It's the most incredible, unbelievable thing that has ever happened to me. So long as I am in a good place and can be centred in that, it's amazing because I just feel so lucky. It's completely indescribable.
"On days when I'm not in such a great place, it does feel super hard," they continue, cautiously. "For me, I just regulate it. I just check in with myself and if I'm not really feeling like I can see that, then I try to not go on social media. Sometimes I do it on purpose to remind myself about why it's important to log off. I don't love the lifestyle of being on the road. This is a crazy job."
Luckily, their relationship with their followers has so far only led to positive in-person experiences.
"I've been working really hard over the past year to make things feel normal as far as the relationship with people who listen to the music," Leith informs me. "To dispel the mystery that the music industry creates around artists where they become this deity almost instead of a person which has a horrible effect on everyone involved because it's dehumanising. We just forget we all have boundaries and are people.
"I do my best to be accessible in a way that doesn't cross my own boundaries but makes people, hopefully, feel more normal about the whole situation. There's been little things that I've been doing that have helped a lot in dispelling that strange behaviour that can just naturally develop. It's difficult. The whole thing is set up wrong and it will take a lot to change the way that that feels. It's, not to bring it up again, it really is a tool of capitalism!"
Advertisement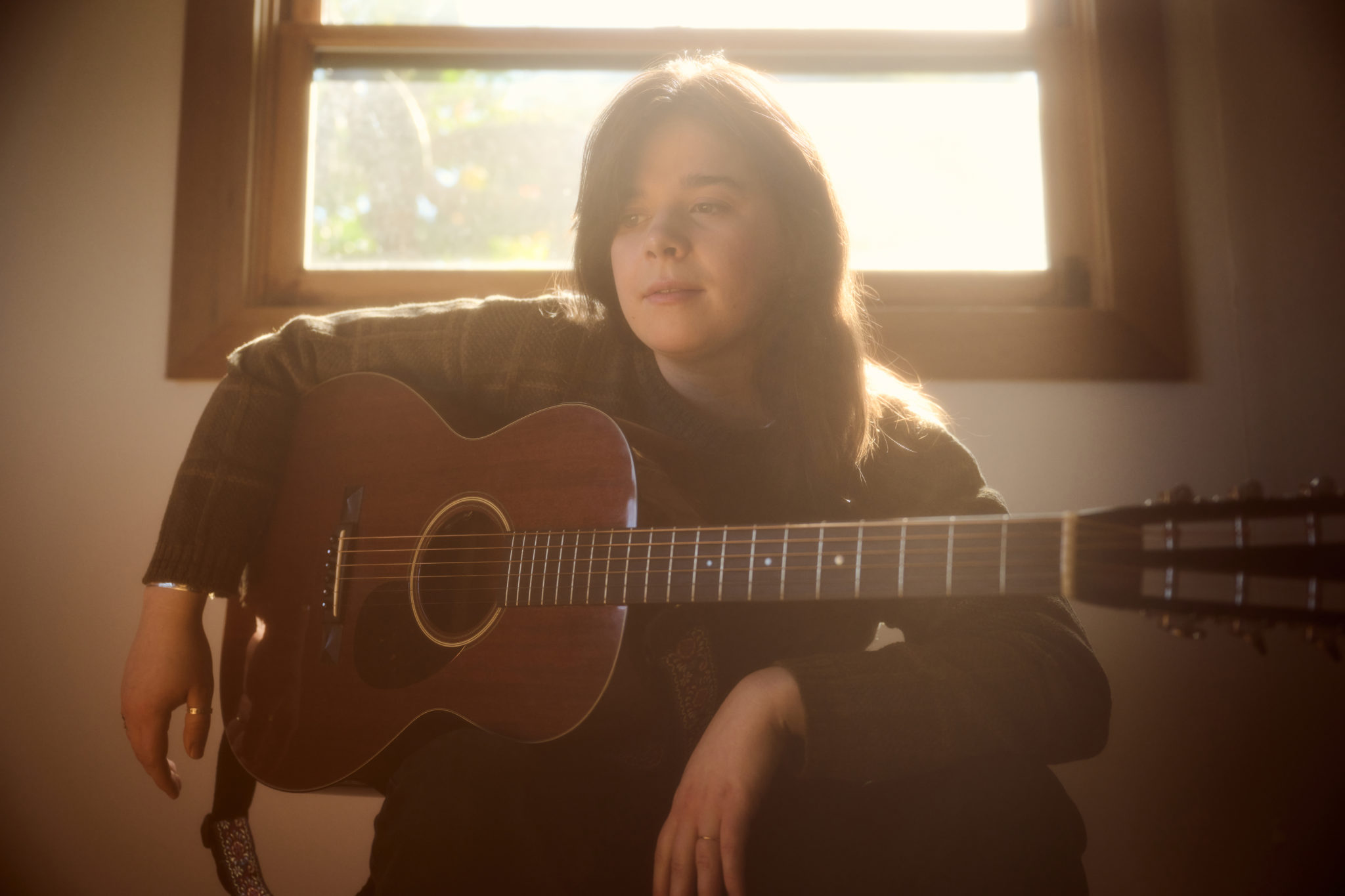 Certain major acts, arguably, are praised for their "dedication" to the craft, but performing a three-hour show in the pouring rain until 1am - like a certain Swift in Nashville - can't be healthy. Smaller, indie acts also can't keep up with the level of tour care needed to upkeep such a lifestyle or career.
"Musical artists and consumers are now like the product and the buyer, which is crazy, because music is such a human thing that we all do but it's turned into this consumerism," Ross adds. "Musicians don't make enough money, musicians aren't paid properly, so they have to do all these crazy things to make money which only feeds into that thing that encourages the separation between musician and listener. It's nobody's fault. It's just everyone trying to survive in this crazy business. It just makes me super sad because its the opposite of the point of music.
"There's a movement right now of cool is cringe and cringe is cool. I'm obsessed with it. That is the thing for me," Leith emphasises.
A child of High School Musical can recognise another sitting opposite me.
"Exactly!" they grin. "I hate, hate, hate when people are like, 'This is good music and this is bad music'. If you listen to this music, you have good taste. If you listen to that music, you have bad music taste. I'm like: Who? What? Says who? Also, the bad music is always what teenage girls listen to. Oh, you hate having fun and frolicking. You hate having child-like wonder and mystique and magic. It's so frustrating. I love corny-pop and super-cinematic, amazing ballads. Anything people get enjoyment out of, get meaning out of, is super important and I hate that we label it as such.
"I was young, consuming music that I love so much and people were like: this is objectively bad. So I'm stupid? It can be seriously detrimental. When people are reviewing music without care, in the same way that you can make it without care and that's harmful, inviting people to critique things that they have no place critiquing is damaging. Especially when music is made about a very deeply human experience and then someone who doesn't have that human experience is calling it bad? It drives me up the wall. You don't even have an understanding of it."
Advertisement
Who on earth, dead or alive, did you want to hear To Learn the day it came out?
"This is super cheesy maybe, but maybe my Grandpa, Tommy," Leith tells me, after a long thinking session. "I mean, he was such an important part of me loving music. He was such a musical man. He played like one of those people who played like six instruments but couldn't understand theory. But his ear was just incredible. He filled my childhood with so much music. And so, he didn't live any of my music released, or made, or heard. I don't really know if I ever played him one of my songs.
"He was just Glaswegian through and through. He loved it. Him and my mom emigrated to Canada. Well, my mom was born and raised in Scotland. They all emigrated as a family when she was a teenager. The tradition and culture was huge. The really old Irish, mostly loved Irish folk tunes, and Scottish folk tunes were most of what he played around the house."
Ross' is more than familiar with the Emerald Isle, having performed at The Grand Social in Dublin.
"We were here for a couple of days. Then my younger sister, who I was with, just picked a random Airbnb on the internet anywhere that wasn't a city, basically. We wanted to spend some time in Ireland but we didn't want to end up in a city centre. We went to Kinvara outside Galway. It was beyond magical. When the show wraps up I'm going to be here for a while and my family and I both love trad music from here. We're going to go to some smaller cities and try to find some trad bars and find people ripping on the fiddle."
Did Tommy have a favourite folk song?
Advertisement
"'Fields of Athenry' all the time. Constantly. Everyday. 24/7."
Leith Ross plays Vicar Street on November 3rd, with tickets available here. Their debut album To Learn is out now via Republic Records.
The new issue of Hot Press is out now.