KAINA: "My best friend said my new album is like reading a bunch of letters from me. I hope It Was A Home makes people feel less alone"
Rising R&B star Kaina chats to Hot Press about stunning new album, It Was A Home. Photos: Alexa Viscius.
Within five minutes of meeting Kaina on Zoom from her Chicago apartment, the breakout singer-songwriter and producer has already shown me her sticker collection and promised me her mother's incredible Venezuelan arepas recipe.
This ability to make sparkling, warm friendships with ease mirrors the artist's sonic landscapes, interestingly. Since her 2016 debut EP Sweet Asl. and 2018 follow-up 4U, Kaina has put her name (pronounced Ky-eena) on the map with debut full-length album Next To The Sun in 2019. An expert at creating generational music that surpasses borders, she embodies cultural fusion by musically blending her Venezuelan and Guatemalan heritage with her Chicago roots.
Her debut album firmly established her as a leader in a movement of artists whose work highlights representation and identity in a country often obsessed with Othering. But Kaina is more than simply a "Latina R&B singer", as she tells me. Her soulful tracks explore platonic and romantic love in all its purity, the strong bonds of an uprooted family, and the imperative value of discovering your confidence as an act who has to fight to be fully seen and heard. Her sophomore offering It Was A Home is a surefire hit, destined to pave the way for superstardom in her hometown and beyond.
"My first album was a lot to do with my identity here in the US as a first-generation kid. It's just a life-long feeling of displacement," Kaina explains, while one of her grey tabby cats lounges in the background of her screen. "My family are still relatively new here, so that's confusing. I'm an American but my parents are trying to navigate this country. Next To The Sun explored those feelings, which many kids could relate to."
"I felt more sure of myself on It Was A Home," she says, smiling assuredly. "I knew what I wanted. I was figuring myself out from square one on the first LP. I wouldn't call it an insecure album but I wrote a lot of those songs when I was sixteen and they just didn't make it onto an album until 2019. They were younger emotions."
Advertisement
Why did her family choose Chicago to settle in?
"My dad is Guatemalan and he came here because he had an aunt in the US. My mom came here because there were a lot of Venezuelan baseball players on the Chicago White Sox!" Kaina laughs. "My godmother, who was working at the consulate for Venezuela in Chicago, needed a nanny. She employed my mom when she was 20 so she could come here. Chicago is engraved into the history of her. Venezuelan baseball players found out about my mom's amazing cooking, so she started travelling with them to those crazy Chicago Bulls games. Michael Jordan was playing with them, so my mom cooked and took care of the players' kids.
"I have a lot of first-generation friends, so I hear a lot of stories like, 'My dad loved Michael Jackson and wanted to go to the US'. My dad kind of had a similar story. He wanted to come here for a better life, but part of the motivation was his love for American music: soul and Motown. My partner's dad loves the Bee Gees and they wrote a song about Massachusetts and that's where they ended up moving to. There are subtle ways in which music plays a purpose in an immigrant's journey."
Kaina confirms that Dublin's Lost Lane will be a stop on her upcoming tour, which will see her travel to Europe for the first time alongside her mom. The journey will mark the release of It Was A Home, landing on March 4 on City Slang.
"'It Was A Home', the title-track, was the catalyst for writing the album because it resolved some childhood feelings," Kaina elaborates, candidly. "That was the first song I wrote in January 2021. My parents and I lived in apartments here in the US, so I grew up hearing 'one day we will get something bigger and better'. They ended up staying in one place for 16 years, and I wish we had taken time to appreciate it.
"I recently moved into my own apartment. I chose this size because I knew that, one day when it's safer, my mom will come over and my friends and I will eat her food. My parents' house was full of people, food, and dancing. My mom and dad wanted better, but I learnt everything about building a home from that apartment."
Advertisement
"Writing that track was like going full circle," she adds. "A lyric in that song is, 'It was a home, not a hill'. This is a mentality I've learned that I'm trying to undo, one where I live in the future. I'm also an Aquarius and we're very floaty! I'm always thinking about what's next. What do I have to work towards? I'm getting over this hill instead of appreciating each moment. That's what the metaphor means. The crazy part is that, when I finished this album, my parents actually moved out of that apartment.
It Was A Home sees Kaina finally take credit for her arrangement and production work, and her knack for choosing surprising collaborations. Helado Negro, Sen Morimoto and Sleater-Kinney feature, without Kaina sacrificing the spotlight.
"I have always wanted to be an artist who could just make anything I want. That's why I have such a difficult time when people ask 'what kind of music do you make?'. It's all over the place. I've felt uncomfortable calling myself a producer before because I have friends who play seven instruments. A lot of my last project was me making beats in my first apartment and I always thought they were shitty. I was just expressing, but Sen (Morimoto) kept telling me they were awesome. 'Ultraviolet'' was one of those tracks. It's so crazy that Sleater-Kinney are on that song.
"I was the US opener for their Center Won't Hold Tour in 2019," Kaina explains of the track's in-depth origins. "I just decided to shoot my shot and ask to write with them. I wanted Carrie to even just do the guitar part, but then Corin sent through a verse. I'm a lineage nerd and I don't make music like they do. It made me excited that one day, some kid would be like, 'What the fuck? Why is Sleater-Kinney on this Kaina song, it's so random?'. Besides them being amazing, it's just a cool track.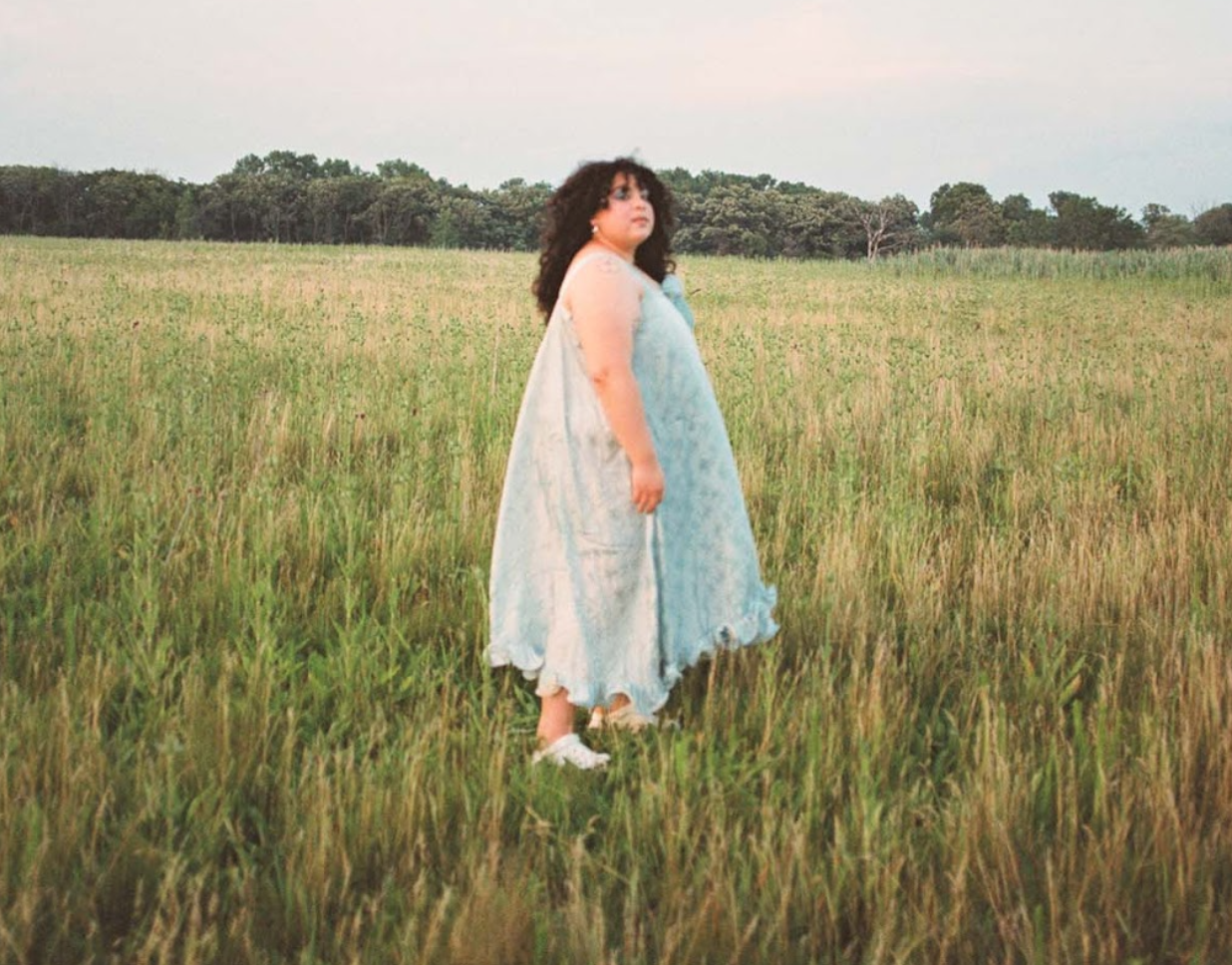 "With my last project, I didn't have any features on it because I'm so used to the media highlighting my collaborators instead of me. This is too important to me for that to happen," Kaina asserts. "There's pressure in the industry for someone like me. I love being a Chicago Latina but it's not the only interesting thing about me. I'm trying to put words behind my actions because men do it all the time."
As well as fighting for her talent to be appropriately credited, Kaina often has to face the pressure that comes as a Latina singer and first generation immigrant.
Advertisement
"What happens in the US is that people will think something is cool and then exploit it. That's the track record for our country," the singer replies, sincerely. "I remember in Chicago when suddenly it became really cool to have women on the bill. 'Women in Music' showcases defeat the whole purpose. Women want you to add them to your regular bills - we already have our own space. Put us on your show!
"Then Latinx musicians like Cuko and Omar Apollo, The Marinas, all these people started popping up at the same time. Suddenly it became really cool to add Latinx artists to a bill but, then that became commodified as well. It became Latinx shows only, which defeats the purpose again. This happens to every marginalised group. Instead of making space in the industry that is already there, they give you the space in a separate area as opposed to including you in the existing music industry."
Before Covid, when ICE conducted yet more nationwide raids directed at migrant families, Chicago was on the list of the ten major cities to be targeted. Kaina recruited a local immigrant rights organiser to speak before her hometown show and offered resources to anyone who needed them.
"I speak up on stage often and I feel lucky I've been able to do that," she says. "More than anything, I need to protect my energy and myself from being exploited. While it's great to be spoken about, it's a tricky line of navigating that more than anything. On this next project, I want to be considered a songwriter. I want to be credited for the way that I curate an album and my collaborators. I took vocal lessons for It Was A Home. I made everything sound exactly the way I wanted it to sound as a producer. It's the first project I ever made where I had no regrets."
What track makes her feel proud of herself?
"'It Was A Home' for sure. I felt like everything else on the album had to be the same calibre after I wrote that track. To me, it's the best song I've ever written. The way it's written is how I've always wanted to sound. I don't think I had the maturity or the knowledge to write it and produce it until now. You get better as you age. You get better at your craft. Sonically, writing wise, and theme wise it's just my dream song.
It's a good metaphor for the kind of music I write and the person I am. I'm always thinking in cycles and loops and lineage. I am a young person with my first home, and I can't stop thinking about what came before me to build this life."
Advertisement
A gentle sound that remains full of intent, Kaina has built up a songwriting practice that explores love, legacy, and ancestry. The influence of 'Queen of Salsa' Celia Cruz and '80s disco icon Donna Summer is given a contemporary lift by the talent, but who would she hope to hear her music and stop dead in their tracks?
"My absolute favourite: Stevie Wonder," Kaina beams. "I covered a song of his called 'Come Back As A Flower' for this project and I would love to hear his reaction. I think he would like it and believe that it makes sense with my modern sound, but it also sounds pretty timeless. He was an influence for a lot of the project. Carole King as well, but I would die imagining Stevie Wonder using Shazam to find my song."
Subject matter on the project delves deep into her insecurities ('Apple'), loneliness ('Anyone Can Be In Love') and growth ('Golden Mirror'). On 'Casita', she sings: "I've always dreamed of a place big enough for us all to stay/so we could be forever." What does she hope her audience will feel when they dive into this pool of soul sweetness?
"I've been tapping into childhood energy, because my intention was to be a Latina Mr. Rogers! I grew up on Sesame Street," she smiles, widely. "Kids shows have such a knack for explaining complex topics in a really simple way. It Was A Home is really simple for you to absorb, even though the feelings might be really big."
"I hope people hear something that resonates with them. I hope that they feel less alone. That they feel seen. I sent the album to my best friend who I've known since I was 9 and she said, 'I feel like I'm reading a bunch of letters from you.' I hope this album can be a friend. Someone who just sees you as you are."
• It Was A Home was released by City Slang on March 4. Kaina plays Lost Lane on April 22.
Advertisement