Originally from Country Antrim, Clare Smyth has worked her way to the forefront of the international restaurant scene. After spells in New York and LA, she became head chef at Restaurant Gordon Ramsay, making her the first woman to run a three-star Michelin kitchen. A regular on Masterchef and Saturday Kitchen, she has now opened her own place, Core by Clare Smyth, and was named Best Female Chef 2018 by the World's Best Restaurants organisation.
From Barry McGuigan through Brian O'Driscoll to Rory McIlroy, the British media are notorious for claiming the Irish as one of their own – when they're successful.
Well, they were quick off the mark in hailing Clare Smyth as the first British subject to win the 'Best Female Chef in the World' accolade, which was awarded to her by the World's 50 Best Restaurants outfit, back in June.
With a popular English surname and an MBE tucked under her chef's hat, you might be forgiven for presuming that Clare Smyth is as English as muffins. After all, she was even handpicked to cater for Prince Harry and Meghan Markle's recent nuptials.
"I see myself as Northern Irish," she proffers. "I remember when I was working in France they called me the little English girl: Petite anglaise. And then about nine months into me working there the chef turned around to me and said to me, 'Oh, but you're Irish!" And I said, 'Yes'. And he said, 'Oh, well that's okay then' (laughs). For nine months I wasn't okay because I was English. And then he found out I was Irish then I was alright; he liked me then (laughs)."
So, she feels Irish? "Very much so, yeah. Definitely."
Advertisement
The UK press might run with some of her outspoken comments here – particular those on Brexit – in this exclusive Hot Press interview. But don't hold your breath if you're hoping they might run a clarification about her being, in fact, the first Irish woman to scoop the Best Female Chef award. Nor will they be in a hurry to describe her as the first Irish-born woman to have the distinction of holding three Michelin stars. Having made a name for herself under the guidance of Gordon Ramsay, a man she describes as her mentor, 40 year-old Clare has now branched out on her own. Her restaurant Core by Clare Smyth has been up-and-running for only 10 months, but it's already one of the hottest spots in London. It was named Best Restaurant at the GQ Food & Drink Awards.
After a whirlwind year, she's certainly got plenty to talk about. Just don't ask her for any gossip about Harry and Meghan's wedding. As her publicist explains, "As for the royal wedding, unfortunately she is not able to comment as it was a private event and she is bound by confidentiality. I can confirm that she catered all of the food and drink for the evening reception at Frogmore. However, the menu that has been mentioned in the press is inaccurate."
Thankfully, there's still plenty of juicy stuff on the menu…
Jason O'Toole: Did you always want to be a chef?
Clare Smyth: I've always loved food. I grew up on a farm – that's a good background for the hospitality industry, with the hours that we put in and how hard we worked. I just grew up with it. It was second nature to me.
What type of farm was it?
We produced dairy, beef. We had sheep. We had pretty much everything. My aunt and uncles are one of the biggest potato farming families in Northern Ireland. My uncle sold animal feed and fertilizer. They were next door to us. So, we covered all aspects of agriculture. We were very much surrounded with all of it.
Advertisement
When did you first started working in a restaurant?
I was actually working in local restaurants from the age of 12-years-old. I started working in a local hotel making sandwiches and serving tables on my school holidays for pocket money. I did it for a few years. And by the age of 15, I was working in a local restaurant. And they would always get chefs to come over for the summer season from the UK, because they'd find it difficult to find quality chefs in the local area. So, that's really my first introduction to fine dining and working with chefs that had come from a Michelin star background. I really got into the cooking side of it. By the age of 15, when I was working with the chefs who'd worked in the Michelin star background, I started to read books and learn all the classic sauces. I discovered that whole side of things, which was something I really loved.
You went over to England at 16 to become a chef, which upset your parents. Was this when you started losing your Irish accent?
Very much so. I think at the age of 16, you want to fit it – and I pretty much lost my accent within the first couple of months. I wanted to fit into the kitchen; I was doing an apprenticeship.
Was this in an effort to distance yourself from the North and The Troubles?
Not really. It never affected me. Where we were based, we were so far (away) from it in the countryside, that we really didn't get impacted by it all, which was great. What was quite funny for me was that when I came to England and I saw a police station and it didn't have barbwire all over it – that was a novelty to me. I didn't know you could just walk in (laughs). So, there was things like that, I guess. But I never questioned it growing up; it was just what went on.
You didn't feel any discrimination when you went over to England?
Advertisement
No, not at all.
Do you get back to Ireland much?
A couple of times a year, normally. I'd get home at Christmas at some point, and then doing events every now and then.
I presume if you don't have one already you'll be getting an Irish passport in the wake of Brexit.
I'm definitely going to have to get one, yeah.
What's your assessment of politics in Northern Ireland at the moment?
A bit up and down from what I can see. It's all over the place. I just don't know what's happening with the whole mess of it. They're making a complete pig's ear of it. The whole Brexit thing is a joke. It's just pathetic really. We'll see what goes on, but it's pretty sad really.
Advertisement
Does Brexit worry you personally?
It does, yeah. Dividing people is never a step forward, is it?
Is there not going to be a huge loss to the food industry with so many European workers declining to come, or going home?
Yeah, it's hugely difficult. I really think that the government's going to have to do something about it. Our industry depends upon a workforce coming from elsewhere. And we're cutting our noses off to spite our faces, really – with all of it.
Some fear a return to violence in the North as a result of Brexit.
It's really very, very concerning. I would hope that there wouldn't be. This generation now has grown up in peace and inclusivity and I would hope that that's not suddenly going to change again. When I go back to Ireland, I'm always so impressed with Irish people – how cultured and educated they are. Everybody travels and has a great education and is very cultured – and there's real strength in that. I think in this generation it's phenomenal. So, I would put my faith in them and think that's not going to happen again.
Would you like to see a second referendum?
Advertisement
That's a tricky one. Yes. I would. I would. I think we might get a very different result.
When you stop to think about it: it's amazing that the Republic – Catholic Ireland – has leapfrogged the North when it comes to issues like same sex marriage and abortion. I'm sure you're hoping that the North won't be left behind for much longer.
I mean, totally. You can just see: the whole situation in the North at the minute with politics is a disaster. They need to wake up a little bit and get everything moving forward. It's a real shame that they're behind everyone else. Yeah, like I say, I just find it very sad (with regards) the situation that they're in and they can't sort themselves out. They're not good role models – are they? – for the younger generation. They can't agree on anything.
What's your favourite restaurant on the island?
One of my favourites is Ox in Belfast. The guys are brilliant. I think they're really a great team. They're moving food forward in Northern Ireland. It's a difficult world for restaurants up there. I think they change all the time. They've amazing produce. It's such a shame that there's not a more sustainable restaurant industry. But, of course, (Patrick) Guilbaud's in Dublin – look how many years that's existed for, and it's a phenomenal restaurant.
Food culture is getting a lot better in the North.
It is. But we want to see them sticking around for a long time. You'll get the odd Michelin star restaurant and it'll be there for a few years – and then it'll close. People need to support the industry. In the North certainly, they really need it.
Advertisement
Is it not disappointing that UK restaurants don't fare better generally in the listing of Best Restaurants in the World – that seems to be dominated by Spanish or Scandinavian and New York restaurants…
Yep, they do. To be honest, the list just depends how the voting system is set up. It's not definitive in any way. I see it as a list that promotes food tourism. And, again, it's not something to take too seriously. Everybody knows that that's not a definitive list. It really should just be a little celebration of the restaurant industry. The voting is very clearly laid out: if they've not eaten in your restaurant in the last 18 months, then they can't vote for you. It's impossible to eat in everybody's restaurant in 18 months.
Your restaurant is not even a year old yet. Now that you've won the best female chef will they be coming into your restaurant to check it out?
We'll see. To be honest, I'm not bothered about those things. My main focus is being busy every day.
Is it possible for an Irish restaurant to compete at that level?
Absolutely. For me, some of them do compete at that level. But it's just that the judges aren't there dining in them. And a lot of it's got to do with promotion.
So, you reckon Ireland has some world class restaurants?
Advertisement
For me, absolutely, 100 percent.
You mention Ox and Guilbaud's. Are there any others you'd put up at that level?
The Greenhouse, in Dublin. And I'm sure there's a lot of other restaurants that I don't know about.
A lot of people feel that we are failing to get the message across about the quality of Irish food internationally?
Yeah. But I think that it is getting there. I think things like Food On The Edge is a really good movement for the Irish industry. But it's got to do with investment – everything costs money. Everything's got to do with the Tourist Board and investment. A lot of countries that you know about their food culture it's actually (because) their tourist board invests a hell of a lot of money in promoting them. The Scandinavians spent an absolute fortune on it a few years ago, and that really brought Scandinavian food to the forefront. Trying to get the British or Irish governments to do that is nearly impossible.
You just won the Best Female Chef in the World – which for many commentators is a contentious award…
It is very controversial. I think the whole subject is controversial. The job is non-gender specific. Being a female has never played a role in my job at all – until I became the head chef at Restaurant Gordon Ramsay (Royal Hospital Road, London).
Advertisement
Why did it become an issue at that point?
I was the only woman to have ever have run a (Michelin) three-star restaurant. Ever single journalist asked me, 'What it was like to be a female chef?'! (Laughs) But for my whole career, being a female had never had anything to do with being a chef. So, it's one of those things. Everyone else is always pointing it out and bringing it up. But, actually, the reality is: the job is the same.
How did you feel accepting an award for Best Female Chef?
You have to laugh at things. But there is the serious side to the award: there aren't enough women in the industry. So, if by talking about my career, or if I can mentor other people and inspire other women to come into the industry, than that's a good thing. I take it as a two edge thing: it's like, being a female chef that's not the important thing – the important thing is to use my career to highlight the industry and to get more women to come into it. Because we need a gender balance.
So you feel they should replace the Best Female Chef accolade?
Yeah. What they know is that their lists don't have women. There's not many women on the list and certainly not at the top end of it. And that's something they're trying to address by giving someone a platform to talk about it – and that's always been a woman. And that's why they're calling it the Best Female Chef. But we did speak about it and that, perhaps in the future, they could do a special award and it doesn't matter if it's female/male. It could be a chef from South East Asia or Africa, or Iceland – somewhere that isn't reflected on a list like the 50 Best Chefs. Something where they need to highlight, or to give someone a voice so that they can talk about what they do.
Did you think of turning it down?
Advertisement
It's an honour to receive recognition. And I think not to take it wouldn't have been the right thing to do. If I didn't take it, I wouldn't be able to talk about it, or to tell my story. I've never liked being called a female chef. And someone said to me, 'Clare, if you want to change things than you need to stand up and talk about it'. So, that's what I'm doing.
Why do you feel there's an imbalance in the industry?
We spoke about this with the 50 Best and they themselves are always trying to find (resolutions). I think generally it's not been an attractive industry to come into for a lot of the reasons you've spoken about and the perception of the industry. And I think that it is starting to change. We see a few more women coming into it. Actually, out of a team of 14 chefs in my restaurant, there's only another two women in my team. So we do need more in the industry as a whole.
Did you feel you had a point to prove, as a woman in the industry?
Yes and no. I've always just put my head down when I was working, trying to be the best that I could be. I knew where I wanted to get to. But, certainly, initially, you go to an environment where you're the only woman and people will judge you if you're sick or you're tired – so you can't afford to be. I always felt that. I was quite hard on myself, but I'm not sure whether I expected that of myself – or if other people expected it of me – you know, not to show any weakness at all.
I heard someone told you that you wouldn't last a week. Is that true?
Yeah, that was Gordon (laughs). It was always this bit of a joke between us. But I think most people didn't last a week in that kitchen – that was the thing. So, we always have that joke. But, yeah, he said I wouldn't last a week.
Advertisement
And he said: 'It's not for girls! You shouldn't be here'.
Yeah (laughs). Well, there was that comment from a few of the guys. I always found that a challenge because I knew that I would have their job pretty quickly, or I would be better than them. It always spurred me on. So, I quite liked it.
People tell me you don't have an ego.
I don't (laughs), no. I have pride. I have professional pride. I worked hard to get to where I've got to. I think I do quite a lot of good in the industry. There's a respect thing that I think that people lack sometimes, but yeah –
What's the worst put-down you experienced because you're a woman?
When I was 17-years-old I came to a restaurant for a trial. It was one of the top restaurants in London. The chef was a bit of a dick the whole day. And I was 17 years old and I was from Northern Ireland. You know, you don't expect kids to know too much. But, anyway, at the end of my trial, he said to me, 'What do you want to do? What's your ambition?' I said, 'I want to be a chef at a top London restaurant or a five star hotel'. And he said, 'You're never going to do that because you're a woman! It's a man's world. But if you do come and work here you can start in pastry – because that why you'll have learnt something. But you'll probably leave'.
You must have felt deflated!
Advertisement
I didn't go and work there, because that wasn't very inspiring. But 10 years later, after I'd been through working for Gordon, I'd been in Le Louis XV Restaurant in Monaco, I returned to be the head chef at (Restaurant Gordon Ramsay) Royal Hospital Road, which was the only three Michelin star restaurant in London at that time and I was 28-years-old. And I went to meet my veg supplier and it was that same guy! The chef was now a veg supplier!
Did he recognise you?
He didn't know who I was. But his jaw dropped. 'What you? You're the head chef at Royal Hospital Road?!' And I said, 'Yeah, that's right'. 'Where did you come from?' He had one Michelin star. I was now taking over a three Michelin star restaurant. And I said, 'Once I was in your kitchen for a trial'. (Laughs) I think that's a funny story. In life, you should never underestimate anyone.
What about chefs going on TV screaming and shouting in kitchens?
Well, this is a debate. One of the things you can say now is that the audience it reaches – and people in general – know more about cooking and chefs and restaurants now. Gordon has definitely given more to the industry than anybody else. So, love or hate that thing, when he walks down the street everyone knows: that's a chef. He brought our industry into everyone's living room. Maybe (for) right and wrong reasons, for good and for bad, some of it. But he definitely popularised it and made a lot of people want to come into it. He certainly made me want to come into it. I'm a big fan of Gordon's. I worked with him for a long time. He's a good friend of mine. He might be screaming and shouting on TV, but he also won three Michelin stars. He has 34 restaurants globally. You can't really say that he's not successful.
Gordon's kitchens have a reputation for being notoriously macho – and can be an unpleasant environment…
It really has changed. Thank God! I absolutely hate bullying. It's something I really detest. We all work really hard, we all work a lot of hours, and we must respect each other. So, everybody in my team, I like them personally because we have to get on, we have to fit in the team. Growing up in that macho environment, it really pushed me so far the other way because there's just no place for it. It's a waste of time and energy. We're all there to cook food and to be passionate about food – not to waste our time and energy on picking on people. That's really very small-minded.
Advertisement
What about the bullying?
I've never been bullied. There have been bits and pieces, of course. Everyone works with assholes. It was 20 years ago when I started in the industry and it was full of assholes, to be fair. Thankfully that stuff is all gone now, which is great.
Was Gordon difficult to work alongside?
No. I didn't find him difficult to work with at all. I find him very easy to work with. And the reason is that you always knew where you stood. I worked with him for 15 years and, for me, he was very easy to work with, because you knew what you had to do and you were told when it wasn't right – that was pretty straightforward for me.
So the TV side of him is a persona put on for audience?
Very much so. It's a different skill doing television. Gordon's television programmes are television programmes. How he is in real life is very, very different.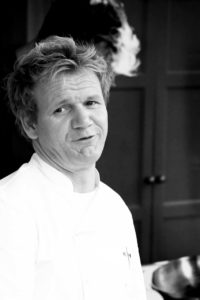 Advertisement
Other than the 'dick' you spoke about, have you experienced sexism in the industry?
I personally didn't. I've had plenty of people screaming at me, but I've just got on with it. It's pretty straight forward for me: if you do something wrong you understand that it's wrong. There's two different things: there's bullying, which is wrong; and then there's getting a job done properly. I think sometimes coaching can be a bit tough, but that's depending upon the level that you work at. If you work at the top level, in every industry, it's going to be tough. And mistakes aren't tolerated, because otherwise you wouldn't be at a top level. That's just life. If you want to compete in that world then it's going to be tough.
I had dinner once with Marco Pierre White, who seemed off the wall. Is there a lot of strange characters in the restaurant business?
I think there is. And I think certainly the older generation has a lot of stranger characters. They're a little bit different today. You don't get away with a lot of the things people used to get away with – when they used to go a little bit stir crazy in kitchens. Our industry has changed a lot – and certainly for the better in that respect.
Do you have a temper yourself?
Yeah, I do. I'm quite fiery, for sure. Again, pressure. I was certainly a lot more like that when I was younger. Now – not so much. I think, as you get older, you learn how to deal with situations a lot better, to remain calm. Yeah, I was a lot more hotheaded when younger.
What's your favourite swearword when giving someone a right rollicking in the kitchen?
Advertisement
I don't swear! (Laughs.)
Says the woman who just said asshole!
(Laughs) I'm creative! Creative language.
How do you replace the clichéd version of a chef screaming at staff?
I'm very much of the reasoning sort of thing. I want people to understand themselves what's right and wrong with something. It should come from them – it shouldn't come from me. So, really taking that time. But that's a maturity thing. I wasn't always like that. I expected everyone to know everything when I was younger. And then you grow up a little bit and you realise they can't possibly know that because you haven't taught them that. So, now, we try to reason with people and actually teach them to explain why, or get them to get their head around it.
Is there a #MeToo can of worms waiting to emerge in restaurant sector?
I think there's questions about that sort of thing. I'm sure there is. We've seen a little bit of it come out in America. Again, I was very lucky to not experience that in my career, but I'm sure there are others people that have. My story's mine, it's not the same for everyone – the most important thing is to listen to people.
Advertisement
Is there anything you'd refuse to eat?
Not really. One thing I don't like eating is horsemeat. I grew up with horse riding and I love horses. It's just because they were my pets. And I struggle with that, even though I lived in France for a few years and it's very popular in France.
What's the weirdest thing you've eaten?
Oh God! I've eaten insects! Ants taste like lemongrass.
Did it not feel weird?
A little bit. They were delicious actually. I guess it's just getting in the mindset, thinking, 'Well, that's what some people eat'. I'm very open, I eat pretty much anything.
Anthony Bourdain's death was shocking…
Advertisement
Hugely. It's really very, very sad. It's just something completely unexpected for someone like that as well. I didn't know him personally, but I'm obviously connected to people that do know him. I certainly read all of his books growing up. A real tragedy, and such a big loss.I think that, again, comes down to talking and being open. I think it's really important that people talk about issues. Clearly, it doesn't matter how successful you are in life: you can still have mental health issues. It's an illness and it's something we should all be very aware of and talk about.
Do you know someone that's taken took their own life?
I've had had people that work with me that have had mental health issues. We had some situations that, for me, it was really important that we brought it into our day-to-day work. I had a young guy who's bipolar, had serious issues. And, for me, again, it comes back to that community thing: you look after and you take care of everyone that's in your circle. It had to become a part of what we did every day to make sure that he was ok, that he had all the help that he needed, that he got whatever he required to do his job, and that we checked on him all the time.
When's the last time you cried?
Cried? Realistically, it was probably when my sister lost her little boy who was seven days old. That was probably the last time. I hadn't even met him. I did meet him in the end. But you realise that blood is thicker than water and that actually there's a much stronger bond between people that you don't even need to know someone to be affected by it. That was a couple of years ago now.
You don't have children yourself?
No. I have a small dog called Storm. She's a West Hyland Terrier. They're very feisty.
Advertisement
You mentioned years ago that you'd like children.
I think growing up on a farm, I've always been a bit of an animal lover. I would like another dog. But we have a good life, my husband and I. It's one of this those things: bringing children into that mix is whole other ball game. So, I think when you're going to do that, you need be ready to do it.
Did you meet in the restaurant?
No. He's in the finance industry and I met him in a bar. You know what? It took a long time to get the relationship going because I would go to work all week and never speak to him – and then at the weekend I'd speak to him. And he couldn't figure out what was going on. He thought I wasn't interested. But he didn't realise, like, when I went to work at 7am on a Monday morning I didn't finish literally until 1am on a Friday night. And he never understood that. And he also didn't know who I was or what I did.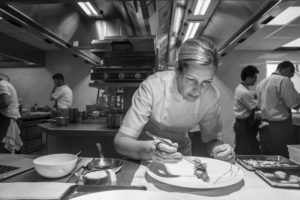 He didn't know he was dating one of the most famous chefs in the world?
He knew I worked in a restaurant but he thought I was a waitress or something! For a long time I never told him because I didn't want that to be a factor. He didn't know who I worked for, where or what. He just thought I worked in a restaurant – which was funny because on the first date he took me to this terrible Thai restaurant. That was his banker for dates. And when I walked out of the restaurant I said, 'There's one condition: you're never choosing a restaurant ever again!'
Advertisement
Was it love at first sight?
Not really. I think that for me – and I've always been very focused on my career – when you get a bit older it's kind of you (want to) get to know someone. For me, it was really getting to know him. Yeah, and we just got along. That was the most important thing for us.
Did he get down on bended knee to propose?
Yeah. We were in Kenya when he proposed. We had been out that day on safari with this couple called Carol and Colin from Scotland, an older couple. We were sitting by the river where they do the crossing at the Maasai Mara – and there were hippos farting in the river! It was night time. He had it all planned. I said to him, 'Oh, Colin and Carol's joining us for dinner?' And he said, 'What?' And then he had to fumble the proposal. So, it was done with hippos farting in the background! A fumbled proposal. I said 'yes' straight away. And then we were having dinner with Colin and Carol (laughs).
What's the most bizarre complaint you've ever received in the restaurant?
Ah, we get some really random things. One of them was that the hand soap didn't match the scent of the diffuser in the bathroom! If I could be rude, I'd say: one is there to cover up something and the other one's to wash your hands with (laughs). When you wash your hands you don't want a very strong smelling soap, because when you're dining and when you're drinking your wine you don't want the scent to overpower the wine that you're holding in your glass. Some of it, your jaw drops. You're just like, 'Really? I think you need to get a life!'
I'm sure it's unusual for people to complain about the food…
Advertisement
People used to say to me, 'That's not a three Michelin star dish!' or whatever. And I'm going, 'Okay! It is because they've given me three stars for it'(laughs). Stupid comments like that. You don't award yourself the Michelin stars. 'That's not a three star restaurant!' Well, it is because they've given it three stars. You have no say in it whatsoever. They have their own agenda, and criteria that they score things to. You don't even know if they're coming. So, that makes me laugh.
One of Donald Trump's aides got booted out of a restaurant recently because the owner didn't want to cater for someone associated with the US President. Would you cook for Trump?
(Laughs) We'll cook for everyone. We're quite inclusive like that.
Do you like listening to music while cooking?
Not whilst I'm cooking. But I love music. Music's a big thing for us in the restaurant. We have a special list that I do myself. And, again, it's one of those things: some hate it, but most love it because they don't expect to come into a fine dining restaurant and have, like, The Rolling Stones playing, or U2, or Blondie. So, I do the playlist and it's very much what we all like to listen to. It could be Aretha Franklin – it's not necessarily current stuff. We just have great tunes. And people generally come in and absolutely love the playlist. Everyone wants the playlist.
What would be top of the playlist for you?
The Jackson Five or Blondie. I had one of the managers of The Rolling Stones come in for dinner one night and she had just been with them practicing because they were doing a tour. And she walked into the restaurant and we were playing 'Gimme Shelter'. And she was like, 'I was just listening to this'. So, that was quite funny. We've had people in from all bands – from the Stones to Coldplay. A lot of people in the music industry. We've done Rod Stewart. We've done them all.
Advertisement
How do you stay in shape with so much temptation around?
Pretty difficult (laughs). We work hard, so we're always on our feet every day. And I walk the dog.
Opening your own restaurant must've been a stressful experience?
It was really, for me, a natural step. I'd done everything I could do working with Gordon Ramsey. I loved my time with the company. But I was really ready to do something for myself from scratch. And it was really setting myself a task of sitting down and writing a business plan, then going to a bank. And then I set about looking for the site and getting planning permission, putting everything together. So, it was a huge thing for a chef – we're trained to cook, we're not trained to write business plans. But it was really good exercise for me to go through. I enjoyed doing it. I didn't enjoy the stress of the actual opening – that was horrible. But now we're 10 months in so we're in a much better place.
Did Gordon offer any help?
Gordon was great. He was very supportive. He was the first person that looked at the business plan. He introduced me to his bank manager. Gordon's been very supportive of me opening here behind-the-scenes. He's helped me every single step of the way. He came to see the site with me. He did tastings for me. He's always on the end of a phone. So, I think that's something people don't realise about him. He said to me, he achieved more in his life than he ever thought he would. He just wants to see people like me do well.
How do you let off steam?
Advertisement
I quiet like cars. Porsche is my favourite. Cars, music.
So you like driving fast?
Yeah, I do. If I can get track days, I love it. I have a Porsche now. It's a 718GTS. It's a little one, which I just love. I like to have different cars though; I like to change them – have one for a year or two years, and then change it and get something else. I really love Aston Martins. I've definitely got an Aston Martin in my sight.
RELATED
Lifestyle & Sports
31 May 21