Making history since the release of her tenth studio album Midnights and special edition Midnights (3am Edition), Swift has continuously broken streaming and sales records over the last week.
For the first time in recorded history, there are no men in the Billboard top ten music charts. Instead, American singer-songwriter, Taylor Swift, occupies every single spot - the first artist to do so, ever.
The release of Swift's latest offering, Midnights, has already made a name for itself, with one of the biggest opening weeks for an album in recent history. Swift quickly became the first artist in history to debut an album and track at number one simultaneously on four separate occasions, and she has only climbed from there.
Now, the pop star has broken yet another record, becoming the first artist in history to fill every top 10 slot on the Billboard Hot 100 singles chart.
The singer knocked ex-boyfriend Harry Styles' 'As It Was' off the top 10 on the Hot 100 charts for the first time ever. The track debuted at number one and spent a record breaking 29 weeks in the top three.
Swift now holds the most top 10 hits in female music history, with 40 top 10s throughout her career, surpassing Madonna's 38. Among all acts, Drake is the only one still ahead, who holds 59.
Advertisement
"10 out of 10 of the Hot 100??? On my 10th album???" Swift exclaimed in a tweet. "I AM IN SHAMBLES."
10 out of 10 of the Hot 100??? On my 10th album??? I AM IN SHAMBLES. https://t.co/q1n5Zc6pYA

— Taylor Swift (@taylorswift13) October 31, 2022
With Swift keeping a tight lid on her tracks before the album release sate, it wasn't clear which song would take the title of lead single. Despite some controversy surrounding the now edited music video, 'Anti-Hero' came out on top, while 'Lavender Haze', 'Maroon', 'Snow on the Beach' featuring Lana Del Rey and 'Midnight Rain' filled out the top five. 'Bejeweled', 'Question...?', 'You're On Your Own, Kid', 'Karma', and 'Vigilante Shit', took spots six through to 10.
The pop star broke Drake's record that he set with album Certified Lover Boy - when he occupied nine spots in the top 10 (all except for six).
All 20 songs from the extended version of Swift's tenth studio album, Midnights (3am Edition), debuted on the Billboard Hot 100, with 'Dear Reader', the final track of the extended version, earning the lowest entry at Number 45 on the chart.
Swift has now passed Lil Wayne for third place of charting hits with 188 charting hits throughout her career. She follows Drake at 278, and the cast of 'Glee' at 207.
Advertisement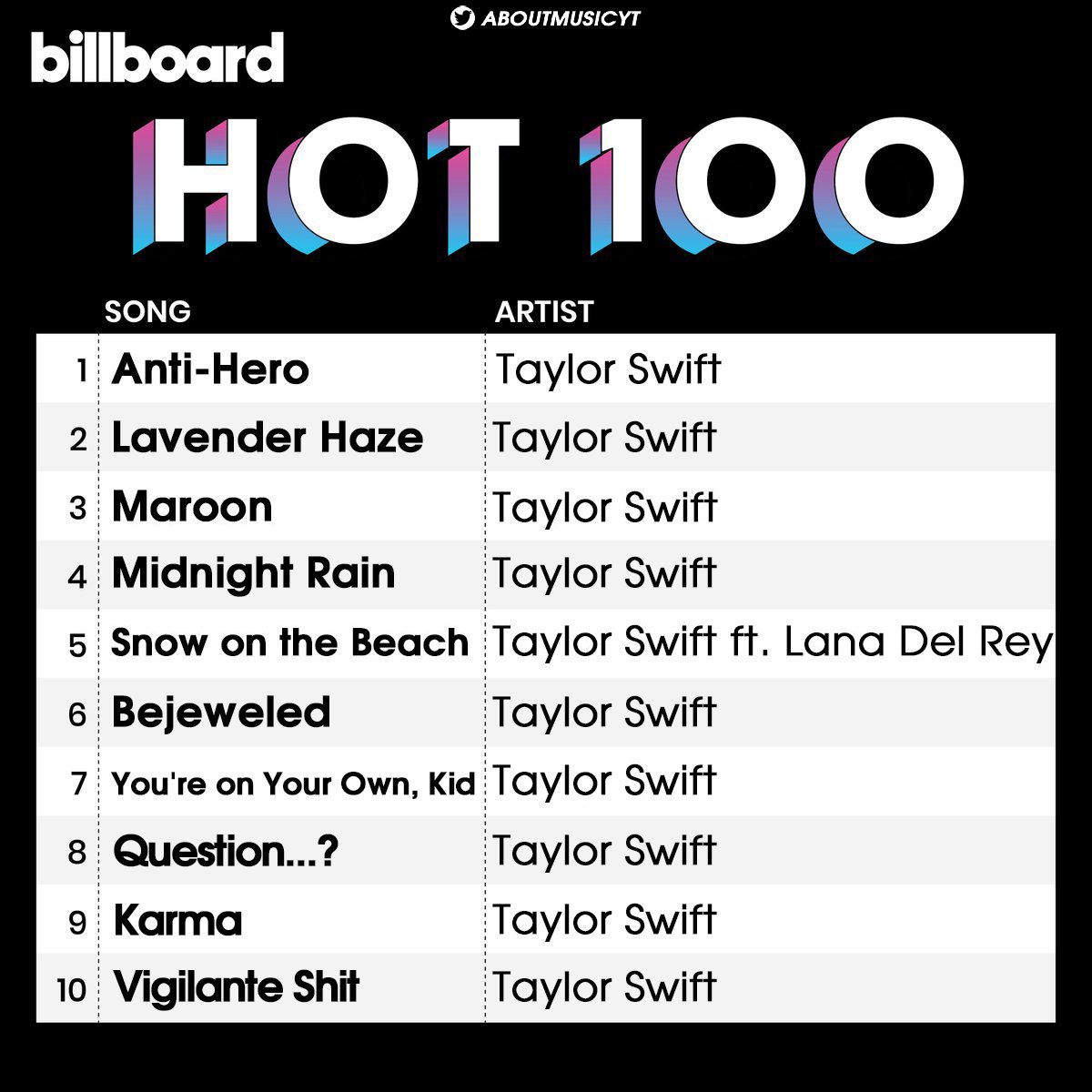 Midnights debuted as number one on the Billboard 200 with 1.578 million equivalent album units sold in the US, marking the biggest debut sales week for any album since Adele's 25 in 2015, and the first to sell more than one million copies in a single week since Swift's own Reputation in 2017.
Of the 22 albums in history that have sold over one million copies in one week, five of them are Swift's: Speak Now, Red, 1989, Reputation, and Midnights. Backstreet Boys, *NSYNC, and Eminem fall behind the pop star with two each.
According to Spotify, Midnights also demolished the single-day streaming record for an album - with 184.6 million streams. Again, the record was previously held by Drake's Certified Lover Boy, which racked up 153 million global streams in its first 24 hours.
Swift is set to appear on 'Good Morning America' today, Tuesday November 1, with a special announcement. The show begins at 7am EST (11am Irish time).
Until then, check out the record breaking Midnights below.
Advertisement
RELATED