Forever Young Festival: "One of the beauties of this event is that it was set up from a participant's perspective"
Forever Young is sure to be another unforgettable occasion this year, as an incredible collection of '80s legends converge on Palmerstown House in Kildare.
Solve that Rubik's cube, put on your favourite jean jacket, gas up the station wagon, and get amped because Ireland's biggest '80s festival is back! After a two-year hiatus, Forever Young Festival will once again be taking place on July 15-17, in the stunning grounds of the Palmerstown House Estate.
If you just wanna dance with somebody, then this thriller of a festival is sure to offer an incredible time after time with every breath you take.
Where the Party Is At
The Forever Young Festival started with a bang. In its first year in 2019, the event won awards for "Best Medium-Sized Festival" and "Best Lineup". The event's founder Dr Sharon Alston considers herself a veteran of '80s festivals and knew just what would be needed to put on the most magical weekend experience. "One of the beauties of the festival is that it was set up from a participant's perspective and not a promoter's perspective," she explains. "It is not set up thinking about how much we can make, it's only about giving people a brilliant experience."
The three days of celebration will take place on the grounds of the Palmerstown House Estate. Covering a whopping 900 acres, this Kildare gem is also only a stone's throw from Dublin. Its immaculately manicured grounds are equipped with a wide network of roads and paths, making it easy to explore festival activities and keep the hems of your parachute pants dry.
Total Rewind
What Forever Young is about more than anything else is the music, and this year the event looks set to retain its 'Best Lineup' title. It's a who's who of '80s icons: Marti Pellow, Boomtown Rats, The Undertones. Holly Johnson, OMD, Bananarama, Paul Young, Paul Carrack, Alphaville, and many many more.
Pellow is best known for his role as the lead singer of Wet Wet Wet, the Scottish soft-rock band whose cover of the Beatles 'With A Little Help from My Friends' hit No. 1 on the UK charts in 1988.
After forming in Dublin in 1975, The Boomtown Rats had a series of Irish and UK hits including 'Like Clockwork', 'Rat Trap', 'I Don't Like Mondays' and 'Banana Republic'. Though Bob Geldof and co. disbanded in the mid-'80s, they have since reformed and released an acclaimed new album in March 2020.
Derry punks The Undertones remain one of the most successful bands to have emerged out of Northern Ireland. Their 1980 hit 'Teenage Kicks' became an anthem for angsty adolescence everywhere.
Not only will the festival have numerous '80s icons playing live, it will also feature a "Great Pretenders" stage, which sees performances by world-class tribute bands for the likes of George Michael, Kate Bush, Madonna, David Bowie and Queen. This all-star tribute stage will also run late into the night, long after the main-stage shows have ended.
Glamp it up
If you're someone who thinks that camping is not for you, then think again! The Forever Young Festival offers premiere Glamping experiences like pre-pitched canvas tents and spacious wooden yurts. Boutique campsites include hot showers, flush toilets, and free phone charging facilities.
For those who decide not to stay onsite, the festival offers preferential deals and weekend packages. The latter includes a festival ticket, luxury hotel room, and a shuttle ride to and from the event - all for one low price.
Forever Young strive to make your comfort and enjoyment of its unique weekend experience their number one priority.
"Everything is very close to where the music is. There's no traipsing around. People don't want to be doing that," ," Dr. Alston laughs. "To help people get to where they want to be, the festival has a network of golf buggies that will run at all hours to provide easy transportation for anyone who needs it.
"We really go the extra mile to make sure people are looked after," Alston adds.
This ease of transportation is available extends elsewhere: coach buses from Cork, Galway, Wexford and Limerick are all available and are offered with ticket packages.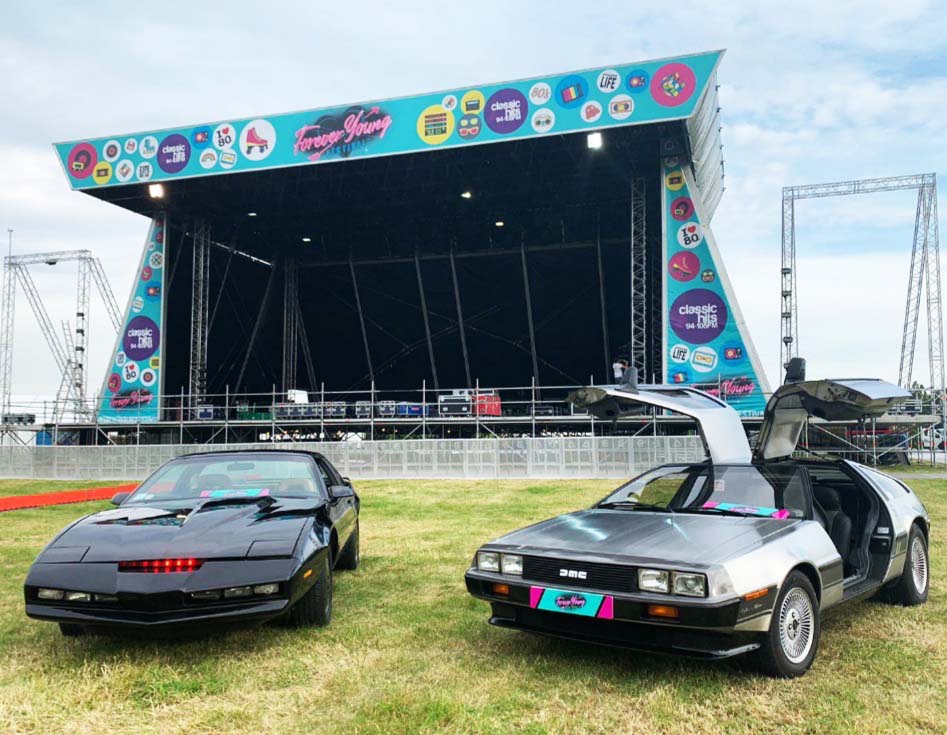 For a Good Cause
What sets Forever Young apart from many other summer events is that this '80s party was, and still is, an event that donates all proceeds to charity. Festival founder Dr Sharon Alston is not a festival coordinator by trade; she is actually a veterinarian.
"When I first came to Ireland I found there was a big hole in veterinary supportive charity," she recalls. "I struggled with making it work in my head how animals were often paying for their owners' struggles. So I discussed with the ISPCA about starting a new charity for veterinary centres in Ireland, and we needed a big fundraiser."
Knowing how magical '80s festivals could be from her many years attending them throughout Europe, Dr Alston began to coordinate with many acts still in the music circuit to put together the weekend shindig. The Forever Young Festival now provides extensive aid to help improve animal welfare across Ireland.
Not only does the festival address the future of animals, but the future of humans as well. All single-use plastics are fully banned from the site; everything is either reused or recycled. This helps to keep the festival grounds immaculately clean throughout the weekend while also cutting down on pollution from material waste.
"We're a festival with a heart and a conscience," Alston says proudly. "Not only is it all for a good cause, it's also a great time. It's a big get-the-gang-back-together sort of event. People will have school reunions, university reunions, and workplace reunions. They just get together and have a great party."
Forever Young Festival takes place on July 15-17 at Palmerstown House Estate, Co. Kildare. For more information, visit foreveryoungfestival.ie.
Full List of acts for Forever Young 2022
Marti Pellow
Holly Johnson
OMD
Bananarama
Paul Young
Boomtown Rats
Paul Carrack
Alphaville
Nik Kershaw
Nick Heyward
TPau
Then Jerico
Hue and Cry
Wendy James
Tiffany
Chesney Hawkes
The Real Thing
Trevor Horn
Five Star
Limahl
The Undertones
John Parr
Bad Manners
Heather Small
Johnny Hates Jazz
The Blow Monkeys
In Tua Nua
The Adventures
Doctor and The Medics
Brian Downey's Alive and Dangerous