'For Christy Moore to tell us our music means something is incredible': Alt-folk outfit Moxie on new album The Dawn of Motion
With Moxie's eclecticism showcased on superb new album 'The Dawn Of Motion', the alt-folk crew discuss gigging in Vietnam, partying with Kneecap, and counting Michael D. Higgins among their growing army of fans.
Attempting to place a label on a band as eclectic as Moxie is somewhat futile. Bringing trad music into the modern age in Ireland comes with its own type of pressure, but the breakout band shrug off stifling classifications. Weaving intricate Irish melodies and African rhythms with Moxie's revolutionary style is getting noticed by all the right people – Michael D. Higgins and Christy Moore included.
Following the release of spirited singles 'Is Ainm Dom' and 'The Place Above', the group are about to share their sound with a wider audience, courtesy of new album The Dawn Of Motion.
Moxie officially began their journey in 2011, when founding members Darren Roche, Jos Kelly, Cillian Doheny and Ted Kelly met in Miltown Malbay, at The Willie Clancy Summer School (drummer Josh Sampson joined in 2017). Eventually, Moxie would also add a sixth member: multilingual vocalist Julia Spanu. 
The Tunisian-raised French singer-songwriter studied a range of languages for her undergraduate degree, and is currently finishing up her Masters at Cork School of Music. Julia's linguistic skills have become a Moxie staple, providing them with an exhilarating new dimension. 
"I first met Ted when he invited me to a Moxie gig," laughs Julia, during a Zoom chat from her and Ted's Sligo home. "We went to Whelan's after and just ended up hanging out together all the time, but they didn't know I could sing yet." 
Advertisement
All it took was one song performed on a pink ukulele for the Moxie lads to enlist Julia as their new vocalist, permanently changing the makeup of the band for the better.
"Everyone has such different personalities," banjo player and guitarist Ted says, grinning. "It's a big collaborative family narrative at Moxie – we all write and compose together. We work as a unit. It's very much a group of people who love what they do so much that they call each other family – although my brother is in the band as well!"
"The type of music we each listen to is vastly different from one person to another," Julia adds. "That's why our songs sound so varied and rich. Moxie is such a personal thing to all of the guys, you know? It embodies each individual in the band. Darren is known for his energy on stage. He's the dancer of the band – the MC."
"You're going to have to describe everyone now," Ted quips.
"Joss is a joker, but he's also the chord and harmony genius," Julia continues. "Richie is the shredder. He comes up with the maddest solos on stage. Josh is quieter than everyone, but he's an amazing drummer. He keeps everybody in time – he's an absolute force."
"I guess my role is to create the chilled out vibes behind it all," Ted notes, shrugging. 
"Ted takes care of everything for the band," observes Julia. "He's the boss, really; he's a good leader. We all have the power when it comes to making decisions, but he's good at minding us." 
Advertisement
"It's a democracy," adds Tes, "but somebody has to take the lead as well." 
Moxie undoubtedly know how to light up a room during a live set, which has lead to them touring internationally and performing at home for the President of Ireland himself.
"It was so random," Ted reflects. "We played at one of Michael D. Higgins' garden parties in 2015, and then he invited us to perform for the German President, Wilhelm Gauck. We were in the drawing room afterwards drinking whiskey with Enda Kenny and all these famous guests. Then in 2017, he invited us on the Irish state visit to Vietnam, and we played at the Hanoi Opera House. This was before Julia joined the band. Her mum has roots in Vietnam, so we'll have to get back there. Vietnamese people loved Moxie!"
What are audiences like closer to home?
"Before Covid, the reaction was always brilliant," Ted enthuses. "The energy we get from the audience makes us even more mad, so it's like this to-and-fro for the whole gig. By the end of the show, you're absolutely juiced. Our first gig back was in the Ballykeefe Amphitheater in Kilkenny, and it was a crazy experience. Emotions were really high, because we were finally able to do what we love again."
"We have to do a 10K run, five pints, and have a bit of sleep after our gigs to calm down. Usually we'd hang out with whoever is at the show, because it's nice to get to know the people who like your music. That's one of the best parts. Ballykeefe was in the middle of nowhere, but people travelled from Dublin to come and see us."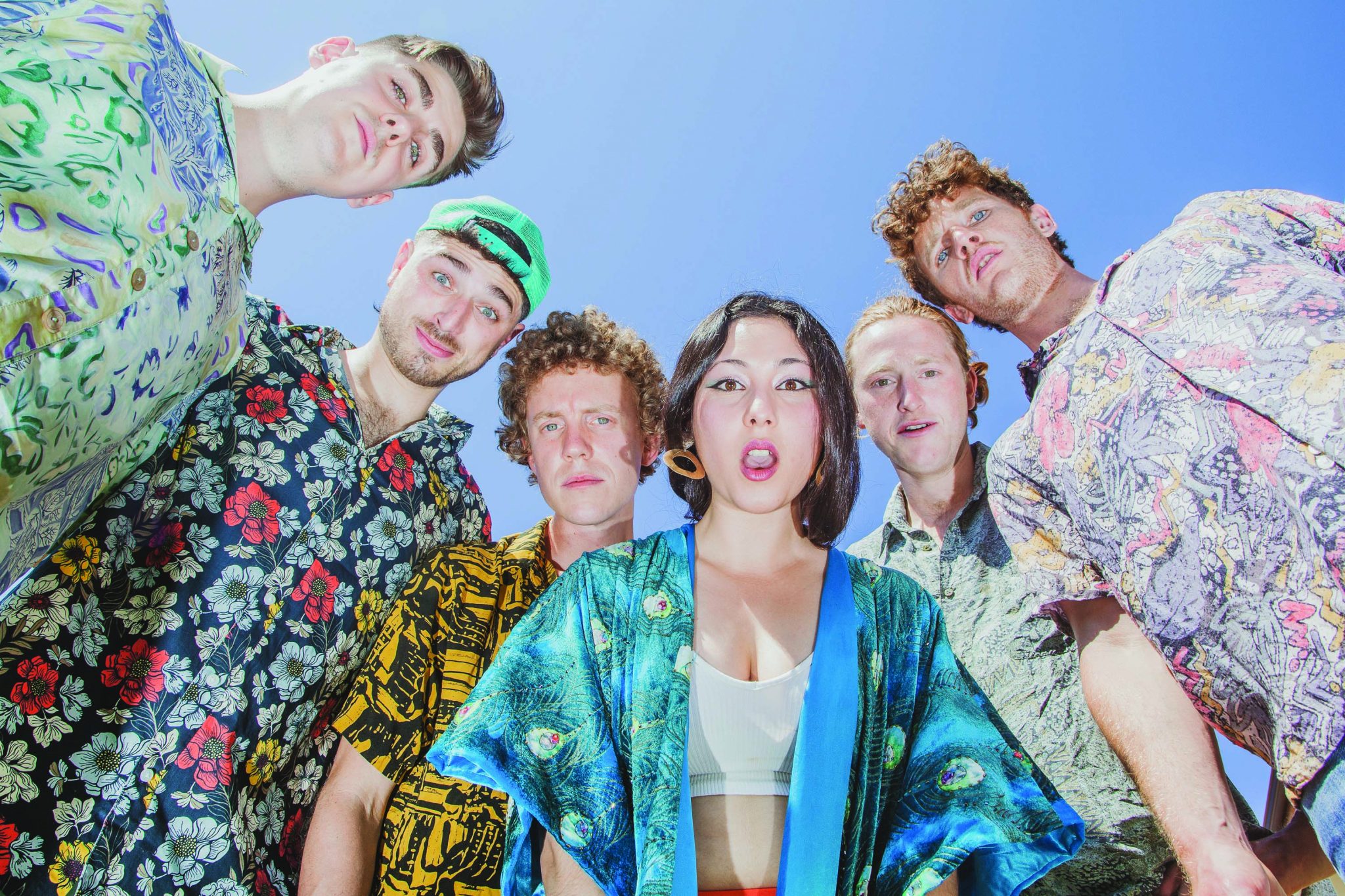 Advertisement
It's certainly a dopamine rush seeing Moxie live. Having released debut album Planted in 2014, their upcoming LP marks a further stylistic departure.
"We wrote The Dawn Of Motion in Tipperary back in 2019, and produced it during Covid," says Ted. "Everyone was playing music professionally before, but we've all moved in different directions since. Julia's finishing her Masters; Jos started working with my dad, who's an oyster farmer in Lissadell. I started doing music production and video editing. Josh is doing some gardening down in West Cork, and he also does music production. Darren is a yoga teacher and Richie is in music full-time."
"We have the same goals and aspirations with the band, even though we're all such different people," Julia remarks. "There are disagreements at times, but people have gotten good at putting their ideas aside if the vote goes against them. It's about community, because our influences all come from alternating places. Darren and I listen to Little Dragon a lot, but bands like Hiatus Kaiyote are also a big inspiration. Groups with a lead female singer always have something really original."
"Lots of Irish artists are cutting edge as well," Ted posits. "Brian Finnegan has class tunes – plus Beoga and Michael McGoldrick. Josh is heavily influenced by electronic outfits like Weevil. I've turned into a massive lo-fi hip-hop head. You can't really hear a tonne of that in Moxie yet, but we'll see if I can squeeze it in."
"Our Irish musician friends from Hermitage Green and Bon Voyage really enjoy our music as well," says Julia. "Their encouragement always gives us a boost."
"Christy Moore is a big fan of the band," Ted beams. "He used to come in and rehearse with us in Temple Lane. He's always been a great supporter and gives us the best advice, which means a lot, because he's one of the biggest legends ever to come out of Ireland. He's been through the whole folk revival, so for someone like him to tell us our music means something is just incredible.
"We're gigging in Doolin the day the album comes out, but the whole weekend is going to be great, because loads of our friends are playing at the same Dingle festival as us, like Kneecap. They're such great lads, full of energy, so we go hand-in-hand. Just imagine the craic level!" 
Advertisement
I have to ask which of the bands goes to bed first, given their reputations for the sesh.
"Darren in our band is always the last one to go to sleep during a session," Julia laughs. "He just doesn't go to bed until everyone else is in bed. Sometimes when everyone else is asleep, he's still out until the next day. So I'd say Darren and Jos in Moxie would give Kneecap a run for their money when it comes to partying the night away."
Moxie's fondness for experimentation is evident on new single 'The Place Above'. How did Julia's idea to use both Arabic and Irish words for 'The Place Above' come about? 
"I used to live in France, and the boys sent me an instrumental that was already written for a track with the same title," she says. "I made the lyrics about my experience in Ireland, and the fact you can always find a place where you belong – you just need to trust your instinct and you end up in 'the place above', where you're meant to be. I had interesting feedback in Tunisia, because people aren't familiar with the Irish language. I wrote it in a way that the listener wouldn't be able to distinguish which language is which.
"I would just love it if we built up a bigger platform to touch as many people as we can through the music. I'm so curious to see how the band can evolve and what more we have to share. I'll definitely stick around for as long as I can." 
•The Dawn Of Motion is out now.
Read the Hot Press review of The Dawn of Motion here.
Advertisement