Foals' Yannis Philippakis: "For the three of us in the band, music is our real vocation. It's not an act of needing to be motivated, it's just everything that I do."
With celebrated dance-punks Foals releasing their first new track in two years, frontman Yannis Philippakis talks about yearning for post-pandemic parties, hanging with his hero Kim Deal, and the buzz of playing Electric Picnic and the Olympia.
Yannis Philippakis is deep into the European press day for Foals' comeback single, 'Wake Me Up', by the time he appears on my Zoom screen. Having returned to London after spending a month in Greece, it's full speed ahead for the release of the band's first single in two years. Layered in disco synths and pop melodies, the Oxford trio are certainly setting up an interesting path for their eagerly-awaited return.
With keyboardist Edwin Congreaves departing last month, the former five-piece have been forced to recalibrate. Despite having never played an instrument before, Edwin and Yannis struck up a friendship while working at the same bar, and later created Foals in 2005 alongside Walter Gervers and Jimmy Smith. The latter two were part of a small local outfit called Face Meets Grill. Youthmovies frontman Andrew Mears was recruited after the break-up of his former band The Edmund Fitzgerald, which also featured Foals drummer Jack Bevan.
Mears opted out of Foals after one single, but Philippakis quit his English literature degree course at St John's college to give the entirety of his attention to the band. The remainder of Foals quickly followed suit – except Jimmy Smith, who completed his Geography studies at Hull. The guitarist is the only one with a degree thus far, but Congreaves has since decided to pursue an Economics degree at Cambridge.
Back in 2019, the English act released sister albums Everything Not Saved Will Be Lost: Part One and Part Two, exploring themes of environmental and political upheaval, apocalyptic in its sonic soundscapes of tension and release. Their usual menu of math and metallic rock, highlife funk, indie bangers, emo introspection have led to a feverishly loyal and gig-obsessed fan base since Foals' 2008 full-length debut Antidotes.
2010's Total Life Forever, 2012's Tapes, 2013's Holy Fire and 2015's What Went Down and their 2019 double offering. Foals have nabbed Mercury Prize nominations, garnered billions of streams and sold out some of the most noteworthy venues in the world time and time again. Not to mention their legendary festival slots. With live performance acting as the lifeblood of the band (have you not seen their 2019 Glastonbury show?), Covid-19 must have altered their speed.
Advertisement
16 years later, Foals (now composed solely of Philippakis, Smith and Bevan) are gearing up to release their seventh album, in 2022, trailed by the single 'Wake Me Up'. After all this time in the industry, does release day still bring jitters?
"Maybe a little bit," considers Yannis. "I try to limit the whole social media trawling after a single or album release, but I'm really excited about 'Wake Me Up'. I feel that this is the song that needs to be out in the world right now. It's weird, because we had these ideas about the music we wanted to write in the next chapter. Even pre-Covid, we wanted to write a dance-infused record. Foals wanted to remove certain aspects and do an approach that was more focused on rhythm. We hoped to tap into an aspect of our sound, which we've neglected for a few records."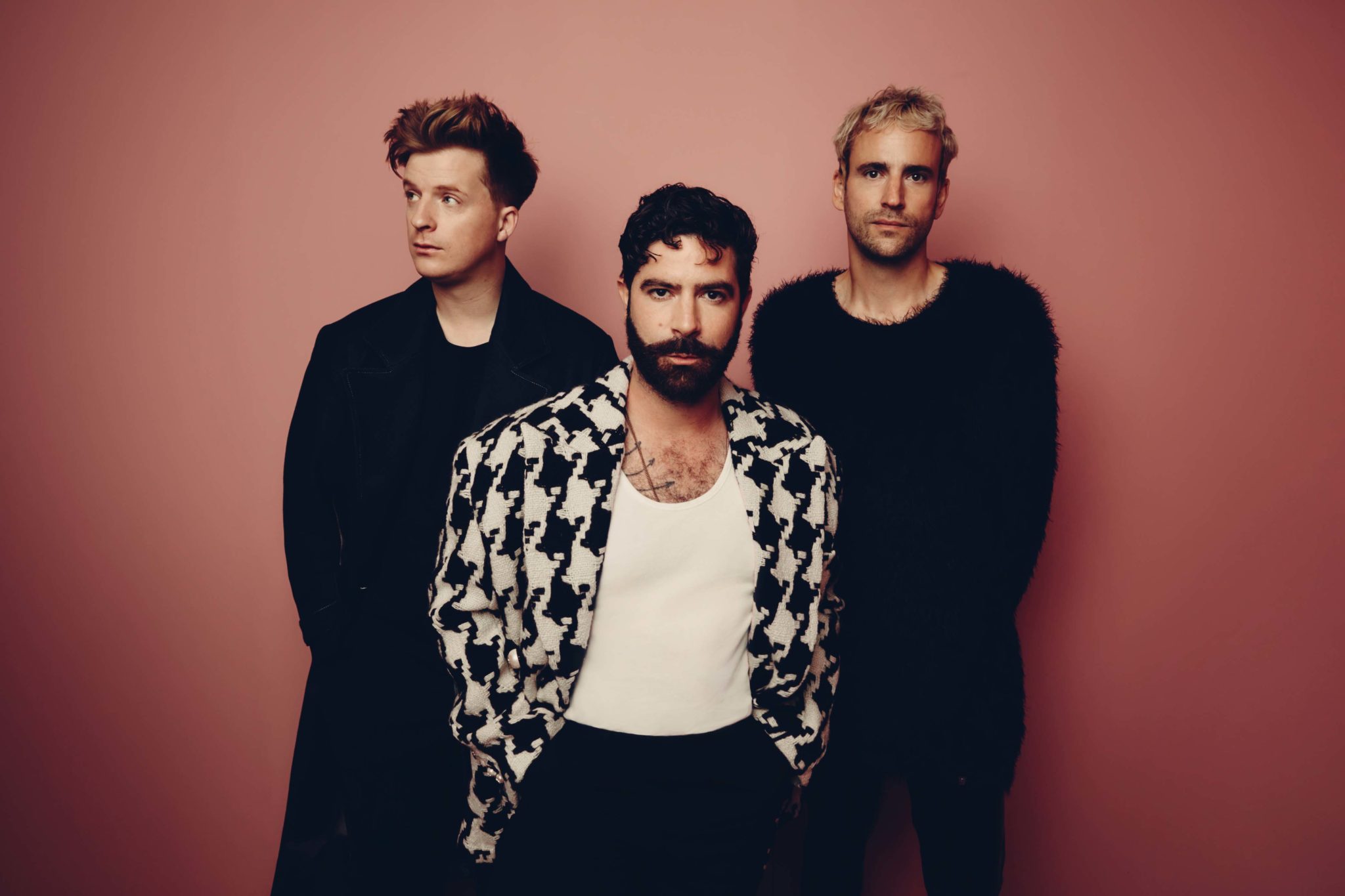 Philippakis said previously that Foals' 2022 album will be more "optimistic" and "physical" than previous projects. The pandemic offered the dance-punk crew a moment to pause and question their motives, get some space and eventually go back into the studio with new-found inspiration: post-lockdown get-togethers. For those unfamiliar with the history of Foals, the band got their start from performing at Oxford house parties. 
"Covid hit, so we didn't write for a while," reflects Philippakis. "When we did start, it was pretty bleak because the virus was everywhere. I definitely found London and the UK to be pretty depressing, particularly in winter when there were no pubs open and cases were sky high. We put it off for a while, but the act of going to the studio everyday became a type of medicine against all the depressing news outside.
"We would just try to forget about it. It made total sense that we were writing a dance record, because we started to imagine what it would be like when things started to get back to normal. We could picture the song playing when people could have parties again or you could have friends in your house. It's right for that moment." 
There's always an intense pressure on bands who've managed to stay afloat in a punishing industry with each album release. Maintaining success is its own labyrinth, but Yannis sees Foals as his calling, rather than a ship he has to steer. 
Advertisement
"Within the band, we kind of react against the last record," he notes. "So whatever the last project is, we tend to want to subvert that or contradict it in some way. Obviously the last record was pretty indulgent in every sense, in that it was epic – it had this big sprawl to it and there were all different types of Foals songs. We brought every aspect of the band into one record. On this one, we wanted to do the opposite. That meant basically just harnessing the rhythmic heartbeat of the band and following a more pop or disco influence.
"It'll be interesting to see what different people make of 'Wake Me Up', and the other songs that are to follow. It's pretty different, but to me it also feels totally natural. It's like an old friend who's had a total makeover. They've changed their wardrobe entirely.
"There'll be an album out next year, and I want it to soundtrack every part in the world as it reemerges. I want 'Wake Me Up' to be the perfect song to reunite your friends and forget about the last 18 months. Obviously we've all learnt to enjoy each other's company and the power of music. We have to really appreciate what it is to be a human being on the planet. I want it to be the record you put on when you're at that moment with your friends where you're just buzzing off life. Hopefully it does that."
Having only returned to the interview game in recent weeks, I'm assuming Philippakis has had to bat away questions about Congreaves' exit. For the most part, it seemed as amicable as Gervers' absence in 2018. 
"I've heard the album – it is, of course, brilliant," he wrote in a statement after crediting Foals with "saving his life."
With Foals having since announced a major UK and European tour, what will performing feel like for Yannis, with only two people by his side?
"The gigs themselves aren't where we'll feel Edwin's loss as much," he replies. "Of course, it will be weird for a while to look over and not see him on stage. He had such a unique way of playing keys that I don't think that will ever be quite the same, but I think the area in which we'll miss Edwin was more in terms of the social side of the band – the dynamic off-stage. It's different, same as when Wally (Walter Gervers) left.
Advertisement
"The band is like a family and you miss people if they're not involved anymore, but onstage it's going to be absolutely ripping. We learned through Jeremy replacing Walter that the band's show has got its own presence; its own momentum. Half of that is also to do with the crowd, with the interaction. It's larger than any one person. The shows are going to be as good, if not better, than ever. Particularly with these new songs, it's going to be a big, big party." 
Back in 2014, Foals performed a two-date stint at the Olympia, with Yannis battling with security staff who tried to pull him down from the balcony boxes. A terrifying stage dive followed, but his adoring fans caught him with ease. Characteristically vibrant and energetic with crowds, Philippakis comes alive with ferocity when unleashing Foals' hits to the masses.
"I've got great memories of playing Ireland," he notes. "We will be coming there as well, they just haven't quite organised it yet. It's difficult for the touring industry to get back to speed fully with the lockdowns. One of my favourite memories of playing Ireland was when we did two nights at the Olympia in Dublin, and we had played much smaller shows up until then. It's such a classy venue, and I remember being like, 'What are we doing here?'. Those two nights were awesome.
"We were smoking out the window or something backstage, but there were all these kids at the bottom that were just hanging out after the show. They enjoyed themselves so much and just kept cheering. It was one of the warmest receptions we'd had up until that point. 
"The other show that's always killer for us out there is Electric Picnic. It's one of my favourite festivals to play anywhere. I like that it comes at the end. You do your whole summer festival season and then boom, one last explosion. The crowds all over Ireland are killer. We'll be coming back soon, that's a guarantee."
Having been involved in the business for as long as he has, ruffling a few feathers along the way (he once called David Guetta "an abomination"), surely Yannis has come face-to-face with people he previously put on a pedestal. 
"I've met some heroes," he says. "There are certain people who you've either admired for a long time, or who you've seen in magazines growing up. The first and most important meeting for me was Kim Deal from the Pixies. She was just awesome. The Pixies were the first band I ever got into, other than Nirvana. They changed the trajectory of my life. She invited us to play All Tomorrow's Parties with the Breeders and things like that. We had a long-running email exchange that was really cool. I've stopped expecting people to be what you think they'll be, but Kim Deal is great. She'll always have a special place for me."
Advertisement
How do Foals stay motivated enough after six albums to relight the flame for a gruelling tour and promo schedule?
"I'd be lying if I said there weren't times on tour when you just want to be at home," says Yannis. "We tour a lot and in an old-school way. Quite a lot of hedonism and booze and late nights, and obviously the shows themselves take it out of us - which is awesome, and it's the way we like to do it. For our band, we should do it like that. It's the only way we know. That being said, once you've been drinking for eight weeks straight on a tour bus in the US, you definitely miss home.
"I can't speak for everybody, but for the three of us in the band now, music is our real vocation. It's not even an act of needing to be motivated, it's just everything that I do. There won't be a time where I won't be writing music. There are certain points when I feel like I should have a break – and that's important – but overall I don't need to be cattle-prodded to write a record. It happens on its own."
For their forthcoming project, Foals are craving a sense of euphoric wildness, an electricity the band plan to bring with them from venue to venue.
"There's probably only one big bucket list thing left for Foals to do. We'd love to headline Glastonbury," Philippakis says. "I don't know how feasible that is, but it's good to have something to aim for. We've achieved a lot, and there's not many external goals. It's mainly just that we want to write great records and try to be in good places within our personal lives and do other things that we enjoy. We feel pretty content as a band."
Given that Covid removed the thrill of live performance from the frontman's life, and the departure of two Foals members spelled out a new era, who would Yannis Philippakis be without the band itself? 
Advertisement
"It's weird because there were periods in lockdown where we weren't writing, and I almost didn't have Foals," he recalls, before taking a moment to think. "I wasn't playing guitar, I wasn't making music, we weren't playing together, we had no shows. Another stark memory is that we had no phone calls. At this moment in time, we're getting bombarded with people from the label or management about the record. Back then, the phone being silent for weeks on end made me have to question what I was really up to.
"I don't really have an answer in terms of who I am without Foals, but I think I might just move to Greece and build a hideout on an island. I'd probably sit in a cabana by the sea and take it easy for a while." 
•'Wake Me Up' is out now. Catch Foals playing Fairview Park in June 2022
Photography: Edward Cooke