This film falls in line with Disney's trend of adapting popular animated films into live-action versions; Tarzan, The Jungle Book, The Lion King. Do we need another one? Disney thinks so.
The film will feature Chinese actress Liu Yifei in the title role.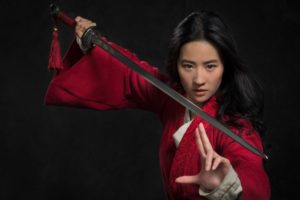 Joining Yifei are stars such as Gong Li, Jet Li, Donnie Yen, Utkarsh Ambudkar and Jason Scott Lee.
Advertisement
In the 1998 animated classic, Mulan enlists in the Chinese army under the pretence of being a man. She is trained by Li Shang and foils a plot by the Hun to assassinate the Emperor and take over China.
Earlier in the year, the news broke that the character of Li Shang, voiced by Donny Osmond, may not appear in the film at all. The revelation came following a leaked casting call for the live action film in which Shang was replaced by a character called Chen Honghui. Instead of training the new recruit, Honghui "realizes that Mulan is his chief rival, but he does not realize that she is a woman. Grittily determined to be simply the best at everything, Honghui is increasingly peeved by Mulan's ability to match or out-manoeuvre him. But after learning that his rival is a woman, his intense feelings of rivalry turn into something very different, something like love." This alteration was much to the annoyance of fans who praised the original Li Shang for falling in love with Mulan before she was revealed to be a woman, making him a sort of bisexual icon.
Directed by Niki Caro, Mulan will be shot on location in China and New Zealand and is set to open in UK cinemas on 27th March 2020. The film will reportedly receive a budget of $290 million. This makes Caro the second woman ever hired by Disney to direct a movie budgeted at over $100 million.