10% of sales from all products sold at the pop-up stores will go to the Elton John's AIDS Foundation.
Kildare Village launched the exclusive Elton John Pops Up! Store today, which is open now until May 3rd.
It's fitting timing, given that the Glastonbury headliner performed at Dublin's 3Arena last night on his Yellow Brick Road tour.
"You know you're in for a good night going to an Elton John concert. Between the extravagant costumes, eye-popping set designs and a setlist of back to back bonafide global hits, your coveted ticket ensures a night of non-stop entertainment," Jess Murray wrote in her review for Hot Press. "But knowing all of this can't quite prepare you for the emotion and energy that Elton John puts into his performance, and the wave of love and affection reciprocated by his audience. Turning 76 last week, it's clear Elton John remains an inimitable performer, full of heart and soul."
The pop-up store in the Kildare shopping outlet centre features the much-anticipated Elton John Eyewear, is in partnership with the Bicester Village Collection, timed in celebration of his record breaking Farewell Yellow Brick Road Tour.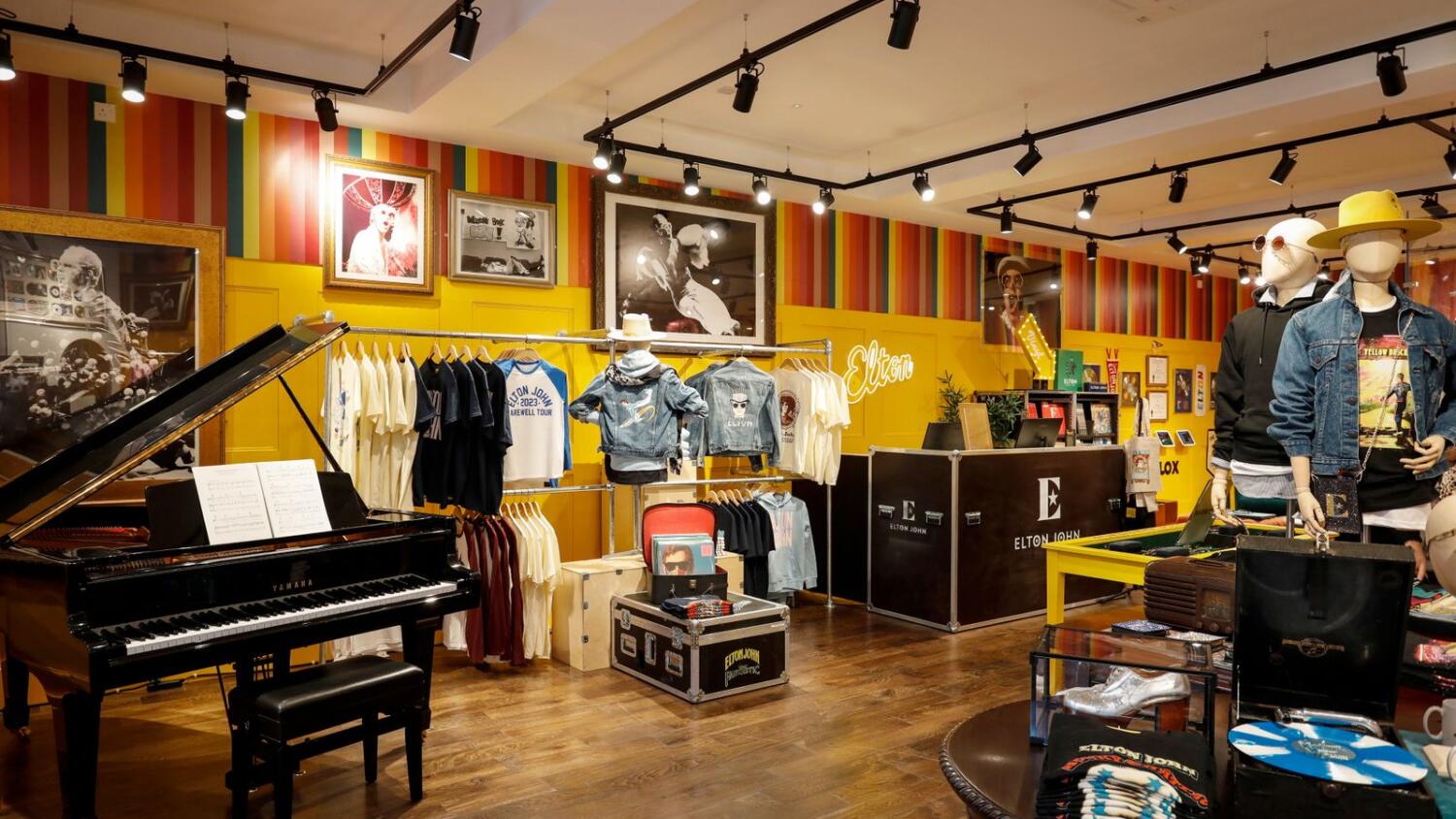 The concept is a collaboration between Sir Elton John and the brand management company Bravado, and has seen temporary boutiques pop up across the world at premium retail locations in tandem with John's farewell tour schedule. Commenting on the current Elton John Pops Up! at Selfridges in London, John told The Industry website: "I'm an avid shopper, so the bar has been set high and we've come up with something special that celebrates the things I love - fashion, vinyl, live music, food and some beautiful design. I hope my fans love it as much as I do."
Advertisement
The shop will give fans in Ireland the chance to immerse themselves in Elton's world and shop exclusive, special merchandise, music products including LPs, boxsets and albums spanning Elton's unparalleled career, and one-off, limited-edition pieces.
Guests were welcomed by Val Forde, Communications & PR Director at Kildare Village, in The Apartment to see some of Elton's memorabilia, followed by a live music and tour of the Elton John Pops Up! Store. Attendees spotted included DJ Tara Kumar, broadcaster Glenda Gilson, content creator Shauna Doyle, radio presenter Sarina Bellissimo and music artist Aimee.
10% of sales from all products sold at the Bicester Collection pop-up stores will go to the Elton John's AIDS Foundation, which was established in 1992 with the mission of ending the AIDS epidemic.
READ - Live Report: Elton John's world-famous Farewell Yellow Brick Road Tour comes to Dublin's 3Arena