This lineup of spectacular comedians will have you laughing your hangover away on the Saturday and Sunday of Electric Picnic 2023!
As the music rages on around Stradbally, the Comedy Arena line-up announcement will entice festival goers away from the main stage and electric arena! Starting from 1.30pm on the Saturday of Electric Picnic, this line-up is one not to be missed.
With her BAFTA for This Way Up and her first cinematic lead role in Greatest Days based on the Take That jukebox musical secured, Aisling Bea brings her sharp, straight-shooting style of stand-up to the EP stage. There won't be a straight face in the tent when Bea's in Portlaoise!
Meanwhile, returning to Electric Picnic for their only Irish festival show of the year - Foil Arms and Hog's are on board to provide belly laughs from the get-go!
Fierce, funny and heartfelt: Russell Kane is a thrilling reminder of what comedy can be. Surely providing as verbose and hyperactive a show as ever, Hot Press are excited to catch a glimpse of Kane's frenetic pace and unrelenting hilarity.
Advertisement
Live At The Apollo star and host of hit podcast Have A Word, Adam Rowe, will also grace the EP stage, bringing his signature laid back, brutally honest stand-up - gloriously unpredictable as ever.
According to the Belfast Telegraph, Shane Todd has taken the crown of "modern day king of comedy," but the Electric Picnic crowds are ready to be the real judge of that. Elsewhere, the mean, lean, comedy killing machine, Neil Delamere is also rearing to go!
Electric Picnic could be your only chance to see Diona Doherty for the next while, as her debut play Bridesmaids which she recently wrote and directed has completely sold-out in theatres all over Ireland! Catch her set to see what the hype is all about.
Gearoid Farrelly offers up his intelligent and reflective comedy, which has wowed both Irish and English audiences - while the wickedly funny Emma Doran promises a performance showing why she's known as one of the most exciting emerging talents on the Irish comedy scene. A self-proclaimed chancer, Doran has her finger on the pulse with a dry, sarcastic delivery that makes for side-splitting hilarity.
Advertisement
Soon to embark on his own national tour, Loud and Colleary, John Colleary's set at Electric Picnic is sure to rid him of the Ireland's Best Kept Comedy Secret moniker! Catch him before you lose the "I'm-in-the-know" cool points.
Delightful off-kilter trademark humour in tow, Tony Cantwell is guaranteed to bring the house (or tent?) down, with the confident and craftmaster, Ross Browne, brings the weekend to a close.
Electric Picnic organisers are incredibly excited about the lineup, revealing even more details about the acts they have carefully selected.
"As ever," the organisers began, "there's a whole host of experienced stalwarts from the comedy circuit who have been handpicked to perform at Electric Picnic including Father Ted gurrier priest Joe Rooney, the sardonic author and journalist Colm O'Regan, comedy's hardest working act Danny O'Brien, king of the one liners Paul Marsh, safe pair of hands Eric Lalor, motormouth millennial Anna Clifford, Cork's hilarious Sinead Quinlan, Offaly good Midlander Edwin Sammon, the odd yet gently fey Killian Sundermann, Cork quick wit Shane Clifford and one of the most talked about comics in the country right now, Shane Daniel Byrne will all keep the witty badinage and laughter flowing over the weekend."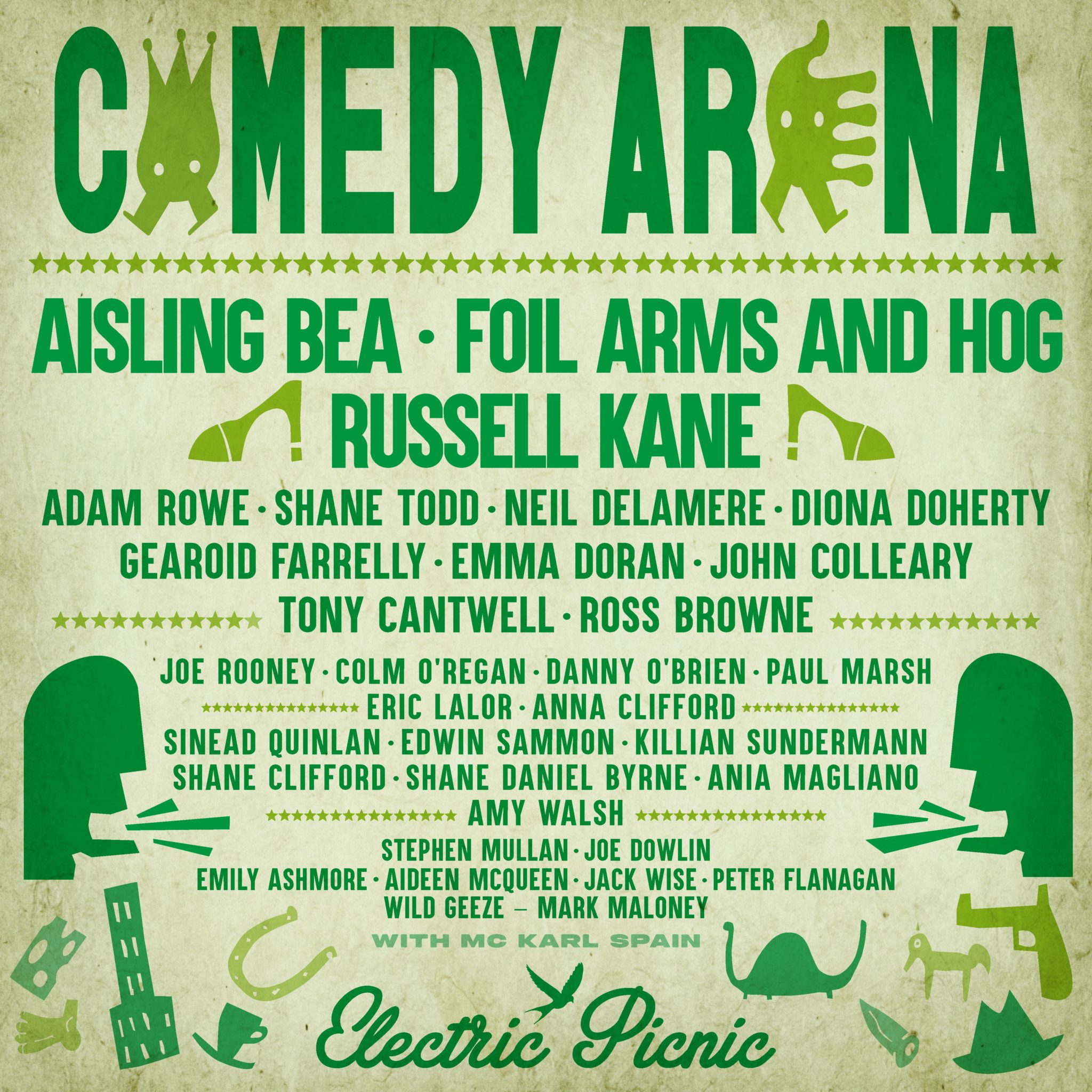 In keeping with Electric Picnic's commitment to new and emerging talent, a variety of acts make their Comedy Arena debut this year. This list includes: Ania Magliano, Canadian-based Irish comic Amy Walsh, Stephen Mullan, Joe Dowlin, Emily Ashmore, teacher-turned-stand-up Aideen McQueen, comedy magician Jack Wise, Comedy Store regular Peter Flanagan, outrageous cabaret/burlesque duo the Wild Geeze and the genius Mark Maloney!
With all this comedy chaos afoot, a clear-headed, calm and collected MC is desperately needed to keep the programme moving along. They couldn't find one of those, so they've roped in Karl Spain instead!! The criminally underrated comedy mastermind MCs for the entire weekend, starting from 1.30pm on Saturday, September 2 and Sunday, September 3.
Advertisement
Electric Picnic 2023 takes place from September 1 - 3 in Stradbally, Portlaoise, and is completely sold out.