FUNDAMENTAL: A Series of Queer Artworks and Photography & FUNDAMENTAL: A Series of Queer Story Times will both take place for Culture Night 2023 in Outhouse on Dublin's Capel Street.
As we gear up for Culture Night, this Friday, September 22, Outhouse LGBTQ+ Centre has announced an exhilarating evening of artistic expression and storytelling.
Hosted by the renowned hub at the heart of Dublin's LGBTQ+ community, FUNDAMENTAL will bring together a diverse array of artists and community organisations to celebrate queer culture, collaboration, and creativity.
Firstly, the Outhouse Theatre invites visitors to explore the visual side of queer culture in FUNDAMENTAL: A Series of Queer Artworks and Photography.
Advertisement
The exhibition showcases LGBTQ+ artistic expression spanning several decades from the '70s to the present day. The display includes photography from renowned projects like Flikkers: Come As You Were and Unshrinking Violets: 50 Years of Lesbian Activism, as well as contemporary illustrations and textile works by artists Hannah MacArtain and Daniel Mooney (MUNDO MOO).
This exhibition is free and open to the general public from 4pm to 11pm, with no registration required.
Secondly, FUNDAMENTAL: A Series of Queer Story Times, will feature LGBTQ+ groups such as GCN magazine, Small Trans Library, Sex Workers Alliance Ireland, and Black Queer Book Club. The groups will share historical and contemporary narratives from their respective communities, offering a unique perspective on queer culture's vibrant tapestry in Ireland today.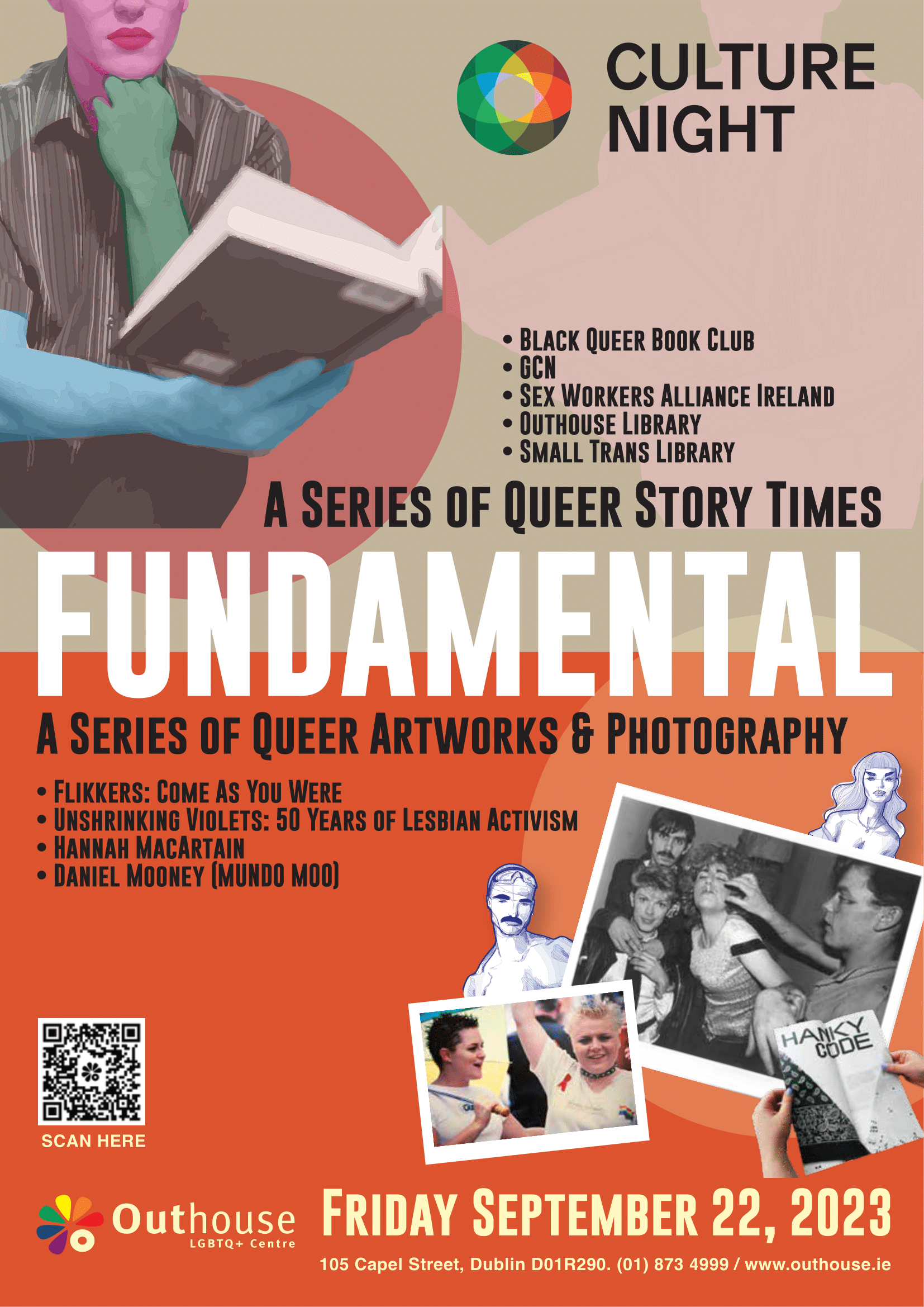 Engaging readings providing insight, emotion, and connection are the key points of the stories shared. Throughout the night, storytimes will unfold hourly, lasting 30 minutes each, with the first storytime beginning at 5pm and final storytime ending at 9:30pm.
Advertisement
Entry is free, but tickets for each storytime must be booked in advance.
"FUNDAMENTAL is not just an event; it's a celebration of the diverse and vibrant queer culture that thrives in Ireland today," Oisín O'Reilly, CEO of Outhouse LGBTQ+ Centre said. "Through art and storytelling, we're bridging communities and sharing the fundamentals of our life stories, the richness of our history, and hopes for the future."
Outhouse will throw open its doors for Culture Night 2023, providing access to the entire venue, including the café where attendees can enjoy refreshments and food.
More information is available on the event - here!